Top 15 IT Companies in Toronto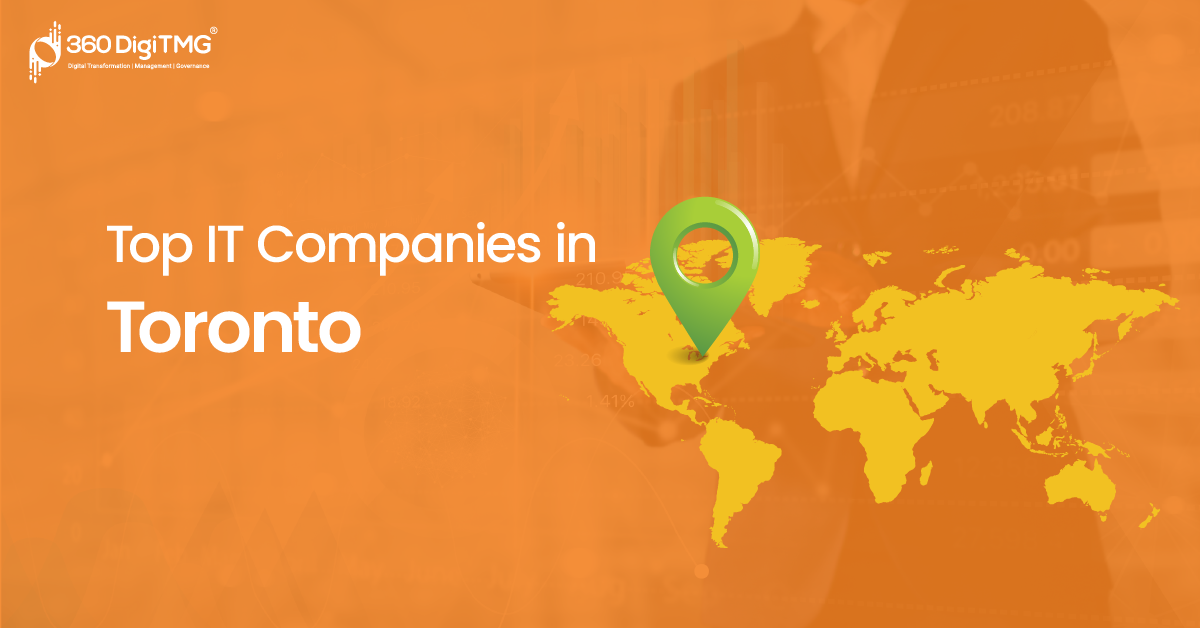 Introduction
Toronto is located in the province of Ontario, Canada, on the northwestern shore of Lake Ontario. It is the largest city in Canada and serves as a major economic and cultural hub. The city of Toronto is known for its diverse population, vibrant arts and entertainment scene, and thriving business environment. It is home to numerous industries, including finance, technology, healthcare, education, media, and more. The downtown core of Toronto is a bustling area with high-rise buildings, corporate headquarters, shopping centres, and a vibrant nightlife.
Toronto has a rich history that dates back centuries. It was originally inhabited by Indigenous peoples and later became a French trading post in the 18th century. The city saw significant growth and development during the 19th and 20th centuries, becoming a major economic centre and attracting immigrants from around the world.
In terms of the tech scene, Toronto is a thriving tech hub known as "Silicon Valley North" or "Tech City." It is home to a wide range of technology companies, startups, incubators, and accelerators. The city has a strong focus on artificial intelligence , fintech, health tech, and other emerging technologies.
Toronto's tech ecosystem benefits from collaborations with local universities, research institutions, and government support for innovation and entrepreneurship.
History of Toronto
Toronto has a rich and diverse history that spans centuries.
Indigenous Settlement: The area that is now Toronto was originally inhabited by Indigenous peoples, including the Huron-Wendat, Haudenosaunee, and Anishinaabe peoples. They lived in the region for thousands of years before European colonization.
French and British Rule: In the 18th century, the French established a trading post called Fort Rouillé near present-day Toronto. However, the British gained control over the area through the Treaty of Paris in 1763 and established the town of York. It later became the city of Toronto in 1834.
War of 1812: During the War of 1812 between Britain and the United States, York was attacked and occupied by American forces. The city suffered significant damage, including the burning of government buildings.
Growth and Industrialization: Throughout the 19th and early 20th centuries, Toronto experienced rapid growth and industrialization. The construction of railways, the opening of the Weiland Canal, and the development of industries such as manufacturing, finance, and trade contributed to the city's expansion.
Immigration and Cultural Diversity: Toronto has been shaped by waves of immigration from around the world. In the late 19th and early 20th centuries, many immigrants from Europe, particularly from the British Isles and Eastern Europe, settled in the city. In more recent decades, Toronto has become a multicultural mosaic with immigrants from Asia, Africa, the Middle East, and other parts of the world.
Modern Development: In the second half of the 20th century, Toronto continued to grow and develop as a major Canadian city. Landmark buildings and infrastructure projects were constructed, including the CN Tower, Toronto Pearson International Airport, and the Toronto subway system.
Today, Toronto is a vibrant and multicultural city known for its diverse communities, cultural institutions, festivals, and thriving industries.
Tech Scene
Toronto has a thriving tech scene that has been growing rapidly in recent years. The city has established itself as a major tech hub in Canada and is home to numerous tech companies, startups, and research institutions.
Startups and Innovation: Toronto is known for its vibrant startup ecosystem, with a growing number of innovative companies emerging in various sectors such as artificial intelligence (AI), fintech, health tech, and e-commerce. The city offers a supportive environment for startups with access to funding, incubators, and accelerators.
AI and Machine Learning: Toronto is recognized globally for its expertise in AI and machine learning. The University of Toronto and other academic institutions in the city have made significant contributions to AI research, leading to the development of cutting-edge technologies and attracting top talent in the field.
FinTech: Toronto has a strong presence in the financial technology (fintech) sector. Many fintech companies, including those focused on payment solutions, digital banking, and blockchain technology, are based in the city. Toronto's established financial sector provides opportunities for collaboration and growth in the fintech industry.
Digital Media and Entertainment: Toronto is a hub for digital media and entertainment companies. The city is home to major film studios, animation studios, and video game developers. It also hosts prominent film festivals, including the Toronto International Film Festival (TIFF), which further boosts the city's reputation in the industry.
Research and Innovation Institutions: Toronto has several world-class research institutions, including the University of Toronto, Ryerson University, and York University. These institutions conduct groundbreaking research in various fields and collaborate with industry partners to drive innovation and technological advancements.
Tech Talent and Diversity: Toronto attracts top tech talent from around the world. The city's diverse population and inclusive immigration policies contribute to a rich talent pool, fostering a culture of creativity and innovation. The presence of leading educational institutions also helps in nurturing local talent.
Best IT Companies in Toronto
1. Shopify:

A leading e-commerce platform that enables businesses to create and manage online stores.

Known for its mobile devices and software solutions, focusing on security and productivity.

3. OpenText:

Provides enterprise information management software solutions to help organizations manage, secure, and analyse their data.

4. Ceridian:

Offers cloud-based human capital management software and services, including payroll, HR, and workforce management.

5. Thomson Reuters:

A multinational media and information services company specializing in financial, legal, and risk management solutions.

6. Wattpad:

A platform where users can discover, share, and read stories, connecting writers and readers globally.

7. FreshBooks:

Provides cloud accounting software for small businesses, simplifying invoicing, expense tracking, and financial management.

8. Wave:

Offers accounting, invoicing, and receipt scanning software for small business owners and freelancers.

9. Coin square:

A cryptocurrency exchange platform that allows users to buy, sell, and trade various digital currencies.

10. Points International:

Provides loyalty and e-commerce solutions, helping companies manage and monetize their loyalty programs.

11. Top Hat:

Offers an interactive teaching platform that engages students through digital course materials and assessments.

12. Influitive:

Provides customer advocacy and engagement software to help companies build and nurture customer communities.

13. League:

Offers a digital platform for employee health benefits, simplifying the management and delivery of workplace wellness programs.

14. Ecobee:

Known for its smart thermostats, offering energy-saving solutions for residential and commercial buildings.

15. BlueCat Networks:

Provides DNS, DHCP, and IP address management solutions to help organizations manage their network infrastructure.

16. Tulip Retail:

Develops mobile applications for retailers to enhance the in-store shopping experience and improve customer engagement.

17. Drop:

A rewards platform that allows users to earn points for their everyday purchases and redeem them for gift cards.

18. Achievers:

Offers employee recognition and engagement software, empowering organizations to create a positive workplace culture.

19. Ritual:

A food ordering app that enables users to order and pick up meals from local restaurants, focusing on convenience and efficiency.

20. TouchBistro:

Provides an iPad-based point-of-sale system for restaurants, streamlining operations and enhancing the dining experience.
These companies represent a diverse range of industries and technologies, showcasing the breadth of the IT sector in Toronto.
Overview of IT Jobs in Toronto
IT jobs offer a wide range of opportunities for progression and development.
Entry-Level Positions: IT careers often start with entry-level positions such as help desk support, junior software developer, or network technician. These roles provide a foundation for gaining practical experience and understanding industry-specific tools and technologies.
Specialization: As IT professionals gain experience and knowledge, they can specialize in specific areas such as software development, network administration, cybersecurity, data analysis, cloud computing, artificial intelligence, or database management. Specializing in a particular field allows professionals to deepen their expertise and become sought-after specialists in their respective domains.
Certifications and Training: IT professionals can enhance their skills and knowledge by obtaining industry-recognized certifications and participating in relevant training programs. Certifications like Cisco Certified Network Professional (CCNP), Certified Information Systems Security Professional (CISSP), or Microsoft Certified Solutions Developer (MCSD) validate expertise and increase job prospects.
Leadership and Management Roles: With experience and proven expertise, IT professionals can progress into leadership and management roles. These positions include IT project managers, IT directors, or Chief Information Officers (CIOs). Leadership roles involve overseeing teams, managing projects, and making strategic decisions to align IT initiatives with business goals.
Continuous Learning: IT is a rapidly evolving field, and professionals need to stay updated with the latest technologies and trends. Continuous learning is essential for career growth and development. IT professionals should engage in ongoing learning opportunities, attend industry conferences, join professional organizations, and stay informed about emerging technologies.
Entrepreneurship and Consulting: Some IT professionals choose to start their own businesses or work as independent consultants. This allows them to apply their skills and knowledge to solve specific client needs, work on diverse projects, and have greater control over their career path.
Global Opportunities: IT jobs offer global opportunities for professionals to work in different countries and cultures. The digital nature of IT allows for remote work, freelance opportunities, and collaborations with international teams, providing exposure to a diverse range of experiences and expanding professional networks.
Industry Demand: The demand for IT professionals continues to grow as technology becomes increasingly integrated into various industries. This demand creates abundant job opportunities, job security, and the potential for higher salaries.
It's important to note that individual career paths in IT can vary based on personal interests, education, experience, and the specific subfield of IT. By staying updated, continuously learning, and adapting to changing technologies, IT professionals can progress and develop rewarding and fulfilling careers in the industry.
Salary of Software Engineer in Toronto
Salaries in the IT industry can vary widely depending on factors such as job role, experience level, location, and the specific company.
Software Developer: The salary for software developers can range from around $60,000 to $150,000 per year, depending on experience and expertise. Senior software developers and those with specialized skills may earn even higher salaries.
Data Scientist: Data scientists are in high demand, and their salaries reflect that. On average, data scientists can earn between $80,000 and $150,000 per year, with experienced professionals earning even more.
Network Administrator: Network administrators, responsible for managing and maintaining computer networks, can earn salaries ranging from $50,000 to $100,000 per year, depending on their level of experience and the complexity of the network.
Cybersecurity Analyst: Given the increasing importance of cybersecurity, cybersecurity analysts can command salaries between $70,000 and $140,000 per year. Experienced professionals with specialized certifications may earn salaries at the higher end of the range.
IT Project Manager: IT project managers oversee and coordinate IT projects, and their salaries can range from $70,000 to $150,000 per year. The salary can vary based on the scope and complexity of the projects they manage.