Top 20 IT Companies in Houston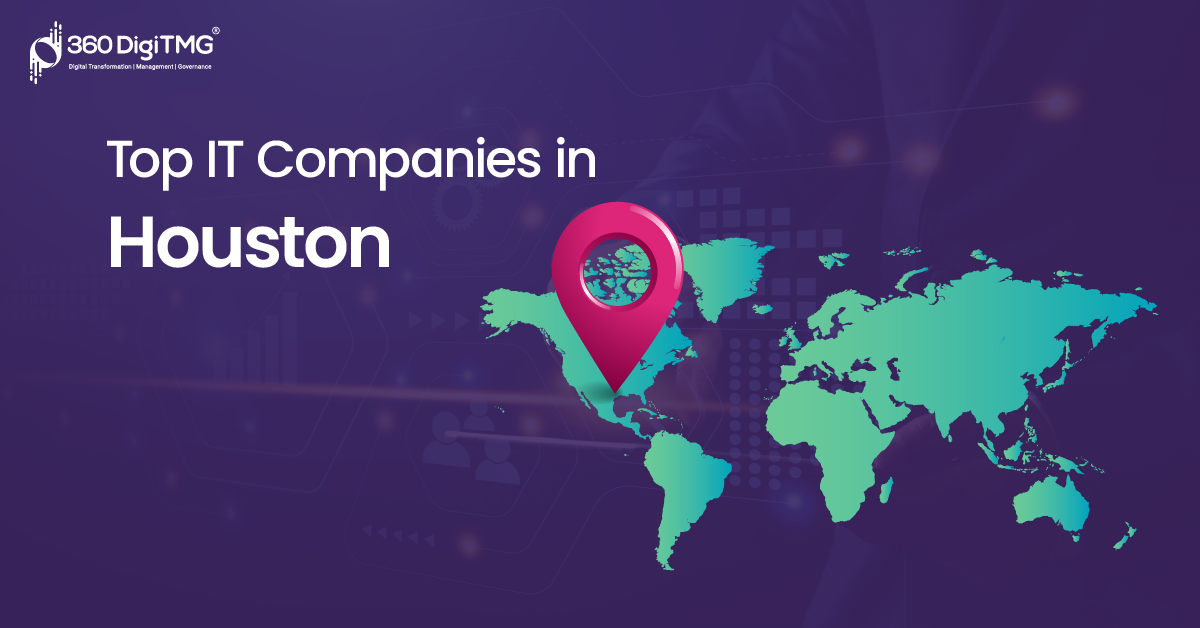 Introduction
Houston is a major city located in the southeastern part of the state of Texas, United States. It is situated near the Gulf of Mexico and is the largest city in Texas and the fourth-largest city in the United States. Houston covers an area of approximately 669 square miles (1,739 square kilometers) and is known for its diverse population, vibrant culture, and thriving economy.
Geographically, Houston is in Harris County, with parts of the city extending into Fort Bend and Montgomery counties. The city is situated on the coastal plain of southeastern Texas, with the Houston Ship Channel serving as a vital gateway for international trade and connecting the city to the Gulf of Mexico. Houston is known for its strong presence in various industries, including energy, healthcare, aerospace, manufacturing, and technology.
The city is home to the Texas Medical Center, one of the largest medical complexes in the world, and it has a significant concentration of oil and gas companies. In terms of transportation, Houston is served by George Bush Intercontinental Airport (IAH) and William P. Hobby Airport (HOU), providing convenient access to domestic and international travel.
The city is also intersected by major highways, including Interstate 45, Interstate 10, and Interstate 69, facilitating transportation within the city and connecting it to other parts of Texas and the United States. Houston's cultural scene is vibrant, with numerous museums, theaters, music venues, and sports arenas. The city is home to professional sports teams, including the Houston Texans (NFL), Houston Astros (MLB), and Houston Rockets (NBA).
Overall, Houston is a dynamic city with a strong economy, diverse population, and rich cultural offerings. Its strategic location, favourable business environment, and vast range of industries make it an attractive destination for residents, businesses, and tourists alike.
History of Houstan
Houston has a rich and diverse history that spans centuries.
Early History: The area now known as Houston was originally inhabited by various Native American tribes, including the Karankawa, Akokisa, and Atakapa tribes. The first European settlement in the area was established in 1822 by Augustus and John Allen, who named the city after Sam Houston, a prominent figure in the Texas Revolution.
Republic of Texas: Houston played a significant role during the Texas Revolution. In 1836, the Battle of San Jacinto took place near present-day Houston, resulting in the decisive victory of the Texian forces led by General Sam Houston over the Mexican army. Shortly after the battle, Texas gained independence from Mexico, and Houston became the capital of the Republic of Texas in 1837.
Incorporation and Growth: Houston was officially incorporated as a city in 1837 and rapidly grew as a centre for trade and commerce. The discovery of oil at Spindletop in 1901 brought a major economic boom to the region, solidifying Houston's position as an energy hub. Over the years, the city's economy diversified, encompassing industries such as healthcare, aerospace, manufacturing, and technology.
Space Exploration: Houston became synonymous with space exploration when NASA established the Manned Spacecraft Centre (now known as the Johnson Space Center) in 1961. The center served as the hub for NASA's manned spaceflight programs, including the Apollo missions that landed humans on the moon.
Cultural Diversity: Houston's population has been shaped by waves of immigration, resulting in a vibrant multicultural city. In the mid-20th century, Houston became a magnet for immigrants from Mexico, as well as other countries around the world. The city's diverse population contributes to its dynamic arts, cuisine, and cultural scene.
Economic Powerhouse: Today, Houston is recognized as a global city and a major economic powerhouse. It is home to numerous Fortune 500 companies, especially in the energy, healthcare, and technology sectors. The city's robust economy, low cost of living, and business-friendly environment continue to attract businesses and entrepreneurs.
Houston's history reflects its resilience, entrepreneurial spirit, and cultural diversity. From its early days as the capital of the Republic of Texas to its present-day status as a global city, Houston has evolved into a thriving metropolis with a rich historical heritage and a promising future.
Tech Scene:
Houston has a thriving and rapidly growing tech scene, with a diverse range of companies and organizations contributing to its technological advancements.
Energy Technology: Given its historical association with the energy industry, Houston has become a hub for energy technology innovation. Numerous companies and startups are developing advanced technologies and solutions to improve efficiency, sustainability, and exploration in the energy sector. This includes areas such as renewable energy, smart grids, oil and gas exploration technologies, and energy management systems.
Healthcare Technology: Houston is home to the renowned Texas Medical Center, the largest medical complex in the world. As a result, the city has a strong focus on healthcare technology and innovation. Companies and startups in Houston are involved in developing cutting-edge healthcare technologies, including telemedicine, health informatics, medical devices, and biotechnology.
Space Technology: With the presence of NASA's Johnson Space Center, Houston has a prominent role in space technology and exploration. The city houses a wide range of aerospace companies and research institutions that contribute to space-related technologies, including spacecraft development, satellite systems, space exploration equipment, and advanced materials for space applications.
Software Development and IT Services: Houston has a growing community of software development companies and IT service providers. These companies offer a range of services, including software development, web development, mobile app development, cloud computing, cybersecurity, and IT consulting. They cater to various industries, including oil and gas, healthcare, finance, logistics, and manufacturing.
Startups and Incubators: Houston has a supportive ecosystem for startups and entrepreneurial ventures. The city is home to several incubators, accelerators, and coworking spaces that provide resources, mentorship, and networking opportunities to early-stage tech companies. This encourages innovation and fosters the growth of startups in Houston's tech scene.
Educational Institutions: Houston boasts several leading educational institutions, including Rice University, the University of Houston, and Texas Southern University. These institutions offer programs in computer science, engineering, and other related fields, producing a talented pool of tech professionals and contributing to research and development activities in the tech sector.
Overall, Houston's tech scene is characterized by its focus on energy technology, healthcare innovation, space-related advancements, software development, and a supportive environment for startups. The city's diverse industries, strong research institutions, and entrepreneurial ecosystem contribute to the continuous growth and development of its technology sector.
Best IT companies in Houstan
1. Microsoft Corporation:

Microsoft is a multinational technology company known for its software products such as the Windows operating system, Office productivity suite, Azure cloud platform, and Microsoft Surface devices.

2. Apple Inc.:

Apple is renowned for its consumer electronics and software products, including the iPhone, Mac computers, iPad, Apple Watch, and services like iCloud, iTunes, and the App Store.

3. Google LLC:

Google is a leading technology company specializing in internet-related services and products. It offers search engine services, online advertising technologies, cloud computing, software applications (such as Google Chrome and Android), and hardware devices like Pixel smartphones.

4. Amazon.com Inc.:

Amazon is an e-commerce giant that offers a wide range of products and services globally. It also provides cloud computing services through Amazon Web Services (AWS) and produces consumer electronics like the Kindle e-reader and Echo smart speaker.

5. IBM (International Business Machines Corporation):

IBM is a multinational technology company known for its hardware, software, and services. It offers enterprise solutions, cloud computing services, artificial intelligence, data analytics, and mainframe systems.

6. Oracle Corporation:

Oracle specializes in developing and marketing database software, cloud infrastructure, and enterprise software products. It offers a comprehensive range of solutions for businesses, including database management systems, ERP systems, and cloud services.

7. Cisco Systems Inc.:

Cisco is a networking technology company that designs, manufactures, and sells networking equipment, software, and services. It provides solutions for networking, security, collaboration, and the Internet of Things (IoT).

8. Intel Corporation:

Intel is a leading semiconductor company that designs and manufactures computer processors, memory chips, and other hardware components used in computers, servers, and other devices.

9. HP Inc. (Hewlett-Packard):

HP is a technology company specializing in personal computers, printers, and related products. It offers a wide range of hardware devices for consumers and businesses.

10. Dell Technologies Inc.:

Dell is a multinational technology company that designs, develops, and sells computers, servers, data storage devices, network switches, and related software and services.

11. SAP SE:

SAP is a global software company that provides enterprise software solutions for managing business operations and customer relations. Its products include ERP systems, CRM software, analytics, and cloud-based applications.

12. Salesforce.com Inc.:

Salesforce is a cloud-based software company that offers customer relationship management (CRM) solutions and a range of enterprise software applications focused on sales, service, marketing, and analytics.

13. Adobe Inc.:

Adobe develops and sells software products for content creation, digital marketing, and document management. Its popular software includes Photoshop, Illustrator, Acrobat, and the Adobe Creative Cloud suite.

14. Accenture PLC:

Accenture is a multinational professional services company providing consulting, technology, and outsourcing services. It offers a wide range of solutions across various industries, including strategy, digital transformation, and IT services.

15. Tata Consultancy Services (TCS):

TCS is an Indian multinational IT services and consulting company. It offers a broad portfolio of services, including application development, IT infrastructure services, business process outsourcing, and consulting.

16. Infosys Limited:

Infosys is an Indian IT services and consulting company that provides software development, maintenance, and consulting services to clients worldwide. It specializes in digital transformation, AI, and cloud services.

17. Wipro Limited:

Wipro is another prominent Indian IT services company offering consulting, technology, and business process services. It focuses on areas such as digital transformation, analytics, cloud computing, and cybersecurity.

18. Cognizant Technology Solutions Corporation:

Cognizant is a multinational IT services and consulting company. It provides a wide range of services, including application development, IT infrastructure management, digital transformation, and business process outsourcing.

19. Capgemini SE:

Capgemini is a global consulting and professional services company that offers IT services, consulting, technology, and outsourcing solutions. It serves clients across various industries, including technology, financial services, and retail.

20. HCL Technologies Limited:

HCL Technologies is an Indian multinational IT services company that provides software development, infrastructure management, cybersecurity, and engineering services. It serves clients in industries such as healthcare, banking, and manufacturing.
Overview of IT jobs in Houstan
IT jobs offer a promising career path with excellent opportunities for progress and development.
Career Advancement: IT professionals can progress in their careers by taking on increasing levels of responsibility and leadership roles. Starting from entry-level positions, individuals can work their way up to managerial positions, project management roles, or even executive positions in IT companies.
Specialization and Expertise: IT fields offer a wide range of specializations, such as software development, data science, cybersecurity, network engineering, cloud computing, and more. By focusing on a specific area and gaining expertise, professionals can become sought-after specialists in their field, opening up opportunities for higher-level positions and increased responsibilities.
Continuous Learning and Skill Development: The IT industry is dynamic and constantly evolving. To stay relevant and competitive, IT professionals need to engage in continuous learning and skill development. This can be done through certifications, professional training programs, attending conferences, participating in workshops, or pursuing advanced degrees. Upgrading skills and staying abreast of the latest technologies is crucial for career growth in the IT field.
Emerging Technologies: The IT industry is at the forefront of technological advancements. New technologies such as artificial intelligence, machine learning, blockchain, Internet of Things (IoT), and virtual reality are rapidly shaping the industry. IT professionals who embrace and specialize in these emerging technologies can position themselves for exciting career opportunities and growth in related fields.
Leadership and Management Roles: As IT professionals gain experience and expertise, they may transition into leadership and management roles. This could involve leading teams, managing projects, overseeing technology initiatives, or even starting their own IT ventures. Leadership positions offer the opportunity to influence strategy, drive innovation, and make a significant impact on the organization.
Entrepreneurship and Innovation: IT professionals with an entrepreneurial mindset can explore opportunities to start their own technology-based ventures or become part of startup ecosystems. Entrepreneurship allows for creativity, innovation, and the potential for significant personal and professional growth.
Global Opportunities: The IT industry is globally connected, offering opportunities to work with multinational companies, collaborate with teams from different countries, and even explore international job opportunities. IT professionals with global experience can broaden their horizons, develop cross-cultural skills, and gain exposure to diverse work environments.
Competitive Salaries and Benefits: IT jobs are often associated with competitive salaries and attractive benefits packages. As IT professionals progress in their careers and gain experience, they can negotiate higher salaries and enjoy additional perks such as flexible work arrangements, professional development allowances, and health benefits.
Overall, IT jobs provide a dynamic and rewarding career path with ample opportunities for growth, skill development, leadership roles, entrepreneurship, and exposure to cutting-edge technologies. By staying proactive, embracing lifelong learning, and adapting to industry trends, IT professionals can navigate their careers successfully and enjoy continuous progress and development in the field.
Salary of Software Engineer in Houstan
IT salaries can vary significantly depending on factors such as job role, experience, location, company size, and industry.
Entry-level: $60,000 - $80,000 per year
Mid-level: $80,000 - $120,000 per year
Senior-level: $120,000 - $150,000+ per year
Data Scientist:
Entry-level: $70,000 - $90,000 per year
Mid-level: $90,000 - $130,000 per year
Senior-level: $130,000 - $180,000+ per year
Cybersecurity Analyst:
Entry-level: $60,000 - $80,000 per year
Mid-level: $80,000 - $110,000 per year
Senior-level: $110,000 - $150,000+ per year
IT Project Manager:r
Entry-level: $70,000 - $90,000 per year
Mid-level: $90,000 - $120,000 per year
Senior-level: $120,000 - $150,000+ per year
Network Engineer:
Entry-level: $60,000 - $80,000 per year
Mid-level: $80,000 - $100,000 per year
Senior-level: $100,000 - $130,000+ per year
Data Science Placement Success Story
Related searches
IT Companies in Houston, Top IT Companies in Houston , Best IT Companies in Houston, List of IT Companies in Houston, IT Jobs in Houston, Entry Level IT Jobs Houston.