Top 19 IT Companies in San Jose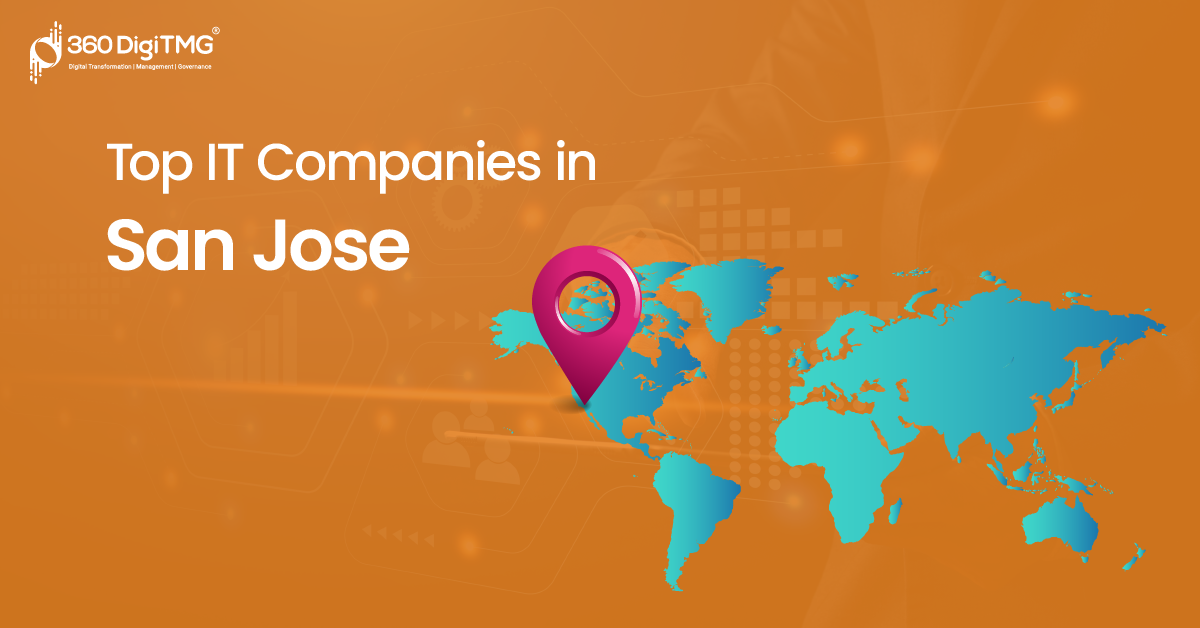 Introduction
San Jose is a city located in the state of California, United States. It is situated in the southern part of the San Francisco Bay Area, in the heart of Silicon Valley. Here's an overview of the area and its San Jose is located approximately 50 miles (80 kilometres) south of San Francisco and about 30 miles (48 kilometres) east of the Pacific Ocean.
It is bordered by several cities, including Santa Clara to the north, Campbell and Los Gatos to the south, Milpitas to the northeast, and Cupertino and Saratoga to the west.
Geographically, San Jose is positioned in the Santa Clara Valley, surrounded by the Diablo Range to the east and the Santa Cruz Mountains to the west. The city is well-connected to other major cities in the Bay Area through an extensive transportation network, including highways, airports, and public transit systems.San Jose is the largest city in Northern California, both in terms of population and land area. With a diverse population of over 1 million residents, it is the cultural, economic, and political centre of Silicon Valley.
The city of San Jose is known for its Mediterranean climate, characterized by warm, dry summers and mild, wet winters. It offers a vibrant urban environment with a mix of residential neighborhoods, commercial districts, and industrial areas.
San Jose is home to numerous high-tech companies, research institutions, and startups, making it a global hub for innovation and technology. The city's thriving tech scene has contributed significantly to its economic growth and development, attracting professionals and entrepreneurs from around the world.
Additionally, San Jose boasts a rich cultural scene with a variety of attractions, including museums, theatres, art galleries, parks, and sports arenas. It is also known for its diverse culinary offerings, reflecting the multicultural nature of its population.
Overall, San Jose's strategic location in Silicon Valley, pleasant climate, and thriving tech ecosystem make it an attractive destination for both businesses and residents alike.
History of San Jose
San Jose has a rich history that dates back to the early days of California's colonization.
Early Native American Inhabitants: Before the arrival of European settlers, the area where San Jose is located was inhabited by the Ohlone Native American people for thousands of years. They lived in small tribes and relied on hunting, fishing, and gathering for sustenance.
Spanish Colonization: In 1777, San Jose was founded as the Pueblo de San José de Guadalupe by Spanish colonizers. It served as a farming community and a stop along the El Camino Real (the Royal Road), a trade route connecting Spanish missions and presidios.
Mexican and Californian Rule: After Mexico gained independence from Spain in 1821, San Jose became a part of Mexican California. During this time, the city experienced growth and development, becoming the first capital of California under Mexican rule from 1849 to 1851.
Gold Rush Era: The discovery of gold in California in 1848 sparked the famous Gold Rush, which brought a large influx of settlers to the region. San Jose benefited from this population boom and transformed into a bustling commercial centre.
Agricultural and Industrial Growth: In the late 19th century, San Jose transitioned from an agricultural economy to an industrial one. The city became known for its canneries, food processing plants, and manufacturing industries, leading to further growth and prosperity.
Technological Hub: By the mid-20th century, San Jose's proximity to Stanford University and the University of California, Berkeley, as well as its favourable climate, attracted high-tech companies to the area. The city became the epicentre of Silicon Valley, a global hub for innovation, technology, and entrepreneurship.
Modern Development: San Jose has continued to grow and evolve as a major metropolitan center. The city has seen significant urban development, the construction of high-rise buildings, the expansion of its transportation infrastructure, and the establishment of cultural institutions and recreational amenities.
Today, San Jose remains a prominent player in the technology industry and is home to numerous multinational corporations, startups, research institutions, and venture capital firms. It continues to be a vibrant and diverse city that embraces its history while looking toward the future.
Tech Scene
San Jose's tech scene is renowned worldwide and plays a pivotal role in shaping the global technology industry. As the heart of Silicon Valley, the city is home to numerous tech giants, startups, research institutions, and venture capital firms.
Technology Companies: San Jose hosts a wide range of technology companies across various sectors. Some of the well-known tech giants with a significant presence in the city include Adobe Systems, Cisco Systems, eBay, PayPal, Western Digital, and many more. These companies are at the forefront of innovation and drive advancements in areas such as software development, networking, e-commerce, and digital payments.
Startups and Entrepreneurship: San Jose fosters a thriving startup ecosystem. The city attracts entrepreneurs from around the world who seek to launch their ventures and benefit from the supportive environment, access to funding, and a large pool of talent. The vibrant startup scene is nurtured by incubators, accelerators, co-working spaces, and networking events.
Research and Development: San Jose is home to several renowned research institutions, including the world-renowned Stanford University and the NASA Ames Research Centre. These institutions conduct cutting-edge research in various fields, including artificial intelligence, robotics, biotechnology, and clean energy. Their presence contributes to the intellectual capital and fosters collaboration with industry partners.
Venture Capital and Funding: San Jose benefits from a robust venture capital ecosystem, with numerous investment firms and angel investors actively funding technology startups. Access to capital is crucial for startups to scale their operations, and the availability of venture capital firms in San Jose provides the necessary funding and support for entrepreneurial ventures.
Networking and Collaboration: The city offers numerous opportunities for professionals, entrepreneurs, and technology enthusiasts to network, collaborate, and share knowledge. Industry conferences, meetups, hackathons, and workshops are regularly organized, providing a platform for idea exchange, skill development, and building valuable connections.
Workforce and Talent Pool: San Jose attracts highly skilled professionals from around the world due to its concentration of technology companies and opportunities for career growth. The region's strong educational institutions, including Stanford University and the University of California, Berkeley, produce a talented pool of graduates specializing in computer science, engineering, and other technology-related fields.
Innovation and Disruption: San Jose's tech scene is characterized by a culture of innovation and disruption. Companies and entrepreneurs strive to push the boundaries of technology, creating new products, services, and business models that transform industries. The collaborative environment, access to talent, and a strong entrepreneurial spirit contribute to the continuous innovation in the region.
Overall, San Jose's tech scene is dynamic, vibrant, and at the forefront of technological advancements. The city's ecosystem fosters innovation, entrepreneurship, collaboration, and investment, making it an ideal destination for technology enthusiasts and businesses looking to thrive in the ever-evolving digital landscape.
Best IT companies in San Jose:
San Jose, being the hub of Silicon Valley, is home to several prominent IT companies.
1. Adobe Systems:

Adobe is a global leader in software solutions, known for its popular products like Photoshop, Illustrator, and Acrobat. The company specializes in creative and marketing software solutions and has a significant presence in San Jose.

2. Cisco Systems:

Cisco is a multinational technology conglomerate that designs, manufactures, and sells networking equipment and solutions. The company is a leader in networking and communication technologies and has its headquarters in San Jose.

3. eBay:

eBay is a renowned e-commerce platform that connects buyers and sellers worldwide. It provides an online marketplace for various products and services and has a significant presence in San Jose.

4. PayPal:

PayPal is a global digital payments company that facilitates online money transfers and serves as an alternative to traditional paper methods. It offers secure and convenient payment solutions for individuals and businesses.

5. Western Digital:

Western Digital is a leading data storage solutions provider. The company specializes in manufacturing hard drives, solid-state drives, and other data storage devices for personal and enterprise use.

6. Zoom Video Communications:

Zoom is a widely used video conferencing and communication platform. The company gained significant popularity during the COVID-19 pandemic when remote work and virtual meetings became the norm.

7. Nutanix:

software company that offers hyper-converged infrastructure solutions. Their technology simplifies and streamlines data center operations, providing scalable and efficient IT infrastructure.

8. Xilinx:

Xilinx is a semiconductor company that specializes in programmable logic devices and adaptive computing solutions. Their products enable the development of highly flexible and customizable applications across various industries.

9. Splunk:

Splunk is a software company that provides a data analysis platform used for monitoring, analysing, and visualizing machine-generated data. Their software helps organizations gain valuable insights and make data-driven decisions.

10. Harmonic:

Harmonic is a leading provider of video delivery infrastructure solutions. Their technology enables efficient video processing, streaming, and distribution, catering to the media and entertainment industry.

11. Hewlett Packard Enterprise:

Hewlett Packard Enterprise (HPE) is a multinational information technology company that provides a wide range of products and services, including servers, storage solutions, networking equipment, and software.

12. Intel Corporation:

In tel is a global leader in semiconductor manufacturing and technology innovation. The company designs and produces microprocessors, chipsets, and other hardware components for various computing devices.

13. Intuit:

Intuit is a software company that develops financial management and accounting software solutions. Their products, such as QuickBooks and TurboTax, are widely used by individuals, small businesses, and accounting professionals.

14. Synopsys:

Synopsys is a leading electronic design automation (EDA) company. They provide software tools and services that help design and verify integrated circuits, semiconductor chips, and electronic systems.

15. ServiceNow:

ServiceNow is a cloud-based software company that specializes in IT service management (ITSM) and business process automation. Their platform enables organizations to streamline and automate various workflows and processes.

16. Palo Alto Networks:

Palo Alto Networks is a cybersecurity company that provides next-generation firewalls, network security solutions, and threat intelligence services. Their technologies help organizations protect their networks and data from cyber threats.

17. Fortinet:

Fortinet is a global provider of cybersecurity solutions, including network security appliances, firewalls, and advanced threat protection systems. Their products and services help organizations secure their networks and data from cyber threats.

18. Supermicro:

Supermicro is a leading provider of advanced server solutions and high-performance computing systems. They specialize in designing and manufacturing energy-efficient server hardware for data centres and enterprise IT environments.

19. Veritas Technologies:

Veritas Technologies is a data management company that offers software solutions for data protection, backup and recovery, storage optimization, and information governance. Their technologies help organizations manage and protect their data assets.
These additional IT companies contribute to the diverse and innovative technology landscape of San Jose, driving advancements in various sectors and industries.
Overview of IT Jobs in San Jose
IT jobs offer a wide range of opportunities for progress and development, driven by the ever-evolving nature of technology.
Skill Development: IT professionals can continuously enhance their skills and knowledge to stay relevant in the industry. As technology advances, new programming languages, frameworks, tools, and methodologies emerge. By investing in continuous learning and professional development, IT professionals can expand their skill set and adapt to changing industry demands.
Career Advancement: IT careers often provide multiple pathways for advancement. Professionals can start in entry-level positions and gradually progress to more senior roles with greater responsibilities. Advancement opportunities may include promotions to managerial or leadership positions, specialized roles in specific technologies or domains, or transitioning to higher-level technical roles.
Specialization: IT offers a vast array of specialization options. Professionals can choose to specialize in areas such as software development, cybersecurity, data science, cloud computing, artificial intelligence, networking, database administration, and more. Specialization allows individuals to develop deep expertise in their chosen field, making them valuable assets to organizations.
Entrepreneurship and Startups: The IT industry is known for fostering entrepreneurship and innovation. IT professionals with entrepreneurial aspirations can explore opportunities to start their own businesses or join startups. This path allows individuals to leverage their technical skills and creativity to develop innovative products, services, or solutions and potentially achieve significant growth and success.
Leadership Roles: As IT professionals gain experience and demonstrate their expertise, they may have opportunities to transition into leadership positions. These roles involve managing teams, projects, and resources, as well as making strategic decisions that align with organizational goals. Leadership positions offer increased responsibility, influence, and the chance to shape the direction of technology initiatives within a company.
Cross-Disciplinary Collaboration: IT professionals often collaborate with professionals from other disciplines, such as business, marketing, finance, and operations. This collaboration provides opportunities to develop a broader understanding of business operations, expand their network, and contribute to multidisciplinary projects. Building skills in communication, project management, and teamwork becomes crucial to succeed in these collaborative environments.
Industry and Technological Trends: Staying abreast of industry and technological trends is essential for IT professionals to progress in their careers. They need to be proactive in understanding emerging technologies, industry best practices, and market trends. By keeping up with the latest developments, IT professionals can identify new opportunities, adapt to changes, and position themselves as experts in cutting-edge technologies.
Continuing Education and Certifications: IT professionals can pursue further education and certifications to validate their skills and knowledge. Certifications from reputable organizations and vendors provide tangible proof of expertise and can enhance career prospects. Continuous learning through workshops, online courses, conferences, and industry events helps professionals stay current and competitive.
Overall, the IT industry offers a dynamic and evolving landscape with ample opportunities for progress and development. By embracing lifelong learning, specializing in high-demand areas, seeking leadership roles, staying informed about industry trends, and pursuing continuous skill development, IT professionals can shape rewarding and fulfilling careers in this ever-growing field.
Salary of Software Engineer in San Jose
IT salaries vary significantly based on factors such as job role, experience level, location, company size, and industry. However, in general, IT jobs tend to offer competitive salaries due to the high demand for skilled professionals.
Software Developer/Engineer: Entry-level software developers can expect an average salary range of around $65,000 to $85,000 per year. As they gain experience and expertise, their salaries can increase significantly, with senior software developers earning anywhere between $90,000 to $150,000 or more annually.
Data Scientist: Data scientists, with their expertise in analyzing and interpreting complex data, are in high demand. Entry-level data scientists can earn salaries ranging from $70,000 to $100,000 per year, while experienced professionals or those with advanced degrees can command salaries upwards of $150,000 or more.
Cybersecurity Analyst: As cybersecurity threats continue to rise, the demand for skilled cybersecurity professionals remains strong. Entry-level cybersecurity analysts can earn salaries ranging from $60,000 to $90,000 per year, while experienced professionals or those in managerial positions can earn well over $100,000 annually.
Network Engineer: Network engineers responsible for designing and maintaining computer networks can earn salaries starting from around $60,000 to $80,000 per year. With experience and advanced certifications, network engineers can earn salaries surpassing $100,000 annually.
Cloud Architect: Cloud architects, who design and implement cloud infrastructure solutions, are highly sought after. Entry-level salaries for cloud architects can range from $80,000 to $110,000 per year, with senior-level professionals earning $120,000 or more annually.
IT Project Manager: IT project managers oversee the planning, execution, and successful delivery of IT projects. Salaries for IT project managers can vary widely depending on the complexity and size of projects. Entry-level project managers can earn around $70,000 to $90,000 per year, while experienced professionals can earn well over $100,000 annually.
Data Science Placement Success Story
Related searches
IT Companies in San Jose, IT Companies in San Jose , IT Jobs in San Jose, Entry Level IT jobs San Jose, IT Jobs San Jose.