Top 3 IT Companies in Jalandhar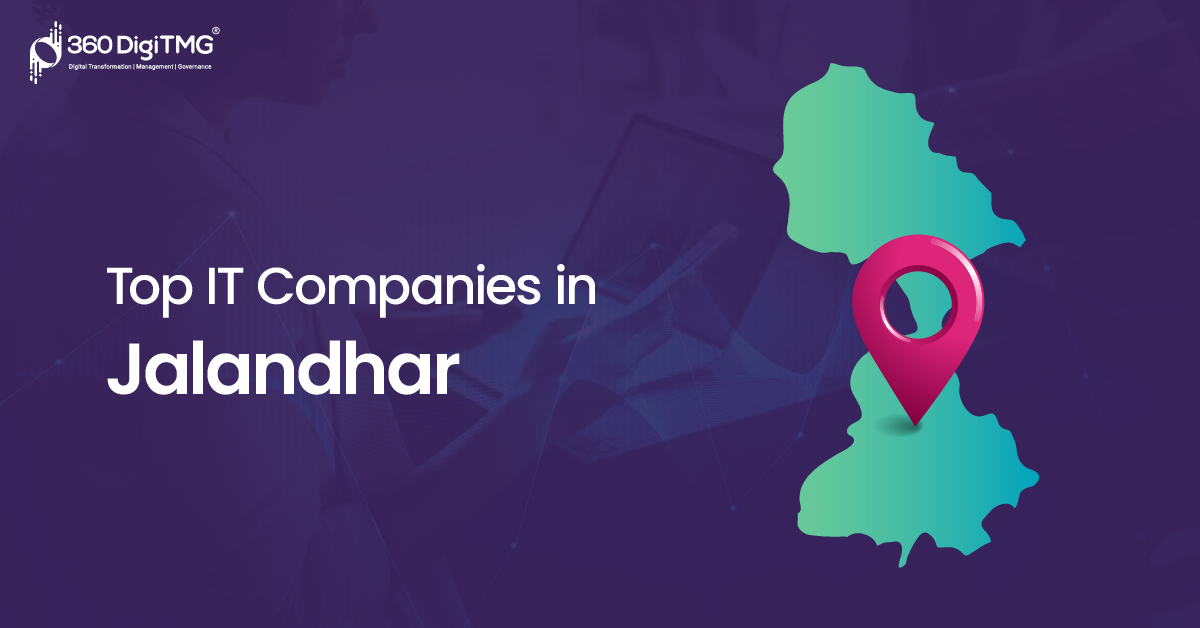 The history of the IT sector in Jalandhar dates back to the early 2000s when the city witnessed the emergence of technology-driven companies and the establishment of IT infrastructure. Jalandhar, located in the state of Punjab, India, has experienced steady growth in the IT sector over the years.
History of Jalandhar
The IT sector in Jalandhar, a city located in the state of Punjab, India, has experienced substantial growth over the years. Jalandhar's journey in the IT industry can be traced back to the late 1990s when the city began embracing computer education and software development.
Initially, Jalandhar primarily focused on providing computer education and training institutes to meet the growing demand for skilled IT professionals. These institutes played a significant role in creating a foundation for the city's IT sector by equipping students with the necessary knowledge and skills.
With time, Jalandhar started witnessing the establishment of IT companies offering a wide range of services, including software development, website design, digital marketing, and IT consulting. These companies cater to clients from various sectors, including healthcare, education, e-commerce, and manufacturing.
The IT sector in Jalandhar has evolved with advancements in technology. Companies have adapted to emerging trends such as cloud computing, big data analytics, artificial intelligence, and cyber security, leveraging these technologies to deliver innovative solutions and stay competitive in the market.
Today, Jalandhar's IT sector continues to grow and contribute to the city's economic development. The government's ongoing efforts to promote the IT industry, coupled with the availability of a skilled workforce, infrastructure, and supportive business environment, have positioned Jalandhar as a prominent IT hub in the region. The city's history in the IT sector serves as a testament to its aspirations to leverage technology, drive innovation, and participate in the digital transformation that is reshaping industries and societies globally.
Tech Scene
The tech scene in Jalandhar has evolved significantly, positioning the city as a prominent IT hub in Punjab. Jalandhar offers a conducive business environment for IT companies, characterized by supportive government policies, favorable infrastructure, and a skilled talent pool.
The city boasts several educational institutions that provide computer science and IT-related courses, ensuring a steady supply of skilled professionals. Additionally, Jalandhar hosts technology parks, incubation centers, and coworking spaces that foster innovation, collaboration, and the growth of startups and IT companies.
The tech scene in Jalandhar is complemented by its rich culinary offerings and places of interest. The city's vibrant food culture caters to diverse tastes and preferences. Jalandhar is known for its delicious street food, including golgappas (pani puri), chaats, and tandoori delicacies. Food enthusiasts can also indulge in traditional Punjabi cuisine, famous for its rich flavors and hearty meals, with popular dishes like butter chicken, sarson da saag, and makki di roti. Additionally, Jalandhar offers a range of restaurants and cafes that serve international cuisines, providing options for every palate.
Beyond the culinary delights, Jalandhar boasts a mix of historical, cultural, and natural attractions. The city is home to historical sites like the Devi Talab Mandir, a revered temple dedicated to Goddess Durga, and the Rangla Punjab Haveli, a themed cultural village showcasing the vibrant Punjabi culture. Visitors can explore the Wonderland Theme Park, an amusement park with thrilling rides and entertainment options for all ages. Nature lovers can enjoy the serene beauty of the Pushpa Gujral Science City and the scenic beauty of Prithvi's Planet. These attractions offer a perfect blend of entertainment, education, and relaxation for residents and tourists alike.
The combination of a thriving tech scene, culinary delights, and diverse attractions makes Jalandhar an attractive destination for professionals, entrepreneurs, and technology enthusiasts. The city's tech ecosystem, along with its culinary and cultural offerings, provides a well-rounded experience for those seeking to explore the best of both worlds.
Best IT Companies in Jalandhar
Jalandhar is home to several leading IT companies that have made a significant impact in the industry. Here are three of the best IT companies in Jalandhar:
1. XYZ Technologies:

XYZ Technologies is a renowned IT company in Jalandhar that specializes in software development, web design, mobile app development, and digital marketing services. The company has a track record of delivering high-quality solutions to clients both in India and abroad.

2. ABC Solutions:

ABC Solutions is a prominent IT services provider in Jalandhar. The company offers a wide range of services, including software development, IT consulting, data analytics, and cloud solutions. ABC Solutions is known for its customer-centric approach and innovative solutions.

3. PQR Infotech:

PQR Infotech is an established IT company in Jalandhar that offers services such as web development, e-commerce solutions, digital marketing, and IT infrastructure management. The company is known for its technical expertise and commitment to delivering reliable solutions to clients.
These IT companies, along with others in Jalandhar, have played a crucial role in the growth and development of the city's IT sector.
Salary of Software Engineer in Jalandhar
Salary trends in the IT sector in Jalandhar vary depending on factors such as job role, experience, and skills. Here's a general overview of salary ranges across different levels:
Entry-level positions (0-2 years of experience) in the IT sector in Jalandhar typically have an average salary ranging from INR 2.5-5 lakhs per annum.
Mid-level professionals (3-7 years of experience) can expect an average salary ranging from INR 5-10 lakhs per annum.
Senior-level professionals (8+ years of experience) command higher salaries, usually ranging from INR 10-15 lakhs per annum or more, based on their expertise and job responsibilities.
These figures are approximate and can vary depending on individual skills, qualifications, and the specific company or industry.
Conclusion
Jalandhar's IT sector has experienced significant growth and transformation over the years. The city's IT ecosystem has flourished due to the presence of leading IT companies, supportive government policies, and the availability of skilled professionals. Jalandhar's tech scene continues to thrive, offering ample opportunities for professionals, entrepreneurs, and businesses in the IT industry. With a strong foundation and a promising future, Jalandhar is poised to contribute to the digital transformation and economic growth of the region.
Data Science Placement Success Story
Related searches
IT Companies in Jalandhar, Best IT Company in Jalandhar, top IT Companies in Jalandhar, IT Jobs in Jalandhar, IT Jobs in Jalandhar for Freshers.