Top 10 IT Companies in Sri Lanka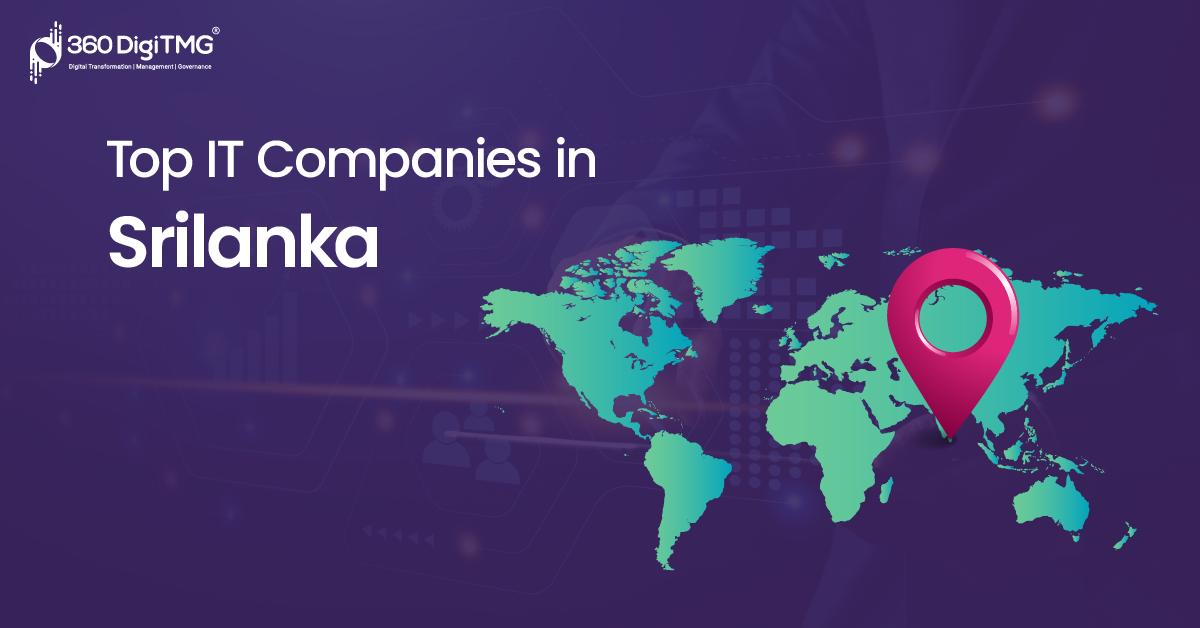 Introduction:
Sri Lanka, officially known as the Democratic Socialist Republic of Sri Lanka, is an island nation located in South Asia. With a rich cultural heritage, stunning landscapes, and a rapidly growing economy, Sri Lanka has become an emerging player in the global tech scene. This article will provide an overview of the tech scene in Sri Lanka, highlighting its growth, key players, and initiatives driving the country's digital transformation.
History of Sri Lanka:
Sri Lanka has a long and illustrious history dating back thousands of years. It has been inhabited for over 30,000 years, with ancient kingdoms, including Anuradhapura and Polonnaruwa, establishing thriving civilizations. The island has been a melting pot of cultures, influenced by Indian, Arab, European, and Southeast Asian civilizations. Sri Lanka's history is marked by periods of colonization, including Portuguese, Dutch, and British rule, before gaining independence in 1948.
Tech Scene:
Over the past decade, Sri Lanka has witnessed significant growth in its technology sector, contributing to the country's economic development and attracting international attention. Here are key aspects of the tech scene in Sri Lanka:
Government Initiatives: The Sri Lankan government has recognized the importance of technology and digital transformation in driving economic growth. Initiatives such as the Digital Economy Strategy and National Digital Policy have been launched to foster innovation, enhance digital infrastructure, and promote entrepreneurship in the tech sector.
Startup Ecosystem: Sri Lanka has seen a rise in the number of startups, incubators, and accelerators, creating a vibrant ecosystem for innovation and entrepreneurship. The capital city of Colombo has become a hotspot for startups, with sectors such as fintech, e-commerce, health tech, and travel tech gaining prominence. Organizations like Hatch and Startup Sri Lanka provide support, mentorship, and funding opportunities for startups.
IT Services and Outsourcing: Sri Lanka has established itself as a hub for IT services and outsourcing. The country's skilled workforce, competitive costs, and proficiency in English have attracted international companies seeking software development, IT support, and other IT-enabled services. Several global IT companies have set up offices in Sri Lanka, contributing to job creation and economic growth.
Education and Skilled Workforce: Sri Lanka boasts a strong education system with a focus on technical and engineering fields. Universities and institutes offer specialized IT programs, producing a pool of skilled graduates. The country also promotes continuous learning and upskilling through initiatives like coding boot camps and vocational training programs.
Research and Development: Sri Lanka is investing in research and development (R&D) to foster innovation and technological advancements. Universities and research institutions collaborate with industry partners on cutting-edge projects, particularly in areas such as AI, machine learning, and biotechnology.
Government Support and Regulations: The Sri Lankan government provides support to the tech sector through various incentives, tax benefits, and regulatory frameworks. Policies are being developed to attract foreign investments, promote digital entrepreneurship, and protect intellectual property rights.
Digital Infrastructure: Sri Lanka has made significant progress in developing its digital infrastructure. The country has expanded internet connectivity, increased mobile penetration, and improved broadband services. Efforts are also being made to bridge the digital divide and promote digital literacy across the nation.
The tech scene in Sri Lanka is evolving rapidly, driven by government initiatives, a growing startup ecosystem, and a skilled workforce. With a focus on innovation, entrepreneurship, and digital transformation, Sri Lanka is positioning itself as a regional tech hub and an attractive destination for tech investments.
Best IT companies in Sri Lanka:
Sri Lanka is home to several notable IT companies, ranging from established multinational corporations to innovative startups. These companies contribute to the growth of the tech industry in Sri Lanka and provide a wide range of IT services and solutions. Here are some prominent IT companies in Sri Lanka:
1. Virtusa Corporation:

Virtusa is a global IT services company with a significant presence in Sri Lanka. They offer a range of services including software development, digital transformation, cloud computing, data analytics, and cybersecurity.

2. WSO2:

WSO2 is an open-source technology provider specializing in API management, integration, and identity and access management solutions. They serve global clients and have their headquarters in Sri Lanka.

3. Sysco LABS:

Sysco LABS is the technology arm of Sysco Corporation, a leading global foodservice distribution company. They provide software development and technology solutions in areas such as e-commerce, supply chain management, and digital marketing.

4. IFS:

IFS is a multinational enterprise software company with a development center in Sri Lanka. They specialize in enterprise resource planning (ERP), enterprise asset management (EAM), and field service management solutions.

5. MillenniumIT:

MillenniumIT, a subsidiary of the London Stock Exchange Group, is a leading provider of capital market solutions and services. They offer trading platforms, surveillance systems, and post-trade solutions to financial institutions globally.

6. hSenid:

hSenid is an IT company that specializes in HR solutions, including human resource management systems (HRMS), payroll systems, and talent management software. They cater to both local and international clients.

7. 99X Technology:

99X Technology is a software engineering company that provides software development, quality assurance, and product engineering services. They work with clients in various industries, including finance, healthcare, and telecommunications

8. Virtuosoft:

Virtuosoft is an IT solutions provider offering services such as software development, web and mobile application development, and software testing. They cater to both local and international clients.

9. Calcey Technologies:

Calcey Technologies is a software engineering and product development company that helps clients build software products and platforms. They have expertise in areas such as cloud computing , big data, and AI.

10. Microimage:

Microimage is a technology solutions provider specializing in HR and talent management, workforce analytics, and digital learning solutions. They have a strong presence in the HR technology space.
Overview of IT Jobs in Sri Lanka:
IT jobs in Sri Lanka offer a wide range of opportunities for professional growth and development over time. As the country's tech industry continues to expand, professionals can expect a dynamic and evolving career landscape. Here is an overview of how IT jobs can progress and develop over time in Sri Lanka:
Entry-level Positions: IT careers often begin with entry-level positions such as junior software developer, IT support specialist, or junior data analyst. These roles provide an opportunity to gain practical experience, learn foundational skills, and understand the industry landscape.
Skill Enhancement and Specialization: As professionals gain experience and foundational knowledge, they can focus on enhancing their skills and specializing in specific areas of IT. This can include pursuing certifications or advanced training programs in areas such as cybersecurity, cloud computing, data science, artificial intelligence (AI), or software engineering.
Mid-level Roles: With a few years of experience and specialized skills, IT professionals can progress to mid-level roles such as software engineer, network administrator, data scientist, or IT project manager. These positions involve greater responsibility, decision-making, and leadership opportunities.
Leadership and Management: As professionals gain expertise and demonstrate strong leadership and management capabilities, they can advance into senior- level positions such as IT manager, IT director, or CTO (Chief Technology Officer). These roles involve overseeing teams, managing projects, and contributing to strategic technology planning within organizations.
Entrepreneurship and Startups: Sri Lanka has a growing startup ecosystem, providing opportunities for IT professionals to venture into entrepreneurship or join early-stage tech companies. Starting a tech startup or joining one in its early stages can offer opportunities to work on innovative projects, take ownership, and have a significant impact on the company's growth.
Consulting and Advisory Roles: As the IT landscape evolves, there is an increasing demand for IT consultants and advisors who can provide guidance and expertise to organizations. IT professionals with a deep understanding of technology trends, industry best practices, and business strategy can pursue consulting roles, either independently or with consulting firms.
Research and Development: For those interested in pushing the boundaries of technology, research and development (R&D) roles can be pursued. Universities, research institutions, and companies with R&D divisions offer opportunities for IT professionals to engage in cutting-edge research, develop innovative solutions, and contribute to technological advancements.
Continuous Learning and Professional Development: Throughout an IT career in Sri Lanka, ongoing learning and professional development are crucial. Staying updated with emerging technologies, attending conferences, obtaining certifications, and participating in industry forums can help IT professionals stay competitive and abreast of the latest advancements in the field.
Salary of Software Engineer in Sri Lanka:
salaries in IT companies in Sri Lanka can vary depending on several factors such as job role, experience level, location, company size, and industry. In general, entry-level positions in IT companies offer salaries ranging from around LKR 35,000 to 70,000 per month. These positions may include roles such as junior software developers/engineers, IT support specialists, or junior data analysts. These salaries provide a starting point for individuals entering the IT industry and gaining practical experience in their respective fields.
As professionals progress in their careers and gain more experience and specialized skills, they can expect higher salaries. Mid-level positions, such as software developers/engineers, systems analysts, or network administrators, often offer salaries ranging from approximately LKR 70,000 to 150,000 per month. These roles involve greater responsibility and expertise, contributing to the development and implementation of various IT projects within organizations.
Senior-level positions in IT companies command even higher salaries. Senior software developers/engineers, IT project managers, and data scientists can expect salaries ranging from around LKR 150,000 to 300,000 per month. These professionals often possess significant experience, leadership capabilities, and expertise in their respective fields. They play a crucial role in leading and managing teams, driving innovation, and contributing to the overall strategic direction of IT initiatives within organizations.
Data Science Placement Success Story
Related searches
IT companies in Sri Lanka, Best IT companies in Sri Lanka, IT companies in colombo, Top IT companies in Sri Lanka, IT companies in Sri Lanka list, List of IT companies in Sri Lanka, Sri Lanka best IT companies, IT companies in srilanka