Top 10 IT Companies in Thailand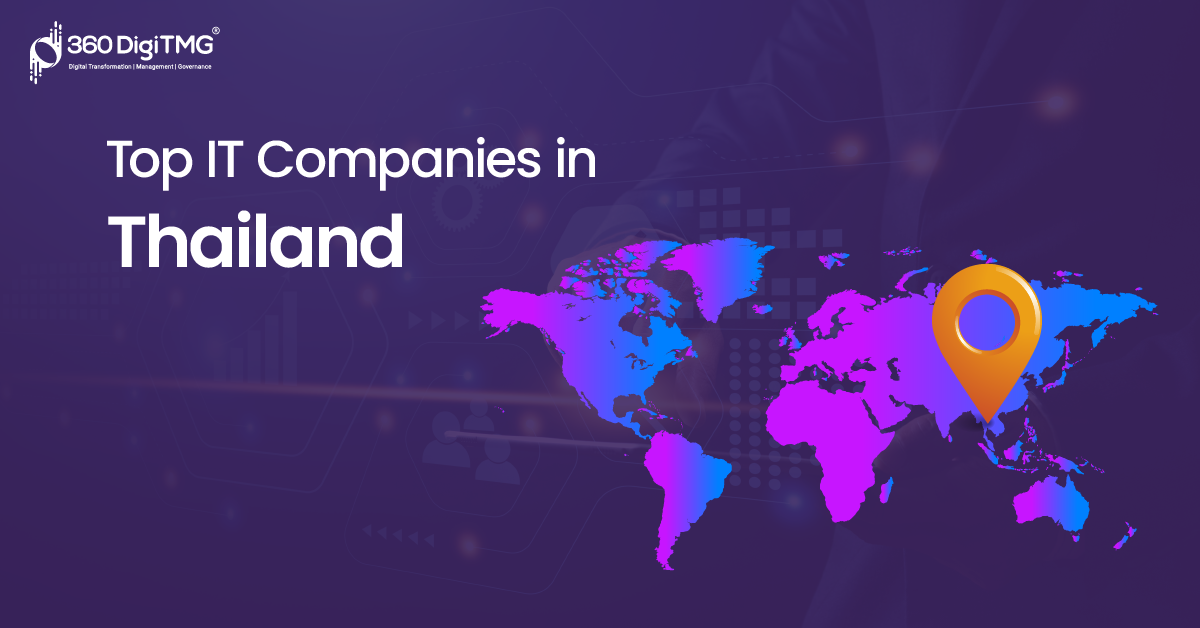 Introduction
Thailand is a country located in Southeast Asia. It is situated in the southwestern part of the Indochinese Peninsula, sharing borders with Myanmar (Burma) to the west, Laos to the northeast, Cambodia to the southeast, and Malaysia to the south. The capital and largest city of Thailand is Bangkok, which is located in the central part of the country. Bangkok is a major economic and cultural hub, known for its bustling city life, ornate temples, vibrant street markets, and modern infrastructure. In addition to Bangkok, there are several other prominent cities and regions in Thailand, including Chiang Mai in the north, Phuket and Krabi in the south, Pattaya on the eastern Gulf coast, and Ayutthaya, the historical capital. Thailand is renowned for its beautiful beaches, tropical islands, rich cultural heritage, and friendly people. It attracts millions of tourists each year and has a diverse economy with industries ranging from tourism and hospitality to manufacturing, agriculture, and services. Overall, Thailand offers a favourable environment for IT professionals, with ample opportunities for career growth and development, particularly in major cities like Bangkok.
History of Thailand
Thailand has a rich and diverse history that dates back thousands of years. The earliest known civilization in the region can be traced back to the kingdom of Dvaravati, which flourished from the 6th to the 11th century. This period saw the establishment of major cities, the construction of Buddhist temples, and the influence of Indian cultural and religious traditions.
In the 13th century, the region came under the control of the Khmer Empire based in present-day Cambodia. The Khmer Empire's influence waned in the 14th century, and the kingdom of Ayutthaya emerged as a major power in the region. Ayutthaya became a prosperous trading center and a hub of culture and learning, attracting merchants and scholars from various parts of Asia.
However, in the 18th century, the Ayutthaya kingdom faced a series of conflicts with European powers, particularly the Dutch and the Burmese. In 1767, Ayutthaya was sacked and destroyed by the Burmese, leading to the collapse of the kingdom.
After the fall of Ayutthaya, General Taksin established a new capital in Thonburi and later moved it across the river to present-day Bangkok. Under King Rama I, the Chakri Dynasty was founded, and Bangkok became the new capital of the Kingdom of Siam (the former name of Thailand). The Chakri Dynasty has continued to rule Thailand to this day, making it one of the oldest continuous monarchies in the world.
During the 19th and early 20th centuries, Thailand underwent modernization and faced various challenges from colonial powers. It managed to maintain its independence and adopted significant reforms to modernize the country's infrastructure, education system, and governance.
In 1939, the country's name was changed from Siam to Thailand, which means "Land of the Free." Thailand remained neutral during most of World War II but came under Japanese occupation from 1941 to 1945.
In the post-war period, Thailand experienced rapid economic growth and social development. It embraced industrialization and opened up to foreign investment, becoming one of the leading economies in Southeast Asia. However, political instability and periodic military coups have also characterized Thailand's recent history.
Today, Thailand is known for its vibrant culture, historical landmarks, stunning natural beauty, and welcoming hospitality. It continues to evolve as a modern nation while preserving its unique traditions and heritage.
Tech Scene
Thailand's tech scene has been rapidly growing in recent years, positioning itself as a leading technology hub in Southeast Asia. The country has made significant investments in infrastructure, education, and research and development to foster innovation and entrepreneurship in the technology sector.
Bangkok, the capital city, is at the forefront of Thailand's tech industry. It houses numerous tech startups, coworking spaces, and innovation centers. The city has a vibrant ecosystem that brings together entrepreneurs, investors, and tech enthusiasts, fostering collaboration and knowledge sharing.
In addition to Bangkok, other cities such as Chiang Mai and Phuket are also emerging as technology hubs. Chiang Mai, in particular, has a thriving startup community and is known for its concentration of digital nomads and tech entrepreneurs.
Thailand's tech scene is diverse, covering various sectors such as e-commerce, fintech, software development, artificial intelligence , and digital marketing. The government has introduced initiatives and policies to support the growth of these industries, including tax incentives, investment schemes, and regulatory reforms.
The country's strategic location in Southeast Asia and its well-developed infrastructure make it an attractive destination for multinational tech companies looking to establish a regional presence. Many global tech giants have set up offices or research and development centers in Thailand, creating job opportunities and driving technological advancements.
Thailand also hosts tech-focused events, conferences, and meetups, bringing together industry professionals, investors, and innovators. These events serve as platforms for networking, showcasing new technologies, and fostering collaborations.
Overall, Thailand's tech scene is vibrant and dynamic, offering ample opportunities for professionals and entrepreneurs to thrive. With a supportive ecosystem, growing investment, and a talented workforce, the country is well-positioned to continue its progress and contribute to the region's digital transformation.
Best IT Companies in Thailand
1. Advanced Info Service (AIS):

One of the leading telecommunications companies in Thailand, offering a wide range of IT and digital services.

2. True Corporation:

A telecommunications conglomerate that provides IT solutions, digital services, and operates the country's largest mobile network.

3. dtac (Total Access Communication):

Another major telecommunications company in Thailand, offering IT services, mobile network solutions, and digital innovations.

4. SCG (Siam Cement Group):

A conglomerate with diverse business interests, including IT solutions, digital transformation, and innovation in various industries.

5. ThaiBev:

A beverage and alcohol company that has also ventured into the IT sector, focusing on digital transformation and technology-driven business strategies.

6. Lazada Thailand:

A leading e-commerce platform that offers IT solutions, digital marketing, and logistics services.

7. Shopee Thailand:

Another popular e-commerce platform that provides IT services, online marketplace solutions, and digital marketing strategies.

8. Agoda:

A well-known online travel and accommodation booking platform that operates globally and has a strong presence in Thailand.

9. Central Group:

A retail and property development conglomerate that has invested in IT solutions and digital initiatives to enhance customer experiences.

One of the largest banks in Thailand that has embraced digital transformation, offering online banking services, mobile applications, and innovative financial technologies.
These companies represent a mix of telecommunications, e-commerce, digital services, and technology-driven industries in Thailand. They are recognized for their innovative approaches, customer-centric solutions, and contributions to the country's IT landscape.
Overview of IT Jobs in Thailand
IT jobs have significant potential for progress and development due to the continuous advancements in technology and increasing digitalization across industries.
Growing Demand: demand for IT professionals is continuously expanding as businesses increasingly rely on technology for their operations. This creates numerous job opportunities across various sectors.
Diverse Specializations: IT offers a wide range of specializations, including software development, data science, cybersecurity, cloud computing, artificial intelligence, and more. Professionals can choose to specialize in a particular area and enhance their skills in line with industry trends.
Continuous Learning: IT is a dynamic field, and professionals must keep up with the latest technologies and industry practices. Continuous learning and upskilling are essential to stay relevant and advance in IT careers. Online courses, certifications, and professional development programs are available to support ongoing learning.
Career Advancement: IT careers offer ample opportunities for career growth and advancement. Professionals can progress from entry-level positions to more senior roles, such as IT manager, project manager, technical architect, or CTO. Leadership and management skills become crucial as individuals take on more responsibilities.
Entrepreneurial Opportunities: IT industry is known for its entrepreneurial spirit, allowing individuals to start their own businesses or work as independent consultants. With the right skills, knowledge, and networking, IT professionals can explore entrepreneurial ventures and contribute to technological innovation.
Remote Work and Flexibility: IT jobs often offer flexibility in terms of work arrangements. Remote work opportunities are prevalent, allowing professionals to work from anywhere and collaborate with teams globally. This flexibility provides better work-life balance and opens up job prospects beyond geographical limitations.
Competitive Salaries: IT jobs are often well-paid due to the high demand for skilled professionals. salaries vary based on experience, specialization, and location. Additionally, professionals with niche skills and in-demand expertise may command even higher salaries.
Global Opportunities: IT professionals have access to global opportunities, as technology transcends borders. Skilled individuals can work for multinational corporations, collaborate with teams from different countries, and contribute to international projects.
Innovation and Creativity: IT jobs provide a platform for innovation and creativity. Professionals can apply their technical expertise to solve complex problems, develop innovative solutions, and contribute to technological advancements that shape industries and societies.
Job Security: With the growing reliance on technology, IT professionals enjoy a level of job security. The demand for their skills remains high, and there is a constant need for IT expertise to maintain, enhance, and secure digital infrastructure.
Salary of Software Engineer in Thailand
Salaries in the IT industry can vary widely depending on factors such as job role, experience, location, company size, and industry sector.
Software Engineer/Developer:
Entry-Level: $50,000 - $80,000 per year
Mid-Level: $80,000 - $120,000 per year
Senior-Level: $120,000 - $180,000+ per year
Data Scientist/Analyst:
Entry-Level: $60,000 - $90,000 per year
Mid-Level: $90,000 - $130,000 per year
Senior-Level: $130,000 - $200,000+ per year
cybersecurity Analyst/Engineer:
Entry-Level: $60,000 - $90,000 per year
Mid-Level: $90,000 - $130,000 per year
Senior-Level: $130,000 - $180,000+ per year
IT Project Manager:
Entry-Level: $60,000 - $90,000 per year
Mid-Level: $90,000 - $120,000 per year
Senior-Level: $120,000 - $150,000+ per year
Network Administrator/Engineer:
Entry-Level: $50,000 - $70,000 per year
Mid-Level: $70,000 - $100,000 per year
Senior-Level: $100,000 - $140,000+ per year