Top 20 IT Companies in Qatar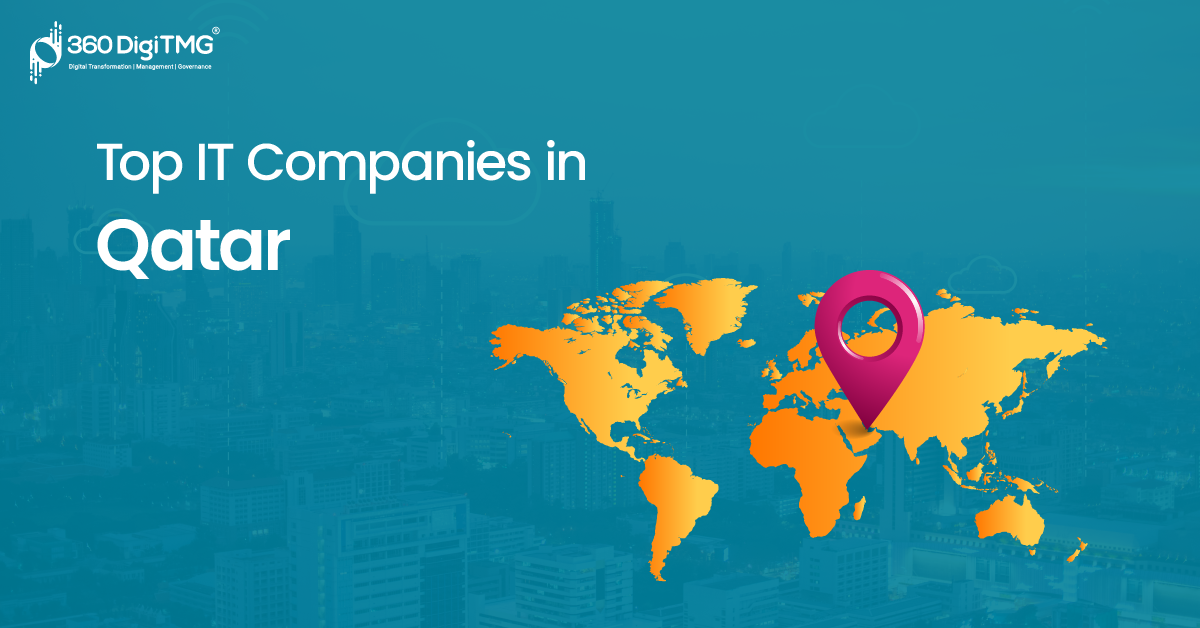 Introduction
Qatar is a country located in the Middle East, occupying the northeastern coast of the Arabian Peninsula. It is bordered by Saudi Arabia to the south, with the Persian Gulf surrounding its other three sides. Qatar's precise geographical coordinates are approximately 25.3548° N latitude and 51.1839° E longitude. The capital city of Qatar is Doha, which is also the largest city and the economic centre of the country. Doha is situated on the eastern coast of Qatar, overlooking the Persian Gulf. It is known for its modern skyline, bustling city life, and vibrant business district. Qatar's location in the Middle East provides it with strategic importance and has contributed to its development as a major economic and cultural hub in the region. The country's natural resources, particularly its vast reserves of oil and natural gas, have played a significant role in its rapid growth and development over the years.
is known for its modern infrastructure, world-class facilities, and a thriving business environment. It has attracted international companies and organizations, making it a global destination for business and investment. The country is also known for its rich cultural heritage, stunning architecture, and hospitality, making it a popular destination for tourists and expatriates.
History of Qatar
Qatar has a rich and fascinating history that dates back thousands of years. The region has been inhabited since ancient times, with evidence of human presence dating back to the Stone Age. Qatar has witnessed the rise and fall of various civilizations, empires, and trading powers throughout its history. In ancient times, Qatar was known for its strategic location along important trade routes, particularly the maritime trade routes of the Arabian Gulf. It was part of the wider Arabian Peninsula and came under the influence of various empires, including the Assyrians, Babylonians, Persians, and later the Islamic Caliphates. During the 19th century, Qatar emerged as a center for pearl diving and trade. Pearling was the main economic activity, and the country prospered as a result. However, the discovery of oil in the 1930s transformed Qatar's economy and changed the course of its history. With the establishment of Qatar Petroleum in 1974, the country's oil and gas industry grew rapidly, bringing significant wealth and modernization.
In recent decades, Qatar has pursued a vision of development and diversification beyond its oil and gas sector. The country has invested heavily in infrastructure, education, healthcare, and various industries to create a knowledge-based economy. Qatar has also gained international recognition for hosting major events such as the Asian Games in 2006 and the FIFA World Cup scheduled for 2022.
Qatar's history is deeply rooted in its Arab and Islamic heritage, and the country takes pride in preserving its cultural traditions. It has also played an active role in regional and international affairs, promoting diplomacy, peace, and humanitarian initiatives.
Today, Qatar stands as a modern and prosperous nation, known for its global influence, economic strength, and cultural heritage. It continues to shape its future through ambitious development plans, investments in technology and innovation, and a commitment to sustainable growth.
Tech Scene
Qatar has been making significant progress in developing its technology sector and establishing itself as a regional hub for innovation and technology. The government of Qatar has recognized the importance of technology in driving economic growth and diversification and has implemented various initiatives to foster the development of the tech scene.
One of the key initiatives is the Qatar National Vision 2030, which aims to transform Qatar into a knowledge-based economy. This vision emphasizes the role of technology and innovation in driving economic development, improving government services, and enhancing the overall quality of life in the country.
Qatar has also established several institutions and organizations to support the growth of the tech sector. One such organization is Qatar Science & Technology Park (QSTP), which serves as a hub for research, innovation, and technology development. QSTP provides support and resources to startups, entrepreneurs, and technology companies, fostering a culture of entrepreneurship and innovation.
In addition, Qatar has made significant investments in research and development, with a focus on sectors such as information and communication technology (ICT), artificial intelligence (AI), cybersecurity, and renewable energy. These investments have attracted both local and international tech companies to establish a presence in Qatar, contributing to the growth of the tech scene.
Qatar is also known for hosting various technology-focused events, conferences, and exhibitions. These events bring together industry leaders, experts, and innovators to exchange knowledge, showcase emerging technologies, and promote collaboration.
Furthermore, the government has launched various initiatives to enhance digital infrastructure, promote e-government services, and support digital transformation across different sectors. This includes initiatives like the Smart Qatar program, which aims to leverage technology to improve various aspects of daily life, including transportation, healthcare, and education.
Overall, the tech scene in Qatar is rapidly evolving and offers promising opportunities for professionals, entrepreneurs, and investors. With strong government support, a focus on innovation, and investments in technology and research, Qatar is well-positioned to continue its progress in the tech sector and become a hub for technological advancement in the region.
Best IT companies in Qatar
1. Ooredoo Qatar:

Ooredoo Qatar is a leading telecommunications company that offers a wide range of IT and digital solutions, including mobile and fixed telecommunications services, broadband internet, cloud services, and managed IT solutions.

2. Vodafone Qatar:

Vodafone Qatar is another major telecommunications company that provides IT and digital services, including mobile and fixed telecommunication services, internet connectivity, IoT solutions, and digital transformation services.

3. MEEZA:

MEEZA is a leading IT solutions provider in Qatar, offering a wide range of services including data centre solutions, cloud computing, managed IT services, cybersecurity, and digital transformation solutions.

4. Qatari Diar Technology:

Qatari Diar Technology is a technology subsidiary of Qatari Diar Real Estate Investment Company. They specialize in providing IT infrastructure, networking, security, and software solutions for various industries.

5. IBM Qatar:

IBM is a global technology company that operates in Qatar, offering a wide range of IT solutions and services including cloud computing, AI, analytics, cybersecurity, and enterprise software solutions.

6. Microsoft Qatar:

Microsoft is a well-known technology company that provides a variety of software, hardware, and cloud-based services. Microsoft Qatar offers IT solutions such as productivity tools, cloud computing, AI services, and enterprise software solutions.

7. Tawasol IT:

Tawasol IT is a Qatari IT company that offers a range of IT services including software development, web solutions, mobile app development, and IT consultancy.

8. QMIC:

Qatar Mobility Innovations Center (QMIC) is a research and development center focused on creating innovative solutions in the fields of smart mobility, IoT, and intelligent transportation systems.

9. VCU Technology:

VCU Technology is a technology consulting and software development company based in Qatar, providing IT solutions such as custom software development, web and mobile app development, and IT consulting services.

10. CEC International:

CEC International is an IT solutions company that offers services such as software development, system integration, IT infrastructure management, and digital transformation solutions.

11. ITQAN:

ITQAN is an IT services company that provides solutions in areas such as software development, IT infrastructure management, cybersecurity, and business intelligence.

12. Q-Tel International:

Q-Tel International is an IT services company that specializes in networking, infrastructure solutions, and managed IT services.

13. CompuNet:

CompuNet is a leading IT company in Qatar, offering a range of services including IT infrastructure solutions, networking, and cybersecurity.

14. Oryx IT Solutions:

Oryx IT Solutions is an IT consulting and solutions provider that offers services such as IT infrastructure management, software development, and IT support.

15. Tech Mahindra

Tech Mahindra is a global IT services and consulting company with a presence in Qatar, offering services such as IT consulting, software development, and digital transformation solutions.

16. Q-Tech:

Q-Tech is a Qatari IT company that provides IT solutions such as software development, IT infrastructure management, and IT consulting services.

17. Mada Communications:

Mada Communications is a leading provider of IT and communication solutions in Qatar, offering services such as internet connectivity, networking, and cloud solutions.

18. TELNET Qatar:

TELNET Qatar is an IT company that provides a range of services including software development, IT infrastructure solutions, and IT support.

19. KOSMOS:

KOSMOS is a Qatari company that offers IT services such as software development, web and mobile app development, and IT consultancy.

20. Qtel Systems:

Qtel Systems is an IT company that specializes in IT infrastructure solutions, networking, and cybersecurity services.
Overview of IT Jobs in Qatar
IT jobs offer excellent opportunities for progression and development due to the dynamic nature of the industry and the constant advancement of technology.
Diverse Career Paths: The IT industry offers a wide range of career paths, including software development, data analysis, cybersecurity, network administration, cloud computing, AI and machine learning, and more. This diversity allows professionals to choose a specialized field or explore multiple areas of expertise throughout their career.
Continuous Learning: Technology is constantly evolving, requiring IT professionals to stay updated with the latest trends, tools, and skills. Continuous learning is essential to progress in the IT field. Professionals can pursue certifications, attend workshops and conferences, participate in online courses, and engage in self-directed learning to enhance their knowledge and stay relevant in the industry.
Skill Development: IT jobs provide opportunities for skill development across various domains. As new technologies emerge, professionals can acquire and develop skills in areas such as programming languages, database management, cloud computing platforms, cybersecurity frameworks, and data analysis tools. This constant skill development enhances job prospects and opens doors to higher-level positions.
Career Advancement: IT professionals can advance their careers through various avenues. They can take on leadership roles, such as project managers, team leaders, or department heads. They can also specialize in a specific area and become subject matter experts or consultants. Additionally, professionals can explore entrepreneurship and start their own IT ventures.
Networking and Collaboration: Building a strong professional network and collaborating with colleagues and experts in the industry is crucial for career growth. Networking events, industry conferences, and online communities provide opportunities to connect with like-minded professionals, share knowledge, gain insights, and explore new career opportunities.
Job Market Demand: The demand for IT professionals continues to grow, with organizations across industries relying on technology to drive innovation and efficiency. This high demand creates ample job opportunities and career growth prospects for IT professionals.
Global Opportunities: The IT industry is global in nature, offering professionals the chance to work with diverse teams and clients from around the world. This global exposure not only enhances professional growth but also provides cultural and learning experiences.
Flexibility and Remote Work: The IT industry is known for its flexibility, allowing professionals to work remotely or have flexible working hours. This flexibility provides a better work-life balance and can contribute to career satisfaction and growth.
Salary of Software Engineer in Qatar
salaries in the IT industry can vary significantly depending on factors such as job role, level of experience, location, and the specific company or organization.
Software Engineer/Developer:
Entry-Level: $50,000 - $80,000 per year
Mid-Level: $80,000 - $120,000 per year
Senior-Level: $120,000 - $180,000+ per year
Data Scientist:
Entry-Level: $60,000 - $90,000 per year
Mid-Level: $90,000 - $130,000 per year
Senior-Level: $130,000 - $200,000+ per year
cybersecurity Analyst:
Entry-Level: $60,000 - $90,000 per year
Mid-Level: $90,000 - $130,000 per year
Senior-Level: $130,000 - $180,000+ per year
IT Project Manager:
Entry-Level: $60,000 - $90,000 per year
Mid-Level: $90,000 - $120,000 per year
Senior-Level: $120,000 - $150,000+ per year
Network Administrator:
Entry-Level: $50,000 - $70,000 per year
Mid-Level: $70,000 - $100,000 per year
Senior-Level: $100,000 - $140,000+ per year