Top 20 IT Companies in Trichur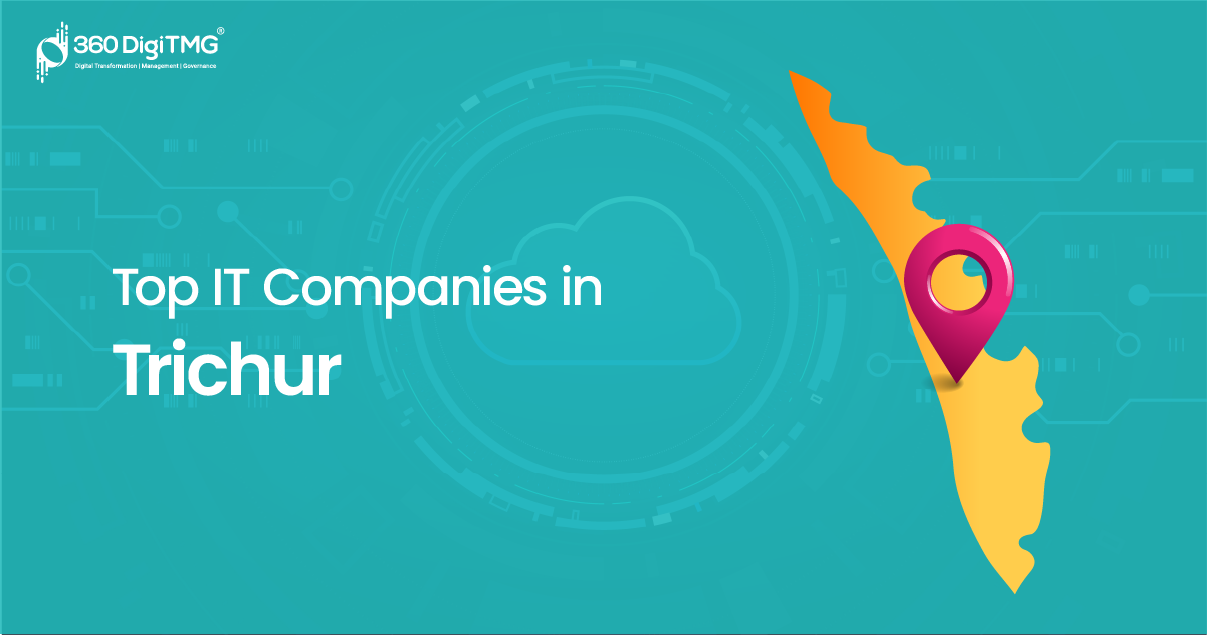 Introduction
Trichur, also known as Thrissur, is a city located in the southwestern state of Kerala, India. It is the administrative headquarters of Thrissur District and is often referred to as the " Cultural Capital of Kerala." Trichur has a rich historical and cultural heritage and has evolved over time to become an important center for various aspects of life.
The area around Trichur has a long history, dating back to ancient times. It was ruled by various dynasties and empires, including the Chera dynasty, Zamorins of Calicut, and the Kingdom of Cochin. These rulers have left behind their imprints in the form of palaces, temples, and other architectural marvels.
Trichur is renowned for its festivals, especially the Thrissur Pooram, which is one of the most famous and grandest temple festivals in Kerala. It attracts thousands of visitors from all over the world who come to witness the magnificent display of traditional music, dance, and processions.
The people of Trichur are predominantly Malayalis, belonging to the Malayalam-speaking community of Kerala. They have a vibrant and diverse cultural identity, deeply rooted in Kerala's traditions and customs. The people of Trichur are known for their warm hospitality and artistic talents, especially in the fields of classical music, dance, and literature.
Trichur has also witnessed rapid urbanization and development in recent decades. It is an important educational hub with several prestigious schools, colleges, and research institutions. The city has a thriving economy, with industries such as textiles, jewelry, and manufacturing contributing to its growth.
Overall, Trichur has evolved into a bustling city with a blend of traditional and modern elements. Its historical significance, cultural heritage, and the warmth of its people make it a significant destination in Kerala.
History of Trichur
The history of Trichur, or Thrissur, is intertwined with the rich cultural and historical heritage of Kerala. The region has a long and eventful past, with evidence of human habitation dating back to the Stone Age.
Ancient Period: During ancient times, Trichur was part of the Chera kingdom, one of the prominent Dravidian dynasties that ruled South India. The Cheras had their capital at Mahadevapura (present-day Kodungallur), which was an important port city on the Malabar Coast. Trichur served as a significant center of trade and commerce during this period.
Medieval Period: In the medieval period, the Zamorins of Calicut, a powerful feudal dynasty, exerted their influence over Trichur. They played a crucial role in the trade relations with the Europeans, particularly the Portuguese, who arrived on the Malabar Coast in the 15th century.
Portuguese and Dutch Influence: The Portuguese established a fort named Fortaleza da Pimenta (Fort of Pepper) in Trichur in the 16th century. They had a significant impact on the region's culture, religion, and architecture. The St. Thomas Church in Palayoor, near Trichur, is believed to be one of the oldest churches in India and was founded by St. Thomas the Apostle.
In the 17th century, the Dutch East India Company captured Trichur\ from the Portuguese and strengthened their presence in the region. They introduced new agricultural practices and influenced the local economy.
Cochin Kingdom: By the 18th century, Trichur came under the rule of the Kingdom of Cochin, which was one of the major princely states in Kerala. The Cochin rulers played a significant role in promoting art, culture, and education in Trichur. They constructed palaces, temples, and cultural institutions that continue to be important landmarks in the city today.
Post-Independence: After India gained independence from British colonial rule in 1947, Trichur became part of the state of Kerala, which was formed in 1956. The city has since experienced significant growth and development in various sectors, including education, industry, and tourism.
Today, Trichur stands as a testament to its vibrant history and cultural legacy. It continues to be a hub of art, culture, and traditional festivals, making it a prominent destination for tourists and a pride of the people of Kerala.
Tech Scene
Trichur, or Thrissur, has witnessed significant growth in its tech scene in recent years. While it may not be as prominent as technology hubs like Bengaluru or Hyderabad, Trichur has seen the emergence of several technology-related initiatives, startups, and educational institutions.
IT Parks and Infrastructure: Trichur houses the KINFRA (Kerala Industrial Infrastructure Development Corporation) Park, which provides infrastructure and facilities for technology-based industries. The park has attracted various IT companies and startups, created employment opportunities and fostering technological innovation.
Startups and Entrepreneurship: Trichur has seen the rise of several technology startups across different domains. These startups are primarily focused on software development, mobile applications, e-commerce, digital marketing, and web services. The local government and organizations like the Kerala Startup Mission (KSUM) have been actively supporting and nurturing entrepreneurship in the region.
Educational Institutions: Trichur is home to several renowned educational institutions that offer courses in technology and engineering. Government Engineering College Thrissur, Nehru College of Engineering and Research Centre, and Sahrdaya College of Engineering and Technology are a few notable institutions that provide quality technical education to students. These institutions contribute to the availability of skilled talent in the tech industry.
Technology Events and Communities: Trichur hosts various technology-related events, workshops, and conferences, providing a platform for networking, knowledge sharing, and collaboration among professionals and enthusiasts. Additionally, there are online communities and forums where tech enthusiasts connect and exchange ideas.
Digital Transformation and E-Governance: The local government in Trichur, like many other regions in India, has been actively implementing digital initiatives and e-governance projects. This includes digitizing government services, providing online portals for citizens, and adopting technologies to enhance administrative processes.
Skill Development and Training: Trichur has training institutes and centers that offer courses and programs to enhance technical skills in areas such as software development, digital marketing, data analytics, and cybersecurity. These initiatives aim to bridge the skill gap and prepare individuals for careers in the tech industry.
While Trichur's tech scene may still be developing compared to larger cities, it is gradually making strides in embracing technology and fostering a conducive environment for innovation and growth. The combination of educational institutions, startups, infrastructure, and government support provides a foundation for the city's tech ecosystem to thrive.
Best IT companies in Trichur
Trichur, or Thrissur, is home to several reputable IT companies that have made a mark in the technology industry. While the "best" IT companies can vary depending on specific criteria and preferences:
1. UST Global:

UST Global is a multinational digital transformation solutions company with a significant presence in Trichur. It offers services in areas such as digital technology, software development, artificial intelligence, and analytics. UST Global is known for its global client base and innovative solutions.

2. NeST Group:

NeST Group is a diversified technology conglomerate with headquarters in Trichur. It operates in various domains, including software development, embedded systems, engineering services, and manufacturing. NeST Group has a strong focus on research and development and has a presence in multiple countries.

3. IBS Software:

IBS Software is a leading provider of IT solutions to the global travel, transportation, and logistics industry. With its headquarters in Trichur, IBS Software delivers innovative software products and services that cater to the unique requirements of the industry.

4. SunTec Business Solutions:

SunTec Business Solutions, headquartered in Trichur, offers revenue management and customer experience solutions for various industries, including banking, telecom, and e-commerce. The company's solutions enable businesses to streamline pricing, billing, and customer relationship management processes.

5. Excellware:

Excellware is a software development company based in Trichur, specializing in custom software solutions, mobile applications, web development, and e-commerce platforms. It has a track record of delivering quality software products and services to clients across different industries.

6. Naffa Innovations Pvt. Ltd.:

Naffa Innovations specializes in software development, web solutions, and digital marketing services. They offer custom software development, web design and development, and digital marketing strategies to help businesses establish their online presence.

7. Experion Technologies:

Experion Technologies is a global technology company providing software development and digital transformation solutions. They offer services such as mobile app development, web development, cloud solutions, and enterprise software development.

8. Rhythmus Innovation Labs:

Rhythmus Innovation Labs is a software development company focused on delivering innovative IT solutions. They offer services including web application development, mobile app development, and enterprise software solutions to cater to various business needs.

9. Routeget Technologies:

Routeget Technologies specializes in web development, softwaredevelopment, and digital marketing services. They provide solutions such as website design, e-commerce development, mobile app development, and SEO services.

10. IDS Logic Pvt. Ltd.:

IDS Logic is an IT services and solutions company offering services in web development, mobile app development, e-commerce solutions, and digital marketing. They cater to clients from diverse industries, helping them leverage technology for growth.

11. Carmatec IT Solutions Pvt. Ltd.:

Carmatec IT Solutions is a global IT services provider offering web development, mobile app development, cloud solutions, and digital marketing services. They assist businesses in creating digital experiences and implementing technology solutions.

12. Orion Cyber Systems:

Orion Cyber Systems specializes in cybersecurity solutions and services. They provide cybersecurity consulting, vulnerability assessment, penetration testing, and incident response services to help organizations safeguard their digital assets.

13. Dreamster Software Solutions Pvt. Ltd.:

Dreamster Software Solutions focuses on software development and IT consulting services. They offer custom software development, enterprise application development, and software maintenance services.

14. Webandcrafts:

Webandcrafts is a web and mobile app development company that delivers innovative digital solutions. They provide services such as web design, web development, mobile app development, and e-commerce solutions.

15. Techrista Systems Pvt. Ltd.:

Techrista Systems is an IT company specializing in web and mobile app development, digital marketing, and IT consulting. They cater to clients across various industries, offering comprehensive IT solutions.

16. InfoTech Ventures:

InfoTech Ventures offers a range of IT services including software development, web design and development, mobile app development, and digital marketing solutions. They help businesses leverage technology to achieve their goals.

17. Advenser Engineering Services:

Advenser Engineering Services is an engineering services company providing CAD drafting, BIM services, and 3D modeling solutions. They cater to clients in the construction, architectural, and manufacturing sectors.

18. IROID Technologies:

IROID Technologies specializes in mobile app development, web development, and digital marketing services. They develop customized mobile and web applications to meet specific client requirements.

19. Webdura Technologies:

Webdura Technologies is a digital marketing and web development agency offering services in website design, search engine optimization (SEO), social media marketing, and pay-per-click (PPC) advertising.

20. Datamate Infosolutions Pvt. Ltd.:

Datamate Infosolutions focuses on software development and IT solutions. They offer services such as software development, web design and development, mobile app development, and enterprise resource planning (ERP) solutions.
Overview of IT Jobs in Trichur
Entry-Level Positions: Most individuals start their IT careers in entry-level positions such as software developers, system administrators, help desk technicians, or junior data analysts. In these roles, they gain foundational knowledge, skills, and practical experience in their respective areas.
Specialization and Skill Development: As IT professionals gain experience, they often choose to specialize in specific areas of expertise. This can include fields such as cybersecurity, cloud computing, data analysis, network administration, web development, or artificial intelligence. By acquiring specialized skills and certifications, they become subject matter experts in their chosen domains.
Team Leadership and Project Management: With experience, IT professionals can progress into roles that involve team leadership and project management. They may become technical leads, project managers, or IT managers responsible for overseeing teams, coordinating projects, managing budgets and timelines, and ensuring successful project delivery.
Architect and Solution Design Roles: As IT professionals advance in their careers, they may transition into roles such as solution architects or systems architects. These roles involve designing and implementing complex IT systems, developing architecture frameworks, and ensuring that technology solutions align with business objectives. Architects play a critical role in shaping the overall IT infrastructure and strategy of an organization.
IT Management and Executive Roles: IT professionals who demonstrate strong leadership, strategic thinking, and business acumen may progress into IT management and executive positions. These roles involve overseeing IT departments, aligning technology initiatives with business goals, making strategic decisions, managing budgets and resources, and driving digital transformation within the organization.
Entrepreneurship and Consulting: Some IT professionals choose to start their own businesses or work as independent consultants. This path allows them to offer specialized IT services, such as software development, cybersecurity consulting, IT infrastructure design, or digital marketing, to clients. Entrepreneurship and consulting offer opportunities for greater autonomy, flexibility, and the ability to work on diverse projects.
Throughout their careers, IT professionals should prioritize ongoing learning and professional development to stay updated with emerging technologies, industry trends, and best practices. This can involve pursuing advanced degrees, obtaining industry certifications, attending conferences and workshops, participating in online courses, and engaging in continuous self-study.
It's important to note that career progression in IT is not solely dependent on job titles but also on acquiring relevant skills, building a strong professional network, seeking new challenges, and staying adaptable in a rapidly evolving industry. Each individual's career path may vary based on their interests, goals, and the specific opportunities available to them.
Salary of Software Engineer in Trichur
Specific salary information for IT companies in Trichur can vary widely depending on factors such as the role, experience level, skills, and the company's policies. It's essential to note that salary ranges can change over time and should be verified directly with the respective companies. However, I can provide a general idea of salary ranges for IT professionals in Trichur based on industry standards and trends:
Entry-Level Positions: For entry-level positions such as software developers, web designers, or junior engineers, the salary range can vary between INR 15,000 to INR 30,000 per month, depending on factors like qualifications and skills.
Mid-Level Positions: Mid-level roles, such as senior software developers, project managers, or team leads, can have a salary range of approximately INR 30,000 to INR 70,000 per month. Salaries in this range are influenced by experience, expertise, and leadership responsibilities.
Senior-Level Positions: Senior-level positions, such as senior project managers, architects, or technology leads, can have salaries ranging from INR 70,000 to INR 1,50,000 or more per month. These roles often require significant experience, specialized skills, and leadership abilities
data science is a rapidly growing field within the IT industry that offers promising career opportunities
Entry-Level Data Analyst: Individuals starting their careers in data science often begin as entry-level data analysts. In this role, they collect, clean, and analyze data, and assist in generating basic insights and reports. The salary for entry-level data analysts in Trichur can range from INR 3,00,000 to INR 5,00,000 per annum.
Data Scientist: With experience and skill development, data analysts can progress to become data scientists. Data scientists perform advanced data analysis, build predictive models, and develop algorithms to solve complex problems. They often work with large datasets and use statistical and machine learning techniques. The salary for data scientists in Trichur can range from INR 6,00,000 to INR 15,00,000 per annum, depending on experience and expertise.
Senior Data Scientist: Senior data scientists are experienced professionals who have demonstrated expertise in their field. They lead data science projects, provide strategic guidance, and mentor junior team members. The salary for senior data scientists in Trichur can range from INR 15,00,000 to INR 25,00,000 per annum.
Data Science Manager: With further progression, data scientists can move into managerial roles such as Data Science Manager or Analytics Manager. In these positions, they oversee teams, drive data-driven decision-making, and collaborate with stakeholders across the organization. The salary for data science managers in Trichur can range from INR 20,00,000 to INR 35,00,000 per annum.
Data Science Consultant: Experienced data scientists may choose to work as independent consultants or with consulting firms, providing data science expertise to clients. They offer strategic insights, develop customized solutions, and help businesses optimize their data-driven strategies. The salary for data science consultants can vary significantly depending on the nature of projects and clients involved.
Data Science Placement Success Story
Related searches
IT Companies in Trichur, IT Jobs in Trichur, IT Jobs in Trichur Freshers.