Careers and Salaries in Machine Learning on Cloud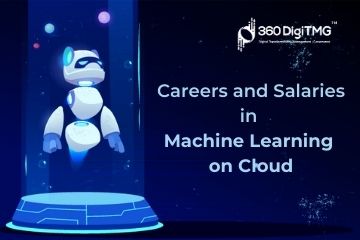 The current IT industry's buzzword is machine learning. Many technologies, like Data Science, etc., have gained relevance as a result of this core. Prior to the advent of the public cloud, machine learning was a technology that was out of reach for small and medium-sized businesses.
360DigiTMG offers the Best Deep Learning Course in Pune to start a career in Machine Learning. Enroll now!
The three most popular cloud computing services at the moment are Amazon, Google, and Microsoft Azure, which make AI and ML models available and reasonably priced. Because of their numerous applications, features, and adaptability, ML platforms are becoming increasingly important among the services offered by the Cloud. A wide range of delivery methods, including GPU-based computing, cognitive computing, machine learning model management, and automated machine learning, are available for cloud-based platforms.
The majority of businesses are using machine learning in various industries, which is improving job possibilities for hopefuls. According to Indeed's estimates (2019), the greatest job in the USA pays an average of $146,075 annually, and the growth is anticipated to continue. This position is a machine learning engineer.
Machine Learning Course is a promising career option. Enroll in Top Institutes for Machine Learning in Chennai offered by 360DigiTMG to become a successful.
Furthermore, the cloud is quickly becoming into a key platform for Machine Learning models and projects, which is creating new job prospects. One of the highest-paying industries in India is machine learning. By the end of 2021, it is anticipated that overall revenue would reach $300 billion.
The newest development in technology is machine learning on the cloud. A wide range of industries have recognised its enormous potential and capabilities. Basic understanding of ML on the cloud is sufficient and does not require any advanced technical abilities, providing strong job chances for new graduates. Additionally, the cloud increases the scalability of ML models, boosting productivity and satisfying business requirements.
Career options/Jobs
The top career options in Machine Learning on Cloud are Machine Learning Engineer, DevOps Engineer, Data Engineer, Data Scientist( on cloud), Deep Learning Engineer, and Technical program Engineer.
To learn more about Machine Learning the best place is 360DigiTMG, with multiple awards in its name 360DigiTMG is the Best place to start your Machine Learning Classes in Hyderabad. Enroll now!
Salaries
Let's look into the packages for the top jobs in the field of Machine Learning on Cloud.
The average salary for Machine Learning Engineer is ₹681,881 in India.
and for mid-level experience, it is ₹1,159,032 in India.
The average salary for a DevOps Engineer in India is Rs 674,202 per annum.
Benefits of Machine learning in the cloud
The cloud's pay-per-use model is a satisfactory and good choice for Artificial Intelligence models or Machine Learning workloads

It makes it easy and flexible for the companies to experiment with various Machine Learning capabilities

It scales up the production and thus leading to an increase in demand

It makes the intelligent capabilities easy to access without depending upon advanced skills in Data Science or AI

Platforms like Microsoft Azure, AWS, and Google cloud offers numerous Machine Learning options which do not require additional or deep knowledge of AI, Machine Learning, or a team of Data Scientists
Companies may utilise a variety of open-source machine learning frameworks, such as TensorFlow, CNTK, and MXnet, to operate their own hardware. Additionally, businesses that employ advanced machine learning models may encounter difficulties as a result of their heavy workloads and the need for enormous computing clusters while training real-world models.
Become a Machine Learning expert with a single program. Go through 360DigiTMG's Machine Learning and AI Courses in Bangalore Enroll today!
We may conclude that ML on Cloud offers a wealth of professional prospects with competitive remuneration. This technology is advancing quickly and will be around for a while. Many possibilities are opening up for ML and Cloud computing specialists as more businesses move forward with the use of these powerful technologies. Due to a lack of people that can fulfil these demanding positions, wages have skyrocketed. The moment is ripe for those who want to create a career in machine learning on the cloud since they can find well-paying work at major corporations.
If you want to study ML on Cloud, 360DigiTMG offers top-notch training. ML on Cloud technology ensures in offering a bright future. The industry pioneers in technology, IBM, provide the certification. The expertly designed training curriculum covers all the critical technical elements. The best academic staff and individual mentoring are offered to the pupils. The kids will learn about math, statistics, cloud computing, programming languages, and other topics that will prepare them for the workforce of the future.
Macine Learning Training Institutes in Other Locations
Ahmedabad, Bangalore, Chengalpattu, Chennai, Hyderabad, Kothrud, Noida, Pune, Thane, Thiruvananthapuram, Tiruchchirappalli, Yelahanka, Andhra Pradesh, Anna Nagar, Bhilai, Calicut, Chandigarh, Chromepet, Coimbatore, Dilsukhnagar, ECIL, Faridabad, Greater Warangal, Guduvanchery, Guntur, Gurgaon, Guwahati, Indore, Jaipur, Kalaburagi, Kanpur, Kharadi, Kochi, Kolkata, Kompally, Lucknow, Mangalore, Mumbai, Mysore, Nagpur, Nashik, Navi Mumbai, Patna, Porur, Raipur, Salem, Surat, Thoraipakkam, Trichy, Uppal, Vadodara, Varanasi, Vijayawada, Vizag, Tirunelveli, Aurangabad
Navigate to Address
360DigiTMG - Data Science, Data Scientist Course Training in Bangalore
No 23, 2nd Floor, 9th Main Rd, 22nd Cross Rd, 7th Sector, HSR Layout, Bengaluru, Karnataka 560102
1800-212-654-321