Machine Learning- Skills, Job, Salaries, and Future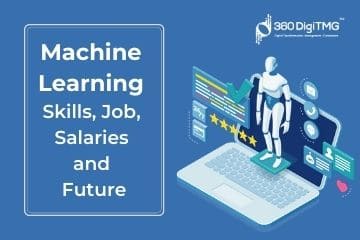 In the era of AI, machine learning is the hot issue. When compared to other job alternatives, machine learning has a huge application both in India and outside. By 2022, 2.25 million employments in the sectors of artificial intelligence and machine learning are anticipated, according to Gartner.
Become a Machine Learning expert with a single program. Go through 360DigiTMG's Machine Learning and AI Courses in Bangalore Enroll today!
Machine learning is regarded as the greatest career choice since it offers a wide variety of work possibilities with competitive incomes and is expected to last for a very long time. The field of artificial intelligence known as machine learning enables computers to automatically learn and react without explicit programming. It places a focus on creating computer programmes that enable data access and self-learning.
What's the purpose of Machine Learning?
Every day, data is being produced and is getting piled up. There is a massive amount of data when analyzed that can give valuable insights that help to solve complex problems and can be the key to innovations. Most of the data is in an unstructured format, i.e. in the form of audios, videos, images, graphs, documents. Finding the patterns from this data is a laborious and time-consuming task for humans. To address this problem, Machine Learning was invented. Machine Learning can draw patterns from unstructured data and structured data and produce valuable insights within less time. Machine Learning and AI, can build intelligent machines. This machine learning technology is being used in many segments that we are not aware of while we are using it.
Want to learn more about Machine Learning Course. Enroll in this Machine Learning Training Institute in Hyderabad to do so.
Essential Skills required to learn Machine Learning
There are a lot of myths out there, including the idea that you need to be an expert in maths, coding, technical expertise, etc. However, that is untrue. You need to put in extra work if you want to learn about and become proficient in machine learning, and that will be sufficient to advance your career. Nobody can stop you from becoming a successful machine learning engineer if you can acquire the abilities listed below.
Programming

There is no single programming language dedicated to Machine Learning. But when compared to others, Python is the prominent programming language to ace in Machine Learning. Along with Python, R is also useful. But chances of Python are high compared to R.

Mathematical Skills

For machine learning, a fundamental understanding of mathematics is required. Calculus, statistics, probability, optimisation, and linear algebra are some of the mathematical principles that machine learning interacts with. It will thus be simpler for you to understand these ideas if you are familiar with mathematics.

Data Structures

Machine Learning professionals should be able to grasp and work on data structures. It is an essential skill in their career. As most of the work involves data structures such as queues, trees, graphs, sorting, stacks, etc.

Machine Learning Algorithms

As they are crucial, machine learning algorithms should be thoroughly understood by anyone who want to pursue the field.

Software Engineering

Machine Learning models are built with multiple software. So it is essential to have a thorough knowledge of software engineering.

Data Mining and Visualization

Data Mining and visualization are essential for anyone interested in machine learning. Since many types of data are used to create machine learning models, it is essential to comprehend the data and make inferences.
yourself a promising career in Machine Learning Training Center in Chennai by enrolling in the Machine Learning Program offered by 360DigiTMG.
Machine Learning Job Roles
Now, let's look into various most in-demand job roles that Machine Learning offers
Machine Learning Engineer

An engineer that specialises in machine learning is one of the most sought-after job categories. A machine learning engineer creates the software used to operate computers and robotic devices. They created algorithms that aid in pattern recognition and command self-understanding. Additionally, they provide data to scale the models created by data scientists.

Data Scientist

Also, check this Machine Learning with Python Course in Pune to start a career in Machine Learning.

The responsibility of Data Scientists is to collect, analyze, and draw valuable insights from humongous data with the help of Machine Learning. If you have good hands-on experience in Machine Learning, then you can become a Data Scientist. Machine Learning Engineers and Data Scientists work together to bring out the best products. If a Data Scientist has a Machine Learning experience, it would be an added advantage.

Data Architect

The position of data architect is becoming more crucial. By utilising machine learning methods, the data architect's mission is to create safe and usable data management systems. They create, test, and manage a database, which they then give to data scientists to analyse.

Data Analyst

A Data Analyst job is to collect data from various sources and then analyze and interpret the data in specific formats. Data Analysts use their skills and tools to interpret the data and add value to their organization. Data Analysts have knowledge of programming, Machine Learning, and statistics.
Salaries in the Discipline of Machine Learning
The majority of industries are utilising AI and machine learning. As a result, there are not enough trained machine learning engineers. Many large organisations are giving sizable wages to employees with intermediate to advanced machine learning skills.
Let's examine the PayScale data on wages for various employment titles in India.
The typical pay for an experienced Python-trained machine learning engineer in India.
The average salary for Machine Learning Engineer with Python programming skills in India
Don't delay your career growth, kickstart your career by enrolling in this Machine Learning Certiication Course with 360DigiTMG.
The average salary for a Data Scientist with Machine Learning skills in India

The average salary of a Data Analyst with Python skills in India
Salary of Data-Architect in India at an early career
Future of Machine Learning
Industries are being transformed by machine learning, which is also setting trends. The meddling of humans will diminish in this era of evolving machines. All industries, including automotive, robotics, healthcare, manufacturing, banking and finance, and retail, are embracing machine learning. Information technology, entertainment, and hotels.
It's now up to you to make a choice and commit to a career in machine learning. Improve your career by enrolling in advanced machine learning classes. Many different training organisations provide courses in machine learning.
The greatest machine learning training with industry specialists is provided by 360DigiTMG utilising Python and R programmes. The curriculum is carefully created to match the demands of the modern marketplace. It aids students in learning and acquiring the skill sets necessary for placement in executive positions in large corporations. From the ground up, the programming languages Python and R are comprehensively introduced. Students are trained and assisted throughout their learning process by a group of committed mentors and a staff of certified trainers. With classroom and online instruction, the training programme is specifically created for students and working professionals. The training programme includes assignments and capstone projects that provide you practical experience. You are exposed to a variety of approaches through the carefully chosen programme, including NLP, Deep Learning, supervised and unsupervised learning, machine learning algorithms, etc. Obtain training from the professionals to further your career.
Macine Learning Training Institutes in Other Locations
Ahmedabad, Bangalore, Chengalpattu, Chennai, Hyderabad, Kothrud, Noida, Pune, Thane, Thiruvananthapuram, Tiruchchirappalli, Yelahanka, Andhra Pradesh, Anna Nagar, Bhilai, Calicut, Chandigarh, Chromepet, Coimbatore, Dilsukhnagar, ECIL, Faridabad, Greater Warangal, Guduvanchery, Guntur, Gurgaon, Guwahati, Indore, Jaipur, Kalaburagi, Kanpur, Kharadi, Kochi, Kolkata, Kompally, Lucknow, Mangalore, Mumbai, Mysore, Nagpur, Nashik, Navi Mumbai, Patna, Porur, Raipur, Salem, Surat, Thoraipakkam, Trichy, Uppal, Vadodara, Varanasi, Vijayawada, Vizag, Tirunelveli, Aurangabad
Navigate to Address
360DigiTMG - Data Science Course, Data Scientist Course Training in Chennai
D.No: C1, No.3, 3rd Floor, State Highway 49A, 330, Rajiv Gandhi Salai, NJK Avenue, Thoraipakkam, Tamil Nadu 600097
1800-212-654-321