Top 40 Information Services Industry Companies in Malaysia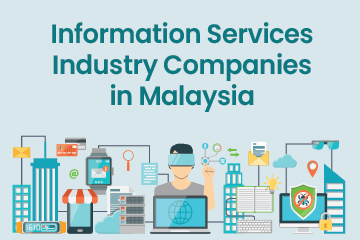 The information services industry in Malaysia includes companies involved in various aspects of information technology (IT), telecommunications, and digital services. These are just a few examples of companies in the information services industry in Malaysia. The industry is dynamic, and new companies continue to emerge as the digital landscape evolves. These companies represent the diverse range of information services offered in Malaysia, including telecommunications, fintech, digital marketing, and more.
List of the Top Information Services Companies in Malaysia
1. Telekom Malaysia Berhad (TM):
Malaysia's leading telecommunications company, providing a range of telecommunications and broadband services to residential and business customers.
2. Axiata Group Berhad:
A multinational telecommunications conglomerate with operations in multiple Asian countries, including Malaysia. It provides mobile network services and digital solutions.
3. Maxis Berhad:
A leading mobile network operator in Malaysia, offering a wide range of mobile telecommunications services, including voice, data, and digital services.
4. TIME dotCom Berhad:
A telecommunications company that provides high-speed broadband services, data center solutions, and enterprise services to businesses and individuals.
5. Green Packet Berhad:
A technology company specializing in wireless broadband solutions, mobile applications, and digital services. It offers innovative solutions for mobile payments, IoT, and other digital initiatives.
6. MyKRIS International Berhad:
A provider of managed IT services, cloud computing solutions, and data center services to businesses in Malaysia and across the Asia-Pacific region.
7. Prestariang Berhad:
An IT and education services company that offers IT training, software development, and IT consultancy services. It also operates a digital marketplace for IT products and services.
8. Mesiniaga Berhad:
An IT solutions and services provider offering systems integration, IT infrastructure services, and business process outsourcing. It serves various industries, including banking, government, and healthcare.
9. Silverlake Group:
A leading provider of financial technology solutions in Malaysia and the Asia-Pacific region. It offers software solutions for banking, insurance, and wealth management sectors.
10. GHL Systems Berhad:
A provider of payment solutions and services, including e-commerce solutions, payment processing, and merchant acquiring services.
11. Censof Holdings Berhad:
An IT solutions provider specializing in financial management software, business intelligence, and data analytics solutions. It serves various industries, including government agencies and financial institutions.
12. HeiTech Padu Berhad:
A technology company that offers a wide range of IT services including system integration, IT infrastructure, and software development. It provides services to government agencies, enterprises, and the healthcare sector.
13. Fusionex International:
A leading data technology provider offering big data analytics, artificial intelligence, and machine learning solutions. It serves industries such as banking, e-commerce, and logistics.
14. Exabytes Network Sdn Bhd:
A web hosting and cloud services provider that offers domain registration, website hosting, and other related services. It caters to individuals, small businesses, and enterprises.
15. AIMS Data Centre:
A leading data center services provider offering colocation, managed hosting, and cloud services. It provides secure and reliable data center solutions for businesses of all sizes.
16. REDtone International Berhad:
A telecommunications and managed services provider offering a range of solutions, including voice, data, cloud, and IoT services. It serves both corporate and government clients.
17. Easyparcel:
An e-commerce logistics platform that provides integrated shipping and delivery solutions. It offers services to online sellers and businesses, helping them streamline their shipping processes.
18. Cyberview Sdn Bhd:
A technology hub development agency that focuses on developing Cyberjaya, Malaysia's premier IT hub. It provides infrastructure, services, and support for technology companies and startups.
19. Gobi Partners:

A venture capital firm that invests in early-stage technology companies in Southeast Asia, including Malaysia. It focuses on sectors such as e-commerce, fintech, and digital media.
20. Tech Data Advanced Solutions (formerly Aflexi):
A technology company specializing in cloud and network infrastructure solutions. It offers services such as software-defined networking and content delivery networks.
21. Silverlake Axis:
A provider of digital economy solutions for the financial services industry. It offers core banking software, digital banking solutions, and consulting services to banks and financial institutions.
22. Digi Telecommunications:
One of the leading telecommunications companies in Malaysia, offering mobile and internet services to individuals and businesses. They provide voice, data, and digital services.
23. Global Business Services (GBS):
A company that provides business process outsourcing (BPO) and shared services solutions to organizations across various industries. They offer services such as finance and accounting, human resources, and customer support.
24. Revenue Monster:
A leading fintech company that offers comprehensive payment solutions, including e-commerce payments, mobile wallets, and point-of-sale systems. They help businesses streamline their payment processes and improve customer experiences.
25. Piktochart:
A web-based platform that allows users to create infographics, presentations, and reports easily. It provides a range of templates, design tools, and data visualization features for individuals and businesses.
26. MyEG Services Berhad:
A company that provides online government services in Malaysia, including vehicle and driver's license renewal, immigration services, and online business registration.
27. JobStreet.com:
One of the largest online job portals in Malaysia, connecting job seekers with employers. It offers a wide range of job listings and recruitment services for various industrmaxisies.
28. iPay88:
A leading online payment gateway provider in Malaysia, offering secure and convenient payment solutions for e-commerce businesses. They support multiple payment methods and help businesses manage their online transactions.
29. iProperty.com.my:
A popular online property portal in Malaysia, providing a platform for property buyers, sellers, and renters to connect. It offers property listings, real estate news, and resources for property-related information.
30. Jirnexu:

A fintech company that specializes in digital financial services and customer acquisition for banks and insurance companies. They provide technology solutions to streamline financial processes and enhance customer experiences.
31. Fusionex:
A leading data technology company that provides advanced analytics, big data solutions, and artificial intelligence (AI) services. They assist businesses in harnessing the power of data for better decision-making and operational efficiency.
32. OpenMinds Resources:
An IT consulting and solutions provider that offers services such as software development, IT infrastructure management, and cybersecurity solutions. They cater to clients across various industries, including finance, healthcare, and retail.
33. iPay88 Holdings:
A leading provider of online payment solutions and services, enabling businesses to accept payments securely through various channels, including e-commerce websites and mobile apps.
34. Time.com.my:
A digital platform that offers various online services, including e-billing, e-commerce, and content delivery. They provide convenience and accessibility to users for managing their digital transactions and subscriptions.
35. CREST:

Collaborative Research in Engineering, Science & Technology (CREST) is a government-funded organization that promotes research and development in emerging technologies, including areas like artificial intelligence, robotics, and cybersecurity.
36. Soft Space:
A fintech company specializing in mobile payment solutions, including mobile point-of-sale (mPOS) systems and digital wallet integrations. They enable businesses to accept mobile payments securely and conveniently.
37. VADS Berhad:
A subsidiary of Telekom Malaysia, VADS provides managed ICT services, including IT outsourcing, contact center solutions, and cloud services. They cater to both local and international clients.
38. Apigate:
A global digital services platform provider that enables businesses to connect with telcos and offer value-added services to customers. They specialize in mobile APIs, digital identity, and monetization solutions.
39. iCar Asia:
An online automotive marketplace that connects buyers and sellers of new and used vehicles. They operate multiple automotive portals in Malaysia, Thailand, and Indonesia.
40. REV Asia Berhad:
A digital media company that operates various popular online platforms, including news portals, lifestyle websites, and social media communities. They deliver content and engage audiences across multiple digital channels.