Top 30 IT Companies in Hyderabad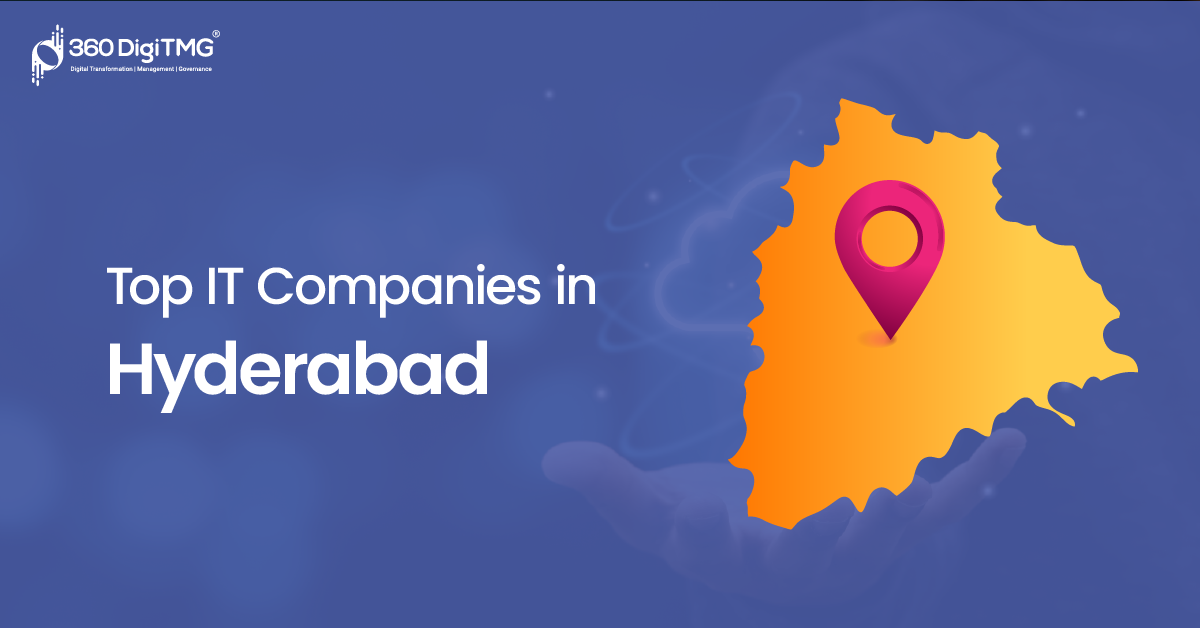 Introduction
Hyderabad, often referred to as "Cyberabad," has emerged as one of India's leading Information Technology (IT) hubs. With a blend of established IT giants and thriving startups, the city has gained prominence on the global tech map. This article delves into the tech scene, top IT companies, salary prospects, and concludes with an overview of Hyderabad's IT landscape. Due to the dynamic nature of the IT sector, new businesses may choose to locate in Hyderabad whereas others may modify or relocate their operations.
Before making any judgments or contacting these firms, it is usually a good idea to do some research and confirm the accuracy of the material. A well-known centre of information technology (IT) businesses in Hyderabad, India.
The descriptions offered provide a basic overview and might not cover the entire spectrum of services offered by these businesses. Within the IT sector, each organisation has its own areas of competence and specialisation. These businesses, who are renowned for their competence in many fields of technology and innovation, showcase the varied IT environment in Hyderabad.
History of Hyderabad
The history of Hyderabad is rich and diverse, marked by a fascinating blend of cultures, rulers, and historical events. From its early days as a princely state to its modern transformation as a technological and economic hub, Hyderabad's history is a tapestry woven with intricate threads.
Here's a glimpse into the key periods and events that have shaped the city's past:
Ancient and Mediaeval Periods:
Archaeological findings indicate that the region around present-day Hyderabad has been inhabited since ancient times, with evidence of prehistoric settlements.
The Kakatiya dynasty ruled over the Deccan region, including parts of present-day Telangana, during the 12th and 13th centuries. They constructed impressive fortresses, irrigation systems, and temples, leaving behind architectural legacies like the Warangal Fort and Thousand Pillar Temple.
Qutb Shahi Dynasty (16th-17th Century):
The Qutb Shahi dynasty, of Turkish origin, established the city of Hyderabad in 1591 under the rule of Sultan Muhammad Quli Qutb Shah. The city was strategically located and became a centre of trade, culture, and learning.
One of Hyderabad's most iconic landmarks, the Charminar, was constructed in 1591 by Sultan Muhammad Quli Qutb Shah. This grand monument is not only a symbol of the city but also a testament to its historical legacy.
Mughal Influence (17th Century):
The Mughal emperor Aurangzeb annexed Golconda, which included Hyderabad, in the late 17th century. The region became part of the larger Mughal empire.
Asaf Jahi Dynasty (18th-20th Century):
The Asaf Jahi dynasty, also known as the Nizams of Hyderabad, emerged in the 18th century. The Nizams ruled as princely states under the suzerainty of the British Crown.
The British gradually increased their influence over Hyderabad during the 19th century. The region remained a princely state, maintaining a unique administrative and cultural identity.
Indian Independence and Integration (20th Century):
After India gained independence in 1947, Hyderabad became a focal point due to its unique status as a princely state. In 1948, the Indian government launched "Operation Polo", which led to the annexation of Hyderabad into the Indian Union.
Modern Era:
In recent decades, Hyderabad has transformed into a major technological and economic hub. The city's IT industry, biotechnology sector, and research institutions have contributed to its modern identity as "Cyberabad."
The city's urban landscape has evolved significantly, with the construction of modern infrastructure, business parks, educational institutions, and residential complexes.
Today, Hyderabad is a city that seamlessly blends its historical heritage with contemporary progress. Its rich history, cultural diversity, and contributions to technology and innovation continue to shape its identity as a city that bridges the past and the future.
Tech Scene
The tech scene in Hyderabad is vibrant and multifaceted, encompassing a wide range of industries and technologies. From established IT giants to burgeoning startups, the city has carved out a niche as a hub for innovation, research, and technological advancement. Here's a closer look at the various facets of Hyderabad's tech scene:
IT Services and Software Development: Hyderabad is renowned for its IT services and software development industry. Major companies like Infosys, TCS, Tech Mahindra, and Wipro have significant operations in the city, offering services that span software development, IT consulting, business process outsourcing, and more.
Research and Development (R&D): The city houses research and development centres for global technology giants such as Microsoft and Google. These centres focus on cutting-edge research, product innovation, and technology advancement. Hyderabad's R&D contributions have a significant impact on these companies' global offerings.
Startup Ecosystem: Hyderabad's startup ecosystem has been growing steadily, fostering innovation across diverse sectors. The city has seen a rise in startups developing cutting-edge technologies such as machine learning, artificial intelligence, blockchain, and biotechnology. Startup incubators, accelerators, and co-working spaces provide a conducive environment for these young companies to thrive.
Biotechnology and Pharma: Hyderabad is also a hub for biotechnology and pharmaceutical industries. The Genome Valley, a dedicated biotech cluster, houses numerous research institutions, biopharmaceutical companies, and life sciences startups. This convergence of technology and life sciences contributes to the city's multidisciplinary tech landscape.
Emerging Technologies:Hyderabad's tech scene extends beyond traditional IT services. Emerging technologies such augmented reality, virtual reality, the internet of things (IoT), and robots are expanding throughout the metropolis. These technologies are being explored for applications in various industries, including healthcare, manufacturing, and entertainment.
Education and Skill Development: A robust educational ecosystem provides a steady pipeline of skilled tech professionals. Universities and technical institutes in Hyderabad offer courses in computer science, engineering, data science, and more. This helps meet the growing demand for skilled talent in the tech sector.
Tech Events and ConferencesHyderabad hosts a variety of tech events, conferences, and meetups that bring together professionals, thought leaders, and enthusiasts. These gatherings offer a venue for mingling, knowledge exchange, and displaying advancements.
Government Initiatives: The government of Telangana, under which Hyderabad falls, has been proactive in promoting the growth of the tech sector. Initiatives such as the Telangana State Information Technology and Electronics Policy focus on creating an enabling environment for tech companies to flourish.
Best IT companies in Hyderabad
1. Tata Consultancy Services (TCS):

TCS is one of the largest IT services and consulting companies globally.It provides a variety of IT services, such as software development, infrastructure management, and consulting.

2. Infosys:

Infosys is a multinational IT company known for providing business consulting, technology, and outsourcing services. It specialises in areas such as application development, systems integration, and digital transformation.

3. Wipro:

Wipro is a well-known provider of business process services, consulting, and information technology worldwide. It provides IT services in a variety of areas, such as cloud computing, infrastructure management, and application development.

4. Tech Mahindra:

Tech Mahindra is a multinational IT company that provides services such as software development, network technology solutions, and consulting to various industries, including telecommunications, healthcare, and banking.

5. HCL Technologies:

The development of software, server administration, cybersecurity, & engineering services are just a few of the many services that HCL Technologies, an IT service and consultancy firm, provides.

6. Cognizant Technology Solutions:

An international provider of IT consulting, business process outsourcing, and digital transformation services, Cognizant serves a wide range of sectors.

7. Oracle Corporation:

Oracle is a multinational technology company specialising in database management systems, cloud solutions, and enterprise software. It provides companies of all sizes with a broad range of IT goods and services.

8. Accenture:

Accenture is a leading provider of plans, advisory services, digital, technology, and operational services on a worldwide scale. It provides a variety of IT solutions to aid companies in enhancing their productivity and competitiveness.

9. IBM India Pvt. Ltd.:

IBM is a renowned multinational technology company offering a comprehensive suite of IT products and services, including software development, cloud computing, artificial intelligence, and analytics.

10. Deloitte:

Global professional services company Deloitte offers consulting, advising, audit, and tax services to customers in a variety of sectors. It offers IT consulting and technology services to help organisations with their digital transformation journeys.

11. Capgemini:

The global leader in advisory services, services for technology, and digital transformation is Capgemini. It provides an extensive selection of IT services, including cybersecurity, infrastructure management, and application development.

12. Amazon Development Center India Pvt. Ltd.:

Amazon is a multinational technology company that provides e-commerce, cloud computing, and digital streaming services. Its development centre in Hyderabad focuses on software development and innovation.

13. Microsoft India Development Center:

Microsoft is a renowned technology company known for its software products and services. The India Development Center in Hyderabad plays a crucial role in developing innovative technologies and solutions across various domains.

14. Google India Pvt. Ltd.:

Google is a leading technology company specialising in internet-related services and products. Its Hyderabad office is involved in software development, research, and other technological advancements.

15. Salesforce:

Customer relationship management, or CRM, software and cloud computing are both dominated by Salesforce. It provides a variety of IT services to help businesses streamline their marketing, customer service, and sales processes.

16. Adobe Systems India Pvt. Ltd.:

Adobe is a multinational software company known for its creative and digital marketing solutions. The Hyderabad office focuses on software development, product engineering, and research and development.

17. Intel India Pvt. Ltd.:

Intel is a renowned technology company specialising in semiconductor chip manufacturing. Its India headquarters in Hyderabad focuses on research and development, chip design, and software development.

18 Cisco Systems India Pvt. Ltd.:

Cisco is a global leader in networking hardware, software, and telecommunications equipment. Its Hyderabad office focuses on research and development, software engineering, and innovation.

19. Qualcomm India Pvt. Ltd.:

Qualcomm is a semiconductor and telecommunications equipment company known for its mobile and wireless technologies. Its Hyderabad office contributes to software development, chip design, and research and development.

20. Genpact:

The Genpact is a global consulting company with a focus on process outsourcing, analytics, and digital transformation. FSeveral businesses, including finance, healthcare, and manufacturing, offer IT solutions and services.

21. Verizon Data Services India Pvt. Ltd.:

Verizon is a multinational telecommunications company that offers a broad variety of IT and communication services. Its Hyderabad office focuses on software development, IT infrastructure services, and data analytics.

22. Pegasystems Inc.:

Pegasystems is a software company specialising in customer engagement and operational excellence solutions. It provides innovative IT solutions for various industries, including banking, insurance, and healthcare.

23. Novartis India Ltd.:

Novartis is a multinational pharmaceutical company that focuses on research, development, and manufacturing of pharmaceutical products. Its Hyderabad office is involved in IT operations and digital transformation initiatives.

24. Infor Global Solutions:

Infor is a global enterprise software company that provides industry-specific business applications. It offers innovative IT solutions for industries such as manufacturing, healthcare, and hospitality.

25. ADP Pvt. Ltd.:

ADP is a global provider of human capital management (HCM) solutions and payroll services. Its Hyderabad office plays a crucial role in software development, research, and global product support.

26. Hexagon Capability Center India Pvt. Ltd.:

Hexagon is a multinational technology company specialising in digital solutions for various industries, including geospatial, manufacturing, and infrastructure. Its Hyderabad office focuses on software development and research.

27. Virtusa Corporation:

Virtusa is an IT services and consulting company that provides digital engineering and software development solutions. It offers services across industries such as banking, healthcare, and telecommunications.

28. OpenText:

OpenText is a market leader in content management and enterprise information management software. The software development, investigation, and product engineering are all conducted in its Hyderabad location.

29. Mindtree Ltd.:

Computer solutions and services for outsourcing are offered by the worldwide technology advice and services firm Mindtree Ltd. It specialised in fields including cloud services, data analytics, and application development.

30. Zoho Corporation Pvt. Ltd.:

Zoho is a software company that offers a suite of cloud-based business applications. Its Hyderabad office focuses on software development, research, and customer support.
Salary Prospects:
Salary prospects in Hyderabad's tech industry are competitive and often attractive, making it an enticing destination for tech professionals. The city's relatively lower cost of living compared to other major tech hubs like Bengaluru and Mumbai further enhances the appeal. Here's an overview of salary prospects across different experience levels and roles:
Entry-Level Positions (0-2 Years): Junior software engineers, web developers, and other entry-level roles can expect annual salaries ranging from INR 4 lakhs to INR 6 lakhs or more, depending on the company and the specific skill set. Startups might offer competitive packages along with equity options to attract fresh talent.
Mid-Level Positions (2-5 Years): With a couple of years of experience, mid-level professionals can earn higher salaries ranging from INR 8 lakhs to INR 15 lakhs or beyond. Position titles for data analysts, software developers, and quality assurance engineers fall into this category.
Senior Positions (5+ Years): Senior software engineers, technical leads, project managers, and specialists with over five years of experience can command salaries exceeding INR 15 lakhs and potentially crossing INR 20 lakhs or more. Salaries at this level can be influenced by factors like specialisation, domain expertise, and leadership skills.
Specialised Roles: In-demand roles such as data scientists, machine learning engineers, cybersecurity experts, and cloud architects often earn higher-than-average salaries due to their specialised skills. These professionals can expect salaries ranging from INR 20 lakhs to well over INR 30 lakhs, depending on their expertise and experience.
Management and Leadership Roles: Tech managers, senior managers, and director-level positions can earn substantial salaries, sometimes exceeding INR 30 lakhs or even reaching INR 50 lakhs or more. Compensation at this level reflects the responsibility of overseeing teams and driving business outcomes.
Contract and Freelance Work: Freelancers and contract workers in tech can have varied income levels based on the nature and complexity of the projects they undertake. Hourly rates or project-based fees can vary significantly, but experienced freelancers with specialised skills can often earn rates comparable to or higher than full-time employees.
Challenges and Future Trends:
While Hyderabad's IT sector boasts impressive achievements, it is not without its challenges and potential future trends:
Skill Upgradation As technology continues to advance, there is a growing need for professionals to upskill and stay updated with the latest trends. Continuous learning and development will be crucial to maintain a competitive edge.
Emergence of Startups: Alongside established giants, Hyderabad has seen a surge in startup activity. These startups are driving innovation in areas like artificial intelligence, blockchain, and biotechnology, diversifying the city's tech landscape.
Remote Work and Hybrid Models: The use of virtual jobs and hybrid work arrangements has risen in response to the COVID-19 epidemic. This trend may influence how companies structure their operations and the skills required of their employees.
Focus on Research and Development: With the presence of research and development centers for companies like Microsoft, Hyderabad is poised to contribute to global tech innovations. This could lead to an increased emphasis on cutting-edge research and development in the city.
Cybersecurity and Data Privacy: As technology reliance grows, so does the importance of cybersecurity and data privacy. IT companies in Hyderabad will likely secure sensitive information, you must invest in strong security procedures.
Government Initiatives and Support:
The local government has been supportive of the IT sector's growth in Hyderabad. Initiatives like "Hyderabad IT and ITES SEZ" have created special economic zones to promote IT-related businesses. Additionally, policies that encourage innovation and entrepreneurship have led to the emergence of startup incubators and accelerators.
Conclusion:
In conclusion, Hyderabad stands as a dynamic and thriving hub within India's technology landscape. Its IT sector boasts a rich blend of established giants and burgeoning startups, creating an ecosystem that fosters innovation, growth, and opportunities for tech professionals. The city's reputation as "Cyberabad" is well-earned, with a diverse range of industries, cutting-edge research centers, and a robust startup culture contributing to its technological prowess.
Hyderabad's tech scene encompasses various dimensions, including IT services, software development, research and development, emerging technologies, and more. The presence of industry leaders like Infosys, TCS, Tech Mahindra, and Microsoft, alongside a growing number of startups, showcases the city's adaptability and capacity to lead in both established and innovative domains.
The salary prospects offered by Hyderabad's tech industry are highly competitive, appealing to professionals across experience levels. From entry-level roles to specialised positions and management roles, the city provides attractive compensation packages, often coupled with benefits that enhance the overall quality of life.
Furthermore, Hyderabad's favourable cost of living, supportive government policies, and ample opportunities for skill development make it an attractive destination for both Indian and international tech talent. As the tech landscape continues to evolve with the advent of new technologies, remote work models, and emerging industries, Hyderabad is poised to remain at the forefront of India's tech revolution.
In essence, Hyderabad's blend of tradition and innovation, established corporations and startups, and promising salary prospects collectively paint a picture of a city that not only embraces technology but also contributes significantly to shaping its future. As the tech journey continues, Hyderabad's standing as a thriving IT hub is set to grow stronger, making it a compelling destination for tech enthusiasts and professionals alike.
Data Science Placement Success Story