Top 8 IT Companies in Brisbane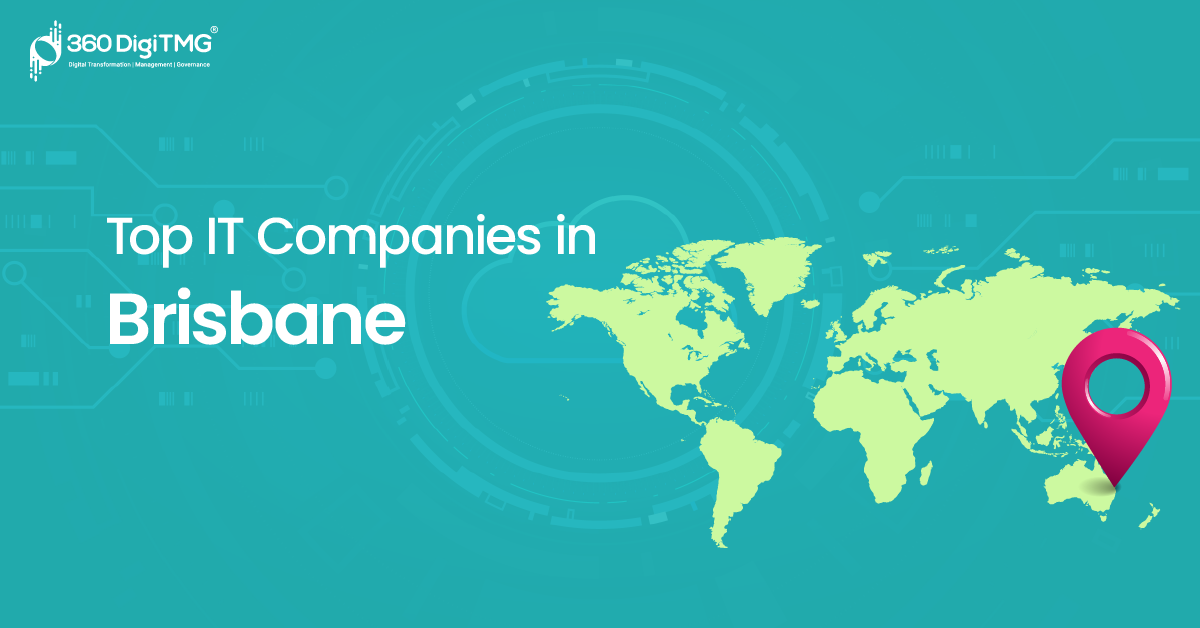 Introduction:
Brisbane, the capital city of Queensland, Australia, is a modern and thriving metropolis with a captivating history. Nestled along the beautiful Brisbane River, the city offers a unique blend of natural beauty, vibrant cultural experiences, and a relaxed outdoor lifestyle. With its rich heritage, diverse population, and growing economy, Brisbane has become a popular destination for residents and tourists alike.
Whether it's exploring the historic landmarks, enjoying the subtropical climate, or immersing oneself in the city's dynamic arts and culinary scenes, Brisbane has something to offer everyone.
History of Brisbane
Brisbane, the capital city of the Australian state of Queensland, is a vibrant and thriving metropolis situated along the winding Brisbane River. With its unique blend of history, natural beauty, and modernity, Brisbane has evolved from its humble beginnings to become a major cultural, economic, and recreational hub. Here is an introduction to the captivating history of Brisbane:
Brisbane has a rich Indigenous history, with the area originally inhabited by the Jagera and Turrbal Aboriginal peoples for thousands of years. They had a deep connection to the land, with the river providing a vital source of sustenance and a meeting place for trade and social gatherings.
The European settlement of Brisbane began in 1824 when a penal colony was established as a means of alleviating overcrowding in the Sydney penal settlement. Under the command of Captain Patrick Logan, a small group of British convicts and soldiers founded the Moreton Bay Penal Settlement, the precursor to modern-day Brisbane.
In 1842, Brisbane was declared a free settlement, and its name was officially changed from Moreton Bay to Brisbane. The city experienced rapid growth in the late 19th century, fueled by the discovery of gold in the nearby region. The influx of gold rush migrants led to the development of infrastructure, including roads, bridges, and public buildings.
During the 20th century, Brisbane underwent significant urban development and expansion. The city played a pivotal role during World War II as a major military base for Allied forces in the Pacific. It experienced a population boom and underwent extensive reconstruction following the devastating floods of 1974.
In recent decades, Brisbane has evolved into a modern and cosmopolitan city, renowned for its thriving cultural scene, world-class events, and stunning natural attractions. The city hosted the Commonwealth Games in 1982 and the G20 Summit in 2014, attracting international attention and further establishing Brisbane as a global destination.
Today, Brisbane is a diverse and multicultural city, offering a harmonious blend of historical landmarks, contemporary architecture, and expansive green spaces. Its subtropical climate, scenic parks, and proximity to the iconic Gold Coast and Sunshine Coast make it a desirable location for residents and visitors alike.
With its rich history, vibrant cultural heritage, and ongoing development, Brisbane continues to be a city of growth and opportunity. The preservation of its historical landmarks, commitment to sustainability, and thriving business sector contribute to its status as a desirable place to live, work, and explore in Australia.
Tech Scene
The tech scene in Brisbane, Australia, is a dynamic and growing ecosystem that contributes to the city's reputation as a hub for innovation and technology. With a strong emphasis on fostering entrepreneurship and technological advancements, Brisbane offers a range of opportunities for tech professionals and startups. Here's an overview of the tech scene in Brisbane:
Startup Culture: Brisbane has a thriving startup culture with numerous incubators, accelerators, and co-working spaces that support and nurture early-stage tech ventures. Organizations like River City Labs, Fishburners, and The Precinct provide resources, mentorship, and networking opportunities for aspiring entrepreneurs.
Research and Education: Brisbane is home to leading research institutions and universities, including the University of Queensland and Queensland University of Technology. These institutions drive innovation through cutting-edge research and offer programs focused on technology and entrepreneurship. Collaboration between academia and industry contributes to the growth of the tech scene in Brisbane.
Industry Specializations: Brisbane's tech scene spans various industries, including fintech, healthtech, agtech, gaming, and digital media. The city has a strong focus on emerging technologies such as artificial intelligence (AI), data analytics, cybersecurity, and blockchain. These specializations attract investment and talent, fostering innovation and growth.
Tech Hubs and Innovation Precincts: Brisbane hosts tech hubs and innovation precincts that provide a supportive environment for collaboration and networking. The Fortitude Valley and Teneriffe areas are known for their concentration of tech companies and startups. The Queensland Government's Advance Queensland initiative aims to foster innovation and drive economic growth by supporting the establishment of innovation precincts across the city.
Networking and Events: Brisbane offers a range of networking events, meetups, and conferences that bring together tech professionals, entrepreneurs, and industry experts. Events like Myriad, QODE, and various industry-specific meetups provide opportunities for knowledge-sharing, collaboration, and connecting with like-minded individuals.
Government Support: The Queensland Government actively supports the tech sector through initiatives and funding programs. The Advance Queensland initiative provides funding for startups, promotes research and development, and supports the growth of the innovation ecosystem in Brisbane.
Talent Pool: Brisbane benefits from a talented and diverse pool of tech professionals. The city attracts skilled individuals from around the world, thanks to its quality of life, educational opportunities, and growing job market. The presence of top universities and educational institutions also contributes to the availability of highly skilled graduates entering the tech industry.
Brisbane's tech scene continues to evolve, driven by a spirit of innovation, collaboration, and support from the government and industry. The city's growing ecosystem, combined with its talented workforce and vibrant startup culture, positions Brisbane as a thriving destination for tech professionals and entrepreneurs.
Learn the core concepts of Data Science Course video on YouTube:
Best IT companies in Brisbane
Brisbane, Australia, is home to a diverse range of IT companies operating across various sectors. These companies contribute to the city's thriving tech ecosystem and offer a wide range of IT services and solutions. Here are some notable IT companies in Brisbane:
1. TechnologyOne:

TechnologyOne is a leading software company specializing in enterprise software solutions for sectors such as government, education, healthcare, and utilities. They provide integrated software platforms for financial management, HR and payroll, asset management, and more.

2. Data#3:

Data#3 is an Australian IT services and solutions company. They offer a wide range of services, including consulting, managed services, cloud solutions, cybersecurity, data analytics, and collaboration tools.

3. Interactive:

Interactive is a leading provider of IT managed services and data center solutions. They offer services such as cloud hosting, disaster recovery, managed IT support, and hardware maintenance, catering to businesses of all sizes.

4. Technology People:

Technology People is an IT recruitment agency that specializes in connecting IT professionals with job opportunities in Brisbane and across Australia. They provide recruitment services for various IT roles, including software development, project management, data analytics, and cybersecurity.

5. Megaport:

Megaport is a global network-as-a-service provider, offering software-defined networking (SDN) solutions that enable fast and secure connectivity between data centers, cloud providers, and enterprises. Their services help businesses optimize their network infrastructure and enable seamless cloud connectivity.

6. Interactive:

Interactive is a leading provider of IT managed services and data center solutions. They offer services such as cloud hosting, disaster recovery, managed IT support, and hardware maintenance, catering to businesses of all sizes. WebAlive: WebAlive is a digital agency that provides web development, e-commerce solutions, digital marketing, and IT consulting services. They specialize in creating responsive and user-friendly websites and delivering effective online marketing strategies.

7. Intelledox:

Intelledox is a software company specializing in digital transformation solutions. They offer a low-code platform for creating smart forms, document generation, and workflow automation, helping businesses streamline their processes and improve customer experiences. Emantra: Emantra is a cloud service provider that offers cloud hosting, managed services, and IT infrastructure solutions. They provide secure and scalable cloud environments for businesses to host their applications and data.

8. Rype Group:

Rype Group is an IT consulting and professional services company. They offer a range of services, including IT strategy consulting, software development, project management, and data analytics, helping businesses leverage technology to achieve their goals.
Overview of IT jobs in Brisbane
IT jobs in Brisbane offer significant opportunities for progression and development over time, driven by the city's growing tech industry and demand for skilled professionals. Here is an overview of how IT jobs can progress and evolve in Brisbane
Many IT professionals start their careers in entry-level positions such as software developers, helpdesk technicians, network administrators, or data analysts. These roles provide a foundation for building technical skills, gaining practical experience, and familiarizing oneself with industry standards and practices.
As IT professionals gain experience, they have the opportunity to enhance their skills and specialize in specific areas. This could involve focusing on a particular programming language, software development methodology, cloud computing, cybersecurity, data analytics, or specialized industry applications. Developing expertise in a specific domain or technology can lead to higher-demand roles and increased job prospects.
With experience and demonstrated leadership skills, IT professionals can progress into team leadership or project management roles. These positions involve overseeing teams, managing projects, coordinating resources, and ensuring the successful delivery of IT initiatives. Strong communication, problem-solving, and project management skills are crucial for advancement into these roles.
IT professionals who excel in technical expertise and system design may transition into solution architecture or technical consulting roles. These positions involve designing and implementing complex IT solutions, providing technical guidance and mentoring, and ensuring the scalability and efficiency of systems. Solution architecture and technical consulting roles require a deep understanding of technology, business requirements, and the ability to align IT solutions with organizational goals.
Experienced IT professionals can progress into management and leadership positions within IT departments or organizations. These roles involve overseeing IT operations, strategic planning, budgeting, and driving technological innovation. Strong leadership, communication, and business acumen are essential for success in IT management and leadership roles.
Brisbane's thriving startup ecosystem provides opportunities for IT professionals to venture into entrepreneurship or join early-stage tech companies. This path allows individuals to pursue their own ideas, innovate, and contribute to the growth of the local tech industry. It requires a combination of technical skills, business acumen, and an entrepreneurial mindset.
The IT industry is dynamic, with new technologies and trends constantly emerging. Continuous learning and professional development are crucial for IT professionals in Brisbane to stay relevant and advance in their careers. Pursuing certifications, attending industry events, participating in workshops, and staying up-to-date with the latest technologies can open doors to new opportunities and higher-level positions.
Brisbane's growing tech industry, supportive ecosystem, and emphasis on innovation create a conducive environment for IT professionals to progress and develop their careers over time. Continuous learning, adaptability, and a passion for technology are key to seizing opportunities and thriving in the evolving IT landscape of Brisbane.
Salary of Software Engineer in Brisbane
Salaries in IT companies in Brisbane can vary depending on factors such as job role, level of experience, company size, and industry specialization. While it is challenging to provide precise figures, here is a general overview of salary ranges for different IT positions in Brisbane.
Entry-level software developers in Brisbane can typically expect salaries ranging from approximately AUD 55,000 to AUD 80,000 per year. Mid-level professionals with a few years of experience may earn between AUD 80,000 and AUD 110,000 per year, while senior-level software developers can command salaries exceeding AUD 110,000 annually.
Salaries for web developers in Brisbane can start from approximately AUD 50,000 to AUD 70,000 per year for entry-level positions. Mid-level web developers may earn between AUD 70,000 and AUD 90,000 per year, while senior-level professionals can earn salaries exceeding AUD 90,000 annually.
Entry-level system administrators or network engineers in Brisbane can expect salaries ranging from approximately AUD 55,000 to AUD 75,000 per year. Mid-level professionals may earn between AUD 75,000 and AUD 100,000 per year, while senior-level professionals can earn salaries exceeding AUD 100,000 annually.
Entry-level IT project managers in Brisbane can expect salaries ranging from approximately AUD 70,000 to AUD 90,000 per year. Mid-level project managers may earn between AUD 90,000 and AUD 120,000 per year, while senior-level professionals can earn salaries exceeding AUD 120,000 annually.