Top 10 IT Companies in Chromepet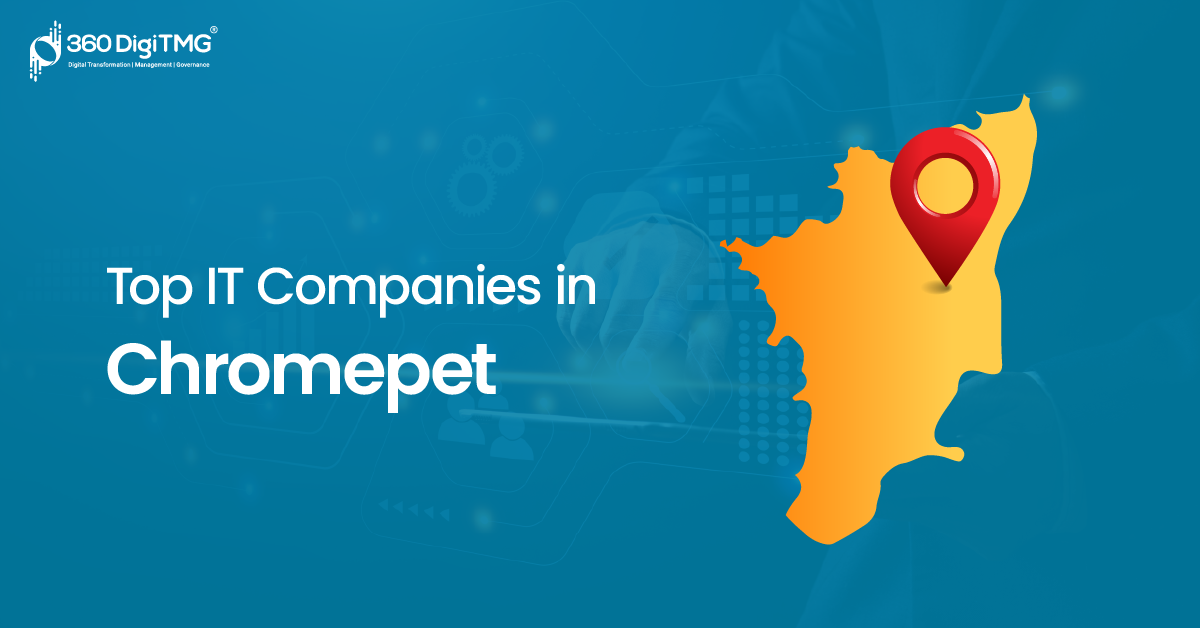 Introduction
Chromepet is a locality located in Chennai, Tamil Nadu, India. Chromepet is situated in the southern part of Chennai, approximately 17 kilometres away from the city centre. It falls under the Kanchipuram district and is well-connected to other parts of Chennai through road and rail networks. The Chennai International Airport is also in close proximity to Chromepet.
Chromepet derives its name from the Chrome Leather Works, a tannery that was established in the area during the British colonial period. The tannery used chromium salts in the leather tanning process, hence the name "Chromepet." Over the years, Chromepet has transformed into a residential and commercial hub with the growth of educational institutions, hospitals, industries, and IT parks in the vicinity. Chromepet is known for its vibrant residential neighbourhoods, educational institutions, and commercial establishments. It is home to renowned educational institutions like Madras Institute of Technology (MIT) and the National Institute of Siddha. The locality also houses several industries, including manufacturing units and IT companies. It has experienced significant growth in infrastructure and amenities, making it an attractive area for residents and businesses.
Chromepet benefits from excellent transportation facilities. It has a well-connected railway station that falls on the Chennai Suburban Railway network, providing easy access to various parts of Chennai. Additionally, Chromepet is connected to major roads and highways, such as the GST Road (Grand Southern Trunk Road), making commuting to nearby areas convenient.
Over the years, Chromepet has witnessed steady development and growth. The presence of educational institutions and industrial establishments has contributed to its economic development. The area has seen the construction of residential complexes, shopping centers, and commercial buildings to cater to the needs of the growing population. The establishment of IT parks and business centers has further enhanced the business ecosystem in Chromepet.
Overall, Chromepet has evolved from its industrial roots to become a bustling residential and commercial area in Chennai. Its strategic location, connectivity, and growth potential make it an appealing choice for residents and businesses alike.
Tech Scene
Chromepet, being part of Chennai, benefits from the overall tech scene of the city. Chennai has emerged as a prominent IT hub in India and is home to numerous tech companies, software development centers, and IT parks. While Chromepet itself may not have a significant concentration of tech companies, it is well-connected to other tech-centric areas in Chennai.
IT Parks: Chromepet is in proximity to several IT parks and technology hubs in Chennai, such as the Tidal Park, DLF IT Park, and Ramanujan IT City. These parks house a wide range of IT and software development companies, including multinational corporations and startups.
Software Development: Chennai has a strong presence in software development, with a focus on areas like software engineering, application development, web development, and mobile app development. Many IT companies in Chennai offer software development services to clients across various industries.
IT Services: Chennai is known for its IT services industry, including software consulting, IT outsourcing, and business process outsourcing (BPO). Companies in Chennai provide services such as IT infrastructure management, software testing, data analytics, and customer support to clients globally.
Startup Ecosystem: Chennai has a thriving startup ecosystem, with numerous tech startups emerging in recent years. The city offers a supportive environment for startups with incubators, accelerators, and networking events to foster innovation and entrepreneurship.
Skilled Workforce: Chennai has a pool of skilled IT professionals and engineers graduating from its reputed educational institutions. The availability of a talented workforce contributes to the growth and development of the tech scene in the city.
Technology Events and Conferences: Chennai hosts various technology events, conferences, and meetups that bring together industry experts, entrepreneurs, and professionals to share knowledge, network, and explore new trends in technology.
Overall, while Chromepet may not be at the forefront of the tech scene in Chennai, it benefits from the overall tech ecosystem of the city. The nearby IT parks and connectivity to tech-centric areas provide opportunities for professionals and businesses in Chromepet to engage with the vibrant tech community in Chennai.
Best IT Companies in Chromepet
While Chromepet itself may not have a significant concentration of IT companies, being part of Chennai provides access to a wide range of prominent IT companies.
1. Tata Consultancy Services (TCS):

TCS is one of the largest IT services companies in India and operates globally. It offers a wide range of IT services, including consulting, software development, and infrastructure services.

2. Infosys:

Infosys is a multinational IT company that provides consulting, technology, and outsourcing services. It specializes in areas such as application development, data analytics, and cloud computing.

3. Wipro:

Wipro is a leading global IT services company that offers software development, IT consulting, and business process services. It serves clients across various industries, including healthcare, finance, and manufacturing.

4. Cognizant:

Cognizant is an American multinational IT company with a significant presence in Chennai. It provides IT services and solutions in areas such as digital transformation, cloud computing, and data analytics.

5. HCL Technologies:

HCL Technologies is a global IT services company that offers a wide range of services, including software development, IT infrastructure management, and cybersecurity.

6. Accenture:

Accenture is a global professional services company that provides a wide range of IT services, consulting, and technology solutions. It has a h3 presence in Chennai and serves clients across industries.

7. IBM India:

IBM India is the Indian subsidiary of IBM, a renowned multinational technology company. It offers IT services, software solutions, and consulting services across various sectors.

8. Capgemini:

Capgemini is a global IT consulting and services company that specializes in technology and digital transformation. It provides services in areas such as application development, cybersecurity, and cloud computing.

9. HCL Infosystems:

HCL Infosystems is an Indian IT company that offers IT hardware, software solutions, and distribution services. It has a presence in multiple sectors, including technology, healthcare, and education.

10. L&T Infotech:

L&T Infotech is a global IT services and solutions company that caters to various industries, including banking, finance, and manufacturing. It offers services such as application development, testing, and infrastructure management.
Overview of IT Jobs in Chromepet
IT jobs offer significant opportunities for progression and development due to the ever-evolving nature of technology and its increasing integration into various industries.
Career Growth: IT professionals can experience rapid career growth as they gain experience and expertise in their respective domains. They can progress from entry-level roles to more senior positions such as team leads, managers, and executives.
Specialization: IT offers various specialization paths, allowing professionals to focus on specific areas of expertise. For example, they can specialize in software development, data analytics, cybersecurity, cloud computing, artificial intelligence, or network administration, among others. Specialization enables professionals to become highly skilled in their chosen fields and opens up advanced career opportunities.
Continuous Learning: The IT industry is characterized by continuous learning and upskilling. Technologies and tools evolve rapidly, requiring professionals to stay updated with the latest trends and advancements. Continuous learning is essential to remain competitive and progress in the field. IT professionals can pursue certifications, attend workshops and conferences, or participate in online learning platforms to enhance their skills and knowledge.
Leadership Roles: As IT professionals gain experience and expertise, they can transition into leadership roles. This includes managing teams, overseeing projects, and making strategic decisions. Leadership positions provide opportunities to influence organizational IT strategies, drive innovation, and shape the direction of technology initiatives.
Entrepreneurship and Consulting: IT professionals with a strong skill set and industry experience may choose to start their own businesses or work as independent consultants. This path allows for greater flexibility, autonomy, and potential financial rewards.
Cross-functional Collaboration: IT professionals often collaborate with colleagues from different departments and industries, allowing them to gain exposure to diverse perspectives and develop a broader understanding of business operations. This cross-functional collaboration can lead to opportunities for career advancement in roles that require a blend of technical expertise and business acumen.
Global Opportunities: The IT industry offers global opportunities, with professionals having the flexibility to work remotely or seek employment in different countries. This global outlook provides exposure to diverse cultures, markets, and technologies, expanding career prospects and international networking opportunities.
Salary of Software Engineer in Chromepet
salaries in the IT industry can vary significantly depending on factors such as job role, experience, location, company size, and industry sector.
Software Developer/Engineer:
Entry-level: $55,000 - $80,000 per year
Mid-level: $80,000 - $120,000 per year
Senior-level: $120,000 - $180,000+ per year
Data Scientist:
Entry-level: $65,000 - $90,000 per year
Mid-level: $90,000 - $130,000 per year
Senior-level: $130,000 - $180,000+ per year
Network Administrator:
Entry-level: $50,000 - $70,000 per year
Mid-level: $70,000 - $90,000 per year
Senior-level: $90,000 - $120,000+ per year
Cybersecurity Analyst:
Entry-level: $60,000 - $80,000 per year
Mid-level: $80,000 - $110,000 per year
Senior-level: $110,000 - $150,000+ per year
IT Project Manager:
Entry-level: $60,000 - $80,000 per year
Mid-level: $80,000 - $120,000 per year
Senior-level: $120,000 - $160,000+ per year
Data Science Placement Success Story
Related searches
IT companies in Chromepet, Chromepet IT companies list, IT companies in Chromepet