Top 14 IT Companies in Coimbatore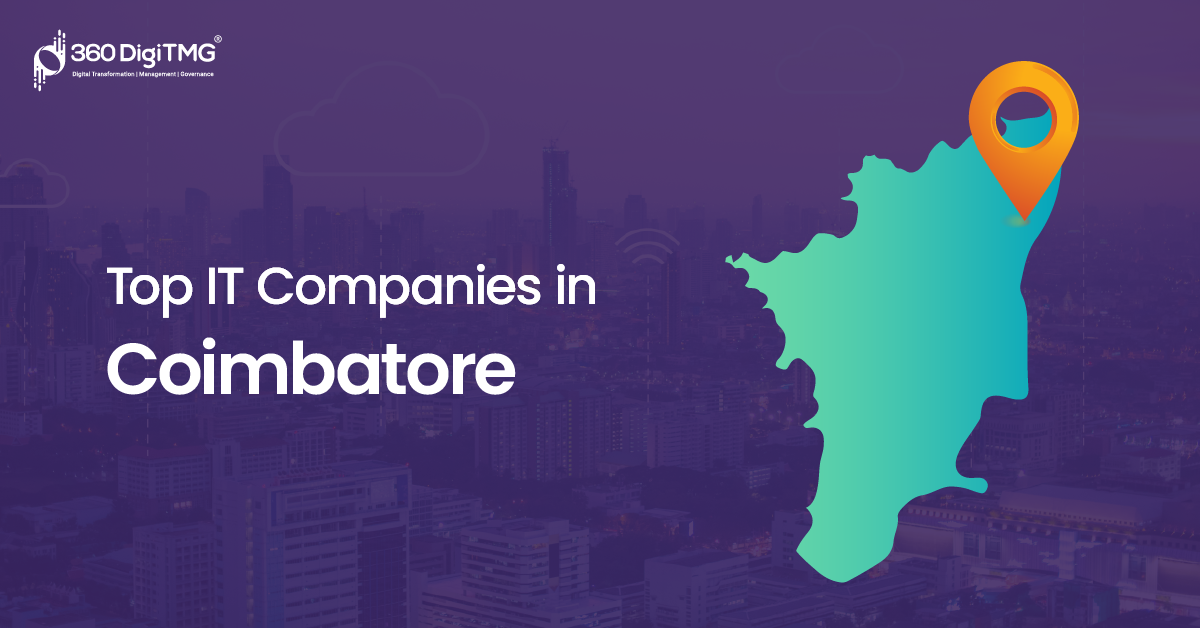 Introduction
Coimbatore is a city located in the state of Tamil Nadu in southern India. It is situated on the banks of the Noyal River and is surrounded by the Western Ghats mountain range. Coimbatore is positioned at approximately 11.0168° N latitude and 76.9558° E longitude. It is situated in the Kongu Nadu region of Tamil Nadu, bordering the state of Kerala to the west. The city is located about 498 kilometres (310 miles) southwest of Chennai, the capital of Tamil Nadu, and approximately 335 kilometres (208 miles) northeast of Kochi, a major city in Kerala. Coimbatore is nestled in a predominantly flat terrain with the Nilgiri Biosphere Reserve and the Animalia Hills to the north and the Western Ghats to the west. The city lies at the foot of the Western Ghats, which provides a scenic backdrop and contributes to the overall pleasant climate of the region.
Coimbatore is surrounded by several cities and towns that are within a relatively short distance. Some notable nearby places include:
Tirupur: Located approximately 47 kilometres (29 miles) east of Coimbatore, Tirupur is a major textile and garment manufacturing hub.
Coimbatore is well-connected through various modes of transportation. The city has its own airport, Coimbatore International Airport(CJB), which operates domestic and international flights. It also has a well-developed road network, with national highways connecting it to major cities in South India. Coimbatore Junction is the primary railway station in the city, providing rail connectivity to different parts of the country.
Coimbatore's location near the Western Ghats, its pleasant climate, and its proximity to scenic hill stations like Ooty and Valparaiso make it a popular tourist destination and an important industrial and commercial centre in Tamil Nadu.
History of Coimbatore
Coimbatore has a rich history that dates back centuries.
Ancient and Medieval Periods:
The region around Coimbatore has evidence of human habitation dating back to the Stone Age. The area was ruled by various dynasties, including the Cheras, Cholas, and Pandya's. Coimbatore played a significant role in trade and commerce during the ancient and medieval periods, serving as a hub for merchants traveling between the west coast and the east coast of India.
Vijayanagar and Nayak Rule:
During the 14th century, the Vijayanagar Empire gained control over the region. The Nayak rulers, who were appointed as governors by the Vijayanagar Empire, established their authority in the area. They constructed temples, tanks, and forts, contributing to the architectural heritage of the region.
In the 17th century, the region came under the rule of the Madurai Nayak dynasty. The decline of the Nayak rule led to the emergence of local chieftains who ruled different parts of the Coimbatore region. In the 18th century, Coimbatore came under the control of the British East India Company, who recognized the strategic importance of the region and established a military presence.
Coimbatore's transformation into an industrial city began during the late 19th and early 20th centuries. The city witnessed rapid industrialization with the establishment of textile mills, engineering industries, and agricultural machinery manufacturing units. Coimbatore became known as the "Manchester of South India" due to its prominence in the textile industry.
After India gained independence in 1947, Coimbatore continued to flourish as an industrial and commercial centre. The city expanded its industrial base to include sectors such as manufacturing, information technology, and healthcare. Today, Coimbatore is recognized as one of the major industrial hubs in Tamil Nadu and has a diverse economy.
Cultural and Educational Significance:
Coimbatore is also known for its cultural heritage and educational institutions. The city is home to several temples, including the famous Marudamalai Murugan Temple and the Perur Patteeswarar Temple. It houses renowned educational institutions such as Coimbatore Medical College, PSG College of Technology, and Bharathiar University, contributing to its reputation as an educational center.
Coimbatore's history reflects its evolution from an ancient trading center to a thriving industrial and educational city. The city's historical legacy, combined with its modern growth, has shaped its cultural, economic, and social fabric.
Tech Scene
Coimbatore has a growing and vibrant tech scene, with several IT companies, startups, and educational institutions contributing to its development.
Coimbatore is home to numerous IT companies, ranging from startups to established firms. These companies provide services in areas such as software development, application development, web design and development, mobile app development, and IT consulting. Some notable IT companies in Coimbatore include Cognizant Technology Solutions, TCS (Tata Consultancy Services), HCL Technologies, KG Information Systems, and KGiSL.
The city has witnessed a surge in the number of tech startups in recent years. These startups cover diverse sectors, including e-commerce, software development, health tech, edtech, and artificial intelligence. Coimbatore also has incubators and co-working spaces that support and nurture the growth of startups. The Coimbatore Innovation and Business Incubator (CIBI) and the Coimbatore Start-up Ecosystem (COiE) are prominent organizations supporting the startup ecosystem in the city.
Educational Institutions:
Coimbatore is known for its quality educational institutions, many of which offer programs in computer science, engineering, and technology-related fields. Institutions like PSG College of Technology, Coimbatore Institute of Technology(CIT), and Kumaraguru College of Technologyhave been instrumental in producing skilled graduates who contribute to the tech industry. These institutions also conduct research and development activities in various domains.
Coimbatore hosts various tech events, conferences, and meetups that bring together professionals, entrepreneurs, and tech enthusiasts. These events provide opportunities for networking, knowledge sharing, and collaboration. Some popular tech events in Coimbatore include Coimbatore Startup Summit, Coimbatore Developer Conference, and Tech Meetups organized by tech communities.
Government Initiatives and Support:
The government of Tamil Nadu, including the local administration in Coimbatore, has implemented initiatives to support the growth of the tech sector. These include policies to attract investments, promote entrepreneurship, and provide infrastructure facilities. The Tamil Nadu government's startup policies and the establishment of dedicated technology parks have contributed to the growth of the tech scene in Coimbatore.
The tech scene in Coimbatore continues to evolve and expand, driven by the presence of IT companies, startups, educational institutions, and supportive initiatives. The city offers opportunities for tech professionals, entrepreneurs, and investors to thrive and contribute to the development of the tech ecosystem.
Best IT Companies in Coimbatore
Coimbatore is home to several reputable IT companies that have made a significant impact in the industry.
1. Cognizant Technology Solutions:

Cognizant is a multinational IT services and consulting company with a strong presence in Coimbatore. It provides a wide range of IT solutions and services to clients across industries.

2. Tata Consultancy Services (TCS):

TCS is one of the largest IT services companies in the world and has a branch in Coimbatore. It offers a comprehensive portfolio of IT services, including software development, consulting, and business process outsourcing.

3. HCL Technologies:

HCL is a global IT services company that operates in Coimbatore. It provides IT infrastructure services, application development, and business process outsourcing solutions to clients worldwide.

4. KG Information Systems (KGiSL):

KGiSL is an IT services and solutions provider based in Coimbatore. It offers services in areas such as software development, application management, cloud computing, and digital transformation.

5. NDOT Technologies:

NDOT Technologies is a software development company with expertise in web and mobile application development. It has a strong presence in Coimbatore and caters to clients across different industry verticals.

6. 2Base Technologies:

2Base Technologies is an IT solutions company that specializes in web and mobile application development, e-commerce solutions, and digital marketing. It has a solid reputation in Coimbatore for delivering high-quality IT services.

7. Speridian Technologies:

Speridian Technologies is an IT services and solutions company that offers a wide range of services, including application development, CRM solutions, business intelligence, and cloud services.

8. Kovaion Consulting:

Kovaion Consulting is an IT services and consulting company specializing in cloud solutions, automation, and digital transformation. They provide services such as cloud advisory, implementation, and managed services.

9. Accel IT Academy:

Accel IT Academy is an IT training and certification institute that offers a wide range of courses in software development, networking, cybersecurity, and digital marketing. They provide training programs for individuals seeking to enhance their IT skills.

10. GUVI:

GUVI is an edtech startup that offers online coding courses and skill development programs. They focus on providing accessible and affordable coding education to students and professionals.

11. Robosoft Technologies:

Robosoft Technologies is a software development company that specializes in mobile app development, web development, and UX/UI design. They have worked with clients across various industries and have a strong focus on delivering innovative digital solutions.

12. AJ Square Inc.:

AJ Square Inc. is an IT services and solutions company offering software development, web design, and digital marketing services. They cater to clients globally and have expertise in multiple domains, including healthcare, e-commerce, and finance.

13. Indium Software:

Indium Software is a software testing and quality assurance services company with a presence in Coimbatore. They offer a wide range of testing services, including functional testing, performance testing, and test automation.

14. Mallow Technologies:

Mallow Technologies is an IT services company specializing in mobile app development, web development, and enterprise software solutions. They have a diverse portfolio of clients and are known for delivering customized and scalable IT solutions.
Overview of IT Jobs in Coimbatore
IT jobs offer excellent opportunities for progression and development due to the constantly evolving nature of the industry.
Skill Enhancement: IT professionals can enhance their skills through continuous learning and training. They can acquire certifications, attend workshops, or pursue advanced degrees to stay updated with the latest technologies and industry trends. By expanding their skill set, they become eligible for higher-level positions and more challenging projects.
Career Advancement: IT jobs often have clear career paths with opportunities for advancement. Professionals can start at entry-level positions and gradually progress to mid-level and senior roles. For example, a software developer can progress to a senior developer, then to a team lead or project manager, and eventually to a managerial or leadership position.
Specialization: IT professionals can specialize in specific areas of technology, such as cybersecurity, data science, cloud computing, artificial intelligence, or blockchain. By becoming subject matter experts in these domains, they can access specialized roles, higher salaries, and more challenging projects.
Leadership Roles: IT professionals with strong technical and managerial skills can move into leadership roles such as IT managers, department heads, or CTOs. These positions involve overseeing teams, making strategic decisions, and driving technological innovation within an organization.
Entrepreneurship: IT professionals have the option to start their own IT consulting firms, software development companies, or tech startups. This allows them to leverage their skills, creativity, and business acumen to build their own ventures and have control over their career progression.
Global Opportunities: The IT industry offers global opportunities for professionals to work with multinational companies, collaborate on international projects, or even relocate to different countries. This global exposure can provide valuable experiences, broaden perspectives, and open doors to higher-paying jobs and diverse cultural experiences.
Industry Trends: IT professionals who stay updated with emerging technologies and industry trends have an advantage in the job market. Being knowledgeable about areas like artificial intelligence, machine learning, data analytics, or cybersecurity can lead to exciting career opportunities in high-demand fields.
Salary of Software Engineer in Coimbatore
Salaries in the IT industry can vary based on several factors, including job role, experience, skills, location, and the specific company or organization.
At the entry level, positions such as software developer, web developer, or IT support specialist may have salaries ranging from ₹2.5 lakhs to ₹6 lakhs per annum ($3,400 to $8,200). These figures are approximate and can vary depending on factors mentioned earlier.
With a few years of experience and a solid skill set, professionals in mid-level positions like software engineer, database administrator, or system analyst can expect salaries in the range of ₹6 lakhs to ₹15 lakhs per annum ($8,200 to $20,500). Again, these figures are approximate and can vary based on various factors.
Senior-level roles such as IT project manager, technical architect, or senior software engineer typically command higher salaries. These positions can have salaries ranging from ₹15 lakhs to ₹30+ lakhs per annum ($20,500 to $41,000+), depending on the organization, experience, and expertise.
Professionals in specialized IT roles, such as data scientists, cybersecurity experts, or AI/machine learning engineers, often have higher earning potential due to the demand for their skills. Salaries in these fields can range from ₹10 lakhs to ₹40+ lakhs per annum ($13,700 to $54,800+), depending on experience, expertise, and the organization.
Data Science Placement Success Story
Related searches
IT companies in Coimbatore, Coimbatore IT companies list, Top IT companies in coimbatore, Best IT companies in Coimbatore, New IT companies in Coimbatore, Top 10 IT companies in Coimbatore, Top 50 IT companies in Coimbatore, Top IT companies Coimbatore