Top 20 IT Companies in Kuala Lumpur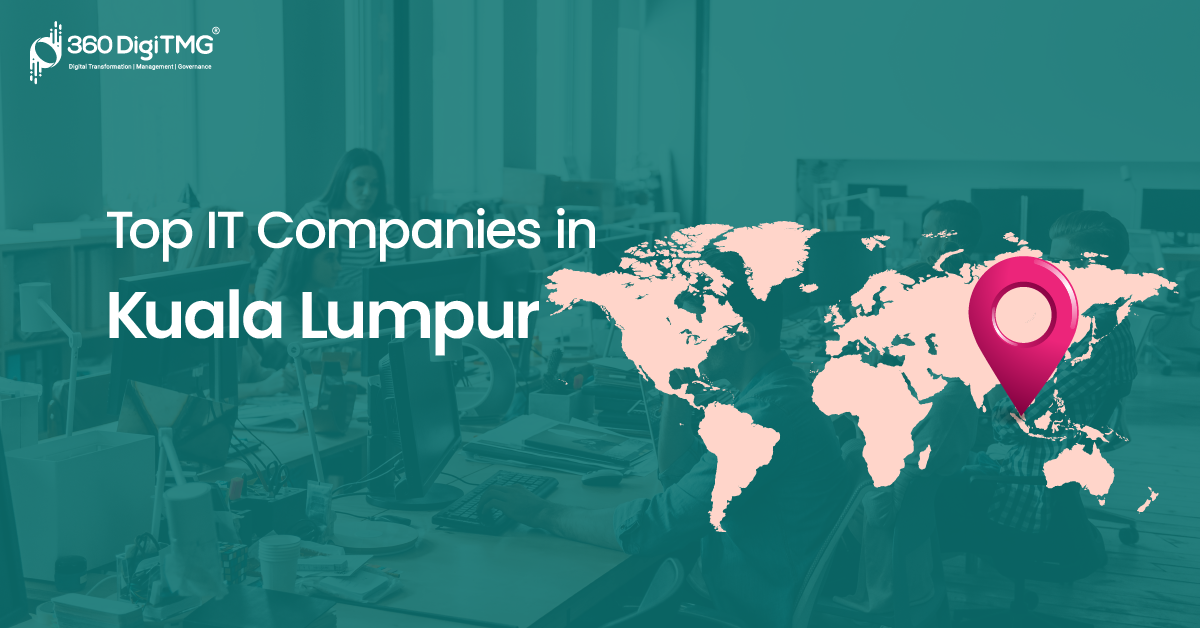 Kuala Lumpur, the capital city of Malaysia, is a thriving hub for technology and innovation. The city is home to numerous IT companies that provide a wide range of services, including software development, web design, cybersecurity, data analytics, and more. In this article, we will explore some of the top IT companies in Kuala Lumpur, highlighting their key offerings, achievements, and contributions to the local tech industry.
1. Fusionex International:
Fusionex International is a leading multi-award-winning IT software solutions provider that specializes in advanced analytics, big data, artificial intelligence (AI), and the Internet of Things (IoT). The company offers a range of innovative products and services to industries such as banking, e-commerce, and healthcare. Fusionex has received numerous accolades, including the IDC Big Data Analytics & Cognitive Solutions Company of the Year award.
2. GHL Systems:
GHL Systems is a renowned IT company in Kuala Lumpur that focuses on payment solutions and services. The company offers a comprehensive suite of payment products, including point-of-sale (POS) systems, mobile payments, e-commerce solutions, and more. GHL Systems has established itself as a trusted partner for businesses looking to streamline their payment processes.
3. Soft Space:
Soft Space is a leading fintech company that specializes in mobile payment solutions. The company offers a secure and scalable platform for mobile wallet services, enabling businesses to accept payments through smartphones and other mobile devices. Soft Space has received recognition for its innovative solutions and has partnered with major financial institutions across Southeast Asia.
4. MDT Innovations:
MDT Innovations is a technology company that focuses on IoT solutions and connected devices. The company offers a wide range of products, including smart city solutions, industrial automation systems, and asset tracking devices. MDT Innovations has successfully implemented IoT projects in various sectors, including transportation, logistics, and manufacturing.
5. Exabytes:
Exabytes is a leading web hosting and cloud services provider in Kuala Lumpur. The company offers a comprehensive range of services, including domain registration, web hosting, website design, and cloud computing solutions. Exabytes has built a strong reputation for its reliable infrastructure and excellent customer support.
6. Abyres:
Abyres specializes in embedded systems and software development for industries such as telecommunications, automotive, and consumer electronics. The company offers end-to-end solutions, including firmware development, system integration, and testing services. Abyres has a team of highly skilled engineers who deliver innovative and customized solutions to meet clients' specific requirements.
7. SNS Network:
SNS Network is a well-established IT company that provides a wide range of services, including network infrastructure solutions, IT consulting, and system integration. The company has extensive experience in implementing enterprise-grade solutions and has worked with various government agencies and private organizations.
8. Cuscapi:
Cuscapi is a technology company that specializes in providing innovative solutions for the hospitality industry. The company offers a comprehensive suite of products, including point-of-sale systems, customer engagement platforms, and kitchen management solutions. Cuscapi's solutions help businesses enhance their operational efficiency and deliver an excellent customer experience.
9. Silverlake Group:
Silverlake Group is a leading provider of digital economy solutions for the banking and financial services industry. The company offers a range of software products and services, including core banking systems, payment solutions, and digital banking platforms. Silverlake Group has a strong presence in the Asia-Pacific region and serves numerous financial institutions.
10. Synapse Innovation:
Synapse Innovation is a software development company that specializes in building custom software solutions for businesses across various industries. The company offers services such as web development, mobile app development, and enterprise software solutions. Synapse Innovation has a team of experienced developers who leverage the latest technologies to deliver high-quality software products.p>
11. Tech Mahindra:
Tech Mahindra is a global IT services and consulting company with a strong presence in Kuala Lumpur. They provide a wide range of services including application development, infrastructure management, cybersecurity, and data analytics. Tech Mahindra has a strong focus on digital transformation and assists businesses in leveraging emerging technologies such as artificial intelligence, cloud computing, and blockchain.
12. MIMOS Berhad:
MIMOS Berhad is a research and development agency under the Malaysian Ministry of Science, Technology, and Innovation. They specialize in advancing digital technology and have contributed significantly to the growth of the IT industry in Kuala Lumpur. MIMOS collaborates with various industry partners to develop cutting-edge solutions in areas like Internet of Things (IoT), robotics, artificial intelligence, and cybersecurity.
13. Gobi Partners:

Gobi Partners is a venture capital firm that invests in technology companies, including those in the IT sector. With a presence in Kuala Lumpur, Gobi Partners supports the growth and development of innovative startups. They provide funding, mentorship, and strategic guidance to early-stage companies, helping them scale and succeed in the competitive IT landscape.
14. N2N Connect:
N2N Connect is a leading provider of online trading solutions for the financial industry. They offer comprehensive trading platforms, market data services, and other technology solutions to brokerage firms, banks, and financial institutions. N2N Connect's robust systems enable seamless and secure trading experiences for investors and traders.
15. Elixir Technology:
Elixir Technology is a software company that specializes in business intelligence and data visualization solutions. Their products empower organizations to analyze and present data in meaningful ways, enabling data-driven decision-making. Elixir Technology's solutions cater to various industries, including finance, healthcare, manufacturing, and retail.
16. SNS Network:
SNS Network is a reputable IT company in Kuala Lumpur, offering a diverse range of services such as network infrastructure setup, IT support, and managed services. They cater to businesses of all sizes and industries, providing reliable and scalable IT solutions. SNS Network has established strong partnerships with leading technology providers to deliver innovative and reliable IT services to their clients.
17. JOS Malaysia:
JOS Malaysia is an IT services and solutions provider that focuses on digital transformation and enterprise IT infrastructure. They offer a wide range of services, including IT consulting, system integration, cloud services, and Cyber Security. JOS Malaysia works closely with their clients to understand their business needs and develop tailored IT solutions to drive efficiency and productivity.
18. I-GATE Global Solutions:
I-GATE Global Solutions is a software development and IT consulting company in Kuala Lumpur. They provide custom software development services, including web and mobile app development, enterprise software solutions, and software testing. I-GATE Global Solutions collaborates closely with their clients to deliver high-quality software products that meet their specific requirements.
19. Packet One Networks (P1):
Packet One Networks (P1) is a leading telecommunications and internet service provider in Kuala Lumpur. They offer high-speed broadband and wireless internet services to residential and business customers. P1's reliable and fast internet connectivity solutions have played a crucial role in supporting the digital infrastructure needs of businesses and individuals in the city.
20. REDtone:
REDtone is a telecommunications and managed services provider that offers a range of IT solutions, including cloud services, managed network services, and unified communications. They serve businesses across various industries, helping them enhance their communication and collaboration capabilities while ensuring security and reliability.
Conclusion:
Kuala Lumpur boasts a vibrant IT industry, with a plethora of companies offering cutting-edge solutions and services. The companies mentioned in this article represent some of the top players in the Kuala Lumpur IT landscape, each contributing to the growth and innovation in the sector. Whether it's advanced analytics, mobile payment solutions, web hosting, or software development, these companies are at the forefront of technology, driving Kuala Lumpur's position as a leading IT hub in Southeast Asia.Kuala Lumpur is home to a vibrant IT industry with numerous companies offering diverse services and solutions. These top IT companies mentioned here contribute to the city's technological advancement, innovation, and economic growth. From software development and digital transformation to telecommunications and venture capital, these companies play a crucial role in shaping the IT landscape in Kuala Lumpur and beyond.
Data Science Placement Success Story
Data Science Training Institutes in Other Locations
Agra
,
Ahmedabad
,
Amritsar
,
Anand
,
Anantapur
,
Bangalore
,
Bhopal
,
Bhubaneswar
,
Chengalpattu
,
Chennai
,
Cochin
,
Dehradun
,
Malaysia
,
Dombivli
,
Durgapur
,
Ernakulam
,
Erode
,
Gandhinagar
,
Ghaziabad
,
Gorakhpur
,
Gwalior
,
Hebbal
,
Hyderabad
,
Jabalpur
,
Jalandhar
,
Jammu
,
Jamshedpur
,
Jodhpur
,
Khammam
,
Kolhapur
,
Kothrud
,
Ludhiana
,
Madurai
,
Meerut
,
Mohali
,
Moradabad
,
Noida
,
Pimpri
,
Pondicherry
,
Pune
,
Rajkot
,
Ranchi
,
Rohtak
,
Roorkee
,
Rourkela
,
Shimla
,
Shimoga
,
Siliguri
,
Srinagar
,
Thane
,
Thiruvananthapuram
,
Tiruchchirappalli
,
Trichur
,
Udaipur
,
Yelahanka
,
Andhra Pradesh
,
Anna Nagar
,
Bhilai
,
Borivali
,
Calicut
,
Chandigarh
,
Chromepet
,
Coimbatore
,
Dilsukhnagar
,
ECIL
,
Faridabad
,
Greater Warangal
,
Guduvanchery
,
Guntur
,
Gurgaon
,
Guwahati
,
Hoodi
,
Indore
,
Jaipur
,
Kalaburagi
,
Kanpur
,
Kharadi
,
Kochi
,
Kolkata
,
Kompally
,
Lucknow
,
Mangalore
,
Mumbai
,
Mysore
,
Nagpur
,
Nashik
,
Navi Mumbai
,
Patna
,
Porur
,
Raipur
,
Salem
,
Surat
,
Thoraipakkam
,
Trichy
,
Uppal
,
Vadodara
,
Varanasi
,
Vijayawada
,
Vizag
,
Tirunelveli
,
Aurangabad
Related searches
Companies in Kuala Lumpur, Company in KL, Kuala Lumpur IT Companies, Top Companies in Kuala Lumpur, Jobs in Kuala Lumpur.