Top 10 IT Companies in Indore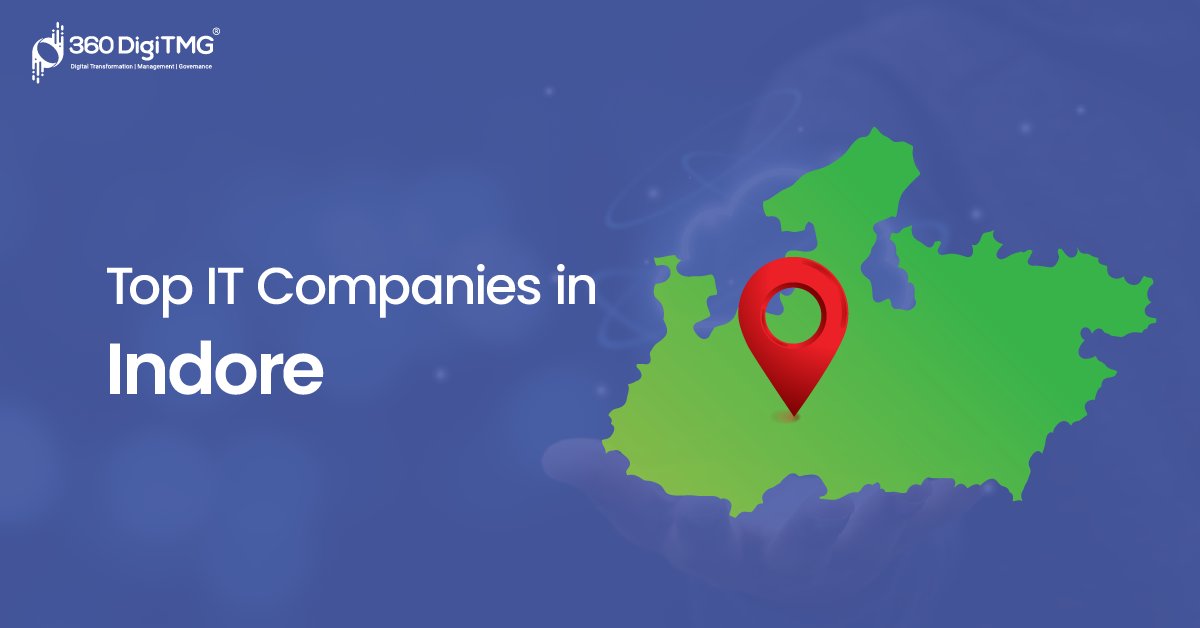 Introduction:
Indore is a city located in the central Indian state of Madhya Pradesh. It serves as the administrative headquarters of the Indore District and is the largest city in the state. With a rich history dating back centuries, Indore has evolved into a major commercial, industrial, and educational center in modern times.
History of Indore
The history of Indore can be traced back to the 16th century when it was a small trading hub known as Indrapur. It was established by the local zamindar (landlord) Rao Nandlal Chaudhary, who belonged to the Malwa region. The city's strategic location on the banks of the Saraswati and Khan rivers contributed to its growth as a trading center.
In the early 18th century, Indore came under the control of the Maratha Empire. The Holkar dynasty, founded by Malhar Rao Holkar, rose to power in the region and made Indore their capital in 1818. Under the Holkar rulers, the city flourished and witnessed significant development in various fields, including architecture, arts, and culture.
During the British colonial period, Indore was a princely state under the British Raj. The Holkar rulers maintained a friendly relationship with the British and enjoyed relative autonomy. They played a crucial role in the development of Indore, focusing on infrastructure, education, and industrialization. The city became an important center for textiles, trading, and manufacturing.
Post-independence, Indore became part of the newly formed state of Madhya Bharat in 1948. It later merged with Madhya Pradesh when the states were reorganized on linguistic lines in 1956. Since then, Indore has experienced rapid urbanization and emerged as a major economic powerhouse in central India.
In recent years, Indore has achieved several notable milestones. It has consistently ranked among the cleanest cities in India and has been recognized for its efforts in urban development and cleanliness. The city has also become a significant educational hub, with renowned institutions and universities attracting students from across the country.
Today, Indore is known for its vibrant culture, historical landmarks, and booming industries. It has a thriving business sector, particularly in the fields of textile manufacturing, information technology, and automobile manufacturing. Indore is also renowned for its culinary delights, with street food and local delicacies attracting food enthusiasts from far and wide.
The city's historical legacy, coupled with its modern advancements, has made Indore a prominent destination for tourism, business, and education, contributing to its overall growth and development. Here are the best places to visit in Indore. Rajwada, Lalbagh Palace, Kanch Mandir, Bada Ganpati, Annapurna Mandir, Khajrana Ganesh Temple and Gulawat Valley.
Tech Scene
The tech scene in Indore has witnessed significant growth and development in recent years. The city has emerged as a prominent IT hub in central India, attracting tech companies, startups, and skilled professionals. Here are some key aspects of the tech scene in Indore:
IT Parks and Infrastructure: Indore boasts several IT parks and dedicated technology zones that provide a conducive environment for the growth of the IT industry. Prominent IT parks such as Crystal IT Park, Mangal City IT Park, and TCS SEZ have attracted numerous technology companies, both domestic and multinational.
Startups and Incubators: Indore has a thriving startup ecosystem, with numerous innovative ventures emerging in various domains. The city hosts several incubators and co-working spaces that provide support, mentorship, and infrastructure for startups. Some notable startups from Indore include BYJU's, Infobeans Technologies, Webgility, and Infeedo.
Software Development and IT Services: Indore is home to a large number of software development companies and IT service providers. These companies cater to a wide range of industries and offer services such as software development, web development, mobile app development, digital marketing, and IT consulting.
E-commerce and Digital Marketing: The rise of e-commerce and digital marketing has also had a significant impact on the tech scene in Indore. Several e-commerce companies, digital agencies, and online marketplaces have established their presence in the city, contributing to the growth of the digital economy.
Technology Events and Conferences: Indore hosts various technology events, conferences, and meetups that bring together professionals, entrepreneurs, and tech enthusiasts. These events provide opportunities for networking, knowledge sharing, and collaboration in the tech community.
Skilled Workforce and Education: Indore has a well-established education system, including reputed engineering colleges and technical institutes that produce a skilled workforce in the field of technology. The presence of quality educational institutions has contributed to the availability of talented professionals in the city.
Government Support: The government of Madhya Pradesh and the local administration have taken initiatives to promote the growth of the tech sector in Indore. They have introduced policies, incentives, and infrastructure development plans to attract investments and foster innovation in the IT industry.
Overall, the tech scene in Indore is dynamic and rapidly evolving. The city's favorable business environment, skilled workforce, and supportive ecosystem have positioned it as a promising destination for tech companies and startups looking to establish their presence in central India.
Learn the core concepts of Data Science Course video on YouTube:
Best IT Companies in Indore
Indore is home to a growing number of IT companies, ranging from startups to established players. Here are some prominent IT companies in Indore:
1. Impetus Technologies

Impetus Technologies is a multinational software product engineering and services company with a presence in Indore. They specialize in big data analytics, cloud computing, AI, and software development services.

2. Infobeans Technologies Ltd

Infobeans is an IT services and solutions provider with expertise in software development, quality assurance, mobile app development, and cloud computing. They cater to clients across various industries, including healthcare, finance, and e-commerce.

3. Yash Technologies

Yash Technologies is a global IT services and outsourcing company with an office in Indore. They offer services in enterprise application services, cloud computing, digital transformation, and infrastructure management.

4. TechValens Software Systems

TechValens is a software development company that provides services in web and mobile app development, UI/UX design, and software testing. They work with clients from diverse industries, including healthcare, education, and finance.

5. Endive Software

Endive Software is an IT company specializing in web and mobile app development, custom software development, and e-commerce solutions. They serve clients globally and have a presence in Indore.

6. Consagous Technologies

Consagous Technologies is a leading IT services and solutions provider with expertise in mobile app development, web development, and custom software development. They have worked with clients from various industries, including healthcare, logistics, and finance.

7. Webgility

Webgility is a software company that provides e-commerce automation solutions for online sellers. Their products and services focus on streamlining and integrating e-commerce operations, accounting, and inventory management.

8. ABIT CORP

ABIT CORP is a software development company offering services in web development, mobile app development, and digital marketing. They have expertise in creating solutions for e-commerce, healthcare, logistics, and other sectors.

9. Nisos Technologies

Nisos Technologies is an IT services company specializing in software development, web development, mobile app development, and digital marketing. They cater to clients globally and have a presence in Indore.

10. C-Net Infosystem Pvt. Ltd

C-Net Infosystem is an IT company providing services in software development, web development, digital marketing, and IT consulting. They work with clients across various industries and have a focus on delivering innovative solutions.
Overview of IT jobs in Indore
The IT job market in Indore offers significant potential for career growth and development. Here's an overview of how IT jobs can progress over time in Indore:
Entry-level Positions: Fresh graduates or individuals with limited experience can start their IT careers in entry-level positions such as software developer, web developer, quality assurance engineer, or technical support associate. These roles provide a foundation and hands-on experience in the field.
Skill Development: Continuous skill development is crucial in the IT industry. Professionals in Indore can enhance their knowledge and expertise through certifications, online courses, and workshops. Gaining proficiency in programming languages, software frameworks, cloud computing, data analytics, and emerging technologies like artificial intelligence and machine learning can open doors to better opportunities.
Junior to Mid-level Roles: With a few years of experience and expanded skill sets, IT professionals in Indore can progress to junior or mid-level roles such as senior software developer, systems analyst, database administrator, or UI/UX designer. They may take on more responsibilities, lead small teams, and work on complex projects.
Project Management and Team Leadership: As IT professionals gain experience and showcase leadership skills, they can move into project management roles. Project managers oversee the planning, execution, and delivery of IT projects, coordinating with cross-functional teams and stakeholders. This involves managing resources, timelines, budgets, and ensuring project success.
Specializations and Expertise: IT professionals in Indore have the opportunity to specialize in specific areas based on their interests and career goals. They can focus on areas like data science, cybersecurity, cloud architecture, mobile app development, or software testing. Acquiring specialized skills can lead to higher-level positions and better remuneration.
Senior Management and Leadership Positions: With substantial experience and proven leadership abilities, IT professionals in Indore can progress to senior management and leadership positions. These roles include IT managers, technology consultants, chief technology officers (CTOs), or chief information officers (CIOs). They are responsible for strategic decision-making, technology adoption, team management, and driving business growth through technology.
Entrepreneurship and Startups: Indore's vibrant startup ecosystem provides opportunities for IT professionals to become entrepreneurs. They can leverage their skills and knowledge to establish their own tech startups or join early-stage ventures. This path offers the potential for innovation, business ownership, and exponential growth.
Continuing Education and Networking: IT professionals in Indore can benefit from participating in industry events, conferences, and networking forums. Staying updated with the latest trends, technologies, and industry practices is crucial for career progression. Building professional networks and connections can also open doors to new opportunities, partnerships, and collaborations.
It's important to note that career progression in the IT industry is not solely based on experience but also on continuous learning, adaptability, and a proactive approach to self-improvement. With a thriving IT ecosystem, Indore offers a conducive environment for IT professionals to advance their careers and achieve their professional goals.
Salary of Software Engineer in Indore
Certainly! Salaries in IT companies in Indore vary based on factors such as job role, experience, skills, and company size. Here's a general overview of salary ranges for different positions:
Entry-Level Positions: For fresh graduates or individuals with less than one year of experience, entry-level positions in IT companies in Indore may offer salaries ranging from INR 2.5 lakh to INR 4.5 lakh per annum.
Software Developer/Engineer: As software developers gain experience, their salaries tend to increase. In Indore, mid-level software developers can expect salaries ranging from INR 4.5 lakh to INR 8 lakh per annum, while experienced senior software developers can earn salaries of INR 8 lakh to INR 15 lakh per annum or more.
Web Developer: Web developers in Indore typically earn salaries ranging from INR 3 lakh to INR 6.5 lakh per annum, depending on their experience and expertise in frontend and backend development, web frameworks, and related technologies.
Quality Assurance/Test Engineer: Salaries for quality assurance or test engineers in Indore generally range from INR 3.5 lakh to INR 7 lakh per annum. Experience in manual and automated testing, test frameworks, and knowledge of quality assurance methodologies can influence salary levels.
UI/UX Designer: UI/UX designers in Indore can earn salaries ranging from INR 3 lakh to INR 6 lakh per annum. Skills in user interface design, user experience research, wireframing, and prototyping can contribute to higher salary packages.
Data Analyst/Scientist: In the field of data analysis and data science, salaries in Indore typically range from INR 4.5 lakh to INR 10 lakh per annum. Experience in data manipulation, statistical analysis, machine learning, and knowledge of relevant tools and technologies can influence salary levels.
Project Manager: Salaries for project managers in Indore can vary depending on the scale and complexity of projects, as well as the size of the company. Generally, project managers can earn salaries ranging from INR 8 lakh to INR 15 lakh per annum or higher.
It's important to note that the salary ranges provided above are approximate figures and can vary based on individual negotiations, company policies, and market conditions. Additionally, larger IT companies and multinational corporations may offer higher salary packages compared to smaller organizations or startups.
Data Science Placement Success Story
Related searches
IT companies in Indore , top IT companies in Indore , IT park Indore companies list , companies in Indore IT park , Indore IT companies list , best IT companies in Indore , IT companies in Indore for freshers , top 10 IT companies in Indore