Top 19 IT Companies in New York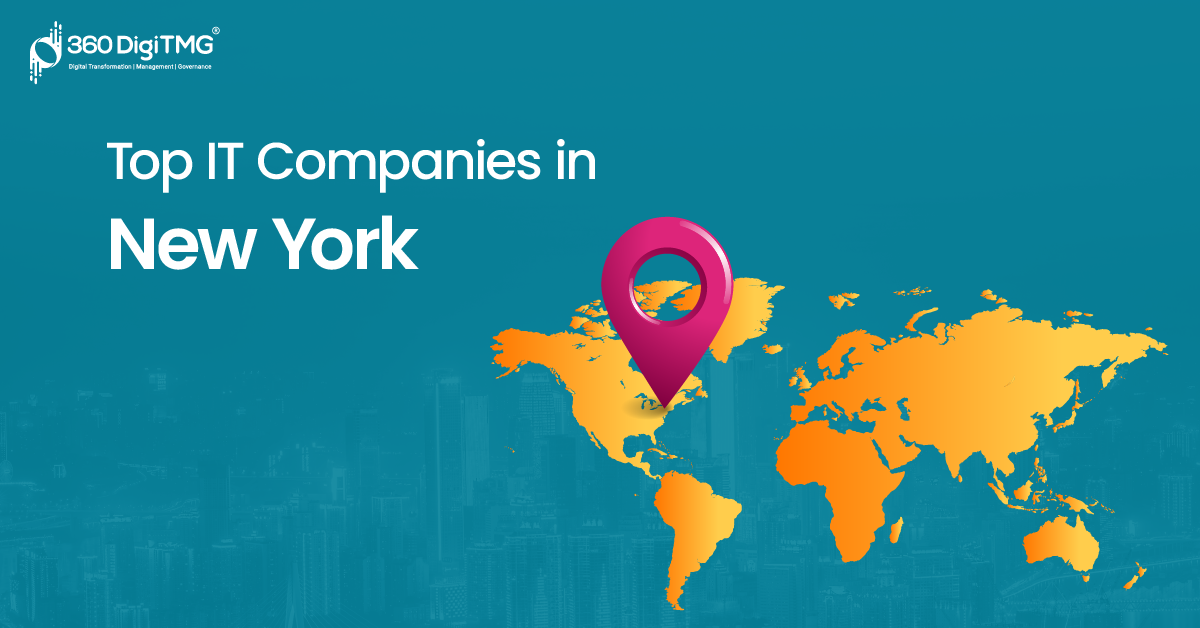 Introduction
New York City is in the state of New York, on the eastern coast of the United States. It is situated at the southern tip of the state and is bordered by the Hudson River to the west and the East River to the south and east. The city itself is comprised of five boroughs:
Manhattan, Brooklyn, Queens, The Bronx, and Staten Island. New York City is a global hub for various industries, including finance, fashion, media, entertainment, and technology. It is known for its iconic skyline, bustling streets, diverse neighbourhoods, and cultural landmarks.
Manhattan, the central borough of New York City, is often considered the heart of the city and is home to many prominent attractions, such as Times Square, Central Park, Wall Street, and the Empire State Building. It is also where you'll find the majority of the city's business districts, including the Financial District, Midtown Manhattan, and Silicon Alley, which is the local term for the technology sector in the city.
The city's convenient location on the East Coast of the United States makes it a gateway for international trade and commerce. It has multiple airports, including John F. Kennedy International Airport (JFK) and LaGuardia Airport (LGA), which facilitate both domestic and international travel.
New York City's strategic location, coupled with its vibrant business environment and diverse talent pool, has attracted numerous technology companies and startups. The city is home to a thriving tech scene, with a focus on sectors such as software development, e-commerce, digital media, fintech, and biotech.
Many tech companies, including giants like Google, Facebook, and Amazon, have offices or headquarters in New York City, contributing to its status as a global tech hub.
Overall, New York City offers a dynamic and energetic environment for residents and businesses alike, making it an attractive location for those seeking opportunities in various industries, including the thriving tech sector.
History of New York
New York City has a rich and diverse history that spans several centuries.
Early Settlement: The area where New York City now stands was originally inhabited by Native American tribes, such as the Lenape. In 1524, the Italian explorer Giovanni da Verrazzano was the first European to visit the area, followed by Henry Hudson, an English explorer, in 1609. Dutch settlers established a fur trading post called New Amsterdam in 1626.
British Rule: The British took control of New Amsterdam in 1664 and renamed it New York after the Duke of York. The city grew as a major trading and shipping port, attracting immigrants from various European countries. During the American Revolutionary War, New York City was a strategic location and served as the British military and political headquarters.
Industrialization and Immigration: In the 19th century, New York City experienced rapid industrialization and urbanization. The construction of the Erie Canal in 1825 connected the city to the Great Lakes and facilitated trade and transportation. The city became a gateway for immigrants, particularly from Europe, seeking economic opportunities. This influx of immigrants contributed to the city's cultural diversity and economic growth.
Growth and Development: The late 19th and early 20th centuries saw significant development in New York City. The Brooklyn Bridge was completed in 1883, connecting Manhattan and Brooklyn. Skyscrapers began to reshape the city's skyline, with iconic structures like the Empire State Building and Chrysler Building. The city became a center for finance, commerce, and cultural movements, such as the Harlem Renaissance.
Modern Era: In the mid-20th century, New York City faced economic challenges, social unrest, and urban decay. However, the city experienced a resurgence in the 1990s and early 2000s, characterized by urban renewal, crime reduction, and economic revitalization.
Today, New York City is a global metropolis known for its vibrant culture, finance industry, arts scene, and as a hub for technology and innovation. Throughout its history, New York City has witnessed significant events, such as the September 11, 2001 terrorist attacks on the World Trade Center, which had a profound impact on the city and the world.
Despite various challenges, New York City has remained a symbol of resilience, diversity, and opportunity, attracting millions of visitors and residents from around the globe.
Tech Scene
New York City has a thriving tech scene that has rapidly grown over the past few decades. The city has become a major hub for technology companies, startups, and entrepreneurs.
Diverse Industry Landscape: The tech industry in New York City is diverse, encompassing various sectors such as software development, e-commerce, digital media, fintech, health tech, biotech, fashion tech, and more. The city's diverse economy and access to top talent have fostered innovation and entrepreneurship across these sectors.
Startup Ecosystem: New York City is known for its vibrant startup ecosystem. The city provides a fertile ground for startups to thrive, with numerous incubators, accelerators, and co-working spaces supporting early-stage companies. Startup communities, such as Silicon Alley, have emerged in neighborhoods like Flatiron District, Chelsea, and DUMBO (Brooklyn), offering networking opportunities and resources for entrepreneurs.
Tech Talent and Academia: New York City is home to top-tier universities and research institutions, which contribute to a highly skilled tech workforce. Institutions like Columbia University, New York University (NYU), and Cornell Tech attract talented individuals and provide research and development support for the tech industry. The city's diverse population also contributes to a rich talent pool.
Venture Capital and Funding: New York City attracts significant venture capital investment, with numerous VC firms based in the city. This availability of funding has helped fuel the growth of startups and technology companies. Additionally, established financial institutions in the city have started investing in and supporting tech startups through their own venture arms.
Collaborative Community: The tech scene in New York City is known for its collaborative and supportive community. Networking events, meetups, and conferences provide opportunities for knowledge-sharing, mentorship, and collaboration among tech professionals. Organizations like TechNYC and NYC Tech Talent Pipeline aim to foster collaboration and bridge the gap between tech companies and the local workforce.
Corporate Presence: Many major technology companies have a significant presence in New York City. This includes industry giants like Google, Facebook, Amazon, Microsoft, IBM, and Twitter, which have established offices and innovation centres in the city. These companies contribute to the ecosystem by providing job opportunities, driving innovation, and supporting the startup community.
Government Support: The local government has recognized the importance of the tech industry in driving economic growth and job creation. Initiatives like NYC Tech Talent Pipeline and NYC Digital. NYC focus on developing tech talent, providing resources for startups, and fostering an inclusive and diverse tech ecosystem.
The tech scene in New York City continues to evolve and expand, attracting both established companies and emerging startups. The city's vibrant culture, access to capital, diverse talent pool, and supportive ecosystem make it an exciting place for technology innovation and entrepreneurship.
Best IT companies in New York
1. Apple Inc.:

Known for its iconic products like the iPhone, iPad, and Mac computers, Apple is a multinational technology company that designs, develops, and sells consumer electronics, software, and online services.

2. Microsoft Corporation:

Microsoft is a leading software company that develops and sells a wide range of products and services, including the Windows operating system, Office productivity suite, cloud services (Azure), and enterprise software solutions.

3. Amazon.com, Inc.:

Amazon is a global e-commerce and cloud computing company. It operates one of the largest online marketplaces and provides various services such as Amazon Web Services (AWS), which offers cloud computing infrastructure and solutions.

4. Alphabet Inc. (Google):

Google is a subsidiary of Alphabet Inc. and is primarily known for its search engine, online advertising, and web services. It offers a wide range of products and services, including Android operating system, Google Cloud, Google Maps, and Google Workspace.

5. IBM (International Business Machines Corporation):

IBM is a multinational technology company that offers a broad range of products and services, including hardware, software, cloud computing, artificial intelligence (AI), and consulting services.

6. Oracle Corporation:

Oracle is a leading provider of database management systems, enterprise software, cloud infrastructure, and business applications. It specializes in developing and marketing integrated systems and solutions for businesses.

7. Cisco Systems, Inc.:

Cisco is a multinational technology company that designs, manufactures, and sells networking hardware, telecommunications equipment, and related services. It provides networking solutions for businesses and organizations worldwide.

8. Intel Corporation:

Intel is a semiconductor company that designs and manufactures computer processors, motherboard chipsets, and other hardware components. It is a leading provider of microprocessors for personal computers and data centres.

9. Adobe Inc.:

Adobe is a software company that offers a wide range of creative and digital marketing solutions. Its products include popular software like Adobe Photoshop, Illustrator, InDesign, Acrobat, and the Adobe Creative Cloud suite.

10. SAP SE:

SAP is a multinational software corporation known for its enterprise resource planning (ERP) software and other business applications. It provides solutions for various industries and offers cloud-based platforms for business operations.

11. Salesforce.com, Inc.:

Salesforce is a cloud-based customer relationship management (CRM) company that provides a suite of business applications focused on sales, marketing, customer service, and analytics. It helps businesses manage and enhance their customer relationships.

12. Dell Technologies Inc.:

Dell is a multinational technology company that designs, develops, and sells a wide range of hardware and software products. It specializes in personal computers, servers, storage devices, and IT infrastructure solutions.

13. Hewlett Packard Enterprise (HPE):

HPE is an enterprise-focused organization that offers IT solutions, products, and services. It focuses on areas like hybrid IT infrastructure, intelligent edge computing, and data-driven insights for businesses.

14. Accenture plc:

Accenture is a global professional services company that provides consulting, technology, and outsourcing services. It offers a wide range of solutions in areas such as strategy, digital transformation, and technology implementation.

15. Tata Consultancy Services (TCS):

TCS is an Indian multinational IT services and consulting company. It provides a broad range of services including software development, infrastructure management, and business process outsourcing (BPO).

16. Infosys Limited:

Infosys is another prominent Indian multinational IT services and consulting company. It offers services such as application development, systems integration, and consulting across various industries.

17. Cognizant Technology Solutions Corporation:

Cognizant is a multinational IT services and consulting company with expertise in digital transformation, technology consulting, and software development. It serves clients in industries like healthcare, finance, and retail.

18. Wipro Limited:

Wipro is an Indian multinational IT services company that offers a range of services including application development, infrastructure management, and consulting. It caters to clients in sectors like banking, manufacturing, and telecommunications.

19. Capgemini SE:

Capgemini is a global consulting and IT services company that provides consulting, technology, and outsourcing services. It offers services in areas such as digital transformation, cloud computing, and cybersecurity.
Overview of IT Jobs in New York
IT jobs offer a wide range of opportunities for progression and development in today's fast-paced and technology-driven world.
Skill Enhancement: IT professionals have the opportunity to continuously enhance their skills and knowledge. The field of information technology is dynamic, with new technologies, programming languages, frameworks, and tools emerging regularly. By staying updated with the latest trends and investing in ongoing learning and certifications, IT professionals can expand their skill sets and stay competitive in the job market.
Career Advancement: IT careers often provide clear paths for advancement. Starting from entry-level positions, professionals can progress to intermediate and senior roles, such as software engineer, systems analyst, IT project manager, or IT director. Advancement opportunities may involve taking on more responsibilities, managing teams, or specializing in a specific technology domain.
Specialization: IT offers a wide range of specializations and niche areas. Professionals can choose to specialize in fields like cybersecurity, data science, cloud computing, artificial intelligence, software development, network administration, and more. Specializing in a specific area allows individuals to develop deep expertise and become sought-after experts in their chosen field.
Leadership and Management Roles: As IT professionals gain experience and expertise, they can transition into leadership and management positions. These roles involve overseeing teams, projects, budgets, and strategic planning. Leadership positions may include IT manager, IT director, chief technology officer (CTO), or chief information officer (CIO).
Entrepreneurship and Startups: IT professionals also have the opportunity to venture into entrepreneurship and start their own tech companies. With a strong understanding of technology, market trends, and business acumen, IT professionals can identify opportunities, develop innovative solutions, and create their own successful ventures.
Interdisciplinary Collaboration: IT jobs often require collaboration with professionals from various disciplines. IT professionals have the chance to work closely with teams from different departments, such as marketing, finance, operations, and customer service. This interdisciplinary collaboration allows for a broader understanding of business processes and the opportunity to develop cross-functional skills.
Global Opportunities: IT careers offer global opportunities for professionals to work in diverse locations around the world. With technology connecting people across borders, IT professionals can explore job opportunities in different countries, gaining exposure to diverse cultures, work environments, and industries.
Impactful Work: IT professionals play a crucial role in driving digital transformation, innovation, and solving complex problems. Whether they are developing software applications, designing infrastructure solutions, or implementing cybersecurity measures, IT professionals have the opportunity to make a significant impact on businesses, organizations, and society as a whole.
Salary of Software Engineer in New York
IT salaries can vary widely depending on factors such as job role, level of experience, location, company size, and industry. However, IT professionals generally enjoy competitive salaries due to the high demand for their skills.:
Software Developer/Engineer: The average salary for software developers/engineers can range from $70,000 to $120,000 per year, depending on experience and expertise. Senior developers with extensive experience may earn even higher salaries.
Data Scientist: Data scientists, with their expertise in analyzing and interpreting complex data, can earn an average salary ranging from $90,000 to $150,000 per year. Salaries can be significantly higher for data scientists working in industries like finance, healthcare, or technology.
Network Administrator/Engineer: Network administrators/engineers responsible for managing and maintaining computer networks can earn salaries ranging from $60,000 to $100,000 per year, depending on experience and the complexity of the network infrastructure.
IT Project Manager: IT project managers oversee the planning, execution, and successful completion of IT projects. Their salaries can range from $80,000 to $140,000 per year, depending on the scope and complexity of the projects they manage.
Cybersecurity Analyst: With the increasing importance of cybersecurity, cybersecurity analysts play a vital role in protecting organizations from cyber threats. Their salaries typically range from $70,000 to $120,000 per year, depending on experience and expertise in areas like threat analysis, incident response, and vulnerability management.
Data Science Placement Success Story
Related searches
IT Companies in New York, IT Company New York , IT Companies in New York, Software Companies in New York, Indian IT Companies in New York, Top Companies in New York, IT Companies in NY, IT Jobs in NY.