Top 20 IT Companies in Auckland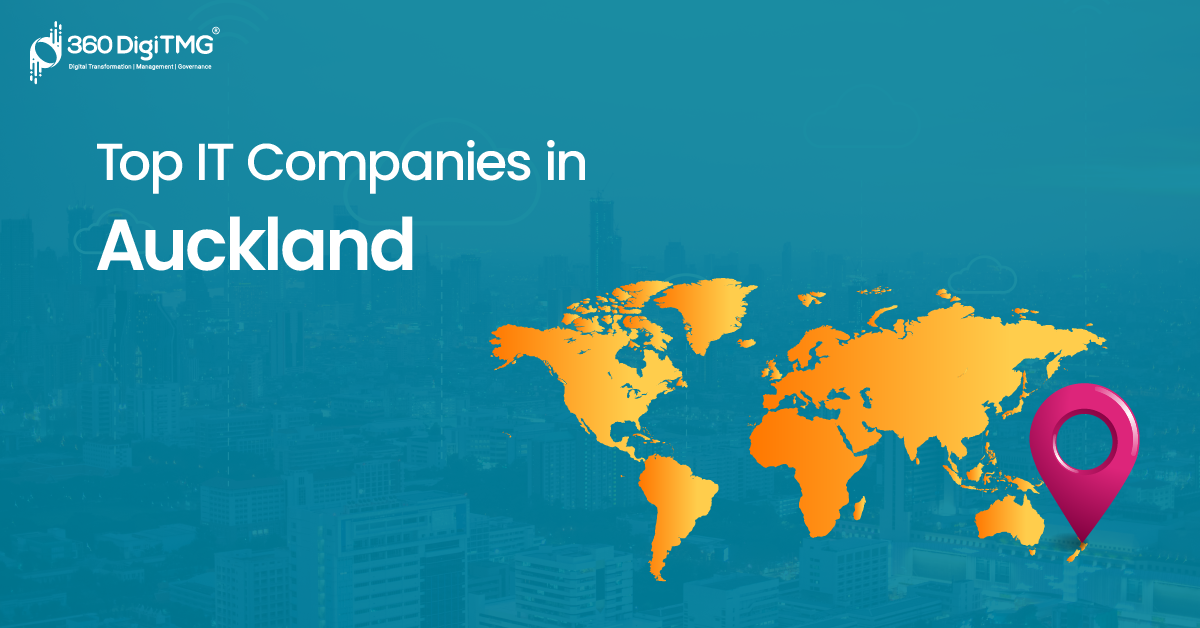 Introduction
Auckland is a major city in New Zealand and is located on the North Island. It is situated on the eastern coast of the island, overlooking the Hauraki Gulf. Auckland is the largest and most populous urban area in the country, serving as a vibrant economic, cultural, and transportation hub.
The geographical coordinates of Auckland are approximately 36.8485° S latitude and 174.7633° E longitude. The city is characterized by its picturesque setting, surrounded by stunning natural landscapes, including beautiful harbors, volcanic cones, and lush greenery.
Auckland is divided into several districts and suburbs, each offering its own unique charm and amenities. The Central Business District (CBD) of Auckland is located on the southern part of the Auckland isthmus and serves as the commercial and financial heart of the city. It is home to numerous office buildings, shopping centres, restaurants, and entertainment venues.
North Shore: Located across the Auckland Harbour Bridge, the North Shore encompasses several suburbs known for their beaches, parks, and residential communities.
West Auckland: This area is characterized by its stunning natural beauty, including Waitakere Ranges Regional Park and numerous hiking trails. It is also home to wineries, vineyards, and the famous Piha Beach.
East Auckland: Situated along the eastern coastline, this area offers beautiful beaches, waterfront suburbs, and a relaxed lifestyle.
South Auckland: Known for its multicultural communities, South Auckland has a vibrant atmosphere with a range of cultural events, markets, and dining options.
Auckland's location makes it an ideal base for exploring the surrounding regions, including the North Island's scenic wonders, such as the Bay of Islands, Rotorua, and the Coromandel Peninsula.
Overall, Auckland offers a diverse and dynamic urban environment, combined with the beauty of its natural surroundings, making it an attractive place to live, work, and visit.
History of Auckland
The history of Auckland dates to the arrival of Māori settlers in the region, who named it Tāmaki Makaurau. The area has a rich Māori heritage, with various tribes and iwi (Māori communities) having established settlements and trading networks in the region.
In 1840, Auckland became the capital of New Zealand, following the signing of the Treaty of Waitangi between the British Crown and Māori chiefs. However, the capital was later moved to Wellington in 1865 due to concerns over the city's vulnerability to potential attacks.
During the late 19th century, Auckland experienced significant growth and development as the country's largest city. The discovery of gold in nearby regions, such as the Coromandel and Thames, contributed to Auckland's economic prosperity. The city became a key port for exporting goods and played a crucial role in New Zealand's maritime trade.
Throughout the 20th century, Auckland continued to expand both in population and urban development. The construction of infrastructure, including transportation networks, bridges, and iconic landmarks like the Auckland Harbour Bridge and Sky Tower, further enhanced the city's growth.
In recent years, Auckland has positioned itself as a global city and an important economic center in the Asia-Pacific region. It has become a hub for business, education, innovation, and cultural activities. The city has hosted major international events, including the 2011 Rugby World Cup and the 2021 America's Cup.
Auckland's history and cultural diversity are celebrated through various museums, art galleries, and cultural events. Māori traditions and heritage are deeply ingrained in the city's identity, and efforts have been made to preserve and promote Māori culture and language.
Today, Auckland is known for its vibrant lifestyle, stunning landscapes, and a thriving arts and culinary scene. It continues to evolve as a modern metropolis while cherishing its historical and cultural roots.
Tech Scene
The tech scene in Auckland, New Zealand, has been growing rapidly in recent years, establishing the city as a hub for technology and innovation. Auckland is home to a thriving tech ecosystem that encompasses various industries, including software development, information technology services, digital marketing, telecommunications, and more.
Startups and Innovation: Auckland has seen a surge in tech startups, with entrepreneurs and innovators driving the development of cutting-edge technologies. The city provides a supportive environment for startups, offering access to funding, mentorship programs, and coworking spaces. The presence of incubators and accelerators fosters innovation and helps startups grow and succeed.
Tech Events and Conferences: Auckland hosts a range of tech events and conferences throughout the year, bringing together industry professionals, entrepreneurs, investors, and thought leaders. These events provide networking opportunities, knowledge sharing, and insights into the latest trends and advancements in technology.
Research and Development: Auckland's universities and research institutions play a vital role in the tech scene, conducting research and development in various fields. Collaboration between academia and industry fuels innovation and drives technological advancements.
Digital Creative Industries: Auckland has a flourishing digital creative sector, encompassing digital media, animation, gaming, and design. The city's creative talent contributes to the development of interactive experiences, virtual reality, augmented reality, and other digital innovations.
Government Support: The New Zealand government recognizes the importance of the tech sector and provides support through initiatives, grants, and policies that encourage innovation, research, and development. This support helps foster a conducive environment for tech companies to thrive.
Collaboration and Networking: Auckland's tech community is known for its collaborative spirit. Various networking groups, meetups, and industry associations bring together professionals, entrepreneurs, and enthusiasts, facilitating knowledge sharing, collaboration, and business opportunities.
Digital Infrastructure: Auckland boasts robust digital infrastructure, including high-speed internet connectivity and reliable telecommunications networks. This infrastructure supports the growth of tech companies and enables the adoption of emerging technologies.
Overall, Auckland's tech scene continues to expand and evolve, attracting talent, investment, and opportunities. The city's supportive ecosystem, focus on innovation, and commitment to technological advancement contribute to its position as a leading tech destination in the Asia-Pacific region.
Best IT companies in Auckland
Auckland, New Zealand, is home to several notable IT companies operating across various sectors.
These are just a few examples of the many IT companies operating in Auckland. The city's tech ecosystem continues to attract both local and international companies, fostering innovation and driving economic growth in the IT sector.
1. Datacom:

Datacom is one of New Zealand's largest IT service providers, offering a range of services including software development, IT Management, cloud solutions, and cybersecurity.

2. Fronde:

Fronde is an IT consulting and software development company that specializes in digital transformation, cloud services, and enterprise software solutions. They work with clients across various industries, including government, education, and utilities.

3. Orion Health:

Orion Health is a global healthcare technology company that develops software solutions for hospitals, healthcare providers, and government agencies. They focus on health information exchange, clinical workflow, and population health management.

4. Xero:

Xero is a cloud-based accounting software company that provides small businesses with tools for financial management, invoicing, payroll, and more. They have a significant presence in Auckland and are recognized as a leading provider of accounting software globally.

5. Vista Group International:

Vista Group is a leading provider of cinema management software solutions. Their software is used by cinemas worldwide for ticketing, concessions, film distribution, and customer analytics.

6. Catalyst IT:

Catalyst IT is an open-source software development company that offers services such as web and mobile application development, systems integration, and custom software solutions. They work with clients in both the public and private sectors.

7. Vend:

Vend is a cloud-based retail point-of-sale (POS) software company. Their platform enables retailers to manage inventory, sales, and customer data across multiple channels, providing a seamless retail experience.

8. Pushpay:

Pushpay is a mobile payment and engagement solution provider focused on the nonprofit and faith sectors. Their platform facilitates online donations, event registration, and communication for organizations.

9. Trade Me:

Trade Me is a prominent online marketplace and classifieds platform in New Zealand. They offer a wide range of products and services, including auctions, classified ads, jobs, and real estate listings.

10. Seequent:

Seequent is a global software company specializing in geoscience and engineering solutions. They develop software tools for geological modeling, groundwater analysis, and geotechnical engineering.

11. Serko:

Serko is a leading travel technology company that specializes in online travel booking and expense management solutions. Their software helps businesses streamline their travel processes and manage travel-related expenses.

12. EROAD:

EROAD is a transportation technology company that provides electronic road user charging systems and fleet management solutions. Their technology helps companies manage vehicle fleets, track fuel consumption, and comply with regulatory requirements.

13. Jade Software:

Jade Software is a software development and consulting company that offers customized software solutions for businesses in various industries. They specialize in enterprise software, digital platforms, and business intelligence solutions.

14. Gentrack:

Gentrack is a software company that provides billing and customer management solutions for utilities and airport operators. Their software helps manage customer accounts, metering data, and revenue collection.

15. Endace:

Endace is a network monitoring and security company that develops high-performance network recording and analytics solutions. Their products are used by enterprises and government organizations to monitor network traffic and investigate security incidents.

16. Unleashed Software:

Unleashed Software offers cloud-based inventory management software for businesses. Their platform helps companies track and manage inventory, streamline purchasing and sales processes, and generate real-time reports.

17. Invisalign:

Invisalign, a subsidiary of Align Technology, is a global medical device company that specializes in clear aligner orthodontic treatments. Their Auckland office focuses on software development and digital technology related to orthodontic treatment planning.

18. Movio:

Movio is a data analytics and marketing company that specializes in the film industry. They provide cinema marketing solutions, leveraging data-driven insights to help studios and cinemas target audiences and maximize box office revenue.

19. Dexibit:

Dexibit is an analytics software company that focuses on the cultural and visitor attractions sector. Their platform helps museums, galleries, and other attractions analyze visitor data and make informed decisions to enhance visitor experiences.

20. Straker Translations:

Straker Translations is a language translation technology company that offers translation and localization services powered by artificial intelligence and machine learning. They enable businesses to translate content efficiently and accurately across multiple languages.
These companies represent the diverse range of IT services and solutions available in Auckland. The city's vibrant tech ecosystem continues to attract innovation and investment, making it a hub for technological advancements in New Zealand and the wider Asia-Pacific region.
Overview of IT jobs in Auckland
IT jobs offer significant potential for progress and development due to the rapid evolution of technology and its pervasive influence across industries.
Continuous Learning: IT professionals are constantly required to learn and adapt to new technologies, frameworks, and programming languages. The dynamic nature of the field demands a commitment to ongoing learning, which presents opportunities for personal and professional growth.
Skill Diversification: IT professionals can broaden their skill set by acquiring expertise in various areas of technology. For example, a software developer can expand their skills to include web development, mobile app development, or data analytics. This diversification opens up new career paths and increases marketability.
Career Advancement: IT jobs often have clear career paths that allow for advancement. Starting from entry-level positions, individuals can progress to mid-level roles, leadership positions, and even executive or management positions. Vertical movement within an organization or transitioning to new companies with higher responsibilities and greater challenges is common.
Specialization and Expertise: Within the IT field, professionals can specialize in specific areas such as cybersecurity, data science, cloud computing, artificial intelligence, or user experience design. Developing expertise in a specialized field can lead to higher-paying roles and unique career opportunities.
Entrepreneurship and Startups: IT professionals have the flexibility to pursue entrepreneurial ventures or contribute to startups. The dynamic startup ecosystem provides opportunities to work on innovative projects, be part of a high-growth environment, and take on leadership roles.
Industry Demand: The demand for IT professionals continues to grow as technology becomes increasingly integral to businesses across sectors. This demand creates a favorable job market with a wide range of opportunities and competitive salaries.
Remote Work and Freelancing: IT jobs often offer flexibility in terms of remote work and freelancing options. Remote work opens up opportunities to work with international clients and collaborate with diverse teams, while freelancing allows individuals to choose their projects and work on a flexible schedule.
Collaboration and Cross-functional Roles: IT professionals often collaborate with professionals from other disciplines, such as marketing, finance, or operations. This collaboration can lead to cross-functional roles, where IT professionals contribute to decision-making processes and strategic initiatives beyond traditional technical responsibilities.
Leadership and Management Opportunities: As IT teams grow, leadership and management roles become available. IT professionals with strong technical skills and leadership abilities can transition into roles such as IT manager, project manager, or technology director, where they oversee teams, budgets, and strategic initiatives.
Global Opportunities: The IT industry provides opportunities to work in diverse locations globally. Many companies have international operations or offer remote work options, enabling IT professionals to explore job opportunities and experiences in different countries and cultures.
Overall, IT jobs offer a dynamic and ever-evolving landscape with opportunities for career growth, skill development, specialization, and leadership roles. Continuous learning, adaptability, and staying abreast of technological advancements are key factors in progressing and thriving in the IT field.
Salaries of Software Engineers in IT companies
Salaries in the IT industry can vary significantly depending on factors such as job role, experience level, location, company size, and industry. However, IT professionals generally enjoy competitive salaries due to the high demand for their skills.
Entry-level Positions: For entry-level positions such as software developers, web developers, or IT support specialists, salaries typically range from $40,000 to $70,000 per year, depending on the location and company.
Mid-level Positions: As professionals gain experience and expertise, they can progress to mid-level positions such as systems analysts, network administrators, or database administrators. Salaries for mid-level roles generally range from $70,000 to $100,000 per year.
Senior-level Positions: Senior-level positions, such as IT managers, solutions architects, or data scientists, command higher salaries due to their advanced skills and leadership responsibilities. Salaries for senior-level roles can range from $100,000 to well over $150,000 per year, depending on the location and company.
Specialized Roles: IT professionals with specialized skills and expertise, such as cybersecurity specialists, artificial intelligence engineers, or cloud architects, often earn higher salaries. These roles can command salaries exceeding $150,000 per year, particularly in high-demand areas.
Data Science Placement Success Story
Related searches
IT Companies in Auckland, Top IT Companies in Auckland , Best IT Companies in Auckland, IT Jobs in Auckland.