Top 15 IT Companies in Sydney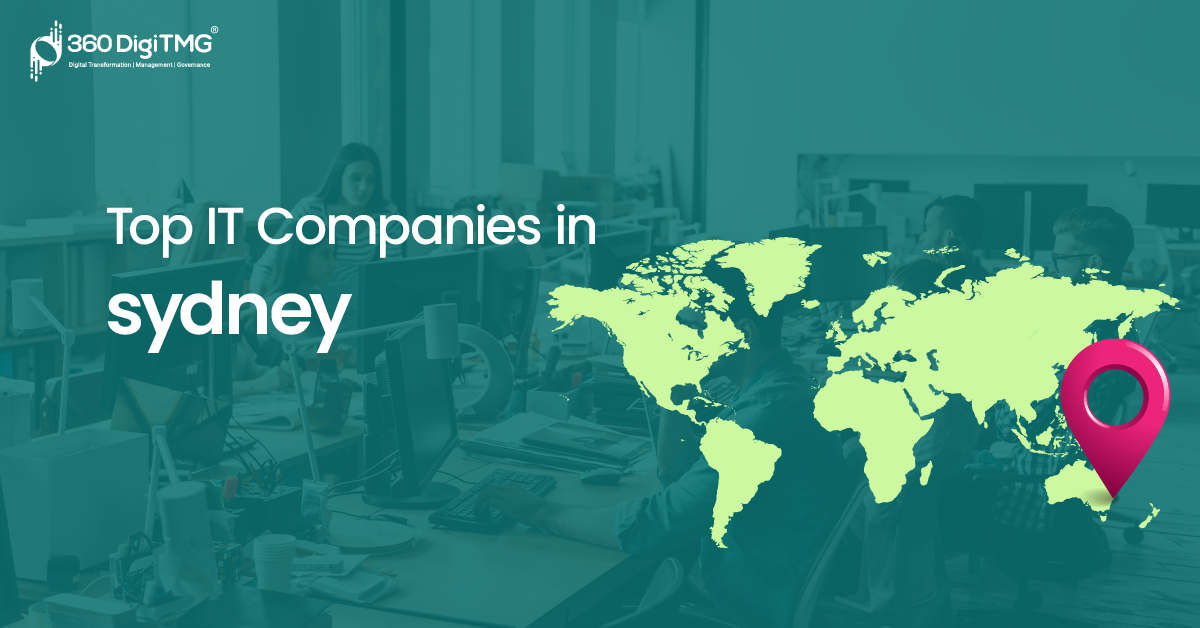 Introduction:
Sydney is the largest city in Australia and is located on the southeastern coast of the country. It is the capital of the state of New South Wales and is known for its vibrant culture, iconic landmarks, and thriving business scene.Sydney is situated on the east coast of Australia, bordering the Tasman Sea. It is built around the expansive Port Jackson, which includes Sydney Harbour and its famous Sydney Opera House and Sydney Harbour Bridge. The city of Sydney is spread across a significant area, covering approximately 12,368 square kilometers. It encompasses a diverse range of landscapes, including coastal areas, beaches, national parks, and urban developments. Central Business District (CBD): The Sydney CBD is the main commercial and financial hub of the city. It is located in the southeastern part of the city and is home to numerous corporate headquarters, businesses, government offices, and cultural institutions.
Suburbs: Sydney is made up of various suburbs, each with its own distinct character and amenities. Some notable suburbs include Bondi, Manly, Parramatta, Newtown, and North Sydney. Each suburb offers its own unique lifestyle, with a mix of residential, commercial, and recreational facilities. Sydney has a well-developed transportation network, including an extensive train and bus system, ferry services, and an international airport (Sydney Airport). The city also has a network of major roads and highways connecting different parts of the metropolitan area.
Attractions and Landmarks: Sydney is renowned for its iconic landmarks, including the Sydney Opera House, Sydney Harbour Bridge, Bondi Beach, Royal Botanic Garden, Taronga Zoo, and Darling Harbour. The city also offers a wide range of cultural and entertainment venues, shopping precincts, restaurants, and nightlife options.
Overall, Sydney is a vibrant and cosmopolitan city that offers a blend of natural beauty, cultural experiences, and economic opportunities. Its location on the Australian coast, coupled with its diverse range of industries and a strong IT sector, makes it an attractive destination for both residents and businesses alike.
History of Sydney
Sydney's history dates back thousands of years when it was inhabited by Aboriginal Australians. The area where Sydney now stands was traditionally occupied by the Eora people, who were part of the larger Indigenous group known as the Darug.
The first European contact with the Sydney area occurred in 1770 when British explorer Captain James Cook sailed along the eastern coast of Australia. However, it was not until 1788 that the British established a settlement at Sydney Cove, led by Captain Arthur Phillip. The settlement was intended as a penal colony for convicts, and it was named Sydney after Thomas Townshend, Lord Sydney, who was the British Home Secretary at the time.
During the early years of the colony, Sydney faced numerous challenges, including conflicts with the Indigenous population, harsh living conditions, and struggles to establish sustainable agriculture. However, the settlement gradually grew, and with the discovery of gold in New South Wales in the 1850s, Sydney experienced a significant population and economic boom.
In the late 19th and early 20th centuries, Sydney continued to expand and develop as an important port city and commercial center. The construction of major infrastructure projects, such as the Sydney Harbour Bridge (completed in 1932) and the Sydney Opera House (completed in 1973), further enhanced the city's reputation and iconic status.
Today, Sydney is a multicultural and diverse city with a thriving economy, renowned for its finance, tourism, education, and IT sectors. It has become one of the most populous and globally recognized cities in Australia, attracting people from around the world for its opportunities, lifestyle, and cultural attractions.
Tech Scene
Sydney has a vibrant and thriving tech scene, playing a significant role in Australia's overall tech industry. The city is home to numerous tech startups, established tech companies, and research institutions, contributing to innovation and technological advancements.
Startup Ecosystem: Sydney has a robust startup ecosystem with a supportive environment for entrepreneurs. Co-working spaces, incubators, and accelerators provide resources, mentorship, and networking opportunities for startups to grow and succeed.
Research and Education: Sydney is home to world-class universities and research institutions, such as the University of Sydney, University of New South Wales (UNSW), and the Commonwealth Scientific and Industrial Research Organisation (CSIRO). These institutions contribute to cutting-edge research and development in various tech fields.
Financial Sector:Sydney is a major financial hub in the Asia-Pacific region, attracting fintech companies and fostering innovation in financial technologies. The proximity to financial institutions provides opportunities for collaboration and investment.
Government Support: The Australian government and local authorities provide support and initiatives to promote the growth of the tech industry. Programs such as the NSW Tech Startup Action Plan and various grants and incentives encourage innovation and entrepreneurship.
Networking and Events: Sydney hosts numerous tech-focused events, conferences, and meetups, providing a platform for knowledge sharing, networking, and collaboration among professionals in the industry. Events like CeBIT Australia, SydStart, and Tech23 showcase the latest technologies and emerging trends.
Emerging Tech Fields: Sydney's tech scene covers a wide range of sectors, including artificial intelligence (AI), cybersecurity, biotechnology, e-commerce, fintech, medtech, and more. These emerging tech fields attract talent and investment, driving innovation and growth.
Overall, Sydney's tech scene offers a dynamic and supportive environment for tech professionals, entrepreneurs, and investors. The city's combination of talent, resources, and opportunities contribute to the continuous progress and development of the tech industry.
Best IT Companies in Sydney
1. Atlassian:

Atlassian is a leading software company known for its collaboration and productivity tools such as Jira, Confluence, and Trello. It has a strong presence in Sydney and is recognized for its innovative work culture.

2. Canva:

Canva is a popular graphic design platform that allows users to create professional-looking designs with ease. It has gained international recognition and has its headquarters in Sydney.

3. WiseTech Global:

WiseTech Global is a logistics software company that provides solutions for supply chain management and freight forwarding. It is known for its flagship product, CargoWise, and has a significant presence in Sydney.

4. Freelancer.com:

Freelancer.com is one of the largest freelancing platforms connecting employers with freelancers worldwide. It offers a wide range of IT- related projects and has its headquarters in Sydney.

5. Campaign Monitor:

Campaign Monitor is an email marketing software company that helps businesses create, send, and track email campaigns. It has a strong customer base and is headquartered in Sydney.

6. TechnologyOne:

TechnologyOne is an enterprise software company specializing in business software solutions for various industries, including government, education, and finance. It is known for its integrated enterprise resource planning (ERP) software and has a significant presence in Sydney.

7. Envato:

Envato is a digital marketplace that offers creative assets such as themes, templates, graphics, and audio files. It is a popular platform among designers and developers, and it is headquartered in Melbourne, Australia, with an office in Sydney.

8. WiseTech Global:

WiseTech Global is a logistics software company that provides solutions for supply chain management and freight forwarding. It is known for its flagship product, CargoWise, and has a significant presence in Sydney

9. Macquarie Group:

Macquarie Group is a global financial services provider that offers various IT-related services, including technology consulting, infrastructure management, and software development. It has its headquarters in Sydney and operates in several countries worldwide.

10. Xero:

Xero is a cloud-based accounting software company that offers solutions for small and medium-sized businesses. It is recognized for its user-friendly interface and automation features, and it has a strong presence in Sydney.

11. WiseTech Global:

As mentioned earlier, WiseTech Global is a leading logistics software company known for its comprehensive supply chain solutions. It has a strong presence in Sydney and continues to innovate in the logistics industry.

12. Atlassian:

Atlassian, mentioned earlier, is a renowned software company that develops collaboration and productivity tools used by teams worldwide. Its Sydney office is a hub for innovation and technological advancements.

13. Cochlear Limited:

Cochlear Limited is a global leader in hearing implant technology. The company designs, manufactures, and distributes innovative hearing solutions, making a significant impact in the healthcare and medical device industry.

14. IRESS Limited:

IRESS is a financial technology company that provides software solutions for the financial services industry. Its software platforms cater to wealth management, trading, and market data needs, serving clients in Sydney and around the world.

15. WiseTech Global:

WiseTech Global, mentioned earlier, is a logistics software company that offers innovative solutions for supply chain management. Its cutting-edge software helps businesses optimize their logistics operations and enhance efficiency.
Overview of IT Jobs in Sydney
IT jobs offer a promising career path with ample opportunities for progress and development.
Career Advancement: IT professionals can progress within their roles and advance to higher positions. They can start as entry-level professionals and gradually move up to mid-level and senior positions with increased responsibilities and higher pay scales.
Specialization and Expertise: IT fields are vast and diverse, allowing professionals to specialize in specific areas of interest. By acquiring specialized skills and expertise in areas such as cybersecurity, data science, cloud computing, artificial intelligence, or software development, individuals can become sought-after experts in their respective domains.
Continuous Learning: IT is an ever-evolving field, and professionals need to stay updated with the latest technologies and industry trends. Continuous learning through certifications, training programs, and self-study helps IT professionals enhance their knowledge and skills, making them more valuable in the job market.
Project Management Opportunities: As IT professionals gain experience and expertise, they may have the opportunity to take on project management roles. This allows them to lead and oversee IT projects, manage teams, and ensure successful project delivery.
Entrepreneurship and Freelancing: IT professionals also have the option to pursue entrepreneurship or work as freelancers. With the rise of digital platforms and the gig economy, IT professionals can start their own technology startups or work as independent consultants, offering their services to multiple clients.
International Opportunities: The IT industry is global, providing opportunities for professionals to work in different countries and collaborate with diverse teams. International assignments or remote work options allow IT professionals to gain exposure to different cultures and expand their professional networks.
Competitive Salary Packages: IT jobs are known for offering competitive salary packages. As professionals gain experience and expertise, their earning potential increases significantly. Additionally, IT professionals often enjoy additional benefits such as health insurance, retirement plans, and flexible work arrangements.
Overall, IT jobs offer a dynamic and progressive career path with opportunities for growth, specialization, and continuous learning. By staying updated with the latest technologies and building their expertise, IT professionals can carve out successful and fulfilling careers in the industry.
Salary of Software Engineer in Sydney
salaries in the IT industry can vary widely depending on factors such as job role, experience, location, company size, and industry demand.
Software Developer/Engineer: Entry-level software developers can expect salaries ranging from $50,000 to $80,000 per year, while experienced professionals can earn between $80,000 and $150,000 or more.
Data Scientist: Data scientists are in high demand, and their salaries reflect that. Entry-level data scientists can earn around $60,000 to $90,000 per year, while experienced professionals can make upwards of $120,000 to $200,000 per year.
Network Engineer: Network engineers typically earn between $60,000 and $100,000 per year, depending on their experience and certifications.
IT Project Manager: Project managers in the IT industry earn salaries ranging from $70,000 to $120,000 or more, depending on the complexity and scale of the projects they handle.
Cybersecurity Analyst: With the increasing importance of cybersecurity, salaries for cybersecurity analysts range from $60,000 to $120,000 or more, depending on the level of expertise and certifications.