Top 10 IT Companies in Australia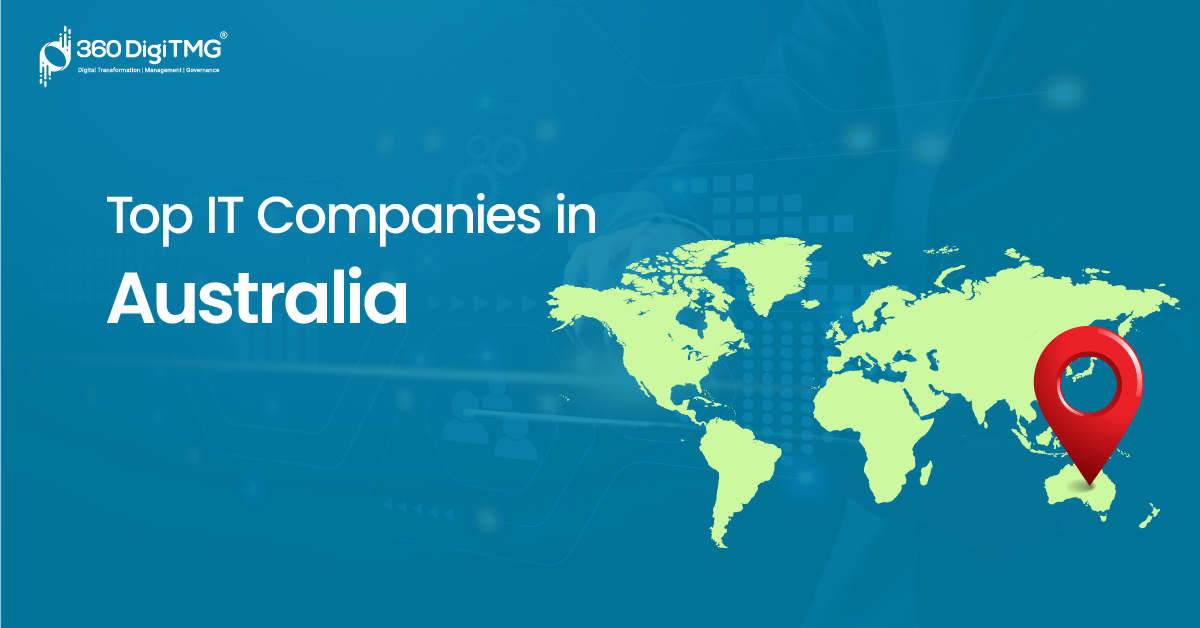 Introduction:
Australia is a nation in the southern hemisphere that is made up of the Australian continent's mainland and numerous islands.
Sydney: Sydney, Australia's largest city and a significant economic and cultural centre, is situated on the country's southeast coast. The Sydney Opera House and the Sydney Harbour Bridge are among its famous landmarks.
Melbourne: Melbourne, the second-largest city in Australia, is situated in the state of Victoria. It is renowned for its thriving coffee culture, diversified population, and arts and cultural scene.
Brisbane: Brisbane, the capital of Queensland, is well-known for its lovely subtropical temperature, outdoor activities well as its closeness to well-liked vacation spots including the Gold Coast and the Great Barrier Reef.
Perth: Perth is the state capital of Western Australia and is situated on the western coast of Australia. It is well-known for having lovely beaches, warm weather, and being close to places with a lot of natural beauty, like Rottnest Island and the Margaret River wine region.
Adelaide: Adelaide, a city in South Australia, is renowned for its festivals, parks, and thriving wine and culinary culture. Famous wine districts like the Barossa Valley and McLaren Vale are all around it.
Canberra: Canberra, Australia's capital city, is situated in the Australian Capital Territory. Numerous national monuments, museums, and administrative buildings are located there. Beautiful coastlines, enormous deserts, and lush rainforests are just a few examples of Australia's diverse topography. It provides an elevated standard of living, first-rate medical treatment, and outstanding educational options. The nation is renowned for having a robust economy, with important sectors in the mining, agricultural, tourism, and technological sectors.
It's crucial to remember that Australia has stringent immigration laws and regulations for those seeking work visas. For accurate and current information on working in Australia, it is advisable to consult official government sources or seek professional assistance.
History of Australia:
The earliest people to live on the continent were Indigenous Australians, who had a lengthy and diverse history in Australia. Their strong ties to the land and rich cultural legacy, which includes complex artwork, folklore, and spiritual practises, give them a unique perspective on life.
Beginning in the 17th century, Dutch and British navigators charted portions of the coastline as part of their discovery of Australia. When Captain James Cook landed in what is now Botany Bay, New South Wales, in 1770, the British proclaimed ownership of the eastern half of the continent. With the establishment of the first British penal colony in Sydney in 1788, this signalled the start of British colonisation.
Tasmania, South Australia, Victoria, Queensland, and Western Australia are among the regions of Australia. The discovery of gold in the middle of the 19th century brought a flood of immigrants and sped up the country's economic development.
The Commonwealth of Australia was established in 1901 when the six British colonies in Australia merged to become an independent nation. Australia continued to be a member of the British Empire, but it progressively started to take more responsibility for its own affairs.
Australia witnessed social and economic transformations and had a big impact on both World Wars during the 20th century. Following World War II, the nation saw a surge in immigration, receiving people from all over the globe, adding to its cultural variety.
Australia has concentrated on bolstering its economy, encouraging innovation, and expanding important industries likemining, farming, travel, and technology. It is renowned for its natural beauty, wildlife, and outdoor lifestyle and is considered a developed country with a good level of living.
Australia is still dealing with a number of social, economic, and environmental issues while still recognising and promoting its multicultural background and promoting inclusivity and sustainable development.
Tech scene:
Australia has a thriving and rapidly growing tech scene, with major cities like Sydney, Melbourne, and Brisbane serving as key hubs for technology and innovation.
Startups and Innovation: Australia has a vibrant startup ecosystem, with numerous tech startups emerging in various sectors such as fintech, healthtech, edtech, agritech, and more. The country has a supportive environment for innovation, with government initiatives, incubators, and accelerators providing resources and funding opportunities for startups.
Tech Events and Conferences: Australia hosts a range of tech events and conferences that bring together industry professionals, entrepreneurs, investors, and thought leaders. These events provide networking opportunities, showcase emerging technologies, and offer insights into the latest trends and developments in the tech industry.
Digital Transformation: Australian businesses and organizations are actively embracing digital transformation, leveraging technologies such as Cloud Computing, big data analytics, artificial intelligence, and internet of things (IoT) to enhance their operations, improve customer experiences, and drive innovation.
Tech Talent and Education: Australia boasts a skilled tech workforce and has a strong focus on technology education. The country's universities and educational institutions offer programs in computer science, engineering, data science, and other technology-related fields, producing graduates with the skills necessary for the industry.
Government Support: The Australian government recognizes the importance of the tech sector and provides support through various initiatives, grants, and policies. This includes funding for research and development, tax incentives for startups, and initiatives to attract international tech talent.
Infrastructure and Connectivity: Australia has invested in developing robust technology infrastructure, including high-speed internet connectivity, data centres, and digital infrastructure. This enables businesses and individuals to access and leverage digital technologies effectively.
Overall, Australia's tech scene is characterized by innovation, collaboration, and a focus on leveraging technology to drive economic growth and societal advancement. It offers a supportive environment for startups, a skilled workforce, and government initiatives that foster innovation and technological progress.
Best IT Companies in Australia:
Australia is home to several prominent IT companies that have made significant contributions to the tech industry.
1. Atlassian:

Atlassian is a globally recognized software company that develops collaboration and productivity tools such as Jira, Confluence, and Trello. It has a h3 presence in Australia and has gained popularity worldwide for its innovative products.

2. Canva:

Canva is a graphic design platform that allows users to create professional-quality designs easily. It offers a wide range of templates, images, and design tools, making it a popular choice for individuals and businesses alike.

3. WiseTech Global:

WiseTech Global is a leading provider of logistics and supply chain management software. Their flagship product, CargoWise, is used by companies worldwide for efficient management of complex logistics operations.

4. Atos:

Atos is a global IT services and consulting company that offers a wide range of technology solutions, including digital transformation, cloud services, cybersecurity, and data analytics. It has a h3 presence in Australia and serves clients across various industries.

5. Cochlear Limited:

Cochlear Limited is a renowned medical device company specializing in hearing implants. They have developed innovative hearing solutions that have transformed the lives of people with hearing loss worldwide.

6. REA Group:

REA Group is a leading digital media company focused on property and real estate. They operate popular property listing websites such as realestate.com.au, providing valuable services to the real estate industry.

7. SEEK Limited:

SEEK Limited is an online job marketplace that connects job seekers with employers. It has a significant presence in Australia and operates job portals in multiple countries.

8. MYOB:

MYOB is a software company that provides accounting and business management solutions for small and medium-sized enterprises. Their software offerings help businesses streamline their financial processes and operations.

9. Computershare:

Computershare is a global leader in financial services technology. They provide solutions for investor services, mortgage servicing, corporate governance, and more, serving clients in the financial industry.

10. Xero:

Xero is a cloud-based accounting software company that offers a range of tools for small businesses, accountants, and bookkeepers. Their platform enables efficient financial management and collaboration between stakeholders.
Overview of IT Jobs in Australia
IT jobs have great potential for progression and development due to the dynamic nature of the industry and continuous advancements in technology.
Skills and Knowledge Enhancement: IT professionals have the opportunity to continually enhance their skills and knowledge through certifications, training programs, and self-learning. This allows them to stay updated with the latest technologies and industry trends, making them more valuable to employers.
Career Advancement: IT professionals can progress within their careers by taking on more challenging roles and responsibilities. They can move from entry-level positions to more senior roles such as team lead, project manager, or department head. With experience and expertise, they may also pursue specialized roles such as data scientist, cybersecurity analyst, or cloud architect.
Specialization and Niche Skills: As the IT industry evolves, it creates new avenues for specialization. Professionals can focus on specific domains such as artificial intelligence, machine learning, cybersecurity, data analytics, cloud computing, or software engineering. Developing expertise in niche skills can lead to high-demand job opportunities and better career prospects.
Entrepreneurship and Innovation: IT professionals have the option to pursue entrepreneurship and start their own IT ventures. With a strong foundation in technology and industry knowledge, they can identify market gaps, develop innovative solutions, and create their own startups. This path offers the potential for personal and professional growth, financial success, and the ability to make a significant impact.
Global Opportunities: The IT industry is global, and professionals can explore job opportunities around the world. With the rise of remote work and globalization, geographical barriers are becoming less restrictive, opening doors to international career growth and exposure to diverse cultures and markets.
Continuous Learning and Adaptability: The IT field requires individuals to be adaptable and open to lifelong learning. Technology is constantly evolving, and professionals need to stay agile and embrace new tools, programming languages, frameworks, and methodologies. Continuous learning ensures their skills remain relevant and in-demand.
Competitive Compensation: IT jobs often offer competitive salaries and benefits due to the high demand for skilled professionals. The compensation packages can include attractive base salaries, performance bonuses, stock options, healthcare benefits, and flexible work arrangements.
Overall, the IT industry provides ample opportunities for career growth, skill development, and personal fulfilment. It rewards individuals who are proactive, passionate about technology, and committed to continuous learning. As technology continues to advance, IT jobs will continue to evolve, offering new and exciting opportunities for professionals to progress and thrive.
Salary of Software Engineer in Australia
Salaries in the IT industry can vary widely depending on factors such as job role, experience level, location, company size, and industry sector.
Software Developer/Engineer: Entry-level software developers can expect a salary range of $50,000 to $80,000 per year, while senior software engineers with several years of experience can earn $90,000 to $150,000 or more annually.
Data Scientist: Data scientists are highly sought after, and their salaries reflect that demand. Entry-level data scientists can earn around $60,000 to $90,000 per year, while senior data scientists with advanced skills and experience can command salaries of $100,000 to $180,000 or more.
Network Administrator: Network administrators typically earn salaries ranging from $50,000 to $80,000 per year, with the potential for higher earnings as they gain more experience and expertise.
Cybersecurity Analyst: Salaries for cybersecurity analysts can range from $60,000 to $100,000 per year for entry-level positions, while experienced professionals can earn $90,000 to $150,000 or more annually, depending on their specialization and industry.
IT Project Manager: IT project managers play a crucial role in overseeing and delivering technology projects. Salaries for IT project managers can range from $70,000 to $120,000 per year, with senior-level professionals earning $100,000 to $150,000 or more.