Top 10 IT Companies in Vancouver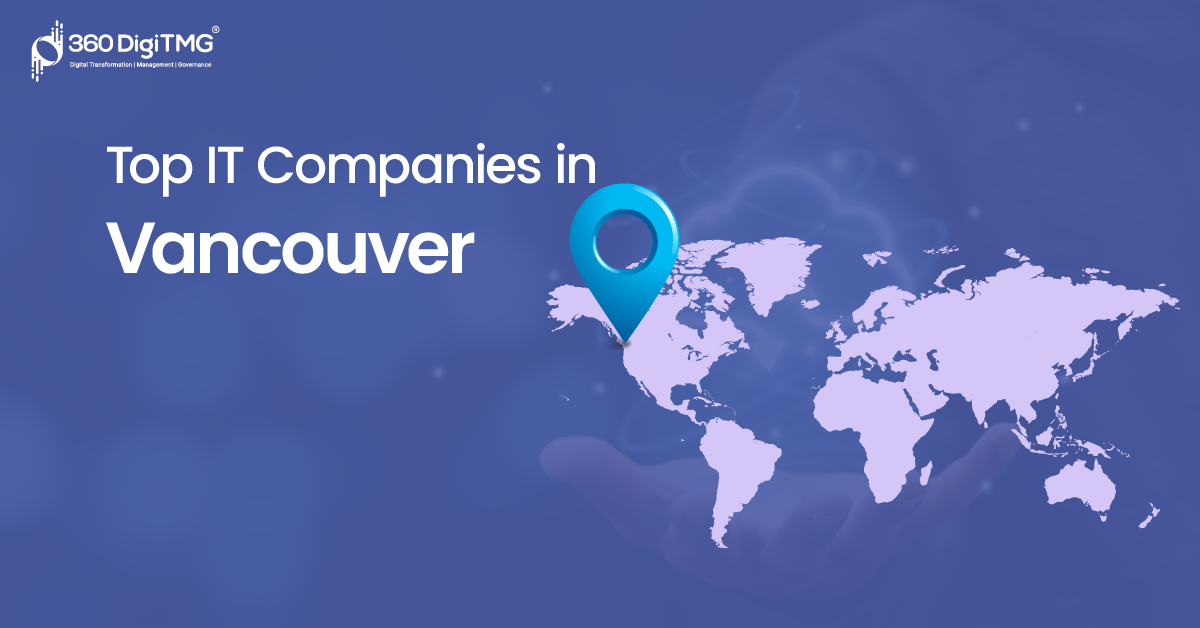 Introduction
Vancouver is a vibrant coastal city located in the western province of British Columbia, Canada. It is known for its stunning natural beauty, diverse cultural scene, and thriving economy. Nestled between the majestic mountains and the Pacific Ocean, Vancouver offers a unique blend of urban sophistication and outdoor adventure. The city boasts a strong technology sector, attracting IT professionals and businesses with its innovative spirit and supportive ecosystem. With a high quality of life and a reputation as one of the world's most livable cities, Vancouver continues to be a desirable destination for individuals seeking opportunities in the IT industry.
History of Vancouver
Vancouver is a vibrant and cosmopolitan city located on the west coast of Canada, in the province of British Columbia. Known for its stunning natural surroundings, diverse population, and thriving cultural scene, Vancouver has become one of the most livable cities in the world. Here is an introduction to the history of Vancouver.
Indigenous Heritage: Prior to European settlement, the area now known as Vancouver was inhabited by Indigenous peoples, primarily the Musqueam, Squamish, and Tsleil-Waututh First Nations. These communities had a rich and deep-rooted connection to the land, with a history dating back thousands of years.
Exploration and Early Settlement: The first recorded European exploration of the area was by Spanish Captain José María Narváez in 1791. In the late 18th century, British and American traders began to arrive in the region for fur trading purposes. The Hudson's Bay Company established a trading post, Fort Vancouver, in 1824, further contributing to the European presence.
Incorporation and Growth: Vancouver was officially incorporated as a city in 1886, following the arrival of the Canadian Pacific Railway (CPR). The railway played a significant role in the city's growth and development, connecting it to the rest of Canada and facilitating trade and transportation. Vancouver quickly emerged as a key seaport and commercial center on the West Coast.
Economic Development: In the early 20th century, Vancouver experienced a boom in economic activity, fueled by industries such as logging, fishing, and mining. The city also became an important hub for the shipping and trade of goods between North America and Asia. As the region's economic center, Vancouver attracted immigrants from various countries, contributing to its cultural diversity.
World Exposition (Expo 86): Vancouver gained international recognition and underwent significant transformation when it hosted the World Exposition in 1986. Expo 86 showcased the city's cultural heritage, urban development, and environmental sustainability, leaving a lasting impact on Vancouver's infrastructure and reputation.
Modern Vancouver: In recent decades, Vancouver has continued to thrive as a dynamic and progressive city. It has attracted global attention for its commitment to sustainability, urban planning, and quality of life. Vancouver is renowned for its breathtaking natural scenery, including mountains, forests, and the Pacific Ocean, offering ample opportunities for outdoor recreation and tourism.
Cultural Diversity and Multiculturalism: Vancouver is celebrated for its multicultural makeup, with a diverse population comprising people from various ethnic backgrounds and cultures. This diversity is reflected in the city's vibrant arts and cultural scene, featuring numerous festivals, museums, theaters, and art galleries.
Sustainability and Green Initiatives: Vancouver has positioned itself as a leader in environmental stewardship and sustainability. The city has implemented initiatives to promote green practices, renewable energy, and eco-friendly transportation. Vancouver's commitment to sustainability has earned it accolades and recognition as one of the world's greenest cities.
Today, Vancouver is a thriving metropolis known for its high standard of living, natural beauty, and cultural vibrancy. It serves as a gateway to outdoor adventures, such as skiing, hiking, and kayaking, and offers a mix of modern amenities, historic landmarks, and a multicultural atmosphere. The city continues to evolve while preserving its rich history and embracing its unique Pacific Northwest identity.
Tech Scene
The tech scene in Vancouver, Canada, has experienced significant growth in recent years, establishing itself as a prominent hub for technology and innovation. The city's favorable business environment, skilled talent pool, proximity to the United States, and quality of life have contributed to its emergence as a thriving tech ecosystem. Here's an overview of the tech scene in Vancouver:
Presence of Major Tech Companies: Vancouver is home to several major tech companies, including global giants and local success stories. Companies like Amazon, Microsoft, Sony, SAP, and Electronic Arts (EA) have established significant operations in the city. These companies have chosen Vancouver as a strategic location for their software development, game development, cloud computing, and research activities.
Thriving Start-up Ecosystem: Vancouver has a vibrant start-up ecosystem, with a growing number of innovative companies across various sectors. The city provides a supportive environment for start-ups, with numerous incubators, accelerators, and co-working spaces. Start-up communities and networking events foster collaboration and knowledge sharing among entrepreneurs.
Technology and Innovation Hubs: Vancouver is home to technology and innovation hubs that bring together businesses, academia, and government organizations. Examples include the BC Tech Innovation Hub, the Vancouver Economic Commission's (VEC) Technology and Innovation Hub, and the Center for Digital Media. These hubs provide resources, mentorship, and networking opportunities for tech companies.
Skilled Talent Pool: Vancouver benefits from a highly skilled and diverse talent pool. The city is home to several top universities and educational institutions that offer programs in computer science, engineering, and related fields. Graduates from these institutions provide a steady supply of talent to the tech industry, while the city's multicultural makeup attracts international professionals.
Focus on Emerging Technologies: Vancouver's tech scene is characterized by a focus on emerging technologies and innovative sectors. Areas such as software development, artificial intelligence (AI), virtual reality (VR), augmented reality (AR), blockchain, fintech, clean technology, and digital health have seen significant growth and investment in the region.
Collaboration and Networking: Vancouver hosts numerous tech events, conferences, and meetups that facilitate collaboration and networking. Events like Vancouver Startup Week, Vancouver Tech Meetup, and BC Tech Summit bring together entrepreneurs, investors, industry professionals, and thought leaders to exchange ideas and explore business opportunities.
Supportive Government Policies: The Canadian government and provincial governments provide support to the tech industry through various programs and initiatives. These include funding for research and development, tax incentives, grants, and support for start-ups. The presence of government organizations like the National Research Council (NRC) and Innovation, Science and Economic Development Canada (ISED) further contribute to the tech ecosystem.
Quality of Life: Vancouver's high quality of life and natural beauty make it an attractive destination for tech professionals. The city offers a balanced lifestyle with access to outdoor recreational activities, a mild climate, a diverse cultural scene, and a welcoming and inclusive community.
Overall, Vancouver's tech scene continues to thrive, driven by a combination of established tech companies, a supportive start-up ecosystem, skilled talent, collaborative networks, and favorable government policies. The city's innovation and entrepreneurial spirit make it an exciting place to be for those involved in the technology industry.
Best IT Companies in Vancouver
Vancouver, Canada, is home to a thriving tech industry and hosts a range of IT companies. The city attracts both multinational corporations and innovative startups, contributing to its vibrant tech ecosystem. Here are some notable IT companies with a presence in Vancouver:
1. Amazon:

Amazon has a significant presence in Vancouver, with multiple offices in the city. The company operates various divisions, including Amazon Web Services (AWS), Amazon Studios, and Amazon Devices. Its operations in Vancouver focus on cloud computing, software development, and entertainment production.

2. Microsoft:

Microsoft has a major presence in Vancouver, with its Microsoft Vancouver Development Center. The center focuses on research and development, software development, and AI initiatives. Microsoft's Vancouver operations contribute to the company's global innovation efforts.

3. SAP:

SAP, a multinational software corporation, has a presence in Vancouver. The company provides enterprise software solutions, including business applications, analytics, and cloud-based services. SAP's Vancouver office focuses on software development and research.

4. Sony Interactive Entertainment:

Sony Interactive Entertainment operates its Vancouver studio, known as Sony Interactive Entertainment Worldwide Studios Vancouver. The studio is involved in game development and has contributed to popular game franchises like MLB: The Show and Killzone.

5. Electronic Arts (EA):

EA, a leading video game company, has a significant presence in Vancouver. The company's EA Vancouver studio is involved in game development and is known for titles such as FIFA, NHL, and UFC. EA Vancouver also focuses on technology and innovation initiatives within the company.

6. Global Relay:

Global Relay is a Vancouver-based company that specializes in compliance, archiving, and messaging services for the finance sector. The company provides cloud-based solutions for secure communication and regulatory compliance.

7. Telus:

Telus is a Canadian telecommunications company with its headquarters in Vancouver. It offers a range of telecommunication services, including mobile, internet, TV, and IT solutions for businesses. Telus operates various divisions, including Telus Communications and Telus Health.

8. ACL Services:

ACL Services, now part of Galvanize, is a Vancouver-based company that specializes in governance, risk management, and compliance (GRC) software solutions. Their software helps organizations streamline internal controls, identify risks, and improve operational efficiency.

9. Sierra Wireless:

Sierra Wireless is a Vancouver-based company that focuses on wireless communication technologies and IoT (Internet of Things) solutions. The company provides devices, connectivity services, and software platforms for IoT applications.

10. Absolute Software:

Absolute Software is a Vancouver-based company specializing in endpoint security and data risk management. Their software helps organizations protect and manage their devices, secure data, and respond to security incidents.
Overview of IT Jobs in Vancouver
IT jobs in Vancouver offer numerous opportunities for progression and development over time. The city's thriving tech ecosystem, presence of major companies, and supportive environment create a conducive atmosphere for career growth. Here's an overview of how IT jobs can progress and develop in Vancouver:
Entry-Level Positions: Many IT professionals start their careers in entry-level positions, such as software developers, web developers, system administrators, or technical support specialists. These roles provide opportunities to gain practical experience, develop foundational skills, and become familiar with industry best practices.
Skill Development and Specialization: As professionals gain experience, they can focus on developing specialized skills in areas such as software engineering, data analysis, cybersecurity, cloud computing, artificial intelligence (AI), or user experience (UX) design. Ongoing learning, certification programs, and attending industry events and conferences help individuals enhance their expertise and stay up-to-date with emerging technologies.
Team Leadership and Management: With experience and demonstrated leadership skills, IT professionals can progress into team leadership or management roles. These positions involve overseeing teams, managing projects, coordinating resources, and ensuring the successful execution of IT initiatives. Strong communication, project management, and interpersonal skills are essential for advancement into these roles.
Architect and Technical Lead Roles: IT professionals who excel in technical expertise and problem-solving may transition into architect or technical lead roles. These positions involve designing and implementing complex IT systems, providing technical guidance and mentoring, and ensuring the scalability and efficiency of solutions. Architect and technical lead roles require a deep understanding of technology, industry trends, and the ability to align IT solutions with business objectives.
Entrepreneurship and Startups: Vancouver's dynamic startup ecosystem provides opportunities for IT professionals to venture into entrepreneurship and start their own tech companies or join early-stage startups. This path allows individuals to pursue their own ideas, innovate, and contribute to the growth of the local tech ecosystem. It requires a combination of technical skills, business acumen, and an entrepreneurial mindset.
Consulting and Freelancing: Experienced IT professionals may choose to become independent consultants or freelancers, offering their expertise to clients on a project-by-project basis. Consulting allows individuals to work on diverse projects, gain exposure to different industries, and offer specialized knowledge and guidance to organizations. It also provides flexibility and the opportunity to build a diverse professional network.
Research and Development: Vancouver's academic institutions and research centers offer opportunities for IT professionals interested in research and development (R&D). Collaborating with universities or research organizations allows individuals to contribute to cutting-edge technologies, explore new concepts, and make scientific advancements.
Continuous Learning and Professional Development: In the rapidly evolving field of IT, continuous learning and professional development are crucial. IT professionals in Vancouver can benefit from ongoing training, certifications, and attending workshops or seminars to enhance their skills and knowledge. Pursuing advanced degrees or specialized certifications can also open up new career opportunities.
Vancouver's thriving tech industry, supportive ecosystem, and the presence of major companies provide IT professionals with numerous pathways for career progression and development. It's important to stay up-to-date with industry trends, actively seek learning opportunities, and network with professionals in the field to maximize career growth in the vibrant IT scene of Vancouver.
Salary of Software Engineer in Vancouver
Salaries in IT companies in Vancouver can vary depending on factors such as job role, level of experience, industry specialization, company size, and the demand for specific skills. It's important to note that the following salary ranges are approximate and can fluctuate based on individual negotiation, company policies, and market conditions. Here's a general overview of salary ranges for different IT positions in Vancouver:
Software Developer/Engineer:
Entry-level: CAD 50,000 - CAD 70,000 per year
Mid-level: CAD 70,000 - CAD 100,000 per year
Senior-level: CAD 100,000 - CAD 150,000+ per year
Data Analyst/Scientist:
Entry-level: CAD 50,000 - CAD 70,000 per year
Mid-level: CAD 70,000 - CAD 100,000 per year
Senior-level: CAD 100,000 - CAD 150,000+ per year
Network/System Administrator:
Entry-level: CAD 50,000 - CAD 70,000 per year
Mid-level: CAD 70,000 - CAD 90,000 per year
Senior-level: CAD 90,000 - CAD 120,000+ per year
IT Project Manager:
Entry-level: CAD 60,000 - CAD 80,000 per year
Mid-level: CAD 80,000 - CAD 100,000 per year
Senior-level: CAD 100,000 - CAD 150,000+ per year
Cybersecurity Analyst/Consultant:
Entry-level: CAD 60,000 - CAD 80,000 per year
Mid-level: CAD 80,000 - CAD 110,000 per year
Senior-level: CAD 110,000 - CAD 150,000+ per year
IT Support Specialist:
Entry-level: CAD 40,000 - CAD 55,000 per year
Mid-level: CAD 55,000 - CAD 70,000 per year
Senior-level: CAD 70,000 - CAD 90,000+ per year
These salary ranges are indicative and can vary based on factors such as the company's size and reputation, the individual's qualifications and experience, the complexity of the job role, and the demand for specific skills in the market.
It's worth noting that the cost of living in Vancouver is relatively high compared to other Canadian cities. Housing, transportation, and other living expenses should be considered when evaluating salary expectations. Additionally, benefits such as bonuses, health insurance, retirement plans, and stock options may also contribute to the overall compensation package.
Data Science Placement Success Story
Related searches
IT companies in Vancouver, IT companies in Vancouver Canada, Top IT companies in Vancouver, Top IT companies in Vancouver Canada, Best IT companies in Vancouver, List of IT companies in Vancouver, IT jobs in Vancouver, Vancouver IT companies