Top 6 IT Companies in Vizag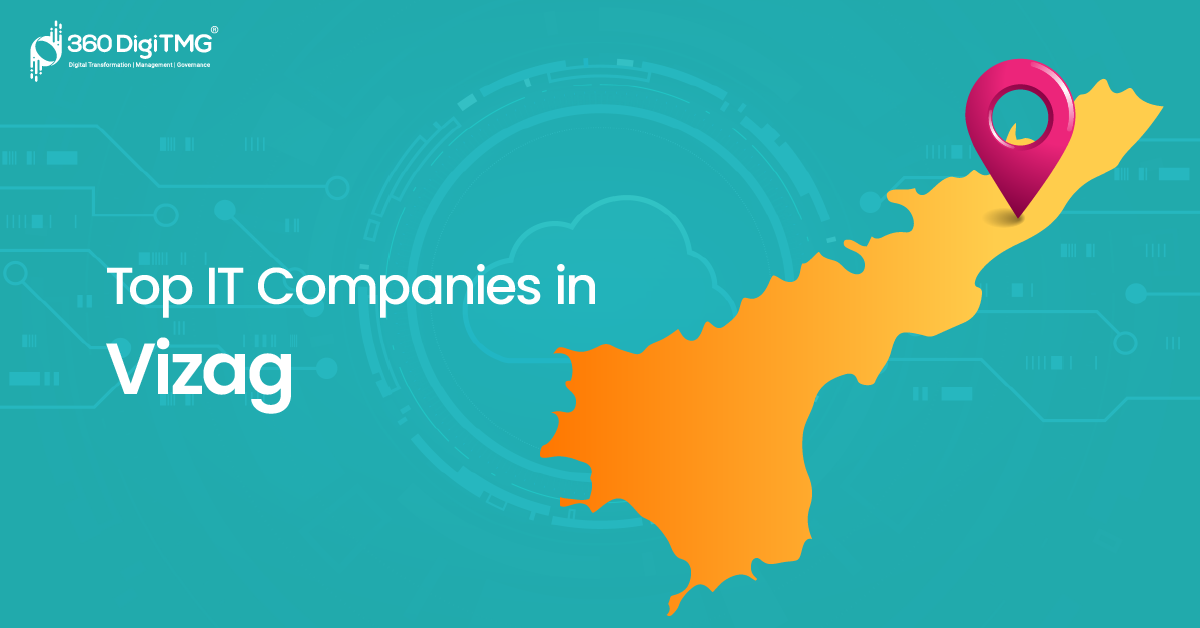 Introduction
Visakhapatnam, commonly known as Vizag, is a major city located in the Indian state of Andhra Pradesh. It is situated on the southeastern coast of India, along the Bay of Bengal. Vizag is the largest city in the state and serves as the administrative headquarters of the Visakhapatnam district. Visakhapatnam is positioned at approximately 17.6868° N latitude and 83.2185° E longitude. The city is known for its natural beauty, with hills, valleys, beaches, and a natural harbour. The Eastern Ghats Mountain range surrounds Visakhapatnam on one side, creating a picturesque backdrop.
Vizag has a strategic location, serving as a major port city in India. It plays a significant role in the country's trade and commerce, handling various exports and imports. Additionally, Visakhapatnam is home to several industries, including steel plants, oil refineries, shipbuilding, and the Indian Navy's Eastern Naval Command.
The city is well-connected through air, rail, and road networks. Visakhapatnam Airport (also known as Vizag Airport) offers domestic and international flights, connecting the city to various destinations. The city is served by Visakhapatnam Junction, a major railway station on the East Coast Railway line, facilitating rail transportation. Various national highways and state highways connect Vizag to other parts of the country.
Overall, Visakhapatnam (Vizag) is a thriving city with a rich cultural heritage, beautiful landscapes, and significant industrial and economic importance.
History of Vizag
The history of Visakhapatnam (Vizag) dates back to ancient times, with evidence of human habitation in the region dating back to the Stone Age. The area has witnessed the rule of various dynasties and empires, contributing to its rich historical heritage.
Ancient and Medieval Periods:
During the ancient period, the region of Visakhapatnam was part of the Kalinga Kingdom. It later came under the rule of the Maurya's, Satavahanas, and Ikshvakus. Buddhism flourished in this region during the reign of the Satavahanas.
In the medieval period, Visakhapatnam was ruled by the Eastern Ganga Dynasty and the Ganapati's of Odisha. The region also witnessed the influence of the Vijayanagar Empire.
European Influence and Colonial Rule:
In the 15th century, European powers began to establish their presence in the region. The Dutch, under Admiral van den Broucke, set up a factory in Visakhapatnam in 1641. However, they were later driven out by the British in 1804 during the Second Anglo-Dutch War.
The British East India Company gained control over Visakhapatnam in the early 19th century. The city grew as a significant trading center, especially for the export of local products like indigo and jute. It served as a major port for British ships.
After India gained independence from British colonial rule in 1947, Visakhapatnam became part of the newly formed state of Andhra Pradesh in 1956. The city continued to develop, especially with the establishment of major industries like the Visakhapatnam Steel Plant (VSP) and the Hindustan Shipyard Limited (HSL).
Visakhapatnam has witnessed significant growth and urbanization since then, emerging as a major industrial and economic hub in Andhra Pradesh. It has also become a popular tourist destination, attracting visitors with its scenic beaches, historical sites, and cultural heritage.
Overall, the history of Visakhapatnam reflects its evolution from ancient and medieval kingdoms to European influence and colonial rule, culminating in its present status as a thriving city in modern India.
Tech Scene
Visakhapatnam (Vizag) has been making significant strides in the tech scene, emerging as a notable destination for IT and tech-related industries. The city has been actively working towards establishing itself as a technology hub and has witnessed the development of several initiatives and organizations to foster the growth of the tech industry.
IT Parks and Special Economic Zones (SEZs):
Visakhapatnam houses multiple IT parks and Special Economic Zones (SEZs) that provide a conducive environment for tech companies to operate. The prominent ones include the Rushikonda IT Park, Fintech Valley Vizag, and the Jawaharlal Nehru Pharma City (JNPC) IT SEZ. These infrastructure developments have attracted several national and international IT companies, startups, and research organizations to set up their operations in Vizag.
Fintech Valley Vizag is an initiative by the Government of Andhra Pradesh to promote the growth of fintech and blockchain technologies. It aims to create an ecosystem that fosters innovation and collaboration in the fintech sector. Fintech Valley Vizag has facilitated the establishment of various fintech companies, incubation centres, and research institutions in the city.
Visakhapatnam has witnessed the rise of a vibrant startup ecosystem. Several incubators and startup accelerators, such as Startup Village Vizag and Sunrise Startup Village, provide support and mentorship to budding entrepreneurs. These initiatives have played a significant role in nurturing startups and fostering innovation in the tech domain.
Skill Development and Education:
To meet the demand for skilled professionals in the tech industry, Vizag has focused on skill development and education. The city is home to reputed educational institutions like the Indian Institute of Management (IIM), Indian Institute of Technology (IIT), and National Institute of Technology (NIT), which produce a talented pool of graduates with expertise in various tech fields.
Connectivity and Infrastructure:
Visakhapatnam's connectivity and infrastructure have also contributed to its growth as a tech hub. The city has a well-developed IT infrastructure, including reliable internet connectivity and data centers. Additionally, the presence of an international airport, a major seaport, and good transportation networks facilitates smooth business operations and connectivity with other parts of India and the world.
Government Support and Initiatives:
The government of Andhra Pradesh has been proactive in promoting the tech industry in Visakhapatnam. It has launched various initiatives, policies, and incentives to attract tech companies, boost entrepreneurship, and create a favourable business environment. These efforts have helped in positioning Vizag as a destination for technology-driven enterprises.
Overall, Visakhapatnam's tech scene is on the rise, with a growing number of tech companies, startups, and support infrastructure. The city's focus on innovation, education, and government support are contributing to its emergence as a technology hub in Andhra Pradesh.
Best IT companies in Vizag
1. Cyient:

Cyient is a global engineering and technology solutions company with a significant presence in Visakhapatnam. They provide services in aerospace, defense, telecommunications, utilities, and other industries.

2. NTT DATA:

NTT DATA is a global IT services and consulting company with an office in Visakhapatnam. They offer a wide range of IT solutions, including application development, infrastructure management, and business process outsourcing.

3. KTree Computer Solutions:

KTree Computer Solutions is an IT consulting and software development company based in Visakhapatnam. They specialize in custom application development, product engineering, and enterprise solutions.

4. Ecentric Solutions:

Ecentric Solutions is an IT services and staffing company that operates in Visakhapatnam. They provide software development, consulting, and staffing solutions to clients across various industries.

5. Softnice India Pvt. Ltd:

Softnice India is an IT services company with an office in Visakhapatnam. They offer services in software development, quality assurance, and application maintenance for clients in different sectors.

6. Sankhya Technologies:

Sankhya Technologies: Sankhya Technologies is a software product engineering company headquartered in Visakhapatnam. They specialize in developing cutting-edge solutions in the areas of virtual reality, simulation, and training.
Overview of IT Jobs in Vizag
IT jobs offer a wide range of opportunities for progress and development, allowing individuals to build rewarding careers in various domains.
Entry-Level Positions: Most IT professionals start their careers in entry-level positions, such as software developer, systems analyst, network administrator, or technical support specialist. These roles provide a foundation for gaining practical experience and understanding the basics of IT operations.
Skill Development: Continuous learning and skill development are crucial for progressing in the IT field. IT professionals can enhance their technical skills through certifications, workshops, online courses, and practical projects. Skills in programming languages, cloud computing, cybersecurity, data analysis, and emerging technologies like artificial intelligence and machine learning are highly sought after.
Specialization: As IT professionals gain experience, they can choose to specialize in specific areas of expertise. This could involve focusing on a particular programming language, database management, network security, software testing, project management, or other specialized roles. Specialization helps professionals become experts in their chosen domains, leading to more challenging and higher-paying roles.
Leadership and Management Roles: With experience and a demonstrated track record of success, IT professionals can progress into leadership and management positions. These roles may include IT project manager, IT manager, technology director, or Chief Information Officer (CIO). Leadership positions involve overseeing teams, managing projects, making strategic decisions, and aligning technology initiatives with business goals.
Entrepreneurship and Startups: Some IT professionals choose to explore entrepreneurship and start their own ventures. With a strong technical background and domain expertise, they can create innovative solutions, build startups, or become technology consultants. Entrepreneurship offers the opportunity for autonomy, creativity, and potentially significant financial rewards.
Continued Professional Growth: IT professionals should continuously stay updated with the latest technological advancements and industry trends. Attending conferences, participating in professional communities, networking, and staying connected with industry leaders help in continuous professional growth. Additionally, pursuing advanced degrees, such as Master's or Ph.D., can open up opportunities for research, academia, or specialized roles.
International Opportunities: The IT field offers global opportunities, with IT professionals having the option to work in different countries or for multinational organizations. International exposure can provide valuable experiences, cross-cultural collaboration, and a broader perspective on technology practices.
Remember, career progression in IT is not solely dependent on technical skills. Developing communication, leadership, problem-solving, and teamwork abilities are equally important for advancement.
Overall, the IT field is dynamic, offering ample opportunities for growth and development. Continuous learning, adaptability, and a passion for staying ahead of the curve are key factors that can contribute to a successful and fulfilling IT career.
Salaries of Software Engineer in Vizag
Salaries in the IT industry can vary widely depending on factors such as job role, experience, location, company size, and industry demand.
Entry-Level Positions: salaries for entry-level IT positions can range from around $40,000 to $70,000 per year, depending on the specific role and location. These roles may include software developers, systems analysts, network administrators, and technical support specialists.
Mid-Level Positions: As professionals gain experience and expertise, they can expect higher salaries. Mid-level IT positions such as software engineers, database administrators, IT project managers, and cybersecurity analysts can earn salaries in the range of $70,000 to $120,000 per year.
Senior-Level Positions: Senior IT roles, including IT managers, solution architects, data scientists, and senior software engineers, often come with higher salaries. Salaries for senior-level positions can range from $100,000 to well over $150,000 per year, depending on the location and the specific demands of the role.
Specialized Roles: Specialized IT roles, such as artificial intelligence and machine learning experts, cloud architects, and cybersecurity specialists, often command higher salaries due to their high-demand skills. These roles can earn salaries ranging from $100,000 to $200,000 or more per year.
Management and Leadership Positions: IT professionals who move into management and leadership positions, such as IT directors, CIOs, and technology executives, can earn salaries in the range of $150,000 to $300,000 or more per year, depending on the organization and the responsibilities involved.
Data Science Placement Success Story
Related searches
IT companies in Vizag , IT sez Vizag companies , IT companies in visakhapatnam , Top IT companies in Vizag , List of IT companies in Vizag , IT companies in Vizag for freshers , Best IT companies in Vizag