Top 7 IT Companies in Uppal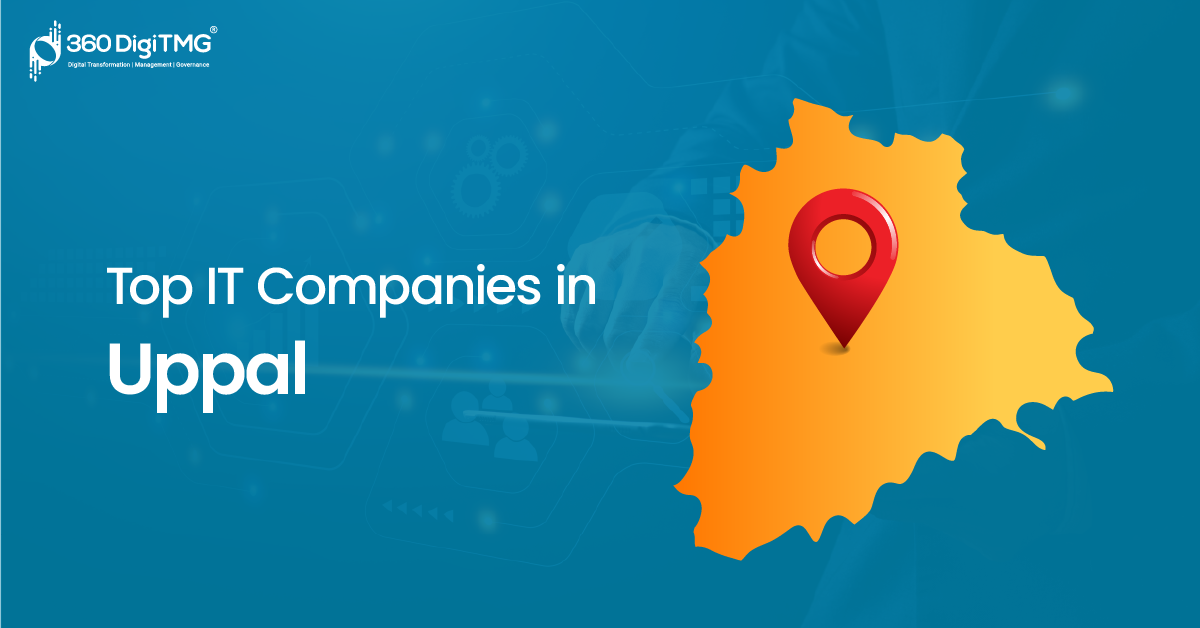 Introduction
Uppal is a locality situated in the eastern part of Hyderabad, Telangana, India. It is located in the Medchal-Malkajgiri district and is approximately 14 kilometres away from the city centre. Uppal is well-connected to other parts of Hyderabad through roadways and public transportation systems.
Uppal Metro Station: Uppal is served by the Uppal Metro Station, which is part of the Hyderabad Metro Rail network. This provides convenient access to various parts of the city, making commuting easier for residents and visitors.
Educational Institutions: Uppal houses several educational institutions, including schools, colleges, and coaching centres. These institutions offer education across various streams and cater to students from Uppal and the surrounding areas.
Shopping and Commercial Centres: Uppal has a range of shopping centres, markets, and commercial establishments. Residents can find a variety of retail stores, supermarkets, and local markets catering to their daily needs. There are also commercial complexes and office spaces in the area.
Healthcare Facilities: Uppal has hospitals, clinics, and healthcare centres that provide medical services to the residents. These facilities offer healthcare services, diagnostics, and specialized treatments to cater to the health needs of the local population.
Industrial Area: Uppal is home to an industrial area known as Uppal Industrial Estate. It houses several manufacturing units, warehouses, and industrial establishments, contributing to the industrial development and economy of the region.
Uppal is a developing area in Hyderabad, offering a mix of residential, commercial, and industrial facilities. Its strategic location and connectivity make it a convenient place to live, work, and access essential amenities.
History of Uppal
Uppal, located in Hyderabad, has a relatively recent history compared to some other parts of the city.
Uppal's development began in the 1970s when the Hyderabad Urban Development Authority (HUDA) initiated the Uppal Housing Project to address the growing housing needs of the city. It was developed as a residential area to accommodate the expanding population of Hyderabad.
Over the years, Uppal has witnessed rapid growth and urbanization. The area experienced infrastructural development, including the construction of residential colonies, commercial establishments, and public amenities. The expansion of road networks and the establishment of public transportation systems improved connectivity with other parts of Hyderabad.
Uppal has also seen the establishment of industrial areas, such as the Uppal Industrial Estate, contributing to its economic development. These industrial areas have attracted businesses and provided employment opportunities to the local population.
Today, Uppal is a bustling area with a mix of residential, commercial, and industrial facilities. It has become an important part of Hyderabad's urban landscape, offering housing options, educational institutions, healthcare facilities, shopping centres, and more.
While Uppal's history may not be as extensive as some older areas in Hyderabad, its growth and development reflect its significance as a vibrant and evolving locality within the city. The area continues to undergo further development, adapting to the changing needs of its residents and businesses.
Tech Scene
Uppal, being a part of Hyderabad, shares in the thriving tech scene of the city. Hyderabad is known for its robust IT industry and has emerged as a major technology hub in India.
IT and Software Companies: Hyderabad is home to numerous IT and software companies, including global giants and startups. These companies provide a wide range of services such as software development, IT consulting, cybersecurity, data analytics, cloud computing, and more. Many of these companies have operations and offices in various parts of Hyderabad, including Uppal.
Technology Parks and Special Economic Zones: Hyderabad features dedicated technology parks and special economic zones that house IT companies. The most notable one is the HITEC City (Hyderabad Information Technology Engineering Consultancy City), which is one of India's largest IT parks. Other tech parks in Hyderabad, such as the Cyberabad area, provide a conducive environment for IT businesses to thrive.
Startups and Incubators: Hyderabad has a vibrant startup ecosystem, and Uppal likely contributes to this ecosystem as well. The city is known for its support to startups through incubators, accelerators, and government initiatives. These entities provide resources, mentorship, and networking opportunities for tech entrepreneurs and startups in various domains.
Research and Development: Hyderabad houses several research and development centers of multinational companies, including those specializing in pharmaceuticals, biotechnology, and technology. These centers focus on cutting-edge research, innovation, and product development, contributing to technological advancements in their respective fields.
Educational Institutions: Hyderabad is home to renowned educational institutions that offer technology-related programs. These institutions produce a talented pool of graduates in engineering, computer science, and other IT disciplines. Uppal likely benefits from the presence of such institutions, which contribute to the tech talent pool in the area.
Tech Events and Meetups: Hyderabad hosts a range of tech events, conferences, and meetups that bring together industry professionals, entrepreneurs, and enthusiasts. These events provide opportunities for networking, knowledge sharing, and collaboration, further boosting the tech community in Uppal and the city as a whole.
The tech scene in Uppal and Hyderabad as a whole is dynamic, vibrant, and conducive to growth. The presence of IT companies, startups, educational institutions, and support networks makes it an attractive destination for tech professionals and entrepreneurs. The collaborative ecosystem, coupled with the city's infrastructure and government support, fosters innovation, job opportunities, and overall technological development.
Best IT companies in Uppal
Hyderabad, including the Uppal area, is home to several prominent IT companies.
1. Tata Consultancy Services (TCS):

TCS is one of the largest IT services and consulting companies globally. It has a significant presence in Hyderabad and offers a wide range of IT solutions, including software development, IT consulting, and business process outsourcing.

2. Microsoft India Development Center:

Microsoft IDC is one of the largest R&D centers outside the United States. It focuses on software development, cloud services, and technology innovation.

3. Cognizant Technology Solutions:

Cognizant is a multinational IT services and consulting company with a strong presence in Hyderabad. It provides a wide range of IT solutions and services to clients across industries.

4. Infosys:

Infosys is a global IT consulting and services company that operates in Hyderabad. It offers services in areas such as technology consulting, application development, and digital transformation.

5. Oracle:

Oracle Corporation has a significant presence in Hyderabad, providing software solutions and services in areas such as database management systems, enterprise software, and cloud technologies.

6. Amazon Development Centre:

Amazon has established a development centre in Hyderabad, focusing on various aspects of e-commerce, cloud computing, and technology solutions.

7. Tech Mahindra:

Tech Mahindra is a multinational IT services and consulting company with a significant presence in Hyderabad. It offers services in areas such as digital transformation, cloud computing, and cybersecurity.
Overview of IT Jobs in Uppal
IT jobs offer excellent opportunities for progression and development due to the dynamic nature of the industry.
Skill Enhancement: Continuous learning and skill development are essential in the IT field. Professionals can enhance their skills through certifications, attending workshops and training programs, and staying updated with the latest technologies and industry trends. Acquiring new skills and staying relevant can open doors to higher-level positions and more challenging projects.
Career Advancement: IT jobs often come with clear career paths that allow for progression. Professionals can start at entry-level positions and gradually advance to mid-level and senior roles. For example, a software engineer can progress to a senior software engineer, team lead, project manager, and eventually to managerial or leadership positions.
Specialization: IT professionals can choose to specialize in specific areas based on their interests and career goals. Specializations can include data science, cybersecurity, cloud computing, artificial intelligence, user experience (UX) design, or network engineering. Becoming a specialist in a niche area can lead to higher demand, specialized projects, and increased career opportunities.
Leadership Roles: IT professionals with strong technical and managerial skills can progress to leadership roles such as IT manager, solutions architect, or CTO (Chief Technology Officer). These positions involve managing teams, making strategic decisions, and driving innovation within the organization.
Entrepreneurship: IT professionals with an entrepreneurial mindset can start their own tech companies, consulting firms, or startups. This path allows them to take control of their projects, work on innovative ideas, and potentially have greater financial rewards. Entrepreneurship in the IT field requires a combination of technical expertise, business acumen, and networking skills.
Global Opportunities: IT jobs provide opportunities for global exposure and international career prospects. Professionals can work with multinational companies, collaborate on global projects, or even explore job opportunities in different countries. Working in diverse environments and cultural settings can enhance professional growth and broaden perspectives.
Lifelong Learning: IT professionals need to engage in lifelong learning to stay ahead in their careers. The IT industry is constantly evolving, with new technologies and trends emerging regularly. Keeping up with the latest advancements, learning new programming languages, exploring emerging technologies, and staying adaptable are essential for long-term career growth.
Salary of Software Engineer in Uppal
salaries in the IT industry can vary widely based on factors such as job role, experience, skills, location, and the specific company or organization.
At the entry level, positions such as software developer, web developer, or IT support specialist may have salaries ranging from $40,000 to $70,000 per year. These figures can vary based on factors such as location, company size, and industry.
With a few years of experience and a solid skill set, professionals in mid-level positions like software engineer, systems analyst, or database administrator can expect salaries in the range of $70,000 to $100,000 per year.
Senior-level roles such as IT manager, solutions architect, or senior software engineer generally command higher salaries. These positions can have salaries ranging from $100,000 to $150,000 or more per year, depending on factors such as experience, expertise, and the organization's size.
Professionals in specialized IT roles, such as data scientists, cybersecurity specialists, or cloud architects, often have higher earning potential due to the demand for their skills. Salaries in these fields can range from $100,000 to $150,000 or more per year, depending on experience, expertise, and the industry.
Data Science Placement Success Story
Related searches
Uppal IT companies , IT companies in Uppal