Top 15 IT Companies in Abu Dhabi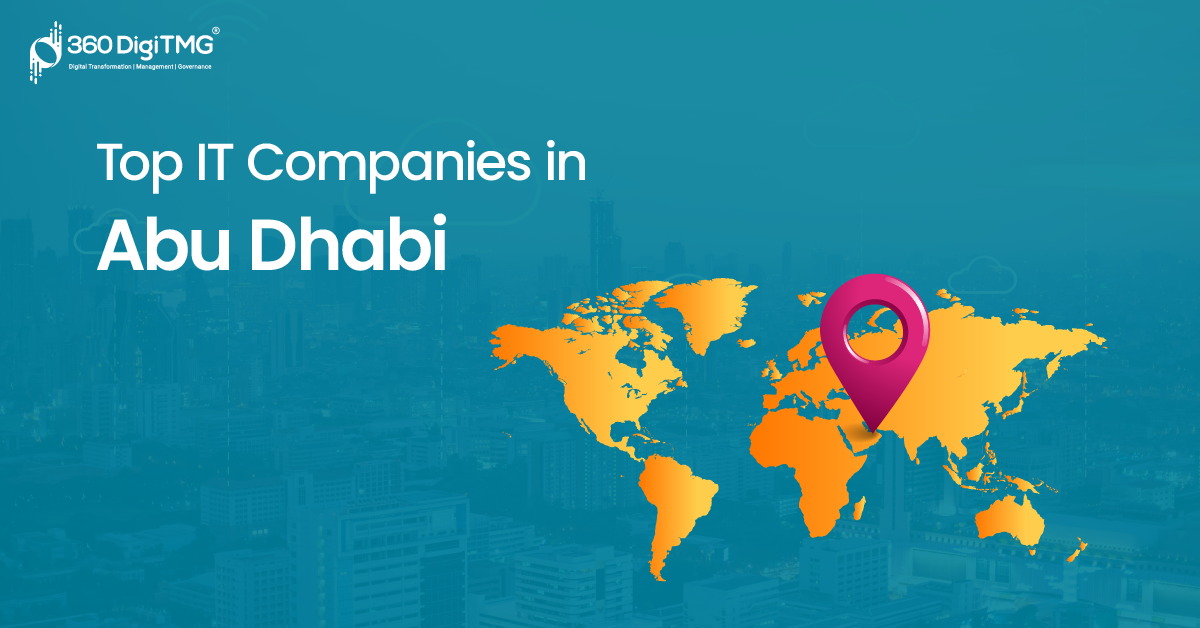 Introduction
Abu Dhabi is the capital city of the United Arab Emirates (UAE) and is located on the northeastern part of the Arabian Peninsula. It is situated on an island in the Arabian Gulf, connected to the mainland by bridges of Abu Dhabi. Abu Dhabi is located on the southeastern coast of the Arabian Peninsula, at a latitude of 24.4539° N and a longitude of 54.3773° E. It is bordered by the Arabian Gulf to the north and the Rub' al Khali (Empty Quarter) desert to the south. The city of Abu Dhabi covers an area of approximately 972 square kilometres (375 square miles) and has a population of over 1.5 million people (as of 2021). It is the second most populous city in the UAE after Dubai.
Infrastructure and Landmarks: Abu Dhabi is known for its modern infrastructure, impressive skyline, and iconic landmarks. The cityscape is dominated by tall skyscrapers, including the Etihad Towers and the Emirates Palace Hotel. The Sheikh Zayed Grand Mosque, one of the largest mosques in the world, is a major architectural and cultural landmark.
Abu Dhabi's strategic location, thriving economy, and cultural attractions make it an attractive destination for residents, tourists, and businesses. Its blend of modern infrastructure, traditional heritage, and natural beauty contribute to its appeal as a cosmopolitan and vibrant city in the Middle East.
History of Abu Dhabi
Abu Dhabi has a rich history that dates back thousands of years. The area has been inhabited since ancient times, with archaeological evidence suggesting human settlement as early as the third millennium BCE. It was an important centre for trade and commerce, benefiting from its strategic location along the Arabian Gulf.
In the 18th century, Abu Dhabi was a small fishing village and part of the Bani Yas tribal confederation. It was during this time that the ruling Al Nahyan family, a branch of the Bani Yas tribe, established their control over the region. The Al Nahyan family continues to rule Abu Dhabi to this day.
During the 19th century, Abu Dhabi faced challenges from other regional powers, including the Ottoman Empire and the Qawasim pirates. However, through strategic alliances and military campaigns, the Al Nahyan rulers were able to defend their territory and maintain control over the city.
The discovery of oil in the 1950s transformed Abu Dhabi into a major player in the global energy industry. The revenue generated from oil exports enabled the city to undergo rapid development and modernization. Investments were made in infrastructure, education, healthcare, and various sectors of the economy.
In 1971, Abu Dhabi, along with six other emirates, formed the United Arab Emirates (UAE), with Abu Dhabi becoming the capital of the federation. The UAE has since become a thriving nation with a diverse economy and a cosmopolitan society.
Abu Dhabi's leadership has focused on diversifying the economy beyond oil, investing in sectors such as finance, tourism, real estate, and technology. The city has also sought to preserve and showcase its cultural heritage, evident in the development of museums, cultural centres, and preservation projects.Today, Abu Dhabi is recognized as a global hub for business, tourism, and culture. Its towering skyline, luxurious resorts, world-class museums, and iconic landmarks attract visitors from around the world. The city continues to grow and evolve, embracing innovation and sustainability while celebrating its rich history and traditions.
Tech Scene
The tech scene in Abu Dhabi has been experiencing significant growth and development in recent years. The city has been actively working towards establishing itself as a leading hub for innovation, technology, and entrepreneurship in the region.
Technology Free Zones: Abu Dhabi has established dedicated technology free zones such as the Abu Dhabi Global Market (ADGM) and the Hub71. These free zones provide an environment conducive to tech startups and businesses, offering various benefits including tax incentives, streamlined regulations, access to funding, and support services.
Innovation and Research: Abu Dhabi is home to several research institutions and innovation centers that foster technological advancements. The Masdar Institute of Science and Technology, for example, focuses on sustainable technologies, renewable energy, and advanced materials. The Masdar City, a planned sustainable city, also promotes innovation and serves as a testbed for clean technologies.
Incubators and Accelerators: The city offers various programs, incubators, and accelerators that support startups and entrepreneurs in the tech sector. These initiatives provide mentorship, networking opportunities, funding, and infrastructure to help early-stage companies grow and succeed.
Investments in Technology: Abu Dhabi has been making significant investments in emerging technologies such as artificial intelligence (AI), blockchain, cybersecurity, and smart city solutions. The government and private sector actively support research and development in these areas, aiming to drive digital transformation and innovation across industries.
Collaboration and Partnerships: Abu Dhabi encourages collaboration and partnerships between the government, academia, and private sector to foster innovation and technological advancements. Initiatives like the Abu Dhabi Investment Office (ADIO) and the Abu Dhabi Technology Development Committee (TDC) work towards attracting technology companies and fostering partnerships with global players.
Startup Ecosystem: The city has witnessed the emergence of a vibrant startup ecosystem, with a growing number of tech startups and entrepreneurs launching innovative solutions across various sectors. The availability of funding, supportive policies, and networking opportunities have contributed to the growth of the startup community.
Infrastructure and Connectivity: Abu Dhabi offers a robust infrastructure, advanced telecommunications networks, and world-class facilities that support the tech industry. The city's connectivity and digital infrastructure provide a strong foundation for tech companies to operate and expand their operations.
Overall, Abu Dhabi is actively working towards creating an environment that fosters technological innovation, entrepreneurship, and digital transformation. The city's focus on emerging technologies, investment in research and development, and supportive ecosystem positions it as a key player in the regional tech scene.
Best IT companies in Abu Dhabi
1. Etisalat:

Etisalat is one of the largest telecommunications companies in the UAE and offers a wide range of IT services, including telecommunications, cloud computing, Cybersecurity, and digital solutions.

2. Mubadala Investment Company:

Mubadala is a government-owned investment company that has made significant investments in the technology sector. It focuses on areas such as semiconductors, artificial intelligence , Information Technology, and digital infrastructure.

3. Injaz at Data Systems:

Injaz at is a leading IT services provider in Abu Dhabi, offering services such as managed IT, Cloud computing, data centre services, cybersecurity, and Digital Transformation solutions.

4. DarkMatter:

DarkMatter is a cybersecurity company that provides advanced solutions to protect organizations from cyber threats. It specializes in secure communications, cryptography, digital transformation, and secure software development.

5. Gulf Business Machines (GBM):

GBM is a leading IT solutions provider in the region, offering a wide range of services including infrastructure solutions, cloud computing, cybersecurity, data analytics, and managed services.

6. Abu Dhabi Systems and Information Centre (ADSIC):

ADSIC is the government agency responsible for driving the digital transformation of Abu Dhabi. It provides various IT services and infrastructure to support government entities and enhance the digital ecosystem of the city.

7. Tawazun:

Tawazun is an investment company that focuses on strategic sectors, including defense, aerospace, and technology. It supports the growth and development of technology companies through investments and partnerships.

8. Cognizant:

Cognizant is a global IT services and consulting company that has a h3 presence in Abu Dhabi. It offers a wide range of services including digital transformation, IT consulting, application development, and data analytics.

9. IBM:

IBM is a global technology company that provides a range of IT solutions and services. It has a significant presence in Abu Dhabi, offering services such as cloud computing, Artificial Intelligence, blockchain, and cybersecurity.

10. Dell Technologies:

Dell Technologies is a leading IT infrastructure and solutions provider, offering a range of hardware, software, and IT services. It has a presence in Abu Dhabi and provides solutions for data centers, cloud computing, networking, and storage.

11. Advanced Integrated Systems (AIS):

AIS is a technology solutions provider that specializes in delivering innovative IT Solutions, managed services, and digital transformation solutions. They offer services in areas such as cloud computing, cybersecurity, and enterprise Software Development.

12. Abu Dhabi Media Company:

Abu Dhabi Media Company is a media and entertainment company that has embraced digital transformation and technology advancements. They offer a range of digital media services, including content creation, broadcasting, and digital platforms.

13. Emirates Advanced Investments Group (EAIG):

EAIG is an investment group that focuses on technology-driven sectors, including information technology, telecommunications, and defense. They invest in and support technology companies that contribute to the advancement of Abu Dhabi's IT landscape.

14. Accenture:

Accenture is a global professional services company that provides a range of services, including IT consulting, digital transformation, and Technology Solutions. They work with clients across various industries and have a presence in Abu Dhabi.

15. Huawei Technologies:

Huawei is a leading global provider of information and communication technology (ICT) infrastructure and smart devices. They have a h3 presence in Abu Dhabi and offer solutions in areas such as telecommunications, cloud computing, and artificial intelligence.
These companies further contribute to the IT ecosystem in Abu Dhabi, driving innovation, technological advancements, and digital transformation across various sectors.
Overview of IT jobs in Abu Dhabi
IT jobs offer a promising and dynamic career path with continuous progress and development opportunities.
Diverse Job Roles: The field of IT offers a wide range of job roles, including software development, network administration, cybersecurity, data analysis, cloud computing, artificial intelligence, and more. This diversity allows professionals to explore different areas and specialize in their preferred domains.
Continuous Learning: The IT industry is known for its rapid advancements and evolving technologies. Professionals in IT must continually update their skills and stay abreast of the latest trends and developments. This creates a learning-oriented environment, providing opportunities for ongoing professional growth and development.
Career Advancement: IT professionals have ample opportunities for career advancement. They can progress through different levels, such as entry-level positions, mid-level management, and senior leadership roles. With experience and expertise, individuals can take on higher responsibilities, lead teams, and contribute to strategic decision-making.
Specialization and Expertise: IT offers various paths for specialization and expertise. Professionals can choose to specialize in specific programming languages, software frameworks, networking technologies, cybersecurity, data science, cloud platforms, or emerging fields like artificial intelligence and machine learning. Developing expertise in a specific area can lead to higher demand, better career prospects, and increased earning potential.
Innovation and Creativity: The IT industry thrives on innovation and creativity. Professionals are encouraged to think outside the box, come up with innovative solutions to challenges, and contribute to the development of new technologies and applications. This environment fosters creativity and allows individuals to explore their ideas and make a meaningful impact.
Collaboration and Teamwork: IT jobs often involve working in teams and collaborating with professionals from diverse backgrounds. This provides an opportunity to develop strong interpersonal skills, effective communication, and teamwork abilities. Collaborative environments promote knowledge-sharing, problem-solving, and the exchange of ideas, contributing to personal and professional growth.
Global Opportunities: IT is a global industry, and professionals have the opportunity to work on projects and collaborate with individuals from around the world. This global exposure opens doors to international assignments, cross-cultural experiences, and the chance to work with diverse teams, expanding professional networks and broadening horizons.
Competitive Compensation: The IT industry is known for offering competitive compensation packages due to the high demand for skilled professionals. IT jobs often come with attractive salaries, benefits, and additional incentives, reflecting the value of the skills and expertise that IT professionals bring to organizations.
Overall, IT jobs offer a dynamic and ever-evolving career path with numerous opportunities for growth, specialization, and personal development. With the continuous advancements in technology, the demand for skilled IT professionals is expected to remain high, providing a favorable outlook for career progression and development.
Salary of Software Engineer in Companies
Salaries in the IT industry can vary depending on several factors such as job role, experience, skills, location, and company size
Software Developer/Engineer: Entry-level software developers can expect salaries starting from $50,000 to $70,000 per year. With experience, senior software developers can earn between $80,000 and $120,000 or more, depending on their expertise and the complexity of the projects they work on.
Data Analyst/Scientist: Entry-level data analysts can earn salaries ranging from $55,000 to $75,000 per year. Senior data analysts and data scientists with several years of experience can earn salaries upwards of $100,000, with the potential to earn significantly more in specialized industries such as finance or healthcare.
Network Administrator/Engineer: Network administrators typically earn salaries between $60,000 and $90,000 per year, depending on their level of experience and the complexity of the network infrastructure they manage. Senior network engineers or architects can earn salaries exceeding $100,000.
Cybersecurity Analyst/Engineer: Entry-level cybersecurity analysts can earn salaries starting from $60,000 to $80,000 per year. With experience and specialized skills, such as in ethical hacking or incident response, cybersecurity professionals can earn salaries well over $100,000.
IT Project Manager: Salaries for IT project managers vary depending on the size and complexity of projects, as well as experience. Entry-level project managers can earn salaries around $70,000 to $90,000 per year, while senior project managers with extensive experience can earn salaries ranging from $100,000 to $150,000 or more.
Data Science Placement Success Story
Related searches
IT Companies in Abu Dhabi, Abu Dhabi IT Companies List, Top IT Companies in Abu Dhabi, Best IT Companies in Abu Dhabi, Top 10 IT Companies in Abu Dhabi, IT Jobs in Abu Dhabi, IT Jobs in Abu Dhabi for Freshers.