Top 20 IT Companies in Hanoi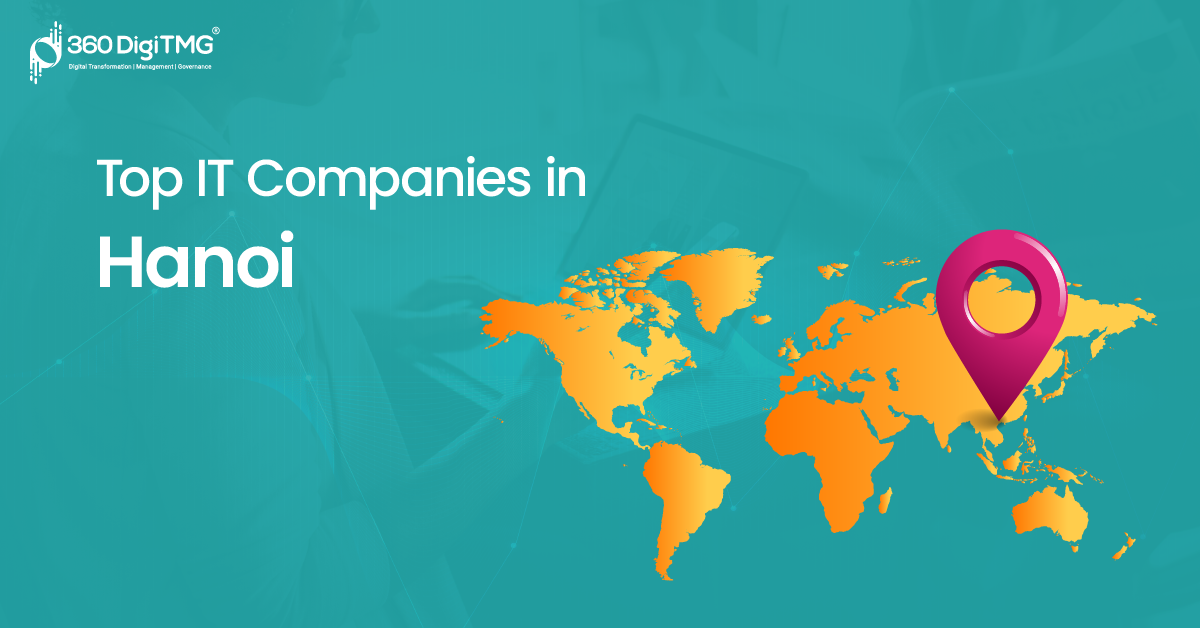 Introduction
Hanoi is the capital city of Vietnam and is in the northern part of the country. It is situated in the Red River Delta region and is bordered by the Red River to the east. Hanoi is positioned at approximately 21.03 degrees latitude and 105.85 degrees longitude. The city is located about 100 kilometres (62 miles) from the coast, making it a landlocked city. It is surrounded by several provinces, including Bac Ninh and Hung Yen to the east, Hoa Binh to the west, Vinh Phuc to the northwest, and Ha Nam to the south. Hanoi is the political, cultural, and economic centre of Vietnam. It has a rich history that spans over a thousand years and is known for its blend of traditional Vietnamese culture and French colonial influence. The city is characterized by its beautiful lakes, historical landmarks, vibrant street markets, and bustling Old Quarter. Hanoi is well-connected both domestically and internationally. The Noi Bai International Airport serves as the main gateway for air travel, offering flights to various destinations in Asia and beyond. The city also has an extensive road network and a railway system that connects it to other major cities in Vietnam.
Overall, Hanoi's location in the northern part of Vietnam and its status as the capital city contribute to its significance and influence in the country's political, cultural, and economic landscape.
History of Hanoi
Hanoi has a rich and storied history that dates back over a thousand years. The city was originally founded in 1010 by Emperor Ly Thai To, who established it as the capital of Dai Viet, the precursor to modern-day Vietnam. Hanoi served as the political, cultural, and economic centre of the region.
Over the centuries, Hanoi experienced numerous political changes, conflicts, and foreign occupations. In the 19th century, the city came under French colonial rule and became the administrative centre of French Indochina. The French influence is still evident in Hanoi's architecture, particularly in the elegant French Quarter.
During the mid-20th century, Hanoi played a significant role in the struggle for Vietnamese independence. It served as the capital of North Vietnam during the Vietnam War, and it was heavily bombed by the United States. Despite the destruction, Hanoi emerged as the capital of a unified Vietnam in 1976 following the end of the war.
Since reunification, Hanoi has undergone rapid development and modernization. The city has expanded its infrastructure, improved transportation systems, and witnessed significant economic growth. Hanoi has preserved its historical charm while embracing the advancements of the modern world. Today, Hanoi is a vibrant and bustling metropolis with a thriving cultural scene, bustling street markets, ancient temples, and a blend of traditional and modern architecture. It is home to various government institutions, universities, and a growing IT and technology sector.
The rich history of Hanoi is celebrated through its numerous historical landmarks, including the Ho Chi Minh Mausoleum, the Temple of Literature, Hoàn Kiem Lake, and the Old Quarter. These sites serve as reminders of Hanoi's past and attract both local and international visitors who come to experience the city's unique blend of tradition, history, and modernity.
Tech Scene
The tech scene in Hanoi has been growing rapidly in recent years, establishing itself as a hub for innovation and technology in Vietnam. The city is home to a vibrant ecosystem of startups, tech companies, and skilled professionals.
One of the key drivers of Hanoi's tech scene is the strong support from the government and local authorities. Initiatives and policies have been implemented to foster entrepreneurship, attract investment, and promote technological advancements. This has created a favourable environment for tech companies to thrive and innovate.
Hanoi has a growing number of co-working spaces, incubators, and tech parks that provide infrastructure and resources for startups and tech companies. These spaces serve as a breeding ground for collaboration, idea-sharing, and networking among entrepreneurs and tech enthusiasts.
The city has seen significant developments in various tech sectors, including software development, e-commerce, fintech, artificial intelligence, and blockchain. Startups and established companies alike are leveraging these technologies to create innovative solutions and disrupt traditional industries.
Hanoi also hosts various tech events, conferences, and meetups, providing opportunities for knowledge sharing, skill development, and networking. These events attract local and international participants, fostering connections and collaborations within the tech community.
The availability of a skilled workforce is another strength of Hanoi's tech scene. The city boasts several prestigious universities and educational institutions that produce talented graduates in computer science, engineering, and other tech-related fields. This talent pool provides a valuable resource for tech companies seeking skilled professionals.
Overall, the tech scene in Hanoi is dynamic and evolving, with a strong focus on innovation, entrepreneurship, and technological advancements. The city's supportive ecosystem, combined with its talented workforce and growing investment opportunities, positions Hanoi as a prominent player in the technology landscape of Vietnam and the wider Southeast Asian region.
Best IT companies in Hanoi
These companies offer a range of IT services and solutions, including software development, IT consulting, system integration, cloud services, cybersecurity, and more. They contribute to the growth and development of Hanoi's technology sector, driving innovation and creating employment opportunities for skilled professionals.
1. FPT Corporation:

One of the leading IT companies in Vietnam, offering a wide range of services such as software development, digital transformation, and IT consulting.

2. Viettel Group:

A telecommunications and IT company that provides a comprehensive range of services, including mobile networks, internet services, and digital solutions.

3. CMC Corporation:

A technology conglomerate involved in IT solutions, software development, cloud computing, and digital transformation services.

4. VNG Corporation:

Known for its popular online entertainment and gaming platforms, VNG Corporation also offers digital media, e-commerce, and software development services.

5. Vietcombank-ITC:

The IT subsidiary of Vietnam's largest commercial bank, offering IT services, software development, and system integration solutions.

6. Harvey Nash Vietnam:

A global IT outsourcing and software development company, providing IT staffing, recruitment, and software development services.

7. Tinhvan Group:

Offers a wide range of IT services, including software development, system integration, and digital solutions for various industries.

8. NashTech Vietnam:

An international software development and technology consulting company, specializing in agile software development, IT consulting, and outsourcing.

9. VietSoftware International:

Provides software development services, IT solutions, and consulting services to clients across various industries.

10. TMA Solutions:

A leading software development company, offering offshore software development, application maintenance, and testing services.

11. FSOFT:

Offers IT consulting, software development, and system integration services, focusing on enterprise solutions and digital transformation.

12. AIC Group:

Provides IT services, software development, and digital transformation solutions to clients in Vietnam and internationally.

13. Savvycom Software:

A software development company specializing in mobile app development, web development, and custom software solutions.

14. VNPT Technology:

Offers IT solutions, software development, and system integration services, catering to clients in telecommunications, finance, and government sectors.

Provides cloud-based collaborative software solutions, focusing on enterprise communication, project management, and workflow automation.

16. Bamboo Agile:

A software development company specializing in web and mobile app development, QA testing, and IT consulting services.

17. Base Enterprise:

Offers IT solutions and software development services, focusing on enterprise resource planning (ERP) systems and business intelligence solutions.

18. LogiGear Vietnam:

Provides software testing and QA services, test automation solutions, and software development outsourcing.

19. Vietsolutions:

Specializes in software development, IT solutions, and system integration services for various industries.

20. HPT Vietnam:

Offers IT services, software development, and IT infrastructure solutions, serving clients in telecommunications, finance, and government sectors.
These companies play a crucial role in driving innovation, technological advancements, and economic growth in Hanoi's IT sector.
Overview of IT Jobs in Hanoi
IT jobs have tremendous potential for progress and development in today's digital era.
Constant Technological Advancements: The field of IT is continuously evolving with advancements in technology. This creates a dynamic environment where IT professionals need to stay updated with the latest trends, tools, and programming languages. As new technologies emerge, new job opportunities are created, allowing professionals to specialize in areas such as artificial intelligence, machine learning, cybersecurity, cloud computing, and data science.
Diverse Job Roles: IT offers a wide range of job roles, catering to different skill sets and interests. From software development and programming to network administration, database management, system analysis, cybersecurity, and IT consulting, there are numerous career paths to choose from. Professionals can explore various roles and gain expertise in their chosen domain.
Skill Development and Training: IT jobs provide ample opportunities for skill development and continuous learning. Professionals can enhance their expertise through certifications, online courses, workshops, and industry conferences. Employers often encourage and support employee development to ensure they stay up to date with the latest technologies and best practices.
Career Growth and Advancement: IT professionals have excellent prospects for career growth and advancement. As they gain experience and expertise, they can move up the career ladder to managerial or leadership roles. Additionally, there are opportunities to work on challenging projects, lead teams, and take on higher responsibilities.
Global Demand: IT skills are in high demand worldwide, opening up opportunities for professionals to work globally or remotely. The digital nature of IT allows professionals to collaborate with teams across borders and work on international projects. This global demand ensures a wide range of job opportunities and competitive salaries.
Innovation and Entrepreneurship: The IT industry fosters a culture of innovation and entrepreneurship. Many IT professionals start their own ventures or contribute to startups, leveraging their skills and knowledge to create innovative solutions. The startup ecosystem provides an environment where individuals can take risks, experiment with ideas, and create groundbreaking technologies.
Cross-Industry Impact: IT professionals are not limited to the IT industry alone. The digital transformation of various sectors has created a demand for IT expertise across industries such as healthcare, finance, manufacturing, transportation, and retail. IT professionals can work in diverse domains and contribute to the digitalization and optimization of different sectors.
In summary, IT jobs offer immense potential for progress and development. With continuous technological advancements, a diverse range of job roles, opportunities for skill development, global demand, and the ability to drive innovation, IT professionals can enjoy fulfilling and rewarding careers in the ever-evolving IT industry.
Salary of Software Engineer in Hanoi
The salaries in the IT industry can vary significantly depending on factors such as job role, experience, location, company size, and industry.
Software Developer/Engineer: The average salary for software developers/engineers can range from $60,000 to $120,000 per year, depending on experience, skills, and location.
Data Scientist: Data scientists, with their expertise in analysing and interpreting complex data, can earn an average salary of $80,000 to $150,000 per year, depending on experience and location.
Network Administrator: Network administrators, responsible for managing and maintaining computer networks, can earn an average salary of $50,000 to $90,000 per year, depending on experience and company size.
Cybersecurity Analyst: With the increasing importance of cybersecurity, cybersecurity analysts can earn an average salary of $70,000 to $130,000 per year, depending on experience and industry.
IT Project Manager: IT project managers, responsible for overseeing and coordinating IT projects, can earn an average salary of $80,000 to $150,000 per year, depending on experience, project complexity, and company size.
Systems Administrator: Systems administrators, responsible for managing and maintaining computer systems, can earn an average salary of $60,000 to $100,000 per year, depending on experience and company size.
Data Science Placement Success Story
Related searches
IT Companies in HanoiIT Jobs in Hanoi.