Top 16 IT Companies in Dhaka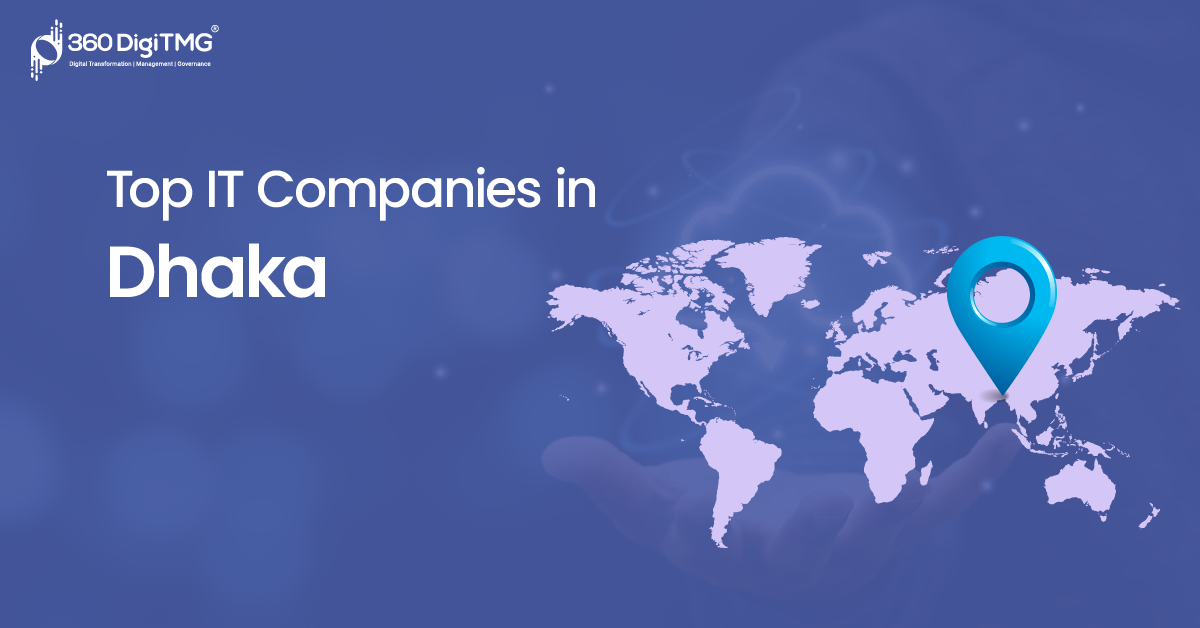 Introduction:
The country of Bangladesh's capital, Dhaka, is situated in the country's centre. In the centre of the vast Bengal Delta, it is located on the Buriganga River's banks.
About 306 square kilometres (118 square miles) in size, the city of Dhaka is renowned for its vibrant urban setting. The city serves as Bangladesh's economic, political, and cultural hub.
Over 400 years of history may be found in Dhaka. During the Mughal Empire, it served as the capital of Bengal, and later, under British colonial authority, it developed into a significant hub of trade and commerce. Dhaka is a bustling metropolis today with a mix of cutting-edge facilities, ancient sites, and a flourishing populace.
For its, the city is well-known Dhaka's tech community has expanded significantly in recent years. With numerous national and international businesses operating in the city, it has a thriving IT sector. software development, IT services, outsourcing, and e-commerce are the main focuses of Dhaka's IT industry. Additionally, the city is seeing an increase in startups and entrepreneurship, with cutting-edge tech firms appearing in a variety of industries.
With an international airport and a vast road and highway system, Dhaka is well-connected in terms of transportation. The city boasts a multicultural population and offers a variety of cultural activities, including as festivals, traditional food, and the arts.
Overall, Dhaka is an essential hub for business, innovation, and possibilities due to its strategic location, historical significance, and expanding tech industry.
History of Dhaka:
Bangladesh's capital city, Dhaka, has a lengthy history that is both active and rich. The city was a part of the ancient Buddhist kingdom of Kama Rupa in the 7th century, which is when historians can begin to piece together its history. Dhaka underwent numerous stages of political and cultural change over the centuries.
Dhaka was governed by the Delhi Sultanate, Bengal Sultanate, and Mughal Empire during the Middle Ages. It prospered as a significant hub of trade and commerce, drawing traders from all over Asia and Europe. The architectural and cultural advancement of the city was greatly influenced by the Mughal emperors. During this time, numerous exquisite mosques, palaces, and forts were built, including the well-known Lalbagh Fort and Ahsan Manzil.
Dhaka developed into a significant administrative hub for the British East India Company in Bengal in the 18th century. It served as one of the main British trading centres in South Asia. Under British rule, the city underwent a rapid urbanisation and development, with the building of contemporary institutions and infrastructure.
The Bangladeshi independence movement relied heavily on Dhaka. The Bangladesh Liberation War began on March 26, 1971, when the declaration of independence was proclaimed in Dhaka. The city, which played a crucial role in the fight for independence, sustained substantial damage throughout the conflict. Finally, on December 16, 1971, Bangladesh became an independent nation, with Dhaka serving as its capital.
Since independence, Dhaka's urbanisation has increased quickly. Dhaka has experienced significant urbanisation and growth since gaining its freedom. It now serves as Bangladesh's principal economic, political, and cultural hub. Overpopulation, traffic congestion, and infrastructure development have been problems for the city, but work is being done to overcome these problems and make Dhaka a modern, sustainable city.
Tech scene:
Dhaka is now a dynamic metropolis with a multiethnic populace, active markets, educational institutions, and a thriving arts and culture scene. As a representation of resiliency, development, and the spirit of the Bangladeshi people, the city continues to develop and shape its character. In recent years, Dhaka, Bangladesh's IT scene, has expanded and developed significantly. The city has developed into a centre for IT and tech-related activity, drawing startups, entrepreneurs, and businesses from both domestic and foreign markets.
The presence of a skilled and talented workforce is one of the main elements influencing the Dhaka tech scene. Numerous universities and educational institutes that specialise in computer science, engineering, and IT-related subjects are located in the city. As a result, there is now a pool of knowledgeable workers who are assisting in the expansion of the tech sector.
The Bangladeshi government has also taken steps to advance the IT industry and foster a welcoming environment for ICT businesses. Different laws and rewards have been implemented to promote investments, entrepreneurship, and technological innovation. As a result, tech parks, incubators, and accelerators that offer assistance and resources to start- ups and tech enterprises have been established.
A thriving startup environment is emerging in Dhaka, where several digital startups are developing ground-breaking concepts and solutions. Sectors like e- commerce, fintech, software development, mobile applications, and digital marketing have witnessed growth in the city. Startups are drawing funding and partnerships from multinational corporations while also expanding their reach beyond the domestic market.
Technology parks and IT centres are growing in Dhaka's infrastructure, creating a favourable climate for tech enterprises to prosper. These locations provide cutting-edge amenities, opportunities for networking, and The development of the tech sector in Dhaka has also been significantly influenced by the expansion of cell phones and high-speed internet access. It has made it possible for the expansion of tech-enabled services in a variety of industries, including finance, healthcare, transportation, and entertainment.
Overall, Dhaka's tech industry is vibrant and promising, with a helpful ecosystem, knowledgeable workers, and an increasing number of tech startups and companies. The city has the potential to develop into a regional technology powerhouse, boosting Bangladesh's economy and advancing its technology.
Best IT Companies in Dhaka:
1. Grameenphone:

With a broad selection of mobile services and solutions, Grameenphone is the top telecoms service provider in Bangladesh. They are renowned for providing cutting-edge telecommunications equipment and services.

2. Robi Axiata Limited:

Robi Axiata is another prominent telecommunications company in Bangladesh. They provide mobile voice, data, and value-added services to millions of customers. Robi Axiata is known for its focus on technological advancements and customer-centric approach.

3. Augmedix:

Augmedix is a healthcare technology company that specializes in providing remote medical documentation services. They use cutting-edge technologies such as artificial intelligence (AI) and natural language processing(NLP) to improve the efficiency and accuracy of medical documentation.

4. SSL Wireless:

SSL Wireless is a leading technology company that offers innovative solutions in the areas of mobile financial services, digital marketing, and enterprise solutions. They provide secure and reliable mobile payment solutions, mobile banking services, and digital content distribution platforms.

5. Brain Station 23:

Brain Station 23 is a software development company that offers a wide range of IT services, including software development, web development, mobile app development, and e-commerce solutions. They have a team of skilled software engineers and designers who deliver high-quality solutions to their clients.

6. Tiger IT:

Tiger IT is an IT consulting and solutions company that specializes in providing advanced technological solutions for various sectors, including government, healthcare, finance, and education. They focus on digital transformation, cybersecurity, and data analytics.

7. Technohaven Company Limited:

Technohaven is a software development and IT consulting company that offers customized software solutions, web development services, and IT infrastructure management. They cater to both local and international clients and are known for their expertise in software development.

8. Bdjobs.com:

Bdjobs.com is the largest job portal in Bangladesh and provides various IT-related services such as online job postings, recruitment solutions, and training programs. They connect employers with job seekers and play a significant role in the IT job market.

9. DataSoft Systems Bangladesh Limited:

DataSoft Systems is a leading software development company that offers innovative IT solutions, software products, and services. They have expertise in areas such as enterprise application development, data analytics, and cloud solutions.

10. Technobd Web Solutions:

Technobd is a web development and digital marketing company that provides website design, web application development, e- commerce solutions, and online marketing services. They have a skilled team of professionals who deliver creative and functional web solutions.

11. Datasoft Systems Bangladesh Ltd:

Datasoft Systems is a leading IT company that provides software development, system integration, and IT consultancy services. They specialize in areas such as e-Governance, banking solutions, and enterprise resource planning (ERP) systems.

12. BongoBD:

BongoBD is a digital entertainment platform that offers a wide range of online streaming services, including movies, music, and TV shows. They have a h3 focus on technology and innovation in the digital media industry.

13. WebAble Digital:

WebAble Digital is a digital marketing agency that offers services such as website development, search engine optimization (SEO), social media marketing, and content creation. They help businesses build a h3 online presence and drive digital growth.

14. eGeneration Ltd:

eGeneration is an IT and software development company that specializes in developing custom software solutions for businesses. They provide services such as software development, mobile app development, and IT outsourcing.

15. NewsCred:

NewsCred is a content marketing platform that helps businesses create, manage, and distribute content across various digital channels. They provide technology solutions and services that enable brands to deliver engaging content to their target audience.

16. CodersTrust Bangladesh:

CodersTrust is an IT education and training company that focuses on providing coding and programming courses to individuals, especially those from underprivileged backgrounds. They aim to empower aspiring developers and equip them with the skills needed for a career in IT.
Overview of IT jobs in Dhaka
IT jobs offer a wide range of opportunities for progress and development due to the rapid advancements in technology and its pervasive influence on various industries.
Continuous Learning: IT professionals are required to stay updated with the latest technologies, programming languages, and tools. Continuous learning is essential to enhance skills, stay relevant, and adapt to evolving industry trends. This can be achieved through online courses, certifications, workshops, and industry conferences
Career Advancement: IT jobs provide various career paths and opportunities for advancement. Starting from entry-level positions, individuals can progress to roles such as software developer, systems analyst, project manager, data scientist, cybersecurity expert, and IT manager. With experience and expertise, one can take up leadership positions and contribute to strategic decision- making.
Specialization: IT offers diverse specializations, allowing professionals to focus on specific areas of expertise. This includes software development, data analysis, cloud computing, artificial intelligence, cybersecurity, web development, mobile app development, and more. Specializing in a specific area can lead to higher demand, better job prospects, and increased earning potential.
Entrepreneurship and Freelancing: IT professionals have the opportunity to work as entrepreneurs or freelancers, providing services or developing products independently. This allows for creative freedom, flexibility in work arrangements, and the potential to work on a variety of projects for different clients or industries.
Global Opportunities: The IT industry is global in nature, with job opportunities available in various countries and across industries. IT professionals can explore international assignments, remote work options, and collaborations with teams from different cultural backgrounds, expanding their horizons and gaining valuable cross-cultural experiences.
Emerging Technologies: The IT industry is continuously evolving, with the emergence of new technologies such as artificial intelligence, blockchain, Internet of Things (IoT), and machine learning. Professionals who embrace these emerging technologies and acquire the necessary skills can take advantage of early adopter advantages and become pioneers in their fields.
Competitive Compensation: IT jobs often offer competitive salaries and benefits due to the high demand for skilled professionals. With experience and expertise, IT professionals can negotiate for higher compensation packages, bonuses, and additional perks.
Overall, the IT industry provides a dynamic and rewarding environment for professionals to progress and develop their careers. Continuous learning, specialization, and keeping up with emerging technologies are key factors for success in this field.
Salary of Software Engineer in Dhaka
Salaries in the IT industry can vary significantly depending on factors such as job role, experience, skills, location, and company size.
Software Developer/Engineer: The average salary for software developers/engineers can range from $70,000 to $120,000 per year, depending on experience and expertise. Senior software developers or those with specialized skills may earn even higher salaries.
Data Scientist: Data scientists, who analyze and interpret complex data sets, can earn an average salary of $90,000 to $150,000 per year. Their salaries can increase significantly with advanced degrees and industry experience.
IT Project Manager: IT project managers, responsible for overseeing and coordinating technology projects, can earn an average salary of $80,000 to $120,000 per year. Salaries can vary based on project size, complexity, and industry
Cybersecurity Specialist: Cybersecurity specialists, who protect computer systems and networks from security breaches, can earn an average salary of $90,000 to $130,000 per year. Salaries can be higher for those with advanced certifications and experience in high-demand areas like ethical hacking and threat intelligence.
Cloud Architect: Cloud architects, who design and manage cloud infrastructure for organizations, can earn an average salary of $100,000 to $150,000 per year. Their salaries can be influenced by the level of expertise in specific cloud platforms such as Amazon Web Services (AWS), Microsoft Azure, or Google Cloud.