Top 20 IT Companies in Bangalore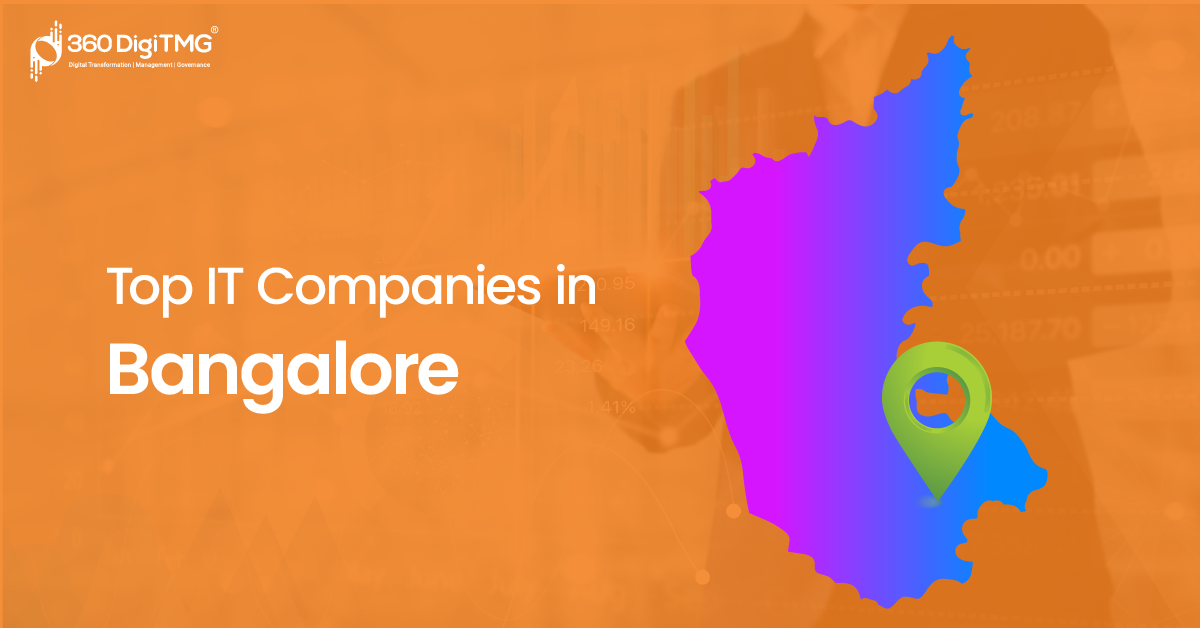 Introduction
Bangalore officially known as Bengaluru, is a major city located in the southern part of India, specifically in the state of Karnataka. It is the capital city of Karnataka and is often referred to as the "Silicon Valley of India" due to its prominent position as a technology and innovation hub. Bangalore is situated on the Deccan Plateau at an average elevation of 900 meters (2,953 feet) above sea level. It is located approximately at the coordinates 12.9716° N latitude and 77.5946° E longitude. The city is surrounded by several hills, including the Nandi Hills to the north and the Bannerghatta National Park to the south. Bangalore is situated in the southeastern part of Karnataka, about 345 kilometers (214 miles) west of the Bay of Bengal.
Bangalore is well-connected to other major cities in India through air, rail, and road networks. The Kempegowda International Airport serves as the primary airport in the city, offering domestic and international flights. The Bangalore City Junction is the main railway station, connecting Bangalore to various parts of the country through a well-developed rail network. The city is also accessible through national highways and state highways.
Known for its pleasant climate, Bangalore experiences a tropical savanna climate characterized by mild winters, warm summers, and a distinct monsoon season. The city is renowned for its parks, gardens, lakes, and vibrant culture.
As the center of India's IT industry, Bangalore attracts professionals, entrepreneurs, and tech companies from around the world. It is home to numerous multinational IT corporations, research institutions, and startups, contributing to its reputation as a leading technology and innovation hub in India.
History of Bangalore
The history of Bangalore dates to ancient times, with evidence of human habitation in the region since the Stone Age. Over the centuries, Bangalore has witnessed the rise and fall of several dynasties and empires, shaping its rich historical heritage.
Ancient and Medieval Periods:
The earliest known settlements in the Bangalore region can be traced back to the Iron Age and the megalithic period. The area came under the rule of the Gangs in the 4th century AD, followed by the Cholas in the 10th century. The Hoy Salas, under King Vishnuvardhan, took control of the region in the 12th century and made it an important centre of art, culture, and trade.
Vijayanagar and Mughal Influence:
During the 14th century, the Vijayanagar Empire, under the rule of Emperor Harihara Raya I, exerted control over Bangalore. The city flourished as a trading hub and witnessed the construction of several temples and structures. However, the decline of the Vijayanagar Empire led to political instability, and the region saw the influence of various local chieftains.
In the early 17th century, the Mughals captured Bangalore briefly, but their rule did not last long. The region came under the control of the Marathas, who appointed local chieftains as administrators.
British Era and Modern Bangalore:
The British East India Company established a trading post in Bangalore in 1638. The strategic location of Bangalore, its pleasant climate, and the availability of resources attracted the attention of the British, who saw its potential as a military and administrative centre.
In 1831, the British moved their regional administrative headquarters from Seringapatam to Bangalore. The city underwent significant development during British rule, with the construction of public buildings, parks, and institutions.
Post-Independence:
After India gained independence from British colonial rule in 1947, Bangalore became part of the newly formed Indian Union. It was initially the capital of the Mysore State and later became the capital of the present-day Karnataka state.
Since the late 20th century, Bangalore has experienced rapid industrialization and emerged as a major centre for information technology (IT) and innovation. The establishment of numerous IT companies and research institutions earned Bangalore the reputation of being the "Silicon Valley of India".
Today, Bangalore is a vibrant city known for its technological advancements, educational institutions, aerospace industry, and cultural diversity. It continues to be a major hub for IT, startups, and research and development, contributing significantly to India's economic growth and global recognition.
Some of the top sightseeing places to see in Bangalore, Cubbon Park, Visvesvaraya Industrial and Technological Museum, Bangalore Palace, Ulsoor Lake, Vidhana Soudha, Lalbagh Botanical Garden, and many others.
Tech Scene
The tech scene in Bangalore (Bengaluru) is renowned globally and often referred to as the "Silicon Valley of India" due to its thriving IT industry, startup ecosystem, and technological advancements.
Information Technology (IT) Hub: Bangalore is a major IT hub in India and hosts the presence of numerous multinational IT companies, including giants like Infosys, Wipro, Tata Consultancy Services (TCS), and Accenture. These companies provide software development, IT consulting, and other technology services to clients worldwide.
Startup Ecosystem: Bangalore has a vibrant startup ecosystem, nurturing innovation and entrepreneurship. The city has witnessed the emergence of several successful startups across various sectors, including technology, e-commerce, fintech, health tech, and Artificial Intelligence. The supportive ecosystem offers mentorship programs, incubators, accelerators, and co-working spaces for aspiring entrepreneurs.
Research and Development (R&D): Bangalore is home to numerous research and development centres of multinational corporations. These R&D centres focus on cutting-edge technologies, product development, and innovation. Companies such as IBM, Microsoft, Google, Intel, and many others have significant R&D facilities in Bangalore.
Technology Events and Conferences: Bangalore hosts a plethora of tech events, conferences, and meetups throughout the year. These events bring together industry experts, entrepreneurs, investors, and technology enthusiasts to discuss trends, showcase innovations, and foster networking opportunities. Examples include the Bangalore Tech Summit, NASSCOM Technology and Leadership Forum, and various specialized technology conferences.
Incubators and Accelerators: Bangalore boasts several incubators and accelerators that provide support and resources to early-stage startups. These organizations offer mentoring, funding, infrastructure, and networking opportunities to help startups scale and succeed. Some notable incubators and accelerators include Techstars, Axillar Ventures, and NASSCOM Startup Warehouse.
Co-working Spaces: Bangalore has a thriving co-working space culture, catering to the needs of startups, freelancers, and small businesses. These shared workspaces provide a collaborative environment, shared amenities, and networking opportunities for professionals in the tech industry.
Tech Parks and SEZs: The city hosts various tech parks and Special Economic Zones (SEZs), which serve as hubs for IT and technology companies. These tech parks provide state-of-the-art infrastructure, office spaces, and a supportive environment for businesses to thrive. Prominent tech parks in Bangalore include the International Tech Park Bangalore (ITPB), Manyata Tech Park, and Electronic City.
The tech scene in Bangalore continues to evolve and innovate, attracting talent from across India and around the world. The city's supportive ecosystem, presence of global technology players, and entrepreneurial spirit make it a dynamic hub for the tech industry in India.
Best IT companies in Bangalore
Bangalore (Bengaluru) is home to numerous renowned IT companies.
1. Infosys:

Infosys is a global leader in consulting, technology, and outsourcing services. It offers a range of IT services, including application development, infrastructure management, and digital transformation.

2. Wipro:

Wipro is a multinational IT services company that provides IT solutions, consulting, and business process services. They have a strong presence in Bangalore and cater to clients across industries.

3. Tata Consultancy Services (TCS):

TCS is one of the largest IT services and consulting companies globally. They offer a comprehensive suite of IT services, including application development, infrastructure management, and digital solutions.

4. Accenture:

Accenture is a leading global professional services company that provides a wide range of IT services, including strategy, consulting, digital, technology, and operations services.

5. IBM:

IBM is a renowned technology company offering a broad range of IT products, services, and solutions. They have a significant presence in Bangalore, focusing on research and development, cloud computing, AI, and analytics.

6. Microsoft:

Microsoft, a technology giant, has a strong presence in Bangalore. They offer a wide range of software products and services, including operating systems, cloud computing, productivity tools, and enterprise solutions.

7. Oracle:

Oracle is a multinational technology company known for its database management systems, enterprise software, and cloud solutions. They have a significant presence in Bangalore, serving clients across industries.

8. Cisco Systems:

Cisco Systems is a global leader in networking and IT infrastructure solutions. They provide networking equipment, software, and services for businesses worldwide.

9. Intel:

Intel, a leading semiconductor company, has a significant presence in Bangalore. They specialize in the design and manufacturing of processors and other hardware technologies.

10. Mindtree:

Mindtree is an international IT consulting and services company that provides technology solutions and services to clients across various industries.

11. Amazon Development Centre:

Amazon operates a significant development centre in Bangalore, focusing on e-commerce, cloud computing, and technology solutions.

12. Cognizant Technology Solutions:

Cognizant is a multinational IT services and consulting company that offers a wide range of services, including digital solutions, consulting, and software development.

13. Hewlett Packard Enterprise (HPE):

HPE is a global technology company providing IT infrastructure, software, and services. They have a presence in Bangalore, catering to enterprise customers.

14. SAP Labs India:

SAP Labs India is the research and development division of SAP, a leading enterprise software company. They focus on developing innovative software solutions for businesses.

15. Dell Technologies:

Dell Technologies is a multinational technology company offering hardware, software, and IT services. They have a significant presence in Bangalore, focusing on research and development.

16. Capgemini:

Capgemini is a global consulting, technology services, and digital transformation company. They offer a wide range of IT services, including software development, consulting, and infrastructure management.

17. Qualcomm India:

Qualcomm is a leading semiconductor and telecommunications equipment company. Their Bangalore office focuses on research and development in the areas of wireless communication technologies.

18. Nvidia:

Nvidia is a technology company known for its graphics processing units (GPUs) and AI computing solutions. They have a presence in Bangalore, focusing on research and development.

19. Mphasis:

Mphasis is an IT services and solutions provider catering to various industries. They offer services in application development, infrastructure management, and business process outsourcing.

20. SAP India:

SAP India is the Indian subsidiary of SAP, specializing in enterprise software solutions. They provide software applications, analytics, and cloud solutions to businesses.
Overview of IT Jobs in Bangalore
IT jobs offer a wide range of opportunities for progress and development, allowing individuals to build rewarding and successful careers.
Entry-Level Positions: Most professionals start their IT careers in entry-level positions, such as software developers, systems administrators, help desk support, or data analysts. These roles provide a foundation for gaining practical experience and understanding the fundamentals of IT operations.
Skill Development: Continuous learning and skill development are essential for progressing in the IT field. IT professionals can enhance their technical skills through certifications, online courses, workshops, and practical projects. Skills in programming languages, cloud computing, cybersecurity, data analytics, and emerging technologies like artificial intelligence and machine learning are highly sought after.
Specialization: As IT professionals gain experience and expertise, they can choose to specialize in specific areas. This could involve focusing on a particular programming language, database management, network security, web development, data science, or cloud architecture. Specialization helps professionals become experts in their chosen domains, leading to more challenging and higher-paying roles.
Leadership and Management Roles: With experience and demonstrated skills, IT professionals can progress into leadership and management positions. These roles may include IT project manager, IT manager, technology director, or Chief Information Officer (CIO). Leadership positions involve overseeing teams, managing projects, making strategic decisions, and aligning technology initiatives with business goals.
Entrepreneurship and Startups: Some IT professionals choose to explore entrepreneurship and start their own ventures. With a strong technical background and industry knowledge, they can create innovative solutions, build startups, or become technology consultants. Entrepreneurship offers the opportunity for autonomy, creativity, and potentially significant financial rewards.
Continued Professional Growth: IT professionals should continuously stay updated with the latest technological advancements and industry trends. Attending conferences, participating in professional communities, networking, and pursuing advanced degrees can contribute to continuous professional growth. Specialized certifications and advanced degrees can open up opportunities for research, academia, or specialized roles.
Consulting and Freelancing: Experienced IT professionals often explore opportunities in consulting or freelancing. They can leverage their expertise to offer specialized services, provide guidance to organizations, or work on short-term projects. Consulting and freelancing offer flexibility, varied experiences, and potential financial gains.
International Opportunities: The IT industry offers global opportunities, allowing professionals to work in different countries or for multinational organizations. International exposure can provide valuable experiences, cross-cultural collaboration, and a broader perspective on technology practices.
It's important to note that career progression in IT is not solely dependent on technical skills. Developing communication, leadership, problem-solving, and teamwork abilities are also crucial for advancement.
Overall, the IT field provides a dynamic and ever-evolving landscape for professionals to progress, develop their skills, and build rewarding careers. Continuous learning, adaptability, and a passion for staying ahead of the curve are key factors for success in the IT industry.
Salary of Software Engineer in Bangalore
Salaries in the IT industry can vary widely depending on several factors, such as job role, experience, location, company size, and industry demand.
Entry-Level Positions: Salaries for entry-level IT positions typically range from around $40,000 to $70,000 per year, depending on the specific role and location. These roles may include software developers, systems administrators, data analysts, and technical support specialists.
Mid-Level Positions: As professionals gain experience and expertise, they can expect higher salaries. Mid-level IT positions such as software engineers, database administrators, IT project managers, and cybersecurity analysts can earn salaries in the range of $70,000 to $120,000 per year.
Senior-Level Positions: Senior IT roles, including IT managers, solution architects, data scientists, and senior software engineers, often come with higher salaries. Salaries for senior-level positions can range from $100,000 to well over $150,000 per year, depending on the location and the specific demands of the role.
Specialized Roles: Specialized IT roles, such as artificial intelligence and machine learning experts, cloud architects, cybersecurity specialists, and data engineers, often command higher salaries due to their high-demand skills. These roles can earn salaries ranging from $100,000 to $200,000 or more per year.
Management and Leadership Positions: IT professionals who move into management and leadership positions, such as IT directors, Chief Technology Officers (CTOs), and Chief Information Officers (CIOs), can earn salaries in the range of $150,000 to $300,000 or more per year, depending on the organization and the responsibilities involved.
Related searches
IT Companies in Bangalore, Bangalore IT Company list , IT Jobs at Bangalore, Top IT Companies in Bangalore , best IT Companies in Bangalore, IT Companies in Bangalore for Freshers, IT Software Companies in Bangalore, IT industry in Bangalore