Top 10 IT Companies in Dubai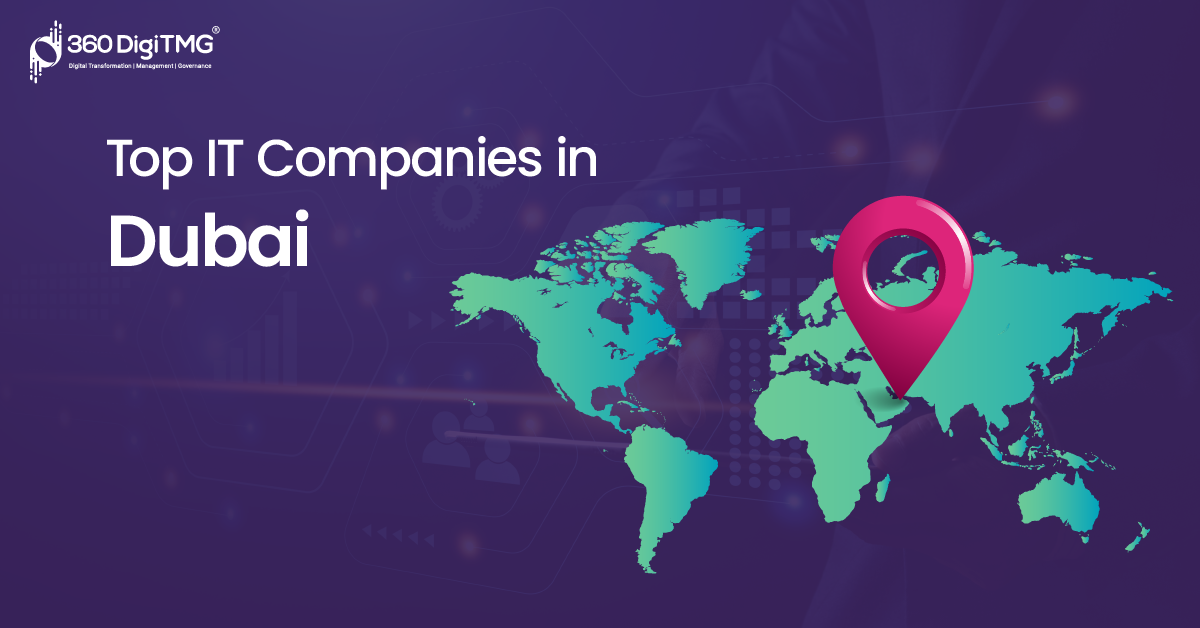 Introduction
Dubai, known for its iconic skyline and thriving business landscape, has emerged as a global technology hub in recent years. With its strategic location, state-of-the-art infrastructure, and government support for innovation, Dubai has become a magnet for tech companies and IT professionals alike. In this dynamic city, the IT sector has experienced significant growth, contributing to the city's economic diversification and digital transformation.
History of Dubai
Dubai's journey in the field of information technology began in the 1990s when the government recognized the importance of technology for economic growth. The establishment of Dubai Internet City in 1999 marked a turning point in the city's tech landscape. This free economic zone became a hub for technology companies, attracting multinational corporations, startups, and entrepreneurs from around the world. Subsequently, Dubai expanded its focus on technology by launching Dubai Silicon Oasis, a dedicated technology park, and Dubai Internet of Things (IoT) strategy, emphasizing the city's commitment to innovation and smart city initiatives.
In the early 2000s, Dubai embarked on a series of ambitious projects to position itself as a global technology and business hub. The city invested heavily in infrastructure development, creating world-class facilities and cutting-edge technological infrastructure to support the growth of the IT sector. The government's vision and initiatives aimed to transform Dubai into a knowledge- based economy, leveraging technology as a catalyst for economic diversification and sustainable development.
Dubai's strategic location, business-friendly policies, and focus on innovation attracted major international technology companies to set up their regional headquarters in the city. This influx of global players, along with the presence of local startups and entrepreneurs, fostered a collaborative ecosystem that encouraged knowledge-sharing, research, and development. The city's commitment to creating a favorable business environment, combined with its vision for a digital future, propelled Dubai's reputation as a leading destination for tech-driven businesses and investment.
In recent years, Dubai has continued to embrace emerging technologies to drive innovation across various sectors. The city has prioritized the adoption of cutting-edge solutions, such as artificial intelligence, blockchain, and smart city technologies, to enhance the quality of services, improve efficiency, and elevate the overall living standards for residents and businesses.
Dubai's leadership has also been actively promoting entrepreneurship and innovation through initiatives like the Dubai Future Accelerators, which connects startups with government entities to develop and implement transformative technologies. The government's support for innovation, coupled with a robust regulatory framework, has created an environment that fost'ers and attracts talent and investment from around the globe.
Tech Scene
The tech scene in Dubai is a vibrant and dynamic ecosystem that has experienced significant growth in recent years. The city has emerged as a regional and global hub for technology innovation, entrepreneurship, and digital transformation. Here are some key aspects of the tech scene in Dubai:
Government Support: Dubai's government has been a driving force behind the development of the tech sector. It has implemented various initiatives and policies to create an enabling environment for technology companies and startups. The Dubai Future Foundation, established in 2016, plays a crucial role in shaping Dubai's future by fostering innovation and supporting technology- driven projects.
Smart City Initiatives: Dubai's ambition to become a smart city has fueled the adoption of advanced technologies across different sectors. The city has implemented smart solutions in transportation, healthcare, energy, infrastructure, and more. These initiatives leverage cutting-edge technologies like the Internet of Things (IoT), artificial intelligence (AI), and blockchain to enhance efficiency, sustainability, and the overall quality of life for residents and businesses.
Thriving Startup Ecosystem: Dubai has seen a rapid rise in the number of startups and entrepreneurial ventures in the tech space. The city offers various incubators, accelerators, and co-working spaces that provide support, mentorship, and funding opportunities for startups. Events like the Dubai Startup Hub's Dubai Startup Hub's Market Access program and the annual STEP Conference further contribute to the growth of the startup ecosystem by bringing together innovators, investors, and industry experts.
Innovation Centers and Free Zones: Dubai is home to several innovation centers and free zones that attract technology companies and entrepreneurs from around the world. Dubai Internet City, Dubai Silicon Oasis, and Dubai Knowledge Park are prominent examples of these specialized zones that provide state-of-the-art infrastructure, business support services, and a collaborative environment for tech companies to thrive.
Global Tech Events: Dubai hosts several high-profile technology events that draw international attention and participation. The GITEX Technology Week, one of the largest tech exhibitions in the Middle East, attracts global industry leaders, startups, and innovators to showcase their latest products, services, and innovations. This event serves as a platform for networking, knowledge exchange, and exploring business opportunities.
Investment Opportunities: Dubai's tech scene offers attractive investment opportunities for local and international investors. The city has witnessed a rise in venture capital funds, angel investors, and government-backed funds focused on supporting technology startups and innovative projects. The Dubai Future Fund, Dubai Angel Investors, and Dubai Silicon Oasis Authority are some of the entities providing funding support to tech ventures.
The tech scene in Dubai continues to evolve and expand, driven by a combination of government support, innovative initiatives, and a favorable business environment. With its commitment to digital transformation and technological advancements, Dubai is poised to become a global leader in innovation and a hub for cutting-edge technologies in the years to come.
Best IT Companies in Dubai
Dubai is home to a diverse range of IT companies, spanning multinational corporations, regional players, and innovative startups. Here are 10 prominent IT companies in Dubai:
1. IBM Middle East and Africa:

IBM is a global technology company offering a wide range of IT solutions and services. Its Dubai office serves as a regional hub, providing consulting, software, hardware, and cloud services to clients across various industries.

2. Microsoft Gulf:

Microsoft is a leading technology company known for its software products, including Windows, Office Suite, and Azure cloud services. Its Dubai office supports customers in the Middle East and North Africa region, offering software solutions, cloud services, and digital transformation expertise.

3. Oracle Middle East:

Oracle is a multinational corporation specializing in database software, cloud services, and enterprise solutions. Its Dubai office caters to customers in the Middle East and offers a wide range of IT solutions, including database management systems, ERP systems, and cloud infrastructure.

4. Cisco Systems Middle East:

Cisco is a global leader in networking and IT infrastructure solutions. Its Dubai office provides networking hardware, software, and cybersecurity solutions to businesses in the Middle East, enabling secure and reliable connectivity.

5. Dell Technologies Middle East:

Dell Technologies is a multinational technology company offering a range of products and services, including PCs, servers, storage, and IT infrastructure solutions. Its Dubai office serves as a regional headquarters, providing IT solutions and support to businesses across industries.

6. SAP Middle East and North Africa:

SAP is a world-renowned enterprise software company specializing in ERP systems, customer relationship management (CRM), and other business applications. Its Dubai office offers software solutions and digital transformation services to organizations in the Middle East and North Africa region.

7. Huawei Technologies Middle East:

Huawei is a leading global provider of telecommunications and IT infrastructure solutions. Its Dubai office focuses on delivering innovative technologies and solutions, including networking equipment, cloud services, and IoT solutions.

8. HP Middle East:

HP is a well-known technology company offering a wide range of products, including personal computers, printers, and IT solutions. Its Dubai office provides businesses with hardware, software, and consulting services, catering to their technology needs.

9. HCL Technologies Middle East:

HCL Technologies is a multinational IT services and consulting company. Its Dubai office offers a comprehensive suite of IT services, including application development, infrastructure management, cybersecurity, and digital transformation solutions.

10. Infosys Limited Middle East:

Infosys is a global leader in consulting, technology, and outsourcing services. Its Dubai office serves as a regional hub, delivering IT services and solutions to clients in the Middle East, supporting their digital transformation and business growth.
Overview of IT Jobs in Dubai
IT jobs in Dubai offer promising opportunities for career growth and development. Professionals in the IT sector can progress in various ways. One path involves advancing within a specific technology domain, specializing in areas such as software development, cybersecurity, data analytics , or cloud computing. With continuous advancements in technology, staying updated with the latest trends and acquiring new skills through certifications or training programs is crucial for career advancement.
Another path for IT professionals is to take on leadership roles, such as IT project managers, technology consultants, or IT directors. These positions involve managing teams, overseeing complex projects, and contributing to strategic decision-making within organizations. Developing strong leadership, communication, and problem-solving skills is essential for professionals aspiring to progress in managerial positions.
Furthermore, Dubai's startup ecosystem presents opportunities for IT professionals to venture into entrepreneurship or join innovative tech startups. Dubai offers various incubators, accelerators, and government-supported initiatives that provide resources, mentorship, and networking opportunities for aspiring entrepreneurs.
Overall, Dubai's IT sector provides a dynamic environment for professionals to progress and develop their careers. Continuous learning, specialization, and adaptability to emerging technologies are key to seizing the growth opportunities in this evolving landscape. The city's commitment to innovation, smart city initiatives, and technology-driven projects creates a conducive environment for IT professionals to thrive and make significant contributions to Dubai's digital transformation journey.
Salary of Software Engineer in Dubai
Salaries in IT companies in Dubai vary depending on factors such as the role, level of experience, skills, and the company's size and industry. While actual figures may vary, here is a general overview of salary ranges for different job levels in the IT sector in Dubai:
Entry-Level Positions: For fresh graduates or individuals with limited work experience, entry-level positions in IT companies in Dubai typically offer salaries ranging from AED 5,000 to AED 12,000 per month. These roles may include positions such as junior software developers, technical support analysts, or junior system administrators. These salaries provide a starting point for professionals to gain hands-on experience and develop their skills within the industry.
Mid-Level Positions: As professionals gain more experience and expertise, mid- level positions in IT companies offer higher salaries. The salary range for mid- level roles, such as software engineers, IT project managers, or network administrators, typically falls between AED 12,000 and AED 25,000 per month. These roles involve greater responsibilities, specialized knowledge, and often require managing projects or teams.
Senior-Level Positions: Senior IT professionals with extensive experience and expertise can command higher salaries in Dubai. Salaries for senior-level roles, including IT managers, solution architects, or data scientists, can range from AED 25,000 to AED 45,000 per month or higher, depending on the industry and the specific skills demanded. These roles often involve strategic decision- making, leadership responsibilities, and managing complex IT initiatives.
Specialized and Technical Roles: IT professionals with niche skills or expertise in high-demand areas may receive even higher salaries. For example, professionals in fields like cybersecurity, cloud computing, data analytics, or artificial intelligence can expect salaries at the upper end of the range mentioned above or even higher. Dubai's tech industry seeks top talent in these areas and is willing to offer competitive compensation packages to attract and retain skilled professionals.
Management and Executive Roles: Executives and top-level management positions in IT companies in Dubai command higher salaries due to their leadership responsibilities and strategic roles. Salaries for C-level executives, such as Chief Information Officers (CIOs) or Chief Technology Officers (CTOs), can range from AED 50,000 to AED 100,000 or more per month, depending on the company's size, industry, and overall business performance.
Data Science Placement Success Story
Related searches
IT companies in Dubai, Top IT companies in Dubai, Dubai IT companies list, IT companies in Dubai internet city, Best IT companies in Dubai, IT software companies in Dubai, IT companies in Dubai for freshers, Top 10 IT companies in Dubai