Top 20 IT Companies in Guwahati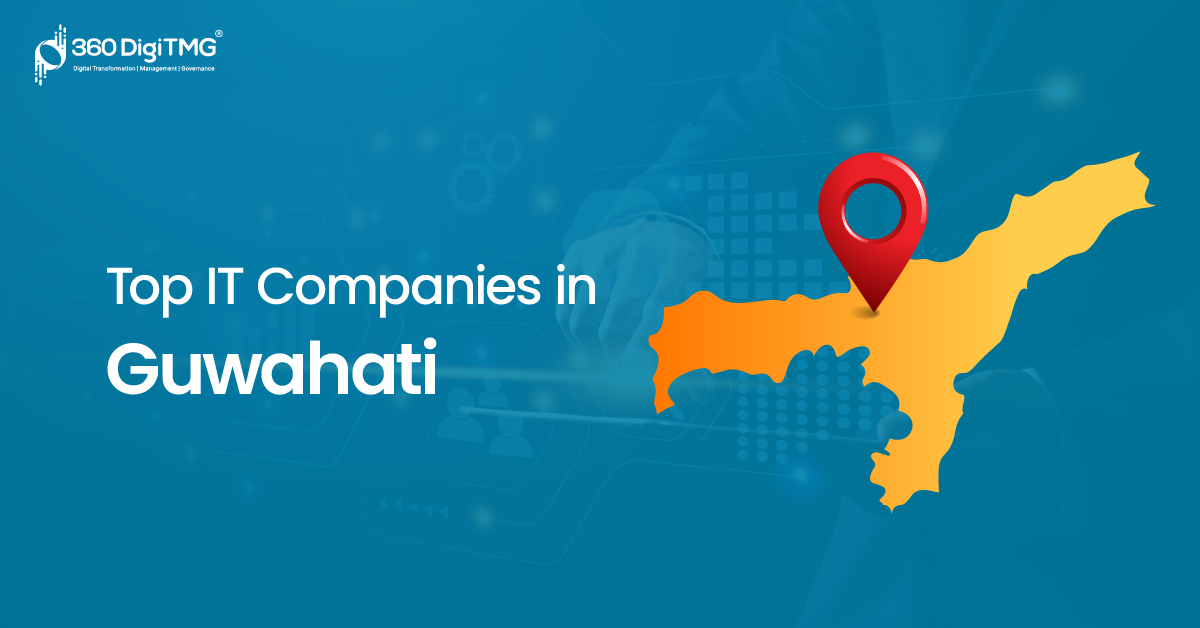 Introduction
Guwahati is a city located in the northeastern part of India. Here is an overview of the area and Guwahati is located at approximately 26.1445° N latitude and 91.7362° E longitude. The biggest city in the Indian state of Assam, India which is located in the country's northeast, is Guwahati. In addition to being a significant economic, educational, or transportation hub in the area, it acts as the entryway to the northeastern states. On the southern bank on the Brahmaputra River, among the largest rivers in India, sits Guwahati.
The city is surrounded by hills and is located at the foothills of the Shillong Plateau. Guwahati is well-connected in terms of transportation. It has an international airport, Lok Priya Gopinath Bordoloi International Airport, which serves as a major gateway to the northeast region. The city is connected to other parts of India through road and rail networks. The National Highway 27 connects Guwahati to other cities in Assam and neighbouring states.
Major Cities in the Vicinity: Guwahati is surrounded by several important cities and towns in the state of Assam. Some of the notable cities near Guwahati include Dispur (the capital of Assam), Tezpur, Jorhat, Silchar, and Dibrugarh.
Cultural Significance: Guwahati is a significant cultural hub in the northeastern area and is renowned for its vast cultural legacy. The city is home to a large number of temples, including the famed pilgrimage site Kamakhya Temple. The biggest cultural festival of Assam, Bihu, is one of the festivals that are held in Guwahati.
Guwahati is a prominent city in India's northeast because of its strategic position, natural beauty, & cultural legacy. The city attracts both locals and tourists because to its blend of urban comforts, cultural experiences, and accessibility to natural treasures.
History of Guwahati
Guwahati has a rich historical background that spans over many centuries.
Ancient Period: The region around Guwahati has a significant historical and mythological significance. The ancient city of Pragjyotishpura, mentioned in ancient Indian texts like the Mahabharata and the Kalika Purana, is believed to have been located in the present-day Guwahati area. It was said to be the capital of the legendary king Narakasura.
Medieval Period: Guwahati was an important center during the medieval period under the rule of various dynasties. The region came under the control of the Kamata kingdom, which was succeeded by the Koch dynasty in the 16th century. The Koch kings made Guwahati their capital and contributed to the development of the region.
Ahom Rule: In the 17th century, the Ahom dynasty, originally from present-day Myanmar, established control over the Brahmaputra Valley and made Guwahati an administrative center. The Ahoms built temples, tanks, and other infrastructure in and around Guwahati. They ruled the region until the British colonial era.
British Era: Guwahati came under British colonial rule in the 19th century. It was initially part of the Bengal Presidency and later became part of Assam Province. The British made several infrastructure developments, including the construction of roads, bridges, and administrative buildings. Post-Independence: After India gained independence in 1947, Guwahati became part of the state of Assam within the newly formed Republic of India. Over the years, Guwahati has experienced significant urbanization and industrialization, becoming a major city and commercial hub in the northeastern region.
Cultural Significance: Guwahati has a rich cultural heritage influenced by various communities and ethnic groups. The city is known for its religious and cultural landmarks, including the Kamakhya Temple, Umananda Temple, and Navagraha Temple. Guwahati also hosts various cultural festivals and events, such as Bihu, which is the major cultural festival of Assam.
Today, Guwahati stands as a thriving city that blends its historical past with modern developments. It serves as a center for trade, education, administration, and tourism in the northeastern region of India. The city's historical and cultural attractions, along with its natural beauty and strategic location, make it a significant destination for visitors and a hub of activity in Assam.
Tech Scene
The tech scene in Guwahati is steadily growing and evolving, contributing to the development of the city as a technology hub in the northeastern region of India.
Startups and Entrepreneurship: Guwahati has seen a rise in the number of tech startups and entrepreneurial ventures. These startups are working in various domains, including e-commerce, fintech, edtech, healthcare, and software development. The city provides a supportive ecosystem for startups with incubators, accelerators, and networking opportunities.
IT Services and Software Development: The IT services industry in Guwahati is expanding and provides a variety of services, such as development of software, the development of websites, development of mobile apps, and IT consultancy. Many companies in Guwahati provide customized IT solutions to clients from different industries.
Digital Marketing and E-commerce: The digital marketing and e-commerce sectors are gaining momentum in Guwahati. Businesses are leveraging digital platforms to market their products and services and expand their reach. E-commerce platforms are also emerging, providing opportunities for local businesses to sell products online.
Skill Development and Technology Education: Guwahati has several institutes and organizations focusing on technology education and skill development. These institutions offer courses and training programs in programming, web development, data analytics, and other technology-related fields. They contribute to building a skilled workforce and fostering technological innovation.
Government Initiatives: Initiatives have been started by the governments of Assam and India's centre to encourage the development of the technology industry in Guwahati. These initiatives include setting up technology parks, providing incentives for IT businesses, and organizing events and competitions to encourage innovation and entrepreneurship.
Digital Infrastructure: Guwahati has witnessed the development of digital infrastructure, including high-speed internet connectivity and the establishment of data centers. This infrastructure supports the growth of tech companies, enabling them to deliver efficient and reliable services.
Technology Events and Communities: Guwahati hosts technology-focused events, conferences, and meetups that bring together professionals, entrepreneurs, and enthusiasts. These events provide opportunities for networking, knowledge sharing, and collaboration.
IT Training and Certification: Training institutes in Guwahati offer IT certification programs to enhance the skills and employability of individuals. These certifications validate technical expertise and can boost career prospects in the IT industry.
The tech scene in Guwahati is witnessing a positive growth trajectory, with a focus on entrepreneurship, skill development, and technological innovation. The increasing presence of startups, IT services companies, and digital initiatives indicates the city's potential to become a thriving technology ecosystem in the northeastern region.
Best IT Companies in Guwahati
1. Wipro:

This is a well-known multinational IT services company with a presence in Guwahati. They offer a range of services including software development, IT consulting, and business process outsourcing.

2. TechVariable:

TechVariable is an IT company based in Guwahati that provides services such as software development, mobile app development, web development, and digital marketing.

3. Web.Com (India) Pvt. Ltd.:

This company provides web design, web development, and digital marketing services. It's a part of the global Web.com Group.

4. Kaziranga Technologies:

Kaziranga Technologies offers IT solutions including software development, web development, and mobile app development.

5. IndusNet Technologies:

While headquartered in Kolkata, IndusNet Technologies has a presence in Guwahati and provides services like web development, mobile app development, and digital marketing.

6. IshanTech:

IshanTech is an IT solutions company in Guwahati that specializes in web development, mobile app development, and digital marketing.

7. Octal Info Solution:

Octal Info Solution offers IT services including web and mobile app development, eCommerce solutions, and more.

8. Placid Vision:

Placid Vision provides IT services such as software development, web design, and digital marketing.

9. Arohan Technologies:

Arohan Technologies is an IT company that specializes in web development, mobile app development, and digital marketing services.

10. I-Net Solutions:

I-Net Solutions offers a range of IT services including software development, web design, and digital marketing.

11. Catalyst IT Solutions:

Catalyst IT Solutions provides software development, web development, and digital marketing services to clients.

12. Antino Labs:

Antino Labs is an IT company that focuses on mobile app development, web development, and software solutions.

13. Probit Technologies:

Probit Technologies offers IT services such as software development, web design, and digital marketing.

14. NorthEast Web Design:

This company specializes in web design and development services, catering to businesses in Guwahati and beyond.

15. Systems:

Riaxe Systems is an IT company with expertise in web and mobile app development, UI/UX design, and more.

16. The Hub Design Studio:

While primarily a design studio, The Hub Design Studio also offers web and app development services.

17. TechVariable Solutions:

TechVariable Solutions offers services such as software development, web development, mobile app development, and digital marketing.

18. DxMinds Innovation Labs:

DxMinds is a digital transformation company that provides services in AI, IoT, blockchain, and mobile app development.

19. Binary Data:

Binary Data specializes in software development, web design, mobile app development, and IT consulting.

20. Codebrahma Technologies:

Codebrahma focuses on web and mobile app development, offering solutions to clients in various industries.
Overview of IT Jobs in Guwahati
IT jobs offer numerous opportunities for progression and development, allowing individuals to build rewarding and dynamic careers.
Skill Development:
IT professionals can enhance their skills and knowledge by continuously learning and staying updated with emerging technologies and industry trends. They can acquire new programming languages, frameworks, or tools that are in demand in the market. By expanding their skill set, they become more versatile and open up opportunities for career growth.
Career Advancement:
IT professionals can progress within their careers by taking on more challenging roles and responsibilities. This may involve moving up the hierarchical ladder from junior to senior positions or transitioning into specialized roles such as project management, technical leadership, or system architecture. Career advancement often comes with increased responsibilities, leadership opportunities, and higher compensation.
Specialization and Expertise:
IT professionals can choose to specialize in specific areas of technology based on their interests and aptitudes. Specializing in domains such as cybersecurity, cloud computing, data analytics, artifical intelligences, or software development can make them subject matter experts. Having expertise in a specialized field can lead to higher demand, increased job prospects, and better remuneration.
Leadership and Management Roles:
IT professionals can progress into leadership and management positions, where they oversee teams, projects, or departments. Leadership roles require not only technical expertise but also strong communication, problem-solving, and decision-making skills. Moving into management positions allows IT professionals to have a broader impact on organizational strategy and drive business outcomes.
Entrepreneurship and Consulting:
Some IT professionals choose to start their own businesses or work as independent consultants. Entrepreneurship offers the opportunity to create innovative solutions, work on passion projects, and have control over one's professional journey. Consulting allows IT professionals to leverage their expertise to provide specialized services to clients, offer strategic advice, or lead transformational projects.
Continuous Learning and Professional Development:
IT professionals must embrace a lifelong learning mindset to keep pace with rapidly evolving technologies. They can participate in professional development programs, attend industry conferences, obtain certifications, or pursue higher education. Continuous learning not only enhances technical skills but also promotes personal growth and expands professional networks.
Networking and Industry Engagement:
Building a strong professional network is crucial for career development in the IT industry. Networking with peers, attending industry events, participating in forums, and engaging with professional organizations opens doors to new opportunities, collaborations, and mentorship.
Industry Recognition and Contributions:
IT professionals can gain recognition by contributing to the industry through research, publications, or innovative projects. Presenting at conferences, publishing articles, or contributing to open-source projects can enhance professional visibility and reputation. IT jobs offer a diverse range of career paths and the opportunity to work in various industries. With continuous learning, skill development, specialization, and leadership opportunities, IT professionals can progress and develop rewarding careers in an industry that is constantly evolving.
Salary of Software Engineer in Guwahati
Salaries in the IT industry can vary significantly depending on factors such as job role, experience level, location, company size, and specific skills.
Entry-Level Positions:
Software Developer: $50,000 - $80,000 per year
Web Developer: $45,000 - $70,000 per year
IT Support Specialist: $40,000 - $60,000 per year
Data Analyst: $50,000 - $70,000 per year
Mid-Level Positions:
Software Engineer: $70,000 - $110,000 per year
Systems Administrator: $65,000 - $90,000 per year
Database Administrator: $75,000 - $120,000 per year
IT Project Manager: $80,000 - $130,000 per year
Senior-Level Positions:
Senior Software Architect: $100,000 - $160,000 per year
IT Manager: $90,000 - $150,000 per year
Senior Data Scientist: $110,000 - $180,000 per year
Chief Technology Officer (CTO): $150,000 - $250,000+ per year
Specialized Roles:
Cybersecurity Analyst: $80,000 - $130,000 per year
Cloud Solutions Architect: $100,000 - $150,000 per year
Machine Learning Engineer: $100,000 - $160,000 per year
AI Research Scientist: $120,000 - $200,000+ per year
Related searches
IT companies in Guwahati, Top IT companies in Guwahati, IT companies in Guwahati assam, List of IT companies in Guwahati, Jobs in Guwahati, Jobs in Guwahati for freshers, Jobs in Guwahati for graduates, Jobs in Guwahati assam