Top 12 IT Companies in Kanpur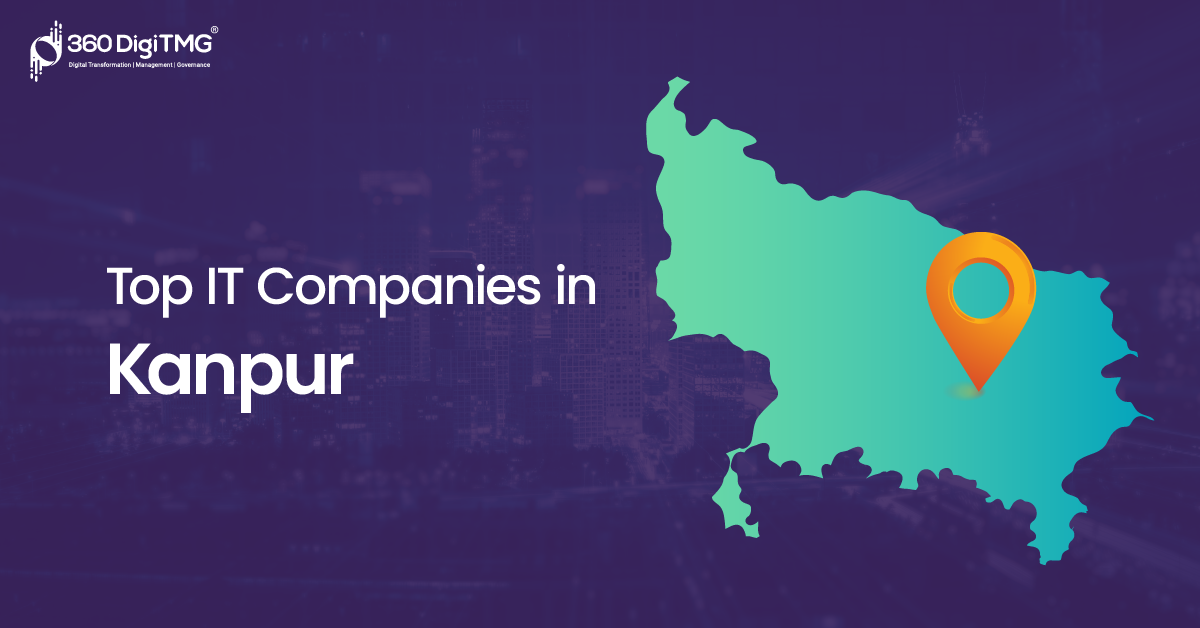 Introduction
Kanpur is a city located in the state of Uttar Pradesh, India. It is situated on the banks of the Ganges River and is known for its historical and industrial significance. Kanpur is located at approximately 26.4499° N latitude and 80.3319° E longitude. Kanpur is the largest city in Uttar Pradesh and serves as the administrative headquarters of Kanpur Nagar district. Kanpur is surrounded by several towns and cities, including Unnao to the north, Jajmau to the east, Fatehpur to the south, and Kanpur Dehat to the west.
Topography: Kanpur is situated on the Gangetic Plain, which is a vast fertile plain traversed by the Ganges River. The city's elevation is relatively low, ranging from about 126 to 151 meters (413 to 495 feet) above sea level.
Industrial Importance: Kanpur has been a significant industrial centre in India for many years. It is renowned for its leather and textile industries and is often referred to as the "Leather City of the World" due to its prominent leather production. Kanpur has a rich historical and cultural heritage. The city boasts several historical monuments, such as the Kanpur Memorial Church, Phool Bagh, and Bithoor, a nearby town associated with Hindu mythology. Kanpur is well-connected by road, rail, and air. It has its own railway station, Kanpur Central, which is one of the busiest in India. The city is also served by the Chaudhary Charan Singh International Airport in Lucknow, approximately 77 kilometers (48 miles) away.
Overall, Kanpur is a vibrant city with a blend of historical significance, industrial prominence, and cultural heritage, making it an important center in northern India.
History of Kanpur
Kanpur has a rich and diverse history that spans several centuries.
Ancient and Medieval Periods: The region around Kanpur has a long history dating back to ancient times. It was part of the Mauryan Empire in the 3rd century BCE and later came under the rule of the Kushan Empire. During the medieval period, the region witnessed the rise and fall of various dynasties, including the Delhi Sultanate and the Mughal Empire.
Foundation and Early Years: The modern history of Kanpur began in the 18th century when it was founded by the rulers of the state of Sachendi. The city was strategically located on the banks of the Ganges River, which facilitated trade and commerce. It served as an important centre for the British East India Company and played a crucial role in the British colonial administration.
Industrial Revolution and Growth: Kanpur witnessed significant growth during the British colonial period, particularly during the Industrial Revolution in the 19th century. The city became a major industrial hub, with industries such as cotton textiles, leather, and tanning flourishing. Kanpur was a centre of the Indian independence movement and witnessed various protests and uprisings against British rule.
Massacre of Cawnpore (1857): One of the most tragic events in Kanpur's history was the Massacre of Cawnpore (now Kanpur) during the Indian Rebellion of 1857. The British forces, along with European civilians, were besieged by rebel Indian soldiers and civilians in the Kanpur garrison. The siege ended with the killing of around 200 British men, women, and children. The British recaptured Kanpur later that year and took revenge by executing hundreds of Indian rebels.
Post-Independence Era: After India gained independence from British rule in 1947, Kanpur became an important industrial and commercial city in independent India. It continued to grow and attract investment in various sectors, contributing significantly to the economy of Uttar Pradesh and India as a whole.
Today, Kanpur remains an industrial centre, known for its textile mills, leather industry, and other manufacturing units. The city has also witnessed urban development, infrastructural improvements, and cultural advancements. Its historical landmarks, such as the Kanpur Memorial Church and Bithoor, attract tourists interested in exploring the city's rich past.
Tech Scene
The tech scene in Kanpur has been rapidly evolving and gaining momentum in recent years. The city has seen significant growth in the IT and software development sectors, leading to the emergence of a vibrant tech ecosystem.
IT Parks and Incubators: Kanpur has established IT parks and incubation centres that provide infrastructure and support for tech startups and companies. The Kanpur Technology Business Incubator (KTBI) is one such initiative that nurtures early-stage startups by offering mentorship, networking opportunities, and access to funding.
Startup Culture: Kanpur has witnessed a rise in the number of startups across various domains, including e-commerce, mobile applications, artificial intelligence, and cybersecurity. The entrepreneurial spirit has been fostered through initiatives like Startup India and various government-backed schemes aimed at promoting innovation and entrepreneurship.
Education and Research: Kanpur is home to prestigious educational institutions, including the Indian Institute of Technology (IIT) Kanpur, which is renowned for its engineering and technology programs. IIT Kanpur institutions contribute to the development of technical talent and research in the region, fostering innovation and technological advancements.
Tech Events and Meetups: Kanpur hosts tech events, conferences, and meetups that bring together industry professionals, entrepreneurs, and tech enthusiasts. These gatherings provide a platform for knowledge sharing, networking, and collaboration.
Skill Development and Training: Efforts have been made to enhance the technical skills of the local workforce. Training programs and skill development initiatives have been initiated to equip individuals with in-demand tech skills and promote employment opportunities in the IT sector.
Government Support: The state and central governments have introduced various policies and incentives to promote the growth of the tech industry in Kanpur and Uttar Pradesh. These include tax benefits, infrastructure development, and financial assistance to startups and technology-driven initiatives.
Digital Transformation: The government's push for digitalization and the adoption of technology in various sectors, such as e-governance, healthcare, agriculture, and education, has further fuelled the tech scene in Kanpur. Digital initiatives have improved access to services, increased efficiency, and created opportunities for tech-based solutions.
Overall, the tech scene in Kanpur is on an upward trajectory, driven by the growth of startups, the presence of educational institutions, government support, and a favorable environment for innovation. The city is poised to become a significant player in the tech ecosystem of Uttar Pradesh and contribute to India's digital transformation.
Best IT Companies in Kanpur
Kanpur is home to several notable IT companies that have made significant contributions to the technology sector.
1. Tata Consultancy Services (TCS):

TCS is a leading global IT services, consulting, and business solutions company. It has a presence in Kanpur and provides a range of IT services, including software development, infrastructure management, and business process outsourcing.

2. Tech Mahindra:

Tech Mahindra is a multinational IT company that offers services in areas such as consulting, digital transformation, software development, and business process outsourcing. It has a presence in Kanpur and caters to clients in various industries.

3. Infosys:

Infosys is a renowned multinational IT services and consulting company. It provides a wide range of services, including software development, systems integration, and business consulting. While Infosys does not have a physical office in Kanpur, it serves clients in the region and contributes to the IT ecosystem.

4. Wipro:

Wipro is a global IT services and consulting company that offers a broad range of services, including application development, infrastructure management, and cybersecurity solutions. While Wipro does not have a physical office in Kanpur, it serves clients in the city and neighboring areas.

5. HCL Technologies:

HCL Technologies is a multinational IT services and consulting company. It provides services in areas such as software development, infrastructure management, and engineering services. While HCL Technologies does not have a physical office in Kanpur, it serves clients in the region.

6. Lohia Group:

Lohia Group is an Indian conglomerate with diverse business interests, including manufacturing and IT services. It has an IT division that offers software development, data analytics, and other IT solutions. The Lohia Group is headquartered in Kanpur.

7. Mify Solutions:

Mify Solutions is a Kanpur-based IT company that offers services in web and mobile app development, UI/UX design, e-commerce solutions, and digital marketing. They cater to clients across various industries, both in India and globally.

8. Zebra Techies Solution:

Zebra Techies Solution is an IT company in Kanpur that specializes in web development, software development, digital marketing, and IT consulting services. They work with clients ranging from startups to established businesses.

9. Novus Logic:

Novus Logic is an IT company that provides software development, web development, and IT consulting services. They have expertise in developing customized software solutions for businesses across different sectors.

10. Hexagon Infosoft Solutions:

Hexagon Infosoft Solutions is an IT company based in Kanpur that offers web development, mobile app development, and digital marketing services. They cater to both domestic and international clients.

11. Xpecto IT Solutions:

Xpecto IT Solutions is an IT company specializing in web development, mobile app development, software development, and digital marketing. They serve clients from various industries, including e-commerce, healthcare, and finance.

12. Winapps Software Solution:

Winapps Software Solution is a software development company in Kanpur that offers web and mobile app development, software testing, and IT consulting services. They work with clients across different domains.
Overview of IT Jobs in Kanpur
IT jobs offer a vast range of opportunities for progression and development. The field of information technology is dynamic and constantly evolving, providing ample scope for professionals to enhance their skills, expand their knowledge, and advance in their careers.
Technical Expertise: IT professionals can deepen their technical expertise by gaining proficiency in specific programming languages, operating systems, databases, or emerging technologies. By specializing in a particular area, such as artificial intelligence, cybersecurity, cloud computing, or data science, they can become subject matter experts and command higher positions and responsibilities.
Career Advancement: In IT, career advancement often involves moving up the hierarchical ladder, from entry-level positions to mid-level management and eventually to leadership roles. Professionals can progress by demonstrating their skills, taking on challenging projects, and consistently delivering high-quality work. Leadership and management skills become essential as one climbs the career ladder.
Certifications and Training: Obtaining relevant certifications from reputable organizations can significantly boost an IT professional's career prospects. Certifications validate their knowledge and expertise in specific technologies or methodologies. Additionally, attending training programs, workshops, and conferences allows professionals to stay updated with the latest industry trends and acquire new skills.
Project Management: IT professionals can develop their project management skills, which are highly valued in the industry. By overseeing and successfully delivering complex projects, they demonstrate their ability to manage resources, meet deadlines, and handle budgets. Project management roles offer a broader perspective and open avenues for career growth.
Entrepreneurship and Startups: IT professionals with an entrepreneurial mindset can explore opportunities to start their own businesses or join startups. This path allows for innovation, creativity, and the chance to shape one's own career trajectory. In a startup environment, professionals often have a broader range of responsibilities and opportunities for rapid growth.
Continuous Learning: The IT industry is known for its fast-paced nature, and continuous learning is crucial for career development. Professionals need to stay updated with the latest technologies, trends, and best practices. Pursuing higher education, attending workshops, enrolling in online courses, or participating in industry forums can help individuals remain at the forefront of their field.
Networking and Collaboration: Building a strong professional network is essential for career development in IT. Engaging with peers, industry experts, and leaders can provide valuable insights, career opportunitiesopportunities, and mentorship. Participating in professional associations, attending industry events, and engaging in online communities can expand professional networks.
Overall, IT jobs offer immense potential for progression and development. By honing technical skills, pursuing certifications, acquiring management expertise, and staying updated with industry trends, IT professionals can chart a successful and fulfilling career path. Continuous learning, adaptability, and a passion for innovation are key to thriving in the dynamic IT industry.
Salary of Software Engineer in Kanpur
Salaries in the IT industry vary widely based on factors such as job role, experience level, location, company size, and the specific skills and expertise possessed by the individual.
Entry-Level Positions: In entry-level positions, such as software developer, web developer, or IT support specialist, salaries can range from $30,000 to $60,000 per year, depending on the location and company. However, it's important to note that salaries can vary significantly based on the cost of living in a particular region.
Mid-Level Positions: As professionals gain experience and expertise, they can move into mid-level positions like software engineer, systems analyst, or database administrator. Salaries at this level can range from $60,000 to $100,000 per year, with variations based on location and company.
Senior-Level Positions: Senior-level roles, such as IT manager, project manager, or technical architect, generally command higher salaries. Salaries for these positions can range from $90,000 to $150,000 per year, with the potential to earn even higher in more specialized or leadership roles.
Specialized Roles: Certain specialized roles in IT, such as data scientists, machine learning engineers, cybersecurity specialists, or cloud architects, often come with higher salary ranges. These roles require advanced skills and expertise and can earn salaries ranging from $100,000 to $200,000 or more per year, depending on the experience and demand for those skills.
Data Science Placement Success Story
Related searches
IT companies in Kanpur, Kanpur IT company list, Top IT companies in Kanpur, Best IT company in Kanpur, IT software company in Kanpur, List of IT companies in Kanpur