Top 5 IT Companies in Melbourne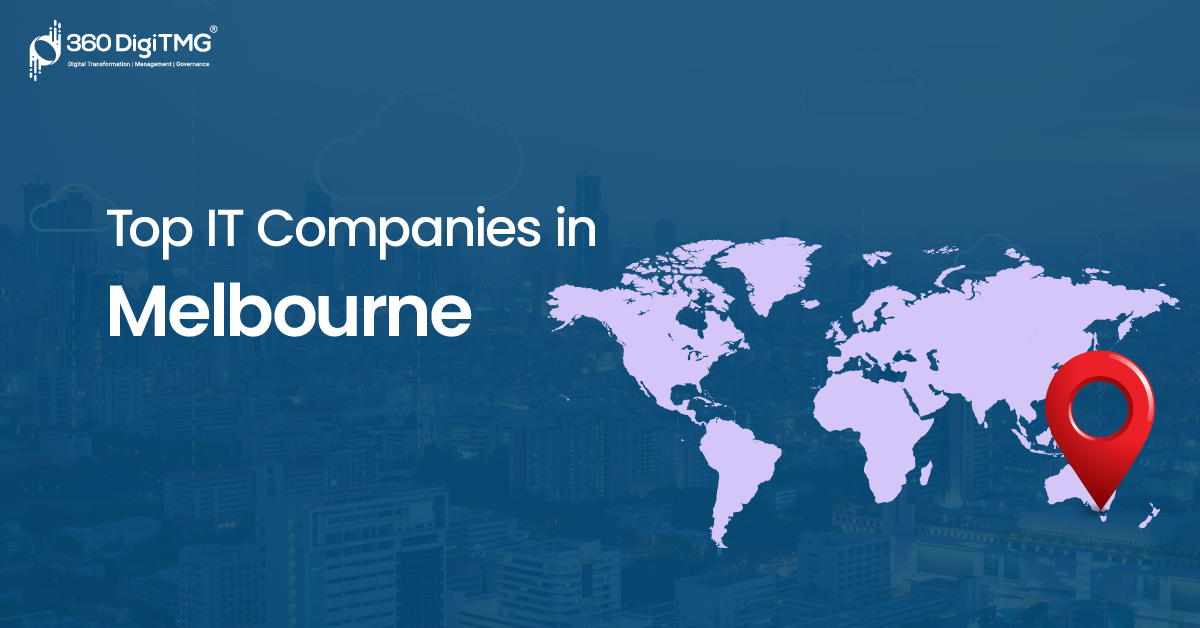 Introduction:
Melbourne, the capital city of the Australian state of Victoria, is a vibrant metropolis with a captivating history. From its origins as a small settlement to its transformation into a bustling cultural and economic hub, Melbourne has evolved into one of Australia's most exciting and cosmopolitan cities.
With its rich heritage, stunning architecture, and thriving arts scene, Melbourne offers a unique blend of history, modernity, and multiculturalism.
History of Melbourne
Melbourne's history dates back thousands of years, with the area originally inhabited by the Indigenous peoples of the Kulin Nation, specifically the Wurundjeri and Boonwurrung people. They had a deep connection to the land, relying on its resources for sustenance and cultural practices.
In 1835, settlers led by John Batman and John Pascoe Fawkner arrived from Tasmania and established a settlement on the northern banks of the Yarra River. This settlement, known as Bearbrass or Batmania, would later become Melbourne. The city quickly grew as a result of the Victorian gold rush in the 1850s, attracting a massive influx of fortune seekers from around the world.
The discovery of gold transformed Melbourne into a prosperous city, with wealth pouring in and fueling rapid development. It became the temporary capital of Victoria in 1851 before the establishment of Australia's national capital in Canberra. The city experienced a period of rapid growth, with elegant Victorian-era architecture adorning its streets and a thriving cultural scene emerging.
Melbourne played a vital role in Australia's federation, with the landmark meeting of the country's first parliament held at the Royal Exhibition Building in 1901. This event marked the birth of the Commonwealth of Australia, and Melbourne served as the nation's capital until the federal government relocated to Canberra in 1927.
Throughout the 20th centu2y, Melbourne continued to flourish and diversify. The city became known for its cultural institutions, including renowned art galleries, museums, and theaters. It also hosted major international events, such as the Olympic Games in 1956 and the Commonwealth Games in 2006, further solidifying its status as a global city.
Today, Melbourne stands as a vibrant and multicultural metropolis, known for its thriving arts scene, world-class dining, and coffee culture. It consistently ranks as one of the world's most livable cities and serves as a center for education, technology, finance, and sports.
Melbourne's rich history is celebrated through its preserved heritage buildings, iconic landmarks such as Flinders Street Station and the Royal Exhibition Building, and its diverse neighborhoods. The city's past continues to shape its present, offering a blend of old-world charm and modern dynamism that makes Melbourne a captivating destination for residents and visitors alike.
Tech Scene
The tech scene in Melbourne is thriving and dynamic, making the city a significant player in Australia's technology and innovation landscape. Known for its vibrant startup ecosystem, world-class research institutions, and a diverse range of tech companies, Melbourne offers a fertile ground for technological advancements and entrepreneurial ventures. Here is an overview of the tech scene in Melbourne:
Startup Hub: Melbourne has emerged as a leading destination for startups, fostering a vibrant ecosystem of innovation and entrepreneurship. The city is home to numerous startup incubators, accelerators, and co-working spaces that provide support, mentorship, and networking opportunities for aspiring entrepreneurs. Startup Victoria, a nonprofit organization, plays a crucial role in nurturing the startup community and organizing events to connect founders, investors, and industry experts.
Research and Development: Melbourne is renowned for its world-class research institutions and universities. Institutions like the University of Melbourne, Monash University, and RMIT University drive technological advancements through cutting-edge research and development initiatives. These institutions collaborate with industry partners, government agencies, and startups to foster innovation and bridge the gap between academia and industry.
Industry Specializations: Melbourne's tech scene encompasses a wide range of industries, including information technology, digital media, fintech, healthtech, e-commerce, and cybersecurity. The city has developed expertise in areas such as artificial intelligence (AI), machine learning, data analytics, blockchain, and software development. This specialization enables the growth of innovative tech companies and attracts investment and talent to the region.
Tech Hubs and Precincts: Melbourne hosts several tech hubs and innovation precincts that serve as hotspots for collaboration and networking. The Melbourne Innovation Districts, including the Melbourne CBD, Southbank, and Carlton, bring together startups, research institutions, corporates, and government entities to drive innovation and knowledge-sharing. The Docklands precinct, in particular, has attracted tech companies and serves as a hub for digital innovation.
Events and Meetups: Melbourne's tech community is vibrant and active, with numerous events, conferences, and meetups taking place regularly. These gatherings provide opportunities for networking, knowledge-sharing, and collaboration among tech professionals, entrepreneurs, and investors. Events like Pause Fest, Melbourne Knowledge Week, and the Melbourne Web Developers Meetup are examples of platforms that foster connections and showcase innovation.
Government Support: The government of Victoria and its agencies actively support the tech sector by providing grants, funding programs, and initiatives to nurture innovation and entrepreneurship. Organizations like LaunchVic play a crucial role in providing resources and support for startups, helping them grow and succeed.
Talent Pool: Melbourne benefits from a talented and diverse pool of tech professionals. The city attracts skilled individuals from around the world, creating a rich and multicultural workforce. The presence of top universities and educational institutions also contributes to the availability of highly skilled graduates entering the tech industry.
The tech scene in Melbourne is continually evolving, driven by a spirit of innovation, collaboration, and entrepreneurship. With its supportive ecosystem, access to capital, and a vibrant community, Melbourne is positioned as a key player in Australia's tech landscape, fostering groundbreaking technologies and disruptive ideas.
Learn the core concepts of Data Science Course video on YouTube:
Best IT companies in Melbourne
Melbourne, Australia, is home to a diverse range of IT companies spanning various sectors. These companies contribute to the city's vibrant tech ecosystem and offer a wide range of IT services and solutions. Here are some notable IT companies in Melbourne:
1. MYOB:

MYOB is a leading provider of accounting software and business management solutions. They offer a range of products and services to help small and medium-sized businesses manage their finances, payroll, and operations efficiently.

2. REA Group:

REA Group operates several leading property portals, including realestate.com.au. They provide innovative digital solutions for property search, real estate listings, and related services, leveraging technology to connect buyers, sellers, and real estate professionals.

3. SEEK:

SEEK is an online employment marketplace that connects job seekers with employers. They provide a platform for job advertising, talent sourcing, and career development solutions, serving as a leading technology company in the recruitment industry. Aconex: Aconex, now part of Oracle Construction and Engineering, is a cloud-based project management and collaboration platform. They offer solutions for construction and engineering companies to streamline project workflows, document management, and communication.

4. Envato:

Envato operates a digital marketplace that offers a wide range of creative assets, including website themes, graphic templates, audio tracks, and more. They provide a platform for designers, developers, and creatives to buy and sell digital assets. carsales.com Ltd: carsales.com Ltd is an online automotive marketplace, connecting buyers and sellers of new and used vehicles. They provide a platform for car sales, research, and related services, leveraging technology to simplify the car buying process.

5. Computershare:

Computershare is a global leader in financial administration, providing services such as share registry, investor communication, and corporate governance solutions. They leverage technology to manage and streamline financial processes for corporations and investors. Versent: Versent is a technology consulting and managed services company. They provide expertise in areas such as cloud transformation, software development, data analytics, and cybersecurity, helping businesses leverage technology to drive innovation and growth.
Overview of IT Jobs in Melbourne
IT jobs in Melbourne offer exciting opportunities for progression and development over time, driven by the city's thriving tech scene and demand for skilled professionals. Here is an overview of how IT jobs can progress and evolve in Melbourne:
Entry-Level Positions: Many IT professionals start their careers in entry-level positions such as software developers, system administrators, helpdesk technicians, or data analysts. These roles provide a foundation for building technical skills, gaining practical experience, and familiarizing oneself with industry standards and practices.
Skill Development and Specialization: As IT professionals gain experience, they have the opportunity to enhance their skills and specialize in specific areas. This could involve focusing on a particular programming language, software development methodology, cybersecurity, data analytics, cloud computing, or specialized industry applications. Developing expertise in a specific domain or technology can lead to higher-demand roles and increased job prospects.
Team Leadership and Project Management: With experience and demonstrated leadership skills, IT professionals can progress into team leadership or project management roles. These positions involve overseeing teams, managing projects, coordinating resources, and ensuring the successful delivery of IT initiatives. Strong communication, problem-solving, and project management skills are crucial for advancement into these roles.
Solution Architecture and Technical Consulting: IT professionals who excel in technical expertise and system design may transition into solution architecture or technical consulting roles. These positions involve designing and implementing complex IT solutions, providing technical guidance and mentoring, and ensuring the scalability and efficiency of systems. Solution architecture and technical consulting roles require a deep understanding of technology, business requirements, and the ability to align IT solutions with organizational goals.
IT Management and Leadership: Experienced IT professionals can progress into management and leadership positions within IT departments or organizations. These roles involve overseeing IT operations, strategic planning, budgeting, and driving technological innovation. Strong leadership, communication, and business acumen are essential for success in IT management and leadership roles.
ntrepreneurship and Startups: Melbourne's vibrant startup ecosystem provides opportunities for IT professionals to venture into entrepreneurship or join early-stage tech companies. This path allows individuals to pursue their own ideas, innovate, and contribute to the growth of the local tech industry. It requires a combination of technical skills, business acumen, and an entrepreneurial mindset.
Continuous Learning and Professional Development: The IT industry is dynamic, with new technologies and trends constantly emerging. Continuous learning and professional development are crucial for IT professionals in Melbourne to stay relevant and advance in their careers. Pursuing certifications, attending industry events, participating in workshops, and staying up-to-date with the latest technologies can open doors to new opportunities and higher-level positions.
Melbourne's thriving tech industry, supportive ecosystem, and emphasis on innovation create a conducive environment for IT professionals to progress and develop their careers over time. Continuous learning, adaptability, and a passion for technology are key to seizing opportunities and thriving in the evolving IT landscape of Melbourne.
Salary of Software Engineer in Melbourne
salaries in IT companies in Melbourne can vary depending on factors such as job role, level of experience, company size, and industry specialization. While it is challenging to provide precise figures, here is a general overview of salary ranges for different IT positions in Melbourne:
Software Developer/Engineer: Entry-level software development in Melbourne can typically expect salaries ranging from approximately AUD 55,000 to AUD 80,000 per year. Mid-level professionals with a few years of experience may earn between AUD 80,000 and AUD 110,000 per year, while senior-level software developers can command salaries exceeding AUD 110,000 annually.
Web Developer: Salaries for web developers in Melbourne can start from approximately AUD 50,000 to AUD 70,000 per year for entry-level positions. Mid-level web developers may earn between AUD 70,000 and AUD 90,000 per year, while senior-level professionals can earn salaries exceeding AUD 90,000 annually.
System Administrator/Network Engineer: Entry-level system administrators or network engineers in Melbourne can expect salaries ranging from approximately AUD 55,000 to AUD 75,000 per year. Mid-level professionals may earn between AUD 75,000 and AUD 100,000 per year, while senior-level professionals can earn salaries exceeding AUD 100,000 annually.
IT Project Manager: Entry-level IT project managers in Melbourne can expect salaries ranging from approximately AUD 70,000 to AUD 90,000 per year. Mid-level project managers may earn between AUD 90,000 and AUD 120,000 per year, while senior-level professionals can earn salaries exceeding AUD 120,000 annually.