Top 10 IT Companies in Jaipur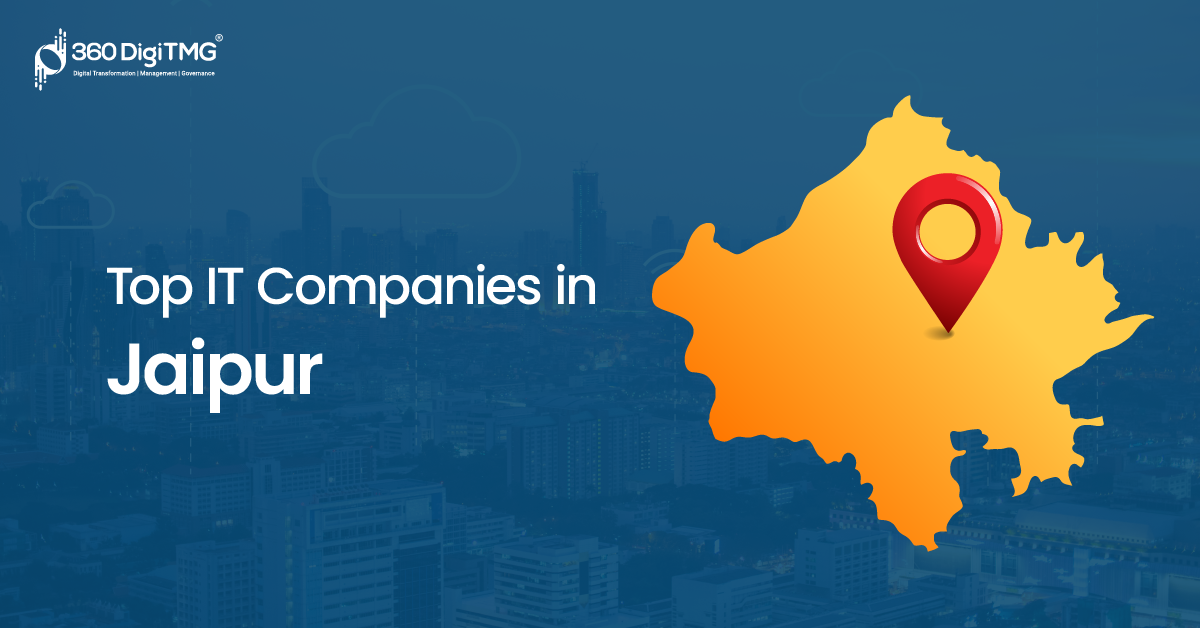 Introduction
Jaipur is a city located in the state of Rajasthan in northern India. It is the capital city of Rajasthan and is known as the "Pink City" due to the predominant colour of its buildings in the historical part of the city. Jaipur is situated at approximately 26.9124° N latitude and 75.7873° E longitude. The city is located on the eastern edge of the Thar Desert, also known as the Great Indian Desert. It is surrounded by hills and mountains on three sides, namely the Aravalli Range. These hills provide a picturesque backdrop to the city. Some of the nearby cities and towns to Jaipur include Ajmer (130 km), Kota (244 km), Jodhpur (330 km), Udaipur (394 km), and Delhi (approx. 280 km). Jaipur is well-connected through various modes of transportation. Jaipur International Airport, located in the southern part of the city, provides domestic and international air connectivity. The city is connected to other major Indian cities through a network of national highways and well-maintained roads. Jaipur Junction is the main railway station in the city, offering train services to different parts of the country. Jaipur is known for its rich history, stunning architecture, and vibrant culture.
Hawa Mahal (Palace of Winds): A stunning pink sandstone palace with intricately designed windows, built for the royal women to observe street processions.
City Palace: The City Palace complex includes palaces, courtyards, gardens, and museums showcasing the royal heritage of Jaipur.
Amer Fort: Located on a hilltop, Amer Fort is a majestic fort and palace complex known for its artistic elements and panoramic views of the surrounding landscape.
Jal Mahal: Situated in the middle of the Man Sagar Lake, Jal Mahal is a picturesque palace partially submerged in water.
Jantar Mantar: It is an astronomical observatory built by Maharaja Jai Singh II and is a UNESCO World Heritage Site. Najafgarh Fort: Perched on the Aravalli Hills, Nahargarh Fort offers stunning views of the cityscape and is a popular spot for locals and tourists.
Overall, Jaipur offers a mix of historical landmarks, cultural experiences, and natural beauty, making it a popular tourist destination and a significant city in the state of Rajasthan.
History of Jaipur
The history of Jaipur dates back to the 18th century when it was founded by Maharaja Sawai Jai Singh II, the ruler of the Kingdom of Amber.
These structures are known for their distinctive Rajput and Mughal architectural styles.
1727: Maharaja Sawai Jai Singh II decided to establish a new capital city for the Kingdom of Amber due to increased population and security concerns. He chose the site of present-day Jaipur, which was strategically located and offered favourable topography.
1728: The construction of Jaipur began. The city was meticulously planned and designed by Vidyadhara Bhattacharya, a renowned architect, based on ancient Indian architectural principles called Vaastu Shastra.
1733: The foundation stone of the city was laid on November 18, 1733. The city was named "Jaipur" after its founder, Maharaja Sawai Jai Singh II.
1743-1756: The construction of various iconic structures in Jaipur, including the City Palace, Jantar Mantar, and Hawa Mahal, took place during this period.
Late 18th to 19th century: Jaipur became a significant centre of trade, commerce, and art. The city thrived under the patronage of the ruling Kushwaha Rajput dynasty. The rulers promoted arts, crafts, and education, leading to the development of a vibrant cultural and artistic environment.
1853: Jaipur came under the protection of the British East India Company, and a treaty was signed between the British and the ruler of Jaipur, Maharaja Ram Singh II.
Post-Independence: After India gained independence from British colonial rule in 1947, Jaipur became part of the state of Rajasthan. It continued to be the capital of Rajasthan, playing a significant role in the political, administrative, and cultural landscape of the state.
Today, Jaipur is not only a historically significant city but also a major tourist destination known for its architectural marvels, vibrant culture, and rich heritage. It has retained its distinct character and charm while embracing modern development and urbanization. The city continues to attract visitors from around the world who are fascinated by its magnificent palaces, forts, and colourful bazaars.
Tech Scene
The tech scene in Jaipur has experienced significant growth and development in recent years. The city has emerged as a prominent hub for information technology and software services, offering a range of opportunities for technology professionals and entrepreneurs.
IT Parks and Infrastructure: Jaipur has several IT parks and technology centres that provide infrastructure and support for IT companies. The Mahindra World City IT SEZ, Sitapura Industrial Area, and the Malviya Nagar IT Park are notable locations for IT businesses.
Start-up Ecosystem: Jaipur has witnessed the emergence of a thriving start-up ecosystem. The city has incubators, co-working spaces, and support organizations that foster entrepreneurship and innovation. Start-ups in Jaipur are working in diverse areas such as e-commerce, mobile applications, software development, and digital marketing.
Software Development and IT Services: Numerous software development companies and IT service providers have set up operations in Jaipur. These companies offer a wide range of services, including software development, web development, mobile app development, IT consulting, and digital marketing.
Education and Skill Development: Jaipur has several prestigious educational institutions and training centres that provide technology-focused education and skill development. Institutions like the Malviya National Institute of Technology (MNIT) and the Jaipur Engineering College and Research Centre (JECRC) offer programs in computer science and engineering, information technology, and related fields.
Technology Events and Communities: Jaipur hosts various technology events, hackathons, and meetups that bring together technology enthusiasts, professionals, and entrepreneurs. These events provide opportunities for networking, knowledge sharing, and collaboration within the tech community.
Government Support and Initiatives: The government of Rajasthan has been actively promoting the growth of the IT sector in Jaipur. Initiatives like the Rajasthan IT Policy, Start-up Rajasthan, and Rajasthan Digi fest aim to provide support and incentives for IT companies and start-ups.
Digital Infrastructure: Jaipur has seen significant improvements in digital infrastructure. The city has widespread internet connectivity, including high- speed broadband and 4G networks, enabling businesses and individuals to leverage digital technologies effectively.
The tech scene in Jaipur continues to evolve and expand, attracting investments and creating employment opportunities. The city's focus on innovation, entrepreneurship, and technology-driven solutions has positioned it as a promising destination for the IT industry in India.
Best IT Companies in Jaipur
Jaipur is home to several notable IT companies that have established themselves in the city.
1. Metacube:

Metacube is a global software engineering services company that offers software development, testing, and support services. They specialize in areas such as e-commerce, healthcare, finance, and supply chain management.

2. TechAhead:

TechAhead is a mobile app development company that provides end-to-end solutions for iOS, Android, and cross-platform app development. They have worked with clients across various industries, including healthcare, e-commerce, and finance.

3. Data Ingenious Global Limited:

Data Ingenious Global Limited is an IT services company that offers web development, cloud services, enterprise solutions, and digital marketing services. They cater to clients in sectors such as education, healthcare, and government.

4. Dotsquares:

Dotsquares is a software development company that provides services including web development, mobile app development, and digital marketing. They serve clients globally and have expertise in various technologies and platforms.

5. Advaiya Solutions:

Advaiya Solutions is a technology consulting and implementation services company. They offer services in areas like cloud computing, business intelligence, collaboration solutions, and digital transformation.

6. Data Infosys Limited:

Data Infosys Limited is an IT company that specializes in software development, web solutions, and cloud services. They have experience in sectors such as education, healthcare, e-governance, and banking.

7. Techno Softwares:

Techno Softwares is an IT company offering a wide range of services, including software development, web design and development, mobile app development, and digital marketing. They cater to clients across various industries and have expertise in multiple technologies.

8. Dataoxy Technologies:

Dataoxy Technologies is an IT services and solutions company specializing in web development, mobile app development, e-commerce solutions, and digital marketing. They provide customized solutions to meet the specific needs of their clients.

9. Next Big Technology:

Next Big Technology is a software development company that offers services in web development, mobile app development, UI/UX design, and digital marketing. They have experience in working with startups, SMEs, and enterprises across different industries.

10. GirnarSoft:

GirnarSoft is an IT company that focuses on web and mobile app development, digital marketing, and data analytics. They have expertise in automotive technology and have developed platforms like CarDekho, BikeDekho, and Gaadi.com.
Overview of IT Jobs in Jaipur
IT jobs offer various opportunities for career progression and development.
Entry-Level Positions: Most IT professionals start their careers in entry-level positions, such as software developers, system administrators, or technical support specialists. These positions provide the foundation for building technical skills and gaining practical experience.
Specialization and Expertise: As professionals gain experience, they often choose to specialize in specific areas within the IT field. This could involve becoming an expert in a particular programming language, database management, cybersecurity, cloud computing, data analytics, artificial intelligence, or other emerging technologies.
Project and Team Management: With experience and leadership skills, IT professionals can progress into project management or team leadership roles. They oversee projects, manage teams, coordinate resources, and ensure the successful delivery of IT initiatives.
Solution Architecture and Consulting: IT professionals may transition into roles as solution architects or IT consultants. These positions involve designing comprehensive technology solutions, providing expert advice to clients or organizations, and ensuring alignment between technology strategies and business goals.
Technical Leadership: Some IT professionals choose to pursue technical leadership roles, such as technical leads or technical architects. These roles involve guiding and mentoring teams, driving technical innovation, and providing strategic direction for technology implementation.
Entrepreneurship and Start-ups: IT professionals with an entrepreneurial mindset may choose to start their own technology companies or join early-stage start-ups. This path allows them to create innovative products or services, be involved in various aspects of business development, and take on leadership roles.
Executive and C-Level Positions: With significant experience and expertise, IT professionals can progress into executive and C-level positions within organizations. These roles, such as Chief Information Officer (CIO) or Chief Technology Officer (CTO), involve strategic decision-making, technology planning, and aligning IT initiatives with overall business strategies.
Continuous Learning and Upskilling: IT professionals need to continuously learn and upskill to stay relevant in a rapidly evolving industry. This involves staying updated on the latest technologies, earning certifications, attending industry conferences, and participating in professional development programs. Career progression in IT is not limited to a linear path, and individuals can explore different roles, industries, or technology domains based on their interests and goals. By staying curious, adaptable, and continuously learning, IT professionals can shape their careers and unlock new opportunities for growth and advancement.
Salary of Software Engineer in Jaipur
Salaries in the IT industry can vary significantly based on various factors such as job role, experience level, location, industry sector, company size, and individual skills.
Entry-Level Positions:
Software Developer/Engineer: $55,000 - $85,000 per year
Systems Administrator: $50,000 - $75,000 per year
Technical Support Specialist: $45,000 - $65,000 per year
Mid-Level Positions:
IT Project Manager: $80,000 - $120,000 per year
Data Analyst: $70,000 - $100,000 per year
Network Engineer: $75,000 - $110,000 per year
Senior-Level Positions:
IT Architect: $110,000 - $180,000+ per year
IT Consultant: $100,000 - $150,000 per year
Senior Software Engineer: $90,000 - $140,000 per year
Data Science Placement Success Story
Related searches
IT companies in Jaipur, Top IT companies in Jaipur, Best IT companies in Jaipur, IT companies in Jaipur for freshers, Jaipur IT company list, Top 10 IT companies in Jaipur, Jaipur top IT companies, Top IT companies Jaipur