Top 10 IT Companies in Mangalore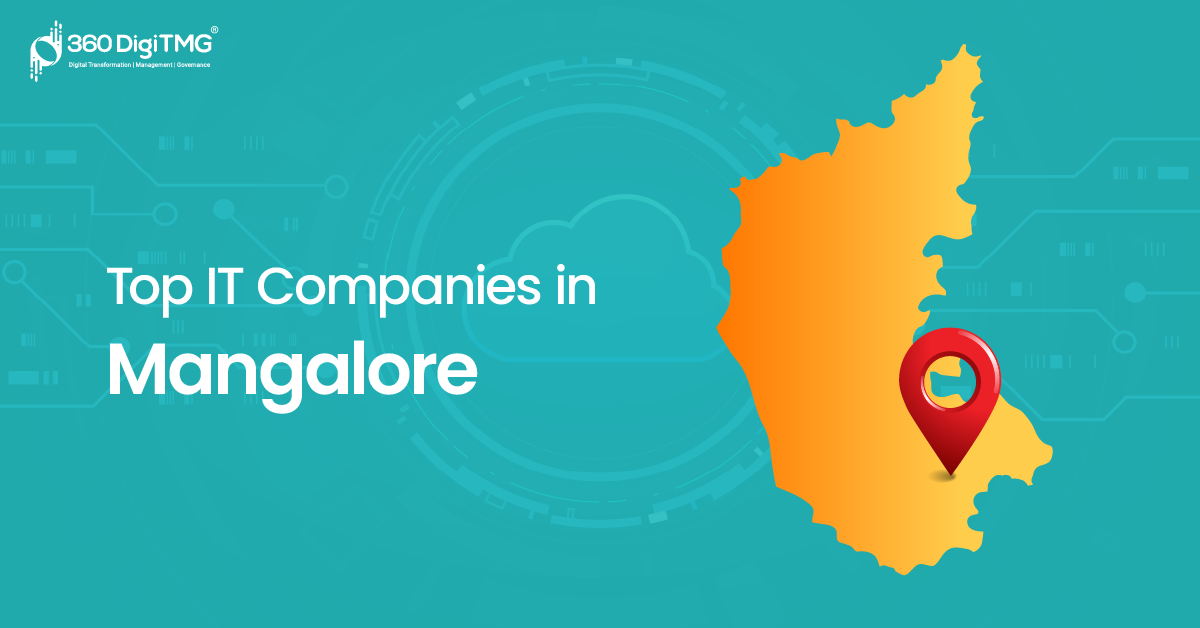 Introduction
Mangalore is a city located in the state of Karnataka, India. It is situated on the western coast of the country, along the Arabian Sea. Mangalore is located at approximately 12.9141° N latitude and 74.8560° E longitude. Mangalore is a part of the state of Karnataka and serves as the administrative headquarters of the Dakshina Kannada district.
Mangalore is surrounded by several towns and cities, including Udupi to the north, Kasaragod (in Kerala) to the south, and Hassan to the east. The city is situated between the Western Ghats Mountain range and the Arabian Sea.
Cultural Significance: Mangalore is known for its diverse cultural heritage. The city has a mix of various communities, including Tuluvas, Kannadigas, Malayalis, and Konkanis. It is famous for its traditional art forms, cultural festivals, and delicious cuisine, especially seafood dishes.
Mangalore is an important commercial and economic center in Karnataka. The city's economy is primarily driven by industries such as petroleum refining, petrochemicals, fishing, ports and logistics, agriculture, and tourism. Mangalore's port is one of the major ports on the western coast of India.
Mangalore offers a unique blend of natural beauty, cultural diversity, and economic significance. It attracts visitors, both domestic and international, for its vibrant culture, picturesque surroundings, and thriving economic activities.
History of Mangalore
Mangalore has a rich and diverse history that spans several centuries.
Ancient Period: The region around Mangalore has a history dating back to ancient times. The region was part of various dynasties, including the Mauryan Empire and the Satavahanas. It was also influenced by the rule of the Kadambas, Alupas, and other local dynasties.
Medieval Period: During the medieval period, Mangalore came under the influence of several powerful empires and kingdoms. It was ruled by the Kadambas, Alupas, Hoysalas, Vijayanagara Empire, and the Keladi Nayakas. The region saw the establishment of temples, forts, and cultural institutions.
Portuguese Influence: In the 16th century, Mangalore fell under the influence of the Portuguese. The Portuguese established a factory in the city and had control over the maritime trade routes. They constructed forts, churches, and other structures that still exist today, showcasing their architectural and cultural influence.
British Rule: Mangalore came under British control in the 18th century. The British East India Company established their presence in the region and used Mangalore as a trading center. The British developed infrastructure, including roads, buildings, and schools, and brought administrative reforms. Freedom Struggle: Mangalore played a significant role in India's freedom struggle against British rule. The city witnessed several movements and protests, with prominent freedom fighters such as Abbakka Rani, Krishna Pillai, and Ursula Graham Bower contributing to the cause.
Post-Independence: After India gained independence in 1947, Mangalore became a part of the Indian state of Madras (now Tamil Nadu). Later, it was incorporated into the newly formed state of Karnataka in 1956. Since then, Mangalore has developed into a major commercial, industrial, and educational hub in the state.
Cultural Heritage: Mangalore is known for its rich cultural heritage, influenced by various communities including Tuluvas, Kannadigas, Konkanis, and Malayalis. The city celebrates diverse festivals, including the Mangalore Dasara, Yakshagana (traditional dance-drama), and Kambala (buffalo race).
Today, Mangalore stands as a vibrant city that blends its historical legacy with modern developments. It is renowned for its educational institutions, industries, natural beauty, and cultural vibrancy, attracting visitors from around the world to explore its historical sites, beaches, and traditional art forms.
Tech Scene
Mangalore's tech scene has been steadily growing in recent years, with the city emerging as a hub for IT and technology-related activities.
IT Companies and Startups: Mangalore has seen the rise of numerous IT companies and startups in various domains. These companies offer services such as software development, web development, mobile app development, digital marketing, and IT consulting. The presence of these companies contributes to the growth of the tech ecosystem in the city.
Education and Technical Institutions: Mangalore is home to several prestigious educational institutions offering courses in engineering, computer science, and information technology. These institutions produce a talented pool of IT professionals who contribute to the local tech scene.
Incubators and Co-working Spaces: The city has witnessed the establishment of incubation centres and co-working spaces, providing support and infrastructure to startups and small businesses. These spaces foster innovation, collaboration, and entrepreneurship in the tech industry.
Technology Events and Meetups: Mangalore hosts various technology events, conferences, and meetups that bring together industry professionals, entrepreneurs, and tech enthusiasts. These events provide opportunities for knowledge sharing, networking, and collaboration.
Government Support: The government of Karnataka has been actively promoting the growth of the technology sector in Mangalore. It has introduced initiatives, policies, and incentives to attract investments, foster innovation, and provide support to startups and technology-driven businesses.
Digital Transformation: Businesses in Mangalore are embracing digital transformation, adopting technologies such as cloud computing, data analytics, artificial intelligence, and automation. This shift towards digitalization presents opportunities for technology companies and professionals in the city.
Skill Development: Skill development programs, workshops, and training initiatives are being conducted to enhance the technical skills of the local workforce. These programs aim to bridge the skill gap and provide opportunities for professionals to upskill and stay updated with emerging technologies.
Best IT companies in Mangalore
Mangalore is home to several notable IT companies that have made significant contributions to the industry.
1. Mphasis:

Mphasis is a global IT solutions provider offering services in application development, infrastructure services, and business process outsourcing. The company has a presence in Mangalore and is known for its expertise in digital transformation, cloud computing, and cybersecurity.

2. Infosys:

Infosys is a multinational IT company that provides a wide range of IT services, including consulting, software development, and business process management. The company has a significant presence in Mangalore and has been instrumental in driving the growth of the IT industry in the region.

3. Robosoft Technologies:

Robosoft Technologies is a leading digital product design and development company based in Mangalore. They specialize in developing mobile apps, web solutions, and digital experiences for various industries, including healthcare, finance, and retail.

4. Maventic Innovative Solutions:

Maventic is an IT services company that offers software development, testing, and digital transformation solutions. They work with clients across different domains, including e-commerce, healthcare, and logistics, providing customized IT solutions.

5. Dhanush Infotech:

Dhanush Infotech is an IT services company that provides software development, web development, and IT consulting services. They have expertise in areas such as enterprise resource planning (ERP), customer relationship management (CRM), and business intelligence.

6. Rave Technologies:

Rave Technologies is a global IT services company that offers software engineering and digital transformation solutions. They provide services in areas such as application development, quality assurance, and user experience design.

7. Aryvart Software:

Aryvart Software is an IT consulting and software development company that specializes in delivering customized software solutions to clients in various industries. They have expertise in web and mobile application development, e-commerce solutions, and enterprise software development.

8. Ramco Systems:

Ramco Systems is a global software company that provides cloud-based enterprise software solutions. They offer services in areas such as enterprise resource planning (ERP), human capital management (HCM), and logistics management.

9. Code Craft Technologies:

Code Craft Technologies is a software development company that focuses on web and mobile application development. They work with clients to build customized software solutions and offer services in areas such as UI/UX design, front-end and back-end development, and database management.

10. Technorati Solutions:

Technorati Solutions is an IT services company that provides software development, web development, and digital marketing services. They cater to clients from various industries and have expertise in building scalable and robust IT solutions.
Overview of IT Jobs in Mangalore
IT jobs offer numerous opportunities for progression and development, allowing individuals to build rewarding and dynamic careers.
Specialization: IT professionals can choose to specialize in specific areas of technology, such as software development, data analytics, cybersecurity, cloud computing, artificial intelligence, or networking. By becoming experts in their chosen fields, they can take on more challenging projects and responsibilities.
Advanced Education and Certifications: Pursuing advanced education, such as a master's degree or a specialized certification, can enhance career prospects in the IT industry. Advanced degrees and certifications demonstrate a deeper level of knowledge and expertise, making professionals more competitive in the job market.
Leadership and Management Roles: IT professionals can progress into leadership and management roles within their organizations. These roles involve overseeing teams, managing projects, and providing strategic direction for technology initiatives. Developing leadership skills and gaining experience in managing people and resources can open doors to higher-level positions.
Project Management: IT professionals with strong project management skills are highly valued in the industry. Project management roles involve planning, executing, and delivering IT projects on time and within budget. Obtaining project management certifications (e.g., PMP, PRINCE2) and gaining experience in managing projects can lead to career advancement.
Entrepreneurship and Consulting: Some IT professionals choose to start their own businesses or work as independent consultants. This path allows individuals to leverage their skills and expertise to offer IT services, solutions, or consulting to clients. Entrepreneurship and consulting offer flexibility, autonomy, and the potential for significant growth.
Continuous Learning and Skill Development: IT professionals must embrace continuous learning to keep up with rapidly evolving technologies. Staying updated with the latest tools, programming languages, frameworks, and industry trends is essential for career development. Online Courses, workshops, conferences, and industry certifications can help professionals acquire new skills and stay relevant.
Networking and Professional Relationships: Building a strong professional network is crucial for career growth in the IT industry. Networking can lead to job opportunities, collaborations, and mentorship. Engaging with professional organizations, attending industry events, and participating in online communities can help IT professionals expand their network.
Industry Specialization: IT professionals can choose to specialize in specific industries such as healthcare, finance, e-commerce, or telecommunications. Developing industry-specific knowledge and expertise can open doors to specialized roles and opportunities within those sectors.
Research and Development: Engaging in research and development (R&D) activities can lead to advancements in the IT field. IT professionals can contribute to cutting-edge research, innovation, and the development of new technologies, leading to career advancement and recognition.
Soft Skills Development: In addition to technical skills, developing soft skills such as communication, teamwork, problem-solving, and leadership abilities is essential for career progression. Strong interpersonal skills can differentiate IT professionals and make them effective collaborators and leaders.
IT jobs offer a dynamic and evolving career path with various opportunities for growth and development. By staying current with industry trends, continuously upgrading skills, seeking new challenges, and leveraging networking opportunities, IT professionals can progress and build successful careers in the field.
Salary of Software Engineer in Mangalore
Salaries in the IT industry can vary widely depending on various factors such as job role, experience level, location, company size, and specific skills.
Entry-Level Positions:
Software Developer: $50,000 - $80,000 per year
Web Developer: $45,000 - $70,000 per year
IT Support Specialist: $40,000 - $60,000 per year
Data Analyst: $50,000 - $70,000 per year
Mid-Level Positions:
Software Engineer: $70,000 - $110,000 per year
Systems Administrator: $65,000 - $90,000 per year
Database Administrator: $75,000 - $120,000 per year
IT Project Manager: $80,000 - $130,000 per year
Senior-Level Positions:
Senior Software Architect: $100,000 - $160,000 per year
IT Manager: $90,000 - $150,000 per year
Senior Data Scientist: $110,000 - $180,000 per year
Chief Technology Officer (CTO): $150,000 - $250,000+ per year
Specialized Roles:
Cybersecurity Analyst: $80,000 - $130,000 per year
Cloud Solutions Architect: $100,000 - $150,000 per year
Machine Learning Engineer: $100,000 - $160,000 per year
AI Research Scientist: $120,000 - $200,000+ per year
Data Science Placement Success Story
Related searches
IT companies in Mangalore, Mangalore IT companies, Top IT companies in Mangalore, Top 10 IT companies in Mangalore, Mangalore IT companies list, List of IT companies in Mangalore, IT software companies in Mangalore