Data Scientist India Salary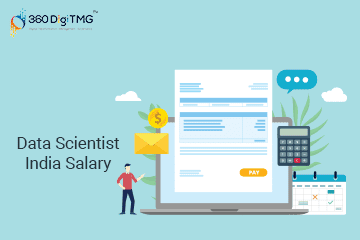 We will share any pay information related to data science in this blog up until you apply for a job. Here, we're focusing on the data scientists' most well-known work. Everyone concerned must be curious about the data scientist's compensation projection. A survey on the salaries of data scientists at various levels is also available from Data Flair. You will discover how salary is determined by a variety of roles, credentials, and other factors. So, without wasting any more time, let's talk about the pay for data scientists.
Work of a Data Scientist
The data scientist mines complex data to offer his/her company's program-related advice. They handle statistical data in such a team looking for what they have to produce different models for their business. A data scientist learns how to view data and make meaning out of it. This is because data is always clean, and one must invest crucial time processing, fishing, and mangling it. Further, one must have some key competencies such as mathematics, machine learning, and expertise in software engineering, patience, and being a person. They will also have to spend time throughout the review of exploratory data- in the simulation and the meaning of data finding patterns, create algorithms or models, plan experiments, interact with members of the team and make data-driven decisions. Click here to learn Data Scientist Course
Data Scientists Job Description
IT data scientists are in charge of gathering certain data and providing organisational advice pertinent to systems. With an emphasis on subjects related to information technology, they create creative methods to integrate huge knowledge. They collaborate with groups of many other IT specialists to analyse statistical data and create various models in accordance with the needs of their business. They have profound analytical abilities in addition to having good oral and writing communication skills.
Data Scientist Workforce
Design or develop new data-set systems for modeling, data mining & production.
Identify new ways of improving results, search efficiency, and predictive capabilities.
Research analyses and drug trials conducted and analyzed new data sources and new uses with existing data resources.
Build prototypes idea proofs algorithms, predictive models including customized research.
A data scientist also tests the key distinctions between a data scientist, data engineer, or data analyst, which is important knowledge for job seekers.
Click here to learn Data Scientist Course in Hyderabad.
Trends of Data Science in India
One may get the conclusion that Data Science jobs have increased in pattern charts based on trends in Data Science job listings per 1 million posts on Indeed. In 2019, the tendency is anticipated to intensify even more.
Few points to note about Employment Dynamics in India
India contributes 6 percent of internationally job openings.
Data science or analytics workers in India total 97,000.
97 percent are complete-time jobs, while 3 percent are part-time jobs.
In 2018, there is a 45 percent increase in total employment.
The analytics wage is up 2 percent over 15 lakes in India.
Data Scientists Salary Range
According to PayScale.com, the average data scientist income in India is Rs. 818,099.
They have–Minimum Salary-Rs. 818,099
Minimum Bonus-Rs. 100,473
Minimum Profit Sharing-Rs. 36,667
Minimum Salary-Rs. 341,000
Maximum Salary-Rs. 2,000,000
Minimum Bonus- Rs. 20,000
Maximum Bonus-Rs. 321,000
Lowest Benefit Sharing-Rs. 0.00
Maximum Benefit Sharing-Rs. 608,000
Data Science Wage As per their Maximum Income Sharing-Rs. 608,000
Click here to explore 360DigiTMG.
Entry Level Data Scientists
The average entry-level data scientist in India can expect to make roughly Rs 507,269 per year. These are the people who are just getting into data science or who have a limited set of technical abilities. However, one may raise their pay by working more and adding more knowledge, as well as by consistently developing.
Junior Data Scientists
Typically, junior data scientists get at least 2 years of data science experience. He makes an annual average salary of Rs 9, 21,957, according to Indeed.com.
Learn the core concepts of Data Science Course video on Youtube:
Senior Data Scientist
A Senior Data Scientist is one who has been engaged with data science over several years and is familiar with the very scope of the area. A senior data scientist throughout India gets a minimum, Rs. 18, 21,795 salaries.
Data Scientist Salary Based on Location
Data science companies and prospering IT organisations are concentrated in large cities like Bengaluru, Mumbai, and Delhi. Furthermore, those cities are home to a large number of emerging start-ups that are specialising in data science technology. Additionally, there are ample resources in these locations to get employment. Now let's see how these places rank in terms of the earnings they offer.
How Skills Affect Data Science Salary?
The pay also differs, based on the expertise of the data scientist. Machine learning is the most in-demand resource required in the data science field. It is, in reality, the most sought-after and highly paid competency of data science. These are a few of the key skills dependent on which data scientist has been given salaries.
Salary Structure Report
Would you want to know the salary of a data scientist? Data scientists' pay might vary depending on a number of crucial aspects, including their education, qualification, specialised abilities, and work experience in this industry. In this post, you will get a thorough overview of the role of a data scientist at your workplace.
According to the Harvard Business Journal, becoming a data scientist is the sexiest profession of the twenty-first century. Tech organisations acknowledge that some of the highest-paid IT sector professionals are data scientists.
Data Scientist is a new job title that may come from either the business analyst or data scientist profession. The academic background is comparable in each of these situations, often with a solid foundation in statistics, analytics, science, modelling, or math. A Data Scientist's capacity to communicate findings with his or her organisation and IT executives in a way that can influence how the client approaches business challenges based on outcomes makes the job of a Data Scientist unique. The proper business challenges with the most value to the firm would be selected by the ideal data scientist. Although it may seem easy, it is actually rather challenging.
Click here to learn Data Scientist Course in Bangalore
How does a data scientist's pay Vary throughout Key Economies?
Geography does have a huge revenue impact; but, due to the size of the trend, it is not effectively recorded. While GDP itself may not translate into income, it may act as a proxy tool for geographic variation in salaries. A data scientist's median salary in India will be around 607,193. Experts need to enhance the skill set in order to avail of higher pay. For the fresher, an annual income of about 477,000 is paid to Data scientists to those with 5 years of professional experience and much less than 10 years of fetching up to 723,000. While there are about 1,380,000 workers with more than 10 years of experience.
Statistical analysis, Python, and machine learning are by far the most crucial talents in India. Java, SQL, and data analysis don't significantly affect earnings. Bengaluru, India's Silicon Valley, is home to data scientists who make more money than the typical citizen. Do you realise that Chief Data Scientists make a whopping $10,000,000 annually? India outnumbers the United States in terms of the proportion of women working as data scientists, yet that proportion is still far from being equal. 43:7 is the ratio of male to female employees.
According to Glassdoor, the US Data Scientist salary would be over $118,000 per year; however, PayScale reports that the salary is really around $93,000. The job satisfaction of data scientists is very high. Their employees' comprehensive health insurance is one factor for this. It goes without saying that highly experienced data scientists may earn more money. The starting compensation for a data scientist might be close to $90,000. Those with five to ten years of experience go abroad with $109,000 yearly. The average salary for those with more than ten years of experience is $124,000 per year.
SQL, data modeling, or MATLAB, amongst others, are capabilities that don't make a big difference to the life of a Data Scientist. San Jose charges 28 percent higher than the regional average throughout the United States, while Palo Alto costs 18 percent higher, San Francisco costs 21 percent higher or New York salaries 6 percent higher. The ratio of male and female workers is 23:2.
The Bottom Line
The tendency is still there since, if that number of openings exists only in India, imagine how many there would be on a worldwide scale. Demand for data scientists is anticipated to outpace supply by at least 50% globally in the coming years. When that occurs, the pay will thus increase despite more demand. In order to close this enormous gap, there is also a serious dearth of professional training provided to data scientists. Despite the high salaries paid to data scientists across the board, our training expenses are very low. We must go above and above in educating the eager learners about the breadth and depth of developing technology.
The pay report for the data scientist was the one mentioned above. I hope you are now aware of every aspect that affects a data scientist's income. You can leave comments if you have any further questions for us.
Click here to learn Data Science Course, Data Science Course in Hyderabad, Data Science Course in Bangalore
Data Science Placement Success Story
Data Science Training Institutes in Other Locations
Agra
,
Ahmedabad
,
Amritsar
,
Anand
,
Anantapur
,
Bangalore
,
Bhopal
,
Bhubaneswar
,
Chengalpattu
,
Chennai
,
Cochin
,
Dehradun
,
Malaysia
,
Dombivli
,
Durgapur
,
Ernakulam
,
Erode
,
Gandhinagar
,
Ghaziabad
,
Gorakhpur
,
Gwalior
,
Hebbal
,
Hyderabad
,
Jabalpur
,
Jalandhar
,
Jammu
,
Jamshedpur
,
Jodhpur
,
Khammam
,
Kolhapur
,
Kothrud
,
Ludhiana
,
Madurai
,
Meerut
,
Mohali
,
Moradabad
,
Noida
,
Pimpri
,
Pondicherry
,
Pune
,
Rajkot
,
Ranchi
,
Rohtak
,
Roorkee
,
Rourkela
,
Shimla
,
Shimoga
,
Siliguri
,
Srinagar
,
Thane
,
Thiruvananthapuram
,
Tiruchchirappalli
,
Trichur
,
Udaipur
,
Yelahanka
,
Andhra Pradesh
,
Anna Nagar
,
Bhilai
,
Borivali
,
Calicut
,
Chandigarh
,
Chromepet
,
Coimbatore
,
Dilsukhnagar
,
ECIL
,
Faridabad
,
Greater Warangal
,
Guduvanchery
,
Guntur
,
Gurgaon
,
Guwahati
,
Hoodi
,
Indore
,
Jaipur
,
Kalaburagi
,
Kanpur
,
Kharadi
,
Kochi
,
Kolkata
,
Kompally
,
Lucknow
,
Mangalore
,
Mumbai
,
Mysore
,
Nagpur
,
Nashik
,
Navi Mumbai
,
Patna
,
Porur
,
Raipur
,
Salem
,
Surat
,
Thoraipakkam
,
Trichy
,
Uppal
,
Vadodara
,
Varanasi
,
Vijayawada
,
Vizag
,
Tirunelveli
,
Aurangabad
Data Analyst Courses in Other Locations
ECIL
,
Jaipur
,
Pune
,
Gurgaon
,
Salem
,
Surat
,
Agra
,
Ahmedabad
,
Amritsar
,
Anand
,
Anantapur
,
Andhra Pradesh
,
Anna Nagar
,
Aurangabad
,
Bhilai
,
Bhopal
,
Bhubaneswar
,
Borivali
,
Calicut
,
Cochin
,
Chengalpattu
,
Dehradun
,
Dombivli
,
Durgapur
,
Ernakulam
,
Erode
,
Gandhinagar
,
Ghaziabad
,
Gorakhpur
,
Guduvanchery
,
Gwalior
,
Hebbal
,
Hoodi
,
Indore
,
Jabalpur
,
Jaipur
,
Jalandhar
,
Jammu
,
Jamshedpur
,
Jodhpur
,
Kanpur
,
Khammam
,
Kochi
,
Kolhapur
,
Kolkata
,
Kothrud
,
Ludhiana
,
Madurai
,
Mangalore
,
Meerut
,
Mohali
,
Moradabad
,
Pimpri
,
Pondicherry
,
Porur
,
Rajkot
,
Ranchi
,
Rohtak
,
Roorkee
,
Rourkela
,
Shimla
,
Shimoga
,
Siliguri
,
Srinagar
,
Thoraipakkam
,
Tiruchirappalli
,
Tirunelveli
,
Trichur
,
Trichy
,
Udaipur
,
Vijayawada
,
Vizag
,
Warangal
,
Chennai
,
Coimbatore
,
Delhi
,
Dilsukhnagar
,
Hyderabad
,
Kalyan
,
Nagpur
,
Noida
,
Thane
,
Thiruvananthapuram
,
Uppal
,
Kompally
,
Bangalore
,
Chandigarh
,
Chromepet
,
Faridabad
,
Guntur
,
Guwahati
,
Kharadi
,
Lucknow
,
Mumbai
,
Mysore
,
Nashik
,
Navi Mumbai
,
Patna
,
Pune
,
Raipur
,
Vadodara
,
Varanasi
,
Yelahanka
Navigate to Address
360DigiTMG - Data Science Course, Data Scientist Course Training in Chennai
D.No: C1, No.3, 3rd Floor, State Highway 49A, 330, Rajiv Gandhi Salai, NJK Avenue, Thoraipakkam, Tamil Nadu 600097
1800-212-654-321