Top 12 IT Companies in Noida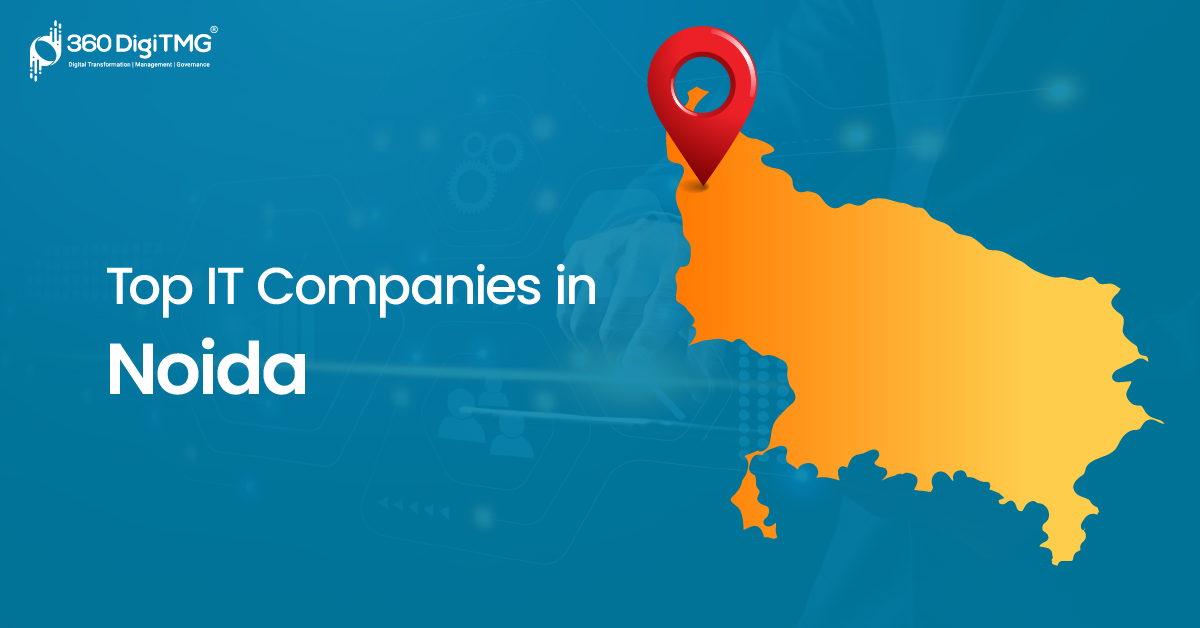 Introduction
Noida, short for New Okhla Industrial Development Authority, is a planned city located in the Gautam Buddha Nagar district of the state of Uttar Pradesh, India. Noida is located at approximately 28.5355° N latitude and 77.3910° E longitude.
Noida is situated in the state of Uttar Pradesh and falls within the Gautam Buddha Nagar district. It is a part of the National Capital Region (NCR) of India, which includes the capital city of Delhi and its surrounding areas. Noida shares borders with several other cities and regions, including Delhi to the west, Ghaziabad to the east, Greater Noida to the south, and Yamuna River to the north.
Noida is well-connected to other parts of the National Capital Region (NCR) through an extensive network of roads and highways. The city has several metro stations that are part of the Delhi Metro network, providing convenient connectivity to Delhi and other areas.
Overall, Noida's strategic location near Delhi, its connectivity, and its planned development have contributed to its rapid growth and emergence as a major commercial and IT hub in the region.
History of Noida
Noida's history dates back to the early 1970s when it was conceived and planned as a satellite city to alleviate the population pressure on the capital city of Delhi.
Establishment and Development: Noida was established on April 17, 1976, under the Uttar Pradesh Industrial Area Development Act, 1976. The city was planned and developed by the New Okhla Industrial Development Authority (NOIDA). The objective was to create a well-planned, modern city with robust infrastructure and amenities.
Industrial Development: Noida was primarily developed as an industrial hub to attract industries and promote economic growth. Special economic zones (SEZs) were established to encourage the establishment of manufacturing units and IT companies. Noida quickly gained prominence as a preferred destination for industries, particularly in sectors such as electronics, garments, engineering, and software development.
Residential Development: Alongside the industrial development, Noida also witnessed residential development to accommodate the growing population. Residential sectors were planned and developed with modern housing complexes, educational institutions, healthcare facilities, and recreational areas.
Planned Infrastructure: Noida was designed as a well-planned city with wide roads, green spaces, and modern amenities. The city's infrastructure includes a network of arterial roads, parks, educational institutions, hospitals, shopping malls, and recreational centers.
Growth as a Commercial Hub: Over the years, Noida has transformed into a major commercial and IT hub. It houses numerous multinational companies, IT parks, business process outsourcing (BPO) centers, and software development firms. The city's proximity to Delhi, good connectivity, and favorable business environment have contributed to its growth as a preferred location for businesses.
Modern Developments: Noida has continued to witness rapid development and modernization. It has seen the construction of high-rise buildings, improved transportation infrastructure, metro connectivity, and the establishment of modern amenities and services. The city's skyline has been transformed with the presence of modern commercial complexes and residential towers. Today, Noida is a bustling city with a mix of industries, commercial establishments, residential areas, educational institutions, and recreational facilities.
Tech Scene
Noida has emerged as a significant hub for the technology industry in India. The city boasts a thriving tech scene with a strong presence of IT companies, startups, and tech talent.
IT Companies and Corporate Presence: Noida is home to a large number of IT companies, ranging from multinational corporations to local startups. Major IT companies, such as HCL Technologies, Adobe Systems, Tech Mahindra, IBM India, and Oracle, have established their offices and development centers in Noida. These companies provide a wide range of IT services, including software development, IT consulting, and digital transformation solutions.
IT Parks and Special Economic Zones (SEZs): Noida houses several IT parks and SEZs that provide a conducive environment for tech companies. These include Noida Special Economic Zone (NSEZ), Noida Export Processing Zone (NEPZ), and Sector 62 IT Park. These parks offer state-of-the-art infrastructure, modern amenities, and a collaborative ecosystem for businesses.
Startups and Entrepreneurship: Noida has a growing startup ecosystem, with a significant number of technology-driven startups in various domains. The city supports entrepreneurship through incubation centers, accelerators, and co-working spaces. These initiatives provide mentorship, funding, and networking opportunities to startups, fostering innovation and entrepreneurial growth.
IT Workforce and Talent Pool: Noida boasts a pool of skilled IT professionals, thanks to the presence of numerous engineering colleges and technical institutes in and around the city. These institutions produce a steady supply of talented graduates in fields such as computer science, information technology, and engineering.
Technology Events and Conferences: Noida hosts a variety of technology events, conferences, and meetups that bring together industry professionals, entrepreneurs, and tech enthusiasts. These events provide opportunities for networking, knowledge sharing, and collaboration.
Research and Development: Several research and development (R&D) centers are located in Noida, focused on advanced technologies and innovation. These centers contribute to cutting-edge research and the development of new solutions in areas such as artificial intelligence, machine learning, data analytics, and cybersecurity.
Government Initiatives and Support: The government of Uttar Pradesh and the local authorities in Noida have implemented various initiatives and policies to support the growth of the technology industry. This includes incentives, tax benefits, and infrastructure development to attract investments and foster a conducive business environment.
Overall, Noida's tech scene is characterized by its vibrant IT industry, corporate presence, startup ecosystem, skilled workforce, and a supportive ecosystem for innovation and growth. The city continues to attract technology companies and professionals, contributing to its position as a major technology hub in India.
Best IT Companies in Noida
Noida is home to several renowned IT companies that have made significant contributions to the industry.
1. HCL Technologies

HCL Technologies is a leading multinational IT services company with a strong presence in Noida. It offers a wide range of IT services, including software development, infrastructure management, cybersecurity, and digital transformation solutions.

2. Adobe Systems

Adobe Systems is a multinational software company known for its popular creative software products. The company has a significant presence in Noida and focuses on research, development, and engineering of software solutions.

3. Tech Mahindra

Tech Mahindra is a global IT services and consulting company that provides services in areas such as digital transformation, software development, enterprise solutions, and cybersecurity. Tech Mahindra has a considerable presence in Noida.

4. IBM India

IBM India is a subsidiary of IBM, a renowned multinational technology company. The company offers a wide range of IT solutions and services, including cloud computing, artificial intelligence, data analytics, and software development.

5. Oracle

Oracle is a major multinational technology company specializing in database software, cloud solutions, and enterprise software products. Oracle has a significant presence in Noida and caters to clients across various industries.

6. NIIT Technologies

NIIT Technologies is an IT services and solutions company that offers software development, digital transformation, and business process management services. The company has a strong presence in Noida and serves clients globally.

7. Samsung R&D Institute India

Samsung R&D Institute India is a research and development centre of Samsung Electronics. The company focuses on developing software solutions, mobile applications, and advanced technologies for Samsung's products.

8. Genpact

Genpact is a global professional services firm that provides digital transformation, business process management, and IT services. The company has a significant presence in Noida and serves clients across various industries.

9. TATA Consultancy Services (TCS)

TCS, one of the largest IT services companies in India, has a strong presence in Noida. The company offers a wide range of IT services, including software development, consulting, and infrastructure management.

10. Ericsson

Ericsson is a multinational telecommunications company that provides network infrastructure, software solutions, and services to telecommunications operators worldwide. The company has a significant presence in Noida and focuses on research and development of advanced telecom technologies.

11. Paytm

Paytm is a leading Indian e-commerce and financial technology company that offers a range of digital payment solutions, mobile applications, and e-commerce services. Paytm has its headquarters in Noida and has been a significant player in the Indian digital economy.

12. InMobi

InMobi is a global mobile advertising and marketing platform that provides solutions for advertisers and app developers. The company has a development centre in Noida and focuses on mobile advertising technologies.
Overview of IT Jobs in Noida
IT jobs offer a wide range of opportunities for progression and development. With the rapid advancement of technology, IT professionals have numerous avenues to enhance their skills, expand their knowledge, and advance in their careers.
Technical Expertise: IT professionals can deepen their technical expertise by specializing in specific programming languages, frameworks, or technologies. By gaining proficiency in areas such as artificial intelligence, cloud computing, cybersecurity, data analytics, or blockchain, they can become subject matter experts and take on more challenging projects.
Certifications and Training: Obtaining industry-recognized certifications can significantly boost an IT professional's career prospects. Certifications validate skills and expertise in specific technologies or methodologies. Examples include certifications from Microsoft, Cisco, AWS, and CompTIA. Continuous learning through training programs, workshops, and online courses is also crucial to stay updated with the latest industry trends.
Project Management: Developing project management skills is essential for IT professionals who aspire to move into leadership roles. Acquiring knowledge in project management methodologies such as Agile or Scrum and gaining experience in leading and delivering successful projects can open doors to positions like project manager, program manager, or IT manager.
Leadership and Management Roles: As IT professionals gain experience and expertise, they can progress into leadership and management roles within their organizations. These roles involve overseeing teams, driving strategic initiatives, managing budgets and resources, and ensuring the successful delivery of IT projects.
Specialization in Niche Areas: IT professionals can choose to specialize in niche areas within the industry. This could involve focusing on emerging technologies like machine learning, cybersecurity, or data science. Specializing in high-demand areas allows professionals to position themselves as experts in those fields and can lead to better career prospects and higher compensation.
Entrepreneurship and Consulting: IT professionals with an entrepreneurial mindset may explore opportunities to start their own businesses or work as independent consultants. This path offers autonomy, flexibility, and the potential for significant growth. Entrepreneurs and consultants can provide IT solutions and services to clients, leveraging their expertise and experience.
Continuous Learning and Skill Enhancement: The IT industry is dynamic and constantly evolving. IT professionals need to continuously update their skills and stay informed about new technologies and trends. They can do this through self-study, online courses, attending industry conferences and events, participating in hackathons, and engaging with online communities and forums.
Networking and Professional Relationships: Building a strong professional network is crucial for career development in IT. Engaging with peers, attending industry events, and joining professional associations can provide opportunities for collaboration, learning, and career growth. Mentors and industry experts can offer guidance and valuable insights to help IT professionals progress in their careers.
Overall, IT jobs provide ample opportunities for progression and development. By focusing on technical expertise, acquiring certifications, developing project management and leadership skills, specializing in niche areas, continuously learning, and building professional relationships, IT professionals can advance their careers and achieve long-term success in the IT industry.
Salary of Software Engineer in Noida
Salaries in the IT industry can vary widely depending on various factors such as job role, experience level, location, company size, and specific skills.
Entry-Level Positions:
Software Developer: $50,000 - $80,000 per year
Web Developer: $45,000 - $70,000 per year
IT Support Specialist: $40,000 - $60,000 per year
Data Analyst: $50,000 - $70,000 per year
Mid-Level Positions:
Software Engineer: $70,000 - $110,000 per year
Systems Administrator: $65,000 - $90,000 per year
Database Administrator: $75,000 - $120,000 per year
IT Project Manager: $80,000 - $130,000 per year
Senior-Level Positions:
Senior Software Architect: $100,000 - $160,000 per year
IT Manager: $90,000 - $150,000 per year
Senior Data Scientist: $110,000 - $180,000 per year
Chief Technology Officer (CTO): $150,000 - $250,000+ per year
Specialized Roles:
Cybersecurity Analyst: $80,000 - $130,000 per year
Cloud Solutions Architect: $100,000 - $150,000 per year
Machine Learning Engineer: $100,000 - $160,000 per year
AI Research Scientist: $120,000 - $200,000+ per year
Data Science Placement Success Story
Related searches
IT companies in Noida, IT company in noida sector 62, Top IT companies in Noida, Noida IT company list, Best IT companies in Noida, Top 10 IT companies in noida, MNC IT companies in Noida