Top 14 IT Companies in Nagpur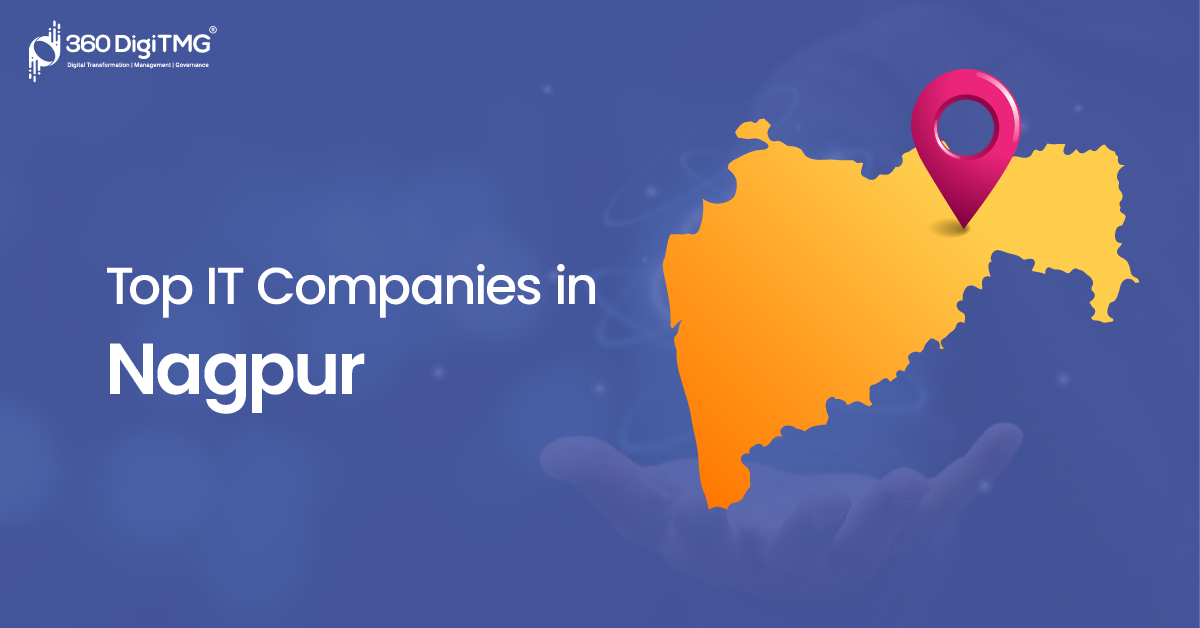 Introduction
Nagpur is a city located in the state of Maharashtra in central India. It is the third-largest city in Maharashtra and is known as the "Orange City" due to the large-scale production of oranges in the region. Nagpur serves as the winter capital of Maharashtra. Geographically, Nagpur is situated at the geographic centre of India, which makes it a major transportation hub. The city is located on the Deccan Plateau, and its coordinates are approximately 21.1458° N latitude and 79.0882° E longitude. Nagpur is surrounded by the Seoni Hills and Satpura Range to the north and the Bhandara and Chinaware districts of Madhya Pradesh to the south. The major rivers flowing through the region are the Nag River and the Kanhan River. The city is well-connected through various modes of transportation. Dr. Babasaheb Ambedkar International Airport is the primary airport serving Nagpur, providing domestic and international air connectivity. Nagpur Junction is the main railway station, linking the city to major cities across India. Additionally, Nagpur is connected to the national highway network, making it easily accessible by road.
Nagpur is a vibrant city with a rich cultural heritage, historical landmarks, and educational institutions. It is home to prominent institutions such as the Rashtrasant Tukadoji Maharaj Nagpur University, National Institute of Technology (NIT), and All India Institute of Medical Sciences (AIIMS), among others. The city also hosts various festivals, including the popular Ganesh Chaturthi and Diwali celebrations. Overall, Nagpur is an important city in central India, with a mix of cultural, historical, and economic significance.
History of Nagpur
The history of Nagpur dates back to ancient times. The region around Nagpur has witnessed the rule of various dynasties and empires over the centuries.
Nagpur's history can be traced back to the 8th century when it was part of the Maurya Empire under Ashoka the Great.
The region saw the influence of various dynasties such as the Satavahanas, Vakatakas, and Chalukyas.
In the 14th century, Nagpur came under the control of the Gond Kingdom. The Gonads established their capital at Nagpur and ruled the region for several centuries.
Nagpur gained prominence as an important centre of trade and commerce during the Gond period.
The 18th century marked the beginning of European influence in Nagpur. The city witnessed conflicts between the Marathas, the Bhosle's, and the British East India Company.
In 1817, Nagpur came under the control of the British East India Company after the defeat of the Marathas in the Third Anglo-Maratha War.
The British developed Nagpur as a significant administrative and commercial centre in the Central Provinces.
After India gained independence from British colonial rule in 1947, Nagpur became part of the Indian state of Madhya Pradesh.
In 1960, the state of Maharashtra was formed, and Nagpur became its second capital, serving as the winter capital of Maharashtra.
Nagpur has witnessed rapid industrialization and urban development in recent decades.
The city has emerged as a major centre for manufacturing, trade, education, and healthcare in central India.
Throughout its history, Nagpur has played a vital role in the political, cultural, and economic landscape of the region. It continues to thrive as a significant city in Maharashtra and remains an important hub for commerce, education, and tourism.
Tech Scene
Nagpur has been making strides in the field of technology, with the establishment of various technology-based initiatives, educational institutions, and the growth of the IT sector.
IT Parks and Special Economic Zones (SEZs): Nagpur has witnessed the development of IT parks and SEZs that provide infrastructure and support for technology companies. The Multi-modal International Cargo Hub and Airport (MIHAN) SEZ in Nagpur is one of the largest SEZs in India and aims to promote IT and IT-enabled services.
Software and IT Companies: Several software development and IT companies have set up their operations in Nagpur. These companies are engaged in software development, IT consulting, outsourcing services, and other related domains.
Education and Training: Nagpur has emerged as an educational hub, offering courses and training programs in various technology-related fields. The city is home to engineering colleges, management institutes, and vocational training centres that cater to the growing demand for skilled professionals in the IT sector.
Start-up Ecosystem: Nagpur has seen the emergence of a vibrant start-up ecosystem. Initiatives such as incubation centres, mentoring programs, and funding support have encouraged entrepreneurship and innovation in the city. Start-ups in Nagpur are working on diverse areas such as software development, e-commerce, healthcare technology, and more.
Skill Development: Efforts are being made to enhance the technical skills of the local workforce. Skill development programs and initiatives by the government and private organizations aim to bridge the skill gap and provide opportunities for employment in the technology sector.
Digital Infrastructure: Nagpur is gradually improving its digital infrastructure to support the growing technology needs. This includes initiatives like the development of high-speed internet connectivity, digital payment systems, and smart city projects.
Events and Meetups: The tech community in Nagpur organizes various events, conferences, and meetups to foster knowledge sharing, networking, and collaboration among professionals, entrepreneurs, and enthusiasts.
While Nagpur may not be as prominent as some other cities in India's technology landscape, it is steadily growing and making significant strides in the field of technology. The city is actively embracing digital transformation and is working towards positioning itself as a technology hub in central India.
Best IT Companies in Nagpur
Nagpur is home to several reputable IT companies that have made significant contributions to the technology sector.
1. Persistent Systems

Persistent Systems is a global software company with its headquarters in Pune, Maharashtra. It has a significant presence in Nagpur and is known for providing software development, product engineering, and digital transformation services.

2. TCS (Tata Consultancy Services)

TCS is one of the largest IT services and consulting companies in India. It has a branch in Nagpur, offering a wide range of IT services, including software development, infrastructure management, and consulting.

3. Infosys

Infosys is a renowned global IT services and consulting company. It has a development centre in Nagpur, providing software development, system integration, and IT consulting services to clients across industries.

4. Tech Mahindra

Tech Mahindra is a multinational IT services and consulting company. It has a presence in Nagpur and offers services such as application development, infrastructure management, and digital transformation solutions.

5. Zensar Technologies

Zensar Technologies is an IT services and digital solutions company with operations in Nagpur. It specializes in areas like application development, enterprise integration, and digital transformation for clients in various industries.

6. Hexaware Technologies

Hexaware Technologies is a global IT and business process outsourcing company. It has a branch in Nagpur and provides services like software development, testing, and infrastructure management.

7. Cybage Software

Cybage Software is an offshore software development company with a branch in Nagpur. It focuses on areas such as software engineering, enterprise mobility, cloud computing, and quality assurance.

8. ESDS Software Solution Pvt. Ltd.

ESDS is a global managed data center and cloud service provider. They offer a range of services, including cloud hosting, data center services, cybersecurity solutions, and digital transformation services.

9. Webwing Technologies

Webwing Technologies is an IT company that specializes in web and mobile application development, UI/UX design, and digital marketing services. They have expertise in various technologies and frameworks.

10. Syntellect India Pvt. Ltd.

Syntellect India is an IT solutions provider offering services such as software development, application maintenance, IT consulting, and enterprise mobility solutions.

11. S.M. Technologies

S.M. Technologies is an IT company that provides services in software development, web application development, mobile app development, and digital marketing.

12. Alpha Plus Technologies Pvt. Ltd.

Alpha Plus Technologies is an IT company specializing in software development, IT consulting, web and mobile app development, and enterprise resource planning (ERP) solutions.

13. Caliber Technology

Caliber Technology offers IT services including software development, website design and development, mobile app development, and digital marketing solutions.

14. Fusion Informatics

Fusion Informatics is a software development company that offers services in areas such as artificial intelligence, IoT, mobile app development, and web development.
Overview of IT Jobs in Nagpur
The IT industry offers a wide range of opportunities for career progression and development.
Entry-Level Positions: Most IT professionals start their careers in entry-level positions, such as software developers, system administrators, or technical support roles. These positions provide foundational experience and knowledge in specific domains or technologies.
Specialization and Expertise: As professionals gain experience, they often choose to specialize in specific areas within the IT field. This could include becoming an expert in a particular programming language, database management, cybersecurity, cloud computing, data analytics, or network infrastructure.
Project and Team Management: With experience and demonstrated leadership skills, IT professionals can progress into project management or team leadership roles. They are responsible for overseeing projects, managing teams, coordinating resources, and ensuring successful project delivery.
IT Consulting and Solution Architecture: IT professionals can transition into roles as consultants or solution architects. These roles involve providing expert advice, designing solutions, and helping organizations leverage technology to meet their business objectives.
Technical Leadership: For individuals who prefer a more technical path, there are opportunities to become technical leads or technical architects. These positions involve guiding and mentoring teams, driving technical innovation, and providing strategic direction for technology implementation.
Entrepreneurship and Start-ups: IT professionals with an entrepreneurial spirit may choose to start their own technology companies or join early-stage start- ups. This path allows them to create innovative products or services and be involved in various aspects of business development and technology leadership.
Executive and C-Level Roles: With significant experience and expertise, IT professionals can progress into executive and C-level roles within organizations. These positions, such as Chief Information Officer (CIO) or Chief Technology Officer (CTO), involve strategic decision-making, technology planning, and aligning IT initiatives with overall business goals.
Continuous Learning and Upskilling: Throughout an IT career, continuous learning and upskilling are essential for staying up to date with the latest technologies and industry trends. IT professionals often pursue certifications, attend training programs, or engage in self-study to expand their knowledge and remain competitive in the field.
Salary of Software Engineer in Nagpur
salaries in the IT industry can vary widely depending on factors such as job role, experience level, location, industry sector, and company size.
Entry-Level Positions:
Software Developer/Engineer: $45,000 - $70,000 per year
Systems Administrator: $45,000 - $70,000 per year
Technical Support Specialist: $40,000 - $60,000 per year
Mid-Level Positions:
IT Project Manager: $70,000 - $100,000 per year
Data Analyst: $60,000 - $90,000 per year
Network Engineer: $65,000 - $95,000 per year
Senior-Level Positions:
IT Architect: $90,000 - $150,000+ per year
IT Consultant: $80,000 - $120,000 per year
Senior Software Engineer: $80,000 - $120,000 per year
Data Science Placement Success Story
Related searches
IT companies in Nagpur , IT park Nagpur companies , IT park Nagpur company list , List of IT companies in Nagpur , Top IT companies in Nagpur , Best it company in Nagpur , Top 10 IT companies in Nagpur