Top 7 IT Companies in Nashik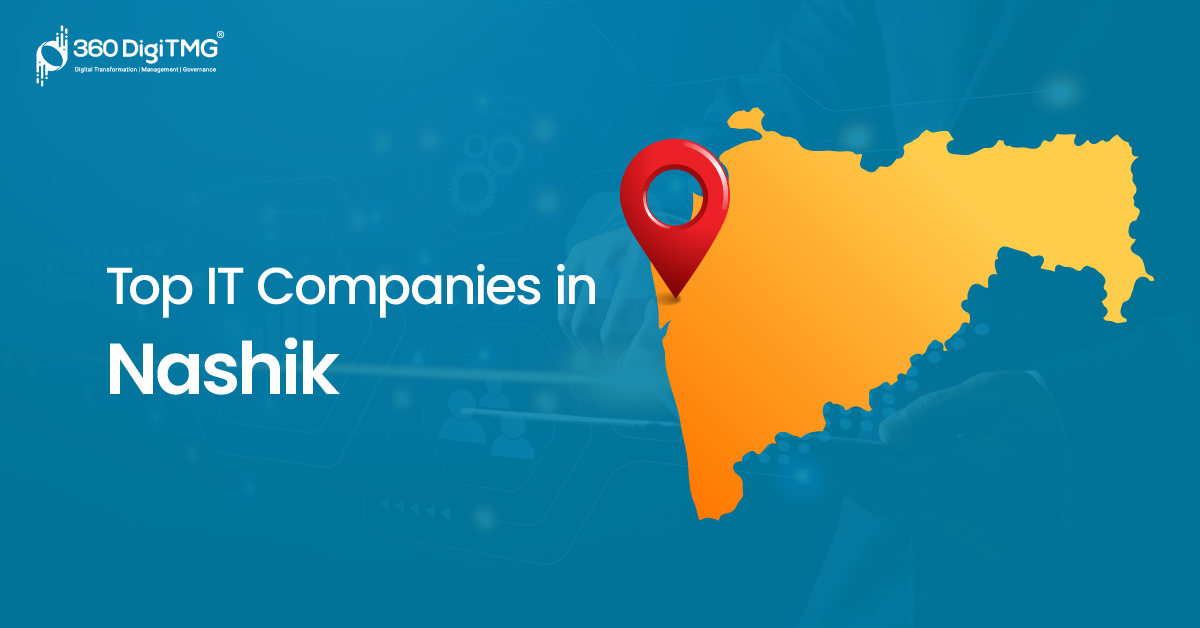 Introduction
Nashik is a city located in the state of Maharashtra, India. It is situated in the northwest part of the state and is surrounded by the Western Ghats on its west and the Deccan Plateau on its east.
Nashik is located at approximately 20.0064° N latitude and 73.7798° E longitude.
Geographical Features:
Nashik is situated on the banks of the Godavari River and is surrounded by picturesque landscapes. The city is located at an average elevation of about 565 meters (1,854 feet) above sea level.
Nearby Cities and Towns:
Some of the nearby cities and towns to Nashik include:
Mumbai: Located approximately 165 kilometers (103 miles) southwest of Nashik, Mumbai is the capital city of Maharashtra and is a major financial and entertainment hub in India.
Pune: Situated about 210 kilometers (130 miles) southeast of Nashik, Pune is a prominent city known for its educational institutions, IT industry, and historical landmarks.
Shirdi: shirdi is located around 90 kilometers (56 miles) northwest of Nashik and is a famous pilgrimage site known for the shrine of Sai Baba.
Aurangabad: Aurangabad is situated approximately 220 kilometers (137 miles) northeast of Nashik and is known for its historical monuments, including the UNESCO World Heritage Sites of Ajanta and Ellora Caves.
Transportation:
Nashik has good connectivity through various modes of transportation:
Railways: Nashik is well-connected to major cities through the Central Railway network. Nashik Road Railway Station is the main railway station in the city.
Roadways: Nashik has a well-developed road network with national highways and state highways connecting the city to other parts of Maharashtra and neighboring states. It is approximately a 3-4 hour drive from Mumbai and Pune.
Airports: Nashik has an airport named Ozar Airport, also known as Nashik Airport, which serves domestic flights. The nearest international airport is Mumbai's Chhatrapati Shivaji Maharaj International Airport.
Landmarks and Tourist Attractions
Nashik is known for its historical, cultural, and religious significance. Some notable attractions in Nashik include:
Trimbakeshwar Temple: Trimbakeshwar is one of the twelve Jyotirlingas (sacred abodes of Lord Shiva) and is a major pilgrimage site for Hindus.
Sula Vineyards: Sula Vineyards is a popular winery located in Nashik and offers wine tasting tours and beautiful vineyard views.
Pandavleni Caves: pandav caves are ancient rock-cut caves dating back to the 1st century BC and are an important historical and archaeological site.
Panchavati: Panchvati is a sacred site in Nashik that is associated with the Hindu epic, Ramayana. It has several temples and is believed to be the place where Lord Rama stayed during his exile.
History of Nashik
Nashik has a rich history dating back thousands of years. Ancient and Medieval Periods:
Nashik has been inhabited since ancient times and finds mention in Hindu mythology and ancient Indian texts. It is believed to have been an important center during the times of the legendary King Rama from the epic Ramayana.
The city is mentioned in ancient Indian texts like the Ramayana, Mahabharata, and various Puranas, which indicate its historical importance as a religious and cultural center.
Nashik has witnessed the rule of several dynasties over the centuries. It was part of the Mauryan Empire, the Satavahana dynasty, the Vakataka dynasty, and the Yadava dynasty.
In the 13th century, Nashik came under the control of the Delhi Sultanate and subsequently the Bahmani Sultanate. The region later fell under the rule of the Mughal Empire.
During the 17th and 18th centuries, Nashik came under the rule of the Maratha Empire. It became an important center for the Maratha Peshwas, who established their administrative base in the nearby city of Pune. The Peshwas developed Nashik and its surrounding areas, and the city flourished as a trade and pilgrimage center.
British Rule and Freedom Struggle:
Nashik came under British rule in the early 19th century as part of the Bombay Presidency. The British established administrative control over the region. Nashik played a significant role in the Indian freedom struggle. The city witnessed various movements and campaigns led by freedom fighters against British colonial rule. Prominent leaders like Mahatma Gandhi, Jawaharlal Nehru, and Vinayak Damodar Savarkar had a significant presence in Nashik during the struggle for independence.
After India gained independence in 1947, Nashik became part of the state of Bombay. Later, when Maharashtra state was formed in 1960, Nashik became a part of Maharashtra.
Nashik has seen significant growth and development in the post-independence era. The city has become an important industrial, educational, and cultural hub in Maharashtra.
Today, Nashik stands as a thriving city with a blend of historical, cultural, and industrial significance. The ancient temples, historical landmarks, and religious festivals attract tourists and pilgrims from across the country. The city's rich history continues to be celebrated and preserved, contributing to its vibrant and diverse heritage.
Tech Scene
IT and Software Development: Nashik has a burgeoning IT and software development sector. The city is home to numerous software companies that provide a wide range of services, including software development, web development, mobile app development, and IT consulting.
Startups and Entrepreneurship: Nashik has witnessed the rise of a vibrant startup ecosystem. Several startups have emerged in the city, focusing on various sectors such as e-commerce, healthcare, agriculture, logistics, and technology-driven solutions. Entrepreneurship initiatives, incubation centers, and support networks have also been established to nurture and promote the growth of startups.
IT Parks and Infrastructural Developments: Nashik has seen the establishment of IT parks and technology-focused industrial zones. These infrastructural developments provide state-of-the-art facilities and a conducive environment for IT companies and startups to operate. Some notable IT parks in Nashik include the Ambad IT Park and the Sinnar-MIDC IT Park.
Technology Events and Communities: Nashik hosts various tech events, hackathons, meetups, and conferences that bring together tech enthusiasts, professionals, and entrepreneurs. These events serve as platforms for networking, knowledge sharing, and fostering collaboration within the tech community.
Skill Development and Training: Nashik has training centers and institutes that offer IT courses and skill development programs. These initiatives aim to bridge the skill gap and enhance the employability of the local workforce by providing technical training and certification programs.
Digital Transformation: Nashik is witnessing the digital transformation of various sectors, including agriculture, healthcare, and manufacturing. Technology-driven solutions, such as IoT (Internet of Things), data analytics, and automation, are being adopted to improve efficiency and productivity.
Government Support: The government of Maharashtra has implemented initiatives and policies to promote the growth of the IT industry in Nashik. These include providing incentives, facilitating infrastructure development, and supporting entrepreneurship and skill development programs.
The tech scene in Nashik is evolving rapidly, attracting investments and talent to the city. The availability of skilled professionals, supportive infrastructure, and a growing ecosystem of startups and tech companies contribute to the overall development of the technology sector in Nashik.
Best IT Companies in Nashik
1. Persistent Systems:

Persistent Systems is a global IT services and product development company with a presence in Nashik. They specialize in software development, product engineering, and digital transformation solutions.

2. Winjit Technologies:

Winjit Technologies is an IT company based in Nashik that offers services in software development, mobile app development, IoT solutions, and artificial intelligence.

3. ESDS Software Solution:

ESDS Software Solution is a leading cloud computing and managed data center services provider. They offer cloud hosting, data center services, and managed IT infrastructure solutions.

4. Netwin Systems & Software (I) Pvt. Ltd:

Netwin Systems is an IT company based in Nashik that provides software development services, including customized software solutions, web development, and IT consulting.

5. Sysfore Technologies:

Sysfore Technologies is an IT consulting and services company that specializes in cloud computing, enterprise solutions, and managed IT services.

6. Blaze Web Services Pvt. Ltd:

Blaze Web Services is an IT company in Nashik that offers website development, digital marketing, and software development services.

7. Attune Infocom Pvt. Ltd:

Attune Infocom is an IT company that provides enterprise software solutions, web development, mobile app development, and IT consulting services.
Overview of IT Jobs in Nashik
IT jobs offer excellent opportunities for progress and development due to the ever-evolving nature of the industry.
Career Advancement: IT professionals have various opportunities for career advancement. They can progress through the ranks by taking on more responsibility, leading teams, and managing projects. With experience and expertise, they can move into managerial and leadership roles, overseeing larger initiatives and teams.
Specializations and Skill Development: The IT field is vast, and professionals can choose to specialize in specific areas based on their interests and aptitudes. Specializations such as software development, cybersecurity, data science, cloud computing, artificial intelligence, and network administration offer distinct career paths. Continual skill development through training, certifications, and staying up-to-date with emerging technologies is crucial to progress in these areas.
Learning Opportunities: The IT industry provides ample opportunities for continuous learning and professional growth. New technologies, frameworks, and programming languages are constantly emerging, and IT professionals need to stay updated to remain competitive. Learning new skills, attending workshops and conferences, and participating in online courses or boot camps can enhance knowledge and open doors to new career opportunities.
Cross-Functional Roles: IT professionals often have the chance to work in cross-functional roles that involve collaboration with teams from different departments within an organization. This exposure can broaden their skills, knowledge, and understanding of business processes, enhancing their overall professional development.
Entrepreneurship and Startups: IT professionals with an entrepreneurial mindset can venture into starting their own businesses or join startups. Startups provide an environment of innovation, growth, and the opportunity to work on cutting- edge technologies. The experience gained from building a startup or working in a startup environment can be invaluable for career development.
Continuing Education and Higher Studies: Pursuing higher education, such as a master's degree or a PhD in a specialized IT field, can open doors to advanced positions, research opportunities, and higher-level leadership roles. Additionally, acquiring certifications in specific domains can demonstrate expertise and provide a competitive edge in the job market.
Industry Networking and Community Engagement: Active participation in industry events, conferences, and professional communities can expand professional networks, facilitate knowledge sharing, and create opportunities for collaboration and career growth.
Salary of Software Engineer in Nashik
Salaries in the IT industry can vary depending on factors such as job role, experience, location, industry, and company size.
Entry-Level Positions:
Software Developer/Engineer: $60,000 - $90,000 per year
Systems Administrator: $50,000 - $75,000 per year
Help Desk Technician: $40,000 - $60,000 per year
Mid-Level Positions:
IT Project Manager: $80,000 - $120,000 per year
Data Analyst: $70,000 - $100,000 per year
Network Engineer: $75,000 - $110,000 per year
Senior-Level Positions:
IT Architect: $120,000 - $180,000+ per year
IT Consultant: $100,000 - $150,000 per year
Senior Software Engineer: $90,000 - $140,000 per year
Data Science Placement Success Story
Related searches
IT companies in Nashik , Nashik IT company list , Top IT companies in Nashik , best IT companies in Nashik , Top 10 IT companies in Nashik , MNC IT companies in Nashik , Nashik top IT companies , IT software company in Nashik