Top 11 IT Companies in Perth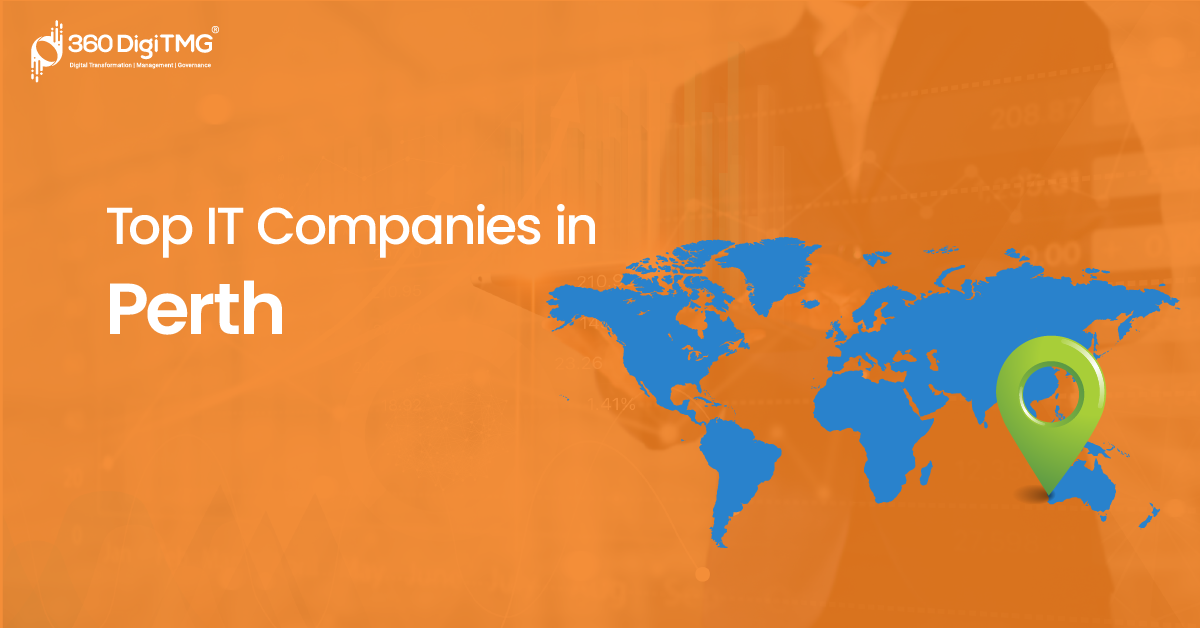 Introduction
Perth is the capital city of Western Australia and is located on the western coast of the country.
Geographical Location: Perth is situated on the Swan Coastal Plain, bordered by the Indian Ocean to the west and the Darling Scarp to the east. It is located approximately 2,130 kilometers (1,320 miles) west of the capital city, Canberra.
Climate: Perth has a Mediterranean climate, characterized by hot, dry summers and mild, wet winters. Summers (December to February) are typically hot with temperatures reaching the high 30s Celsius (90s Fahrenheit), while winters (June to August) are mild with temperatures averaging around 15-20 degrees Celsius (60-70 degrees Fahrenheit).
Metropolitan Area: The metropolitan area of Perth spans across several local government areas, including the City of Perth, City of Stirling, City of Joondalup, and City of Fremantle, among others. It is the fourth most populous city in Australia, with a population of over 2 million people.
Landmarks and Attractions: Perth is known for its stunning coastline, beautiful parks, and vibrant cityscape. Some notable landmarks and attractions in Perth include Kings Park and Botanic Garden, Swan River, Elizabeth Quay, Fremantle Prison, Cottesloe Beach, and Rottnest Island.
Economic Hub: Perth is a major economic hub in Western Australia, with a diverse economy that includes industries such as mining, resources, finance, IT, education, tourism and healthcare. The city is home to numerous corporate headquarters, government agencies, and research institutions.
Overall, Perth offers a unique blend of natural beauty, modern infrastructure, and economic opportunities. Its location on the western coast of Australia provides access to stunning beaches and outdoor activities, while its growing IT sector contributes to the city's overall development and employment opportunities.
History of Perth
Perth, located on the western coast of Australia, has a rich history that dates back thousands of years.
Indigenous Heritage: The Perth region has a long history of Indigenous occupation, with the Whadjuk Noongar people being the traditional custodians of the land. They have lived in the area for tens of thousands of years, maintaining a deep connection to the land and its resources.
European Settlement: Perth was officially established as a British settlement in 1829 by Captain James Stirling, who led the Swan River Colony. The purpose of the settlement was to establish a free colony in Western Australia and promote British interests in the region.
Gold Rush: In the late 19th century, the discovery of gold in the eastern parts of Western Australia sparked a gold rush, attracting a wave of migrants to the area. This influx of population led to significant growth and development in Perth, as it became a major service center for the mining industry.
Development and Expansion: Throughout the 20th century, Perth continued to grow and develop. The city saw infrastructure improvements, such as the construction of railways, roads, and public buildings. Industries like agriculture, manufacturing, and trade played a crucial role in the city's economic development.
Modern Era: In recent decades, Perth has experienced significant urbanization and population growth. The city has become a major center for commerce, finance, and technology. It is known for its thriving arts and cultural scene, quality of life, and its role as a gateway to Western Australia's natural wonders.
Today, Perth stands as a modern and vibrant city with a multicultural population. It embraces its Indigenous heritage and celebrates its diverse history while looking towards the future with innovation and progress.
Tech Scene
The tech scene in Perth, Australia has been steadily growing in recent years, positioning itself as a hub for innovation and technological advancements.
Startups and Innovation: Perth has seen the rise of numerous tech startups across various industries, including software development, fintech, healthtech, and mining technology. The city provides a supportive environment for entrepreneurs, offering resources such as co-working spaces, funding opportunities, and mentorship programs.
Research and Development: Perth is home to several leading research institutions and universities, such as the University of Western Australia and Curtin University. These institutions actively engage in cutting-edge research and development projects, collaborating with industry partners to drive technological advancements.
Mining and Resources Technology: Given Western Australia's significant mining industry, Perth has become a hub for mining and resources technology innovation. Companies in this sector focus on developing advanced mining technologies, automation systems, and data analytics solutions to improve efficiency, safety, and sustainability in the industry.
Digital and Creative Industries: Perth's tech scene extends beyond traditional IT sectors, with a growing digital and creative industries sector. This includes game development, animation, virtual reality, augmented reality, and digital marketing. The city hosts various events and festivals that showcase digital creativity and attract talent.
Collaboration and Networking: Perth has a strong sense of community within its tech scene. There are numerous meetups, conferences, and networking events that bring together professionals, entrepreneurs, and industry leaders to share knowledge, collaborate, and foster innovation.
Overall, the tech scene in Perth is dynamic and evolving, with a focus on fostering innovation, supporting startups, and driving advancements in various industries. The city's collaborative environment, combined with its research institutions and supportive infrastructure, contributes to the growth and development of the tech sector.
Best IT Companies in Perth, Australia
1. ASG Group:

ASG Group is a leading IT services provider that offers a wide range of solutions, including application development, managed services, and infrastructure solutions. They cater to various industries, including government, resources, and financial services.

2. Empired Ltd:

Empired is an IT services and consulting company specializing in digital transformation, cloud services, and business intelligence. They have expertise in industries such as government, utilities, education, and resources.

3. Data#3:

Data#3 is a leading IT solutions provider offering a comprehensive range of services, including IT consulting, managed services, cloud solutions, and software licensing. They work with organizations across multiple sectors, including government, education, healthcare, and commercial sectors.

4. Modis:

Modis is a global IT staffing and consulting company that provides a range of IT services, including IT outsourcing, project management, and workforce solutions. They have expertise in various industries, including technology, finance, healthcare, and energy.

5. RAC WA:

The Royal Automobile Club of Western Australia (RAC WA) is an organization that provides a wide range of services, including insurance, roadside assistance, and travel services. They also have a h3 IT division that develops and maintains their digital platforms and technology solutions.

6. DXC Technology:

DXC Technology is a global IT services and solutions provider, offering a wide range of services including consulting, application development, and IT infrastructure services. They cater to various industries such as healthcare, banking, and government.

7. Deloitte:

Deloitte is a global consulting firm that provides a range of services, including IT consulting, cybersecurity, and digital transformation. They have a h3 presence in Perth and work with clients across industries.

8. Telstra:

Telstra is Australia's leading telecommunications and technology company, providing a range of services including mobile, internet, and cloud solutions. They have a significant presence in Perth and offer various IT-related services.

9. Datacom:

Datacom is a leading IT services and solutions provider, offering services such as IT consulting, managed services, and cloud solutions. They work with clients across industries, including government, education, and healthcare.

10. Kinetic IT:

Kinetic IT is an Australian IT services company, specializing in managed services, IT infrastructure, and cybersecurity. They have a h3 presence in Perth and work with clients in various sectors, including government, resources, and utilities.

11. Cirrus Networks:

Cirrus Networks is an IT solutions provider that offers a range of services, including IT consulting, infrastructure solutions, and managed services. They cater to clients across industries, with a focus on delivering innovative and reliable IT solutions.
Overview of IT jobs in Perth
IT Jobs offer excellent opportunities for progression and development.
Skill Development: IT professionals have the opportunity to continuously learn and enhance their skills. Technology is constantly evolving, and IT professionals need to stay up-to-date with the latest tools, programming languages, and trends. Through training, certifications, and practical experience, individuals can expand their skill set and stay relevant in the industry.
Career Advancement: IT careers often provide clear paths for advancement. Starting from entry-level positions, professionals can progress to more senior roles with increased responsibilities, such as team lead, project manager, or department head. With experience and expertise, individuals can take on higher- level positions and even move into executive roles within an organization.
Specialization: The IT field offers numerous specialization areas. Professionals can choose to specialize in specific domains such as cybersecurity, data science, cloud computing, artificial intelligence, or software development. By focusing on a particular area, individuals can become subject matter experts and open up new opportunities for career growth.
Leadership Opportunities: As IT professionals gain experience and expertise, they can transition into leadership positions. IT managers, directors, and CIOs are responsible for managing teams, setting strategies, and driving technology initiatives within organizations. These leadership roles provide opportunities for career growth and the ability to influence the direction of technology within an organization.
Entrepreneurship and Freelancing: IT professionals also have the option to start their own businesses or work as freelancers. With the rise of digital platforms and remote work, individuals can leverage their skills to offer specialized IT services to clients or develop innovative technology solutions. This path allows for greater flexibility, independence, and potential financial rewards.
Salaries of Software Engineer in Perth
The salaries in the IT industry in Perth, Australia can vary depending on factors such as job role, experience level, and the specific company.
Software Developer: The salary for a software developer in Perth typically ranges from AUD 60,000 to AUD 120,000 per year. This can vary based on the programming languages and technologies used, as well as the level of experience.
Network Engineer: Network engineers in Perth can expect to earn an annual salary of around AUD 70,000 to AUD 120,000. The salary may vary depending on the complexity of the network infrastructure and the level of expertise required.
Systems Administrator: Systems administrators in Perth earn an average salary ranging from AUD 60,000 to AUD 100,000 per year. The salary may vary depending on the size of the infrastructure being managed and the level of responsibility involved.
Data Analyst: The salary for data analysts in Perth typically falls between AUD 60,000 and AUD 100,000 per year. However, salaries can be higher for professionals with advanced data analysis skills and experience working with large datasets.
IT Project Manager: IT project managers in Perth can earn an average salary of AUD 90,000 to AUD 150,000 per year. The salary may vary based on the complexity and scope of the projects managed, as well as the level of experience and industry domain expertise.