Applications of Data Analytics in the Education Sector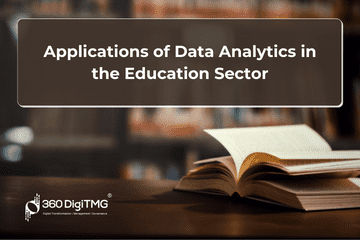 An exceptional chance to study, comprehend, and model academic processes is being offered by education data analytics. Due to this, systems like Learning Analytics (LA), Academic Analytics (AA), and Educational Data Mining (EDM) have been developed, where the output of any of these systems may be used as the input for another educational system. Learning management systems (LMS), massive open online courses (MOOC), learning object repositories (LOR), open courseware (OCW), open educational resources (OER), social media, linked data, and mobile learning are just a few of the platforms or systems that have been developed that are contributing to education data analytics. It is crucial to include elements like data gathering, data mining, and databases that assist education data analysis while talking about education analytics. Big data platforms and architectures like Hadoop, Spark, Samsa, as well as big data tools for educational data analytics, are among the technological components. Different methods of data analytics are being utilised to come up with various answers to issue statements pertaining to education. Along with values, educational data also includes volume, variety, and pace.
Wish to pursue a career in data analytics? Enroll in this Data Analytics course in Bangalore to start your journey.
To comprehend and improve learning strategies, learning analytics involves the measurement, collecting, analysis, and reporting of data on learners and their surroundings. Learning Analytics is a study and teaching area that combines Human-Centered Design with Learning (such as educational research, learning and assessment sciences, and educational technology) and Analytics (such as statistics, visualization, computer/data sciences, and artificial intelligence). The important operations of universities, such as institutional advancement, strategic planning, faculty development, program or department review, analyzing graduate placement in academia, and a host of other crucial issues that call for data-supported decisions on policy and implementation, can be addressed using academic analytics data and tools. This enables wider applicability of the data to universities of all sizes that award Ph.D.'s. Using educational data mining, is meant to be mining and analyzing the information obtained while we are teaching, educational data mining aims to improve learning outcomes. Educational scholars believe that this kind of research has the potential to significantly increase learning, just as it has in the scientific and corporate fields of study.
Learn the core concepts of Data Science Course video on Youtube:
Kickstart your career by enrolling in this Data Analyst Course Fees in Chennai.
Learning management systems (LMS), which are computer programmes or web-based tools used to develop, carry out, and assess specific learning processes, can only be produced using educational data analytics. LMS is utilised for eLearning processes and, in its simplest form, comprises of two parts: a server that manages the critical operations and a user interface that is controlled by teachers, students, and administrators. Numerous online tools, including MOOCs, learning object repositories, open courseware, open educational resources, and social media, provide a flexible and affordable way to further your career, pick up new skills, and fill demand for high-quality education possibilities. Millions of people use these all around the world to study for a variety of reasons, including lifetime learning, professional progression, changing careers, college preparation, supplemental learning, and corporate eLearning & training. Studies are being conducted utilising educational analytics in conjunction with the knowledge of weblogs, Twitter, and Facebook working on diverse themes and different areas in order to improve and optimise future teaching experiences.
Don't delay your career growth, kickstart your career by enrolling in this Data Analyst Course in Pune.
Educational data consists of volume, variety, and velocity, along with values. Educational data analytics deals with an immense amount of information, produced from daily activities. As the data increases on a daily process, traditional data management tools, like excel spreadsheets and manual record-keeping, are no longer being taken into account for analysis. If it has to be understood from where the data has been produced and used in the educational sector, we get different factors, such as student data, course data, instructor data, and facility data. In the case of student data, it may contain information such as demographics (age, ethnicity, and gender), or data may contain information such as full-time or part-time. The data could be related to student enrollments, grading, and maybe the completion rate of their academics. Information about the instructors, like age, ethnicity, gender, salaries, and productivity on their part towards academic training also included in the analysis. Educational organization's facilities details, such as classroom design and operations, sorting out resources, and allocating to different sections, may be based on a daily or weekly basis. In educational data analysis, as data scientists, we are trying to create data-driven decision-making approaches, where we rely on numbers and statistics to back up our decisions, which can lead to effective outcomes. To make data access easier, and to capture data easily, there are multiple tools with similar types of technological infrastructure being adopted. It makes it easy to capture educational data, store it and organize the information. The application should provide access to information to find quickly.
Where then do we especially use data analytics in the sphere of education? Is comprehension necessary? We simplify the enrolment process by utilising data analytics to assist students in selecting the right university. We can most effectively identify the difficulties students have while choosing institutions by using data analytics. In addition to this, for schools, maintaining current students for a better academic career is far easier than attracting new enrolments. We can utilise data analytics to forecast a student's progress after their enrolment. We can determine the success rate more likely to predict whether children will drop out of school or fail their classes by looking at data from specific academic studies of certain individuals. This element may impact both initial enrolment and the choice of applicants during the admissions process. We may assess a student's academic accomplishment in engineering based on data examining their performance, including grades from specific classes, high school GPA, and SAT scores. The subject-by-subject analysis might also assist students in choosing specific courses and in working with student advisers to investigate other options or enrol in remedial classes. Educational data may also help you make necessary adjustments before things threaten to spiral out of control for you and your pupils. If a student fails their schoolwork throughout a semester, they should not be placed on probation. By sharing precise learning measures with advisors and instructors during a term, however, steps may be taken to prevent the student from failing early on. Analysis of prior student evaluations, comments, ratings, and rankings is crucial when it comes to students analysing university data. The data to be evaluated will also include information on tuition costs, class sizes, student-to-teacher ratios, student results, etc.
Pursue a career in Data Analytics with the number one training institute 360DigiTMG. Enroll in the Best Data Analytics Courses in Hyderabad with placements to start your journey.
Application of data analytics in banks for providing education loans. From private and business analytics, education data analytics is also used to analyze education statistics in different governments associated with different countries in the world. Data could include factors such as children out of school, female literacy rate, government policies on education, government expenditure on education, progression of institutions, facilities, approvals, etc. The unique challenge to be noted in educational institutions aspect today is organizing data. The different objectives needed for a Machine Learning model to work are usually are being provided by different platforms. Due to the huge data that we have, implementing predictive analytics is almost becoming difficult and it gives the importance of data analytics. There is no question about the advantages of data-driven educational analytical methods. When these techniques are properly implemented, data-driven decision-making in education can benefit students for the rest of their lives and boost work satisfaction and fulfillment for teaching staff who will finally have the resources they need to effectively carry out their duties.
Data Science Placement Success Story
Data Science Training Institutes in Other Locations
Agra, Ahmedabad, Amritsar, Anand, Anantapur, Bangalore, Bhopal, Bhubaneswar, Chengalpattu, Chennai, Cochin, Dehradun, Malaysia, Dombivli, Durgapur, Ernakulam, Erode, Gandhinagar, Ghaziabad, Gorakhpur, Gwalior, Hebbal, Hyderabad, Jabalpur, Jalandhar, Jammu, Jamshedpur, Jodhpur, Khammam, Kolhapur, Kothrud, Ludhiana, Madurai, Meerut, Mohali, Moradabad, Noida, Pimpri, Pondicherry, Pune, Rajkot, Ranchi, Rohtak, Roorkee, Rourkela, Shimla, Shimoga, Siliguri, Srinagar, Thane, Thiruvananthapuram, Tiruchchirappalli, Trichur, Udaipur, Yelahanka, Andhra Pradesh, Anna Nagar, Bhilai, Borivali, Calicut, Chandigarh, Chromepet, Coimbatore, Dilsukhnagar, ECIL, Faridabad, Greater Warangal, Guduvanchery, Guntur, Gurgaon, Guwahati, Hoodi, Indore, Jaipur, Kalaburagi, Kanpur, Kharadi, Kochi, Kolkata, Kompally, Lucknow, Mangalore, Mumbai, Mysore, Nagpur, Nashik, Navi Mumbai, Patna, Porur, Raipur, Salem, Surat, Thoraipakkam, Trichy, Uppal, Vadodara, Varanasi, Vijayawada, Visakhapatnam, Tirunelveli, Aurangabad
Data Analyst Courses in Other Locations
ECIL, Jaipur, Pune, Gurgaon, Salem, Surat, Agra, Ahmedabad, Amritsar, Anand, Anantapur, Andhra Pradesh, Anna Nagar, Aurangabad, Bhilai, Bhopal, Bhubaneswar, Borivali, Calicut, Cochin, Chengalpattu , Dehradun, Dombivli, Durgapur, Ernakulam, Erode, Gandhinagar, Ghaziabad, Gorakhpur, Guduvanchery, Gwalior, Hebbal, Hoodi , Indore, Jabalpur, Jaipur, Jalandhar, Jammu, Jamshedpur, Jodhpur, Kanpur, Khammam, Kochi, Kolhapur, Kolkata, Kothrud, Ludhiana, Madurai, Mangalore, Meerut, Mohali, Moradabad, Pimpri, Pondicherry, Porur, Rajkot, Ranchi, Rohtak, Roorkee, Rourkela, Shimla, Shimoga, Siliguri, Srinagar, Thoraipakkam , Tiruchirappalli, Tirunelveli, Trichur, Trichy, Udaipur, Vijayawada, Vizag, Warangal, Chennai, Coimbatore, Delhi, Dilsukhnagar, Hyderabad, Kalyan, Nagpur, Noida, Thane, Thiruvananthapuram, Uppal, Kompally, Bangalore, Chandigarh, Chromepet, Faridabad, Guntur, Guwahati, Kharadi, Lucknow, Mumbai, Mysore, Nashik, Navi Mumbai, Patna, Pune, Raipur, Vadodara, Varanasi, Yelahanka
Navigate to Address
360DigiTMG - Data Science, IR 4.0, AI, Machine Learning Training in Malaysia
Level 16, 1 Sentral, Jalan Stesen Sentral 5, Kuala Lumpur Sentral, 50470 Kuala Lumpur, Wilayah Persekutuan Kuala Lumpur, Malaysia
+60 19-383 1378