Is AI Creating Jobs or Replacing?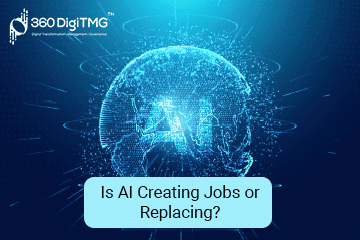 According to a recent assessment by the World Economic Forum, in the next three years, developing technologies will displace 76 million jobs while creating 133.5 million new ones. According to a different estimate, by the year 2030, automation, robotics, and AI will contribute $14.5 trillion to the global GDP.
Source:https://scroll.in
AI and Automation
According to reports from the IFR-International Federation of Robotics, the USA is the largest adopter of robotics, and between 2013 and 2018, the usage of industrial robots increased to 65%, or 2.5 million units, globally. Surprisingly, during the same time period, employment increased as well, from 824,500 to 1,004,000 jobs.
The COVID-19 pandemic, according to SYKES sources, will expand automated workplace or workforce technology within a year.
Click here to explore 360DigiTMG.
As per the sources of SYKES, this COVID-19 pandemic will lead to an increase in the automated workforce or workplace technologies within one year.
Robo-Analysts are going to replace traditional human analysts because of many factors. They can produce collectively results like buy, hold, sell, and no conflict of interest, no behavioral biases. The consistent results produced by robotic analysts will escalate the production. The advantages of Robotic Analysts are they regularly revise the recommendations, adopt different production methods, and analyze the large amounts of data. The portfolios formed based on the recommendations of Robotic analysts appear to be more profitable compared to those formed by human analysts. As a result, Robotic analysts are considered as valuable, alternative information intermediaries to traditional human analysts for investment.
Click here to Learn Artificial Intelligence Course in Pune
Which jobs AI is creating?
Jobs that now need people to refrain from performing repetitive chores will change as a result of AI. Employees in the manufacturing industry who are on the job all day searching for any defective goods might be reassigned to more fruitful jobs like analysing the insights provided by AI sensors and vision systems. Employees must be upskilled with emerging technology to do these types of work, and organisations should support staff in doing so.
Source: https://whatsthebigdata.com
We are all aware that AI-based systems will produce enormous volumes of data, and that this data must be processed in order to yield insightful information. Effective human abilities are necessary to utilise this data. Deep learning scientists and AI engineers have realised that humans are unquestionably needed to analyse the data and that these activities may be completed by completely comprehending the machine learning algorithms. Additionally, AI is producing jobs in the cybersecurity industry. The maintenance of data security and privacy involves a lot of risk since exponentially huge volumes of data are being created. Data security is being hampered by a number of cyberattacks, cyberthreats, and malware. These problems are being solved with the aid of AI, and those who are knowledgeable about it have a lot of opportunity.
AI Enterprise Adoption
Across the globe, 34% of organizations are evaluating AI, and 15% of organizations haven't yet adopted AI. The top sectors which are adopting AI are Research and Development, IT, Customer service, and Manufacturing.
The important barriers to the adoption of AI are lack of skills or trained people, lack of data, identifying industry use cases.
The Fuel for AI
Since data is thought of being AI's fuel, the use of electronic records has greatly risen. Cloud and analytics are becoming more popular for 67% of organisations. As a result of COVID-19, the majority of them are investing in analytics and data platforms.
AI Funding
Approximately 500 startups based on AI raised $8.5 billion among 42 countries, as per CB insights.
AI Markets
The global AI market will increase from $42.7 billion in 2019 to $ 153.9 billion in 2023, according to Analytics, and from $20.77 billion in 2018 to $202.67 billion in 2026, according to Fortune Business Insights.
Artificial Intelligence Course in Chennai
In summary, we may say that AI will introduce new work positions across a range of industries. Students should be aware of this and arm themselves with AI abilities in advance. The Malaysian company 360DigiTMG offers world-class artificial intelligence training courses that include fundamental ideas like machine learning and deep learning. Students may take advantage of and profit from the advantages because the course is 100% HRDF claimable.
Click here to learn Data Science Course, Data Science Course in Hyderabad, Data Science Course in Bangalore
Artificial Intelligence Training Institutes in Other Locations
Ahmedabad, Bangalore, Chengalpattu, Chennai, Hyderabad, Kothrud, Noida, Pune, Thane, Thiruvananthapuram, Tiruchchirappalli, Yelahanka, Andhra Pradesh, Anna Nagar, Bhilai, Calicut, Chandigarh, Chromepet, Coimbatore, Dilsukhnagar, ECIL, Faridabad, Greater Warangal, Guduvanchery, Guntur, Gurgaon, Guwahati, Indore, Jaipur, Kalaburagi, Kanpur, Kharadi, Kochi, Kolkata, Kompally, Lucknow, Mangalore, Mumbai, Mysore, Nagpur, Nashik, Navi Mumbai, Patna, Porur, Raipur, Salem, Surat, Thoraipakkam, Trichy, Uppal, Vadodara, Varanasi, Vijayawada, Vizag, Tirunelveli, Aurangabad
Navigate to Address
360DigiTMG - Data Analytics, Data Science Course Training Hyderabad
2-56/2/19, 3rd floor, Vijaya Towers, near Meridian School, Ayyappa Society Rd, Madhapur, Hyderabad, Telangana 500081
099899 94319