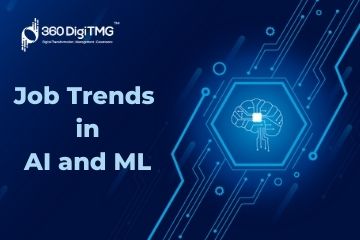 Introduction
A hot issue in the IT sector, artificial intelligence and machine learning are having an effect on businesses all over the world that use them to manage complicated information at work. The different capabilities of artificial intelligence and machine learning are already being utilised by businesses like Google and Facebook in their products. Artificial intelligence and machine learning are finding new applications for the ever rising and more relevant and useful data. The emphasis now is on data analysis and converting it into actionable insights that are utilised to address pressing issues in the fields of biology, physics, economics, and social sciences. So, sign up for the course while keeping your next objective in mind.
Click here to explore 360DigiTMG.
Source: https://www.somtribune.com/
Jobs Profiles in Machine Learning and Artificial Intelligence Domain
Artificial Intelligence is poised to make way for 3.1 million job opportunities by the year 2021. The most in-demand job roles in Artificial Intelligence include Big data engineers, machine learning engineers, and research scientists. As a Data Scientist, you will be primarily engaged in gathering and evaluating data. Artificial Intelligence and Machine Learning are a vital part of Data Science where it uses techniques such as Logistic Regression, Prescriptive Analytics, and more to draw inferences and insights to come up with effective business solutions. You can also become a Research Scientist where you will be expected to work on machine learning and artificial intelligence-based assignments and projects. You will be involved in natural language processing, statistic modeling, deep learning, visualization, reinforcement learning, and more. The other job opportunities in this field include Full-stack developer, Data Analyst, Product Manager, Front-end developer, Data warehouse engineer, etc. So, if you are an aspirant looking for a job in the exciting and challenging domain of Artificial Intelligence and Machine Learning, enroll in one of the best training courses in AI and ML in Bangalore.
Source: https://www.weetechsolution.com/
Click here to learn Data Science Courses in Hyderabad
Salaries in the Space of AI and ML
Companies are investing heavily in these technologies to stay ahead of the market. The top job titles in the domain of AI and ML are
Machine Learning Scientist

A machine learning (ML) scientist is a specialist who finds numerous patterns in the provided data and offers insightful and deeper understanding by developing intuitive models with the aid of his expertise in research and development algorithms. The annual salary range for an ML scientist is between Rs. 4.01 lakh to Rs. 14.73 lakh.

Algorithm Developers

These programmers produce an algorithmic system that logs all operations. They must make sure that these solutions are scalable and economical. They must also create original concepts and update both new and existing systems. The annual salary range for an algorithm developer is between Rs 2.94 lakh and Rs 15.14 lakh.

Click here to Learn Artificial Intelligence Course in Pune.

Computer Vision Engineer

These experts utilise vision algorithms to find patterns in visual data, apply findings from computer vision research to the data gathered, and deal with massive picture datasets to create automatic visual-based comprehension. An annual salary for a computer vision engineer ranges from Rs 2.19 lakh to Rs 7.17 lakh.

Machine Learning Engineer

ML engineers employ a variety of big data tools and programming frameworks to make sure that the information gathered from the pipelines can be transformed into data science models. ML engineers with 1-4 years of experience earn Rs. 714,513, ML engineers with 5–10 years of experience earn Rs. 1,219,012, and ML engineers with more than 20 years of experience may easily make 2,099,193 annually. A fresher in this sector can easily earn Rs. 501,179.

Click here to Learn Artificial Intelligence Course in Chennai.

Business Intelligence Developer

Business Intelligence Developer spends time building analytical processing models and multidimensional databases. They are also responsible for planning solutions for existing problems and presenting analytical findings in the form of visualizations like dashboards, graphs, charts, etc. Depending upon experience and skill set, a BI developer gets Rs 4.71 lakh to Rs 12.30 lakh per annum.
Conclusion
The goal of artificial intelligence is to create computer systems that can carry out tasks that typically need a person exclusively. It mainly focuses on getting computers to think and act more like people. Machine learning is the process of analysing enormous amounts of data to aid computer programmes in performing as well as possible. In many different businesses and fields of research, machine learning and artificial intelligence are being used as the primary problem-solving approaches. They aid in gathering useful information, developing fresh ideas for goods, and influencing important choices. Both of these technologies provide attractive employment options that will put you on a trajectory for quick development. Enrol in the AI and ML programme to gain additional knowledge about algorithms and procedures via practical experience and real-world applications.
Click here to learn Data Science Course, Data Science Course in Hyderabad, Data Science Course in Bangalore
Artificial Intelligence Training Institutes in Other Locations
Ahmedabad, Bangalore, Chengalpattu, Chennai, Hyderabad, Kothrud, Noida, Pune, Thane, Thiruvananthapuram, Tiruchchirappalli, Yelahanka, Andhra Pradesh, Anna Nagar, Bhilai, Calicut, Chandigarh, Chromepet, Coimbatore, Dilsukhnagar, ECIL, Faridabad, Greater Warangal, Guduvanchery, Guntur, Gurgaon, Guwahati, Indore, Jaipur, Kalaburagi, Kanpur, Kharadi, Kochi, Kolkata, Kompally, Lucknow, Mangalore, Mumbai, Mysore, Nagpur, Nashik, Navi Mumbai, Patna, Porur, Raipur, Salem, Surat, Thoraipakkam, Trichy, Uppal, Vadodara, Varanasi, Vijayawada, Vizag, Tirunelveli, Aurangabad
Navigate to Address
360DigiTMG - Data Analytics, Data Science Course Training Hyderabad
2-56/2/19, 3rd floor, Vijaya Towers, near Meridian School, Ayyappa Society Rd, Madhapur, Hyderabad, Telangana 500081
099899 94319