What Is The Data Analyst Salary For Freshers In India? Get To Know Everything You Need To Land A Job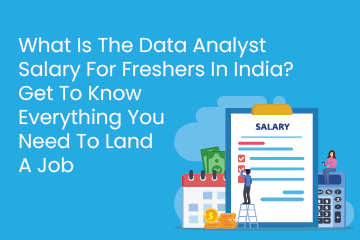 You must possess the appropriate abilities to become a Data Analyst and earn a good salary, and you must continuously improve your skills to meet market expectations. Many elements influence a data analyst's income, but their talents are by far the most important ones. All firms nowadays employ data analysts to assist them in making sense of the growing amount and variety of data they produce and collect. Therefore, using data to derive valuable conclusions has become an essential corporate skill.
Every kind of organization gathers big data to use it to inform or enhance decisions. Businesses employ data analyst positions to streamline processes and boost profitability in various sectors, including manufacturing, marketing, healthcare, B2B, and B2C trade. This blog will therefore be helpful to you if you possess the required skill set and wish to pursue a lucrative profession as a data analyst.
This statement is accurate when we consider that the data analyst compensation for new hires or experienced persons is directly or indirectly tied to how up-to-date and skilled the personnel is. As a result, data analysts command some of the highest salaries and are among the most in-demand specialists worldwide. However, in this nation, pay for Data Analysts vary widely depending on various factors, including the individuals' qualifications, job history, employer, size of the business, and region. Therefore, we will begin by reading about the roles of data analysts.
What is Data Analysis?
Data analysis is a thorough procedure for gathering usable data and analyzing it to provide a more trustworthy decision-making process for a business or an organization's objective. The process starts with acquiring information and moves through interpretation, analysis, and action. Analyzing data in different ways can help you make informed decisions for your organization. There are four categories that it falls under.
Descriptive Analytics: It is a technique that emphasizes numerical data. It answers the query, "What happened? The average number of articles each employee writes in a month, the poll asking what articles consumers prefer, or the average number of likes are some of the examples.
Diagnostic Analytics: Unlike descriptive analysis, diagnostic analysis seeks to explain why something happened rather than describing it. It aids in figuring out the cause of a favorable or unfavorable outcome.
Predictive Analytics: This approach to analysis enables the utilization of data for future analysis. As the name implies, you will make predictions about future patterns and trends using the information you gather to provide a response to the question, What will happen?
Prescriptive Analytics: This kind of analysis focuses on making strategic business decisions that statistical data, unambiguous facts, and visual data support. This examination should be focused on something other than feelings or what you see. It differs from predictive analysis in that it requires machine learning and practical approaches to draw a firm conclusion. A forecast is not necessary; statistical procedures are.
Who are Data Analysts?
Data analysts are subject matter specialists who can convert numbers, figures, statistics, and other types of data into plain English for easy comprehension by all company members.
Every day, we produce more than 2.5 quintillion bytes of data worldwide, and a data analyst's responsibility is to glean helpful information from this mountain of data and provide it to the stakeholders in a complete way, such as reports and visualizations. Since data analysis is a relatively new subject and developments are occurring daily, there is always space for improvement. However, it is the ideal career path for individuals with a solid background in statistics, math, and computer science.
What exactly does a Data Analyst do?
A data analyst's job is to gather, store, and analyze data to process it into useful information further that one can use to enhance corporate operations and make wise business decisions. You must also evaluate and interpret corporate data as a data analyst. You must be able to communicate the same to the various stakeholders, clients, business partners, etc., after analyzing the provided data and interpreting hidden insights from it.
Data Analyst Job Roles:
Job roles that fall under Data Analyst jobs are:
Data Analyst
Data Scientist
Data Engineer
Data Analyst: Data analysts at an organization collect data from businesses and transform it into insightful patterns, trends, and other insights to effectively communicate the data to create business strategies, tactics, and decision-support systems.
Data Scientist: Data Scientists must use diverse algorithms to extract actionable insights such as trends and relationships from datasets after gathering, analyzing, and interpreting enormous amounts of data. To complete the task, they must be well-versed in math, statistics, and programming.
Data Engineer: Data Engineers must plan and provide a dependable infrastructure that Data Scientists may use. These experts transform raw, structured, and unstructured data for additional operational and analytical uses.
Why You Should Become a Data Analyst?
A varied skill set is necessary for an analyst's profile. The following are the benefits of becoming a data analyst:
The demand for data analysts is growing as a result of their ongoing learning and professional development in their domains.
Data analysts are changing. As time and trends change, you may develop your abilities and advance in your profession.
Data analysts can work for various businesses, including startups, agencies, giant corporations, and even independent contractors.
Data Analyst Salaries for Freshers in India:
A data analyst's pay structure could range from 342,363 to 1,750,000 per year. The need for a data analyst has improved due to the massive increase in data compared to earlier years. As a result, a data analyst salary for a newcomer in India can be a decent place to start. However, a variety of factors influence a data analyst's pay, including experience, abilities, location, and company.
Data analytics is becoming increasingly in demand not just in India but throughout the world. The average salary of a data analyst fresher in India is significantly greater than most other occupations. The typical income for a data analyst is from Rs. 4,50,000 to Rs. 5,50,000, while the average Data Analytics salary is roughly Rs. 4,39,260. Additionally, commissions range from Rs. 2k to Rs. 102k, and an annual bonus is equivalent to around Rs. 10k to Rs. 197k. With a rise in the number of first-year students choosing a career in data analysis in India, 78% of specialists in Data Analyst job roles have entry-level wages as high as six lakhs. It is an excellent indicator of the increasing data analytics business.
Data Analyst Salaries in India: Some Contributing Factors:
In India, the starting salary for a data analyst varies depending on location. Organizations choose salary and discuss it after taking into account several elements. The following are a few of the most crucial aspects that are taken into account when hiring data analysts:
Data Analyst's Salary Depending On Experience:
Your amount of experience can have a big impact on your income in many areas. It is especially true for data analysts, for whom both formal education and practical experience are essential. For example, the average compensation for a data analyst in India with two years of experience is 3.8 Lakhs, whereas someone with four years of experience makes 5.2 Lakhs, according to Ambitionbox. For new hires, the average annual compensation for a data analyst is roughly 1.9 Lakhs.
Your years of experience significantly impact your ability to generate money. In terms of salaries, beginning project managers make between 15,000 and 20,000 less than beginning data analysts. This curve increases as your career develop.
Salary for an Entry-Level Data Analyst:
Average salary for data analyst's in India is Rs. 6,98,412. With less than a year's worth of experience, the entry-level pay can be in the range of Rs. 5,000,000. The average salary for data scientists with one to four years of experience is Rs. 6,10,811.
Salary for a Middle-Level Data Analyst:
The income of mid-level data analysts depends on their experience. Experience exhibits a more significant knowledge base, real-world solutions, adaptable functioning, and the ability to mentor others. As a result, a data analyst with more experience than three years in the field will be paid more than a newer data analyst.
Salary of an Experienced Data Analyst:
With three to four years of business experience, the average salary for data analytics rises to Rs. 7,25,344 a year, according to Glassdoor.
Data Analyst's Salary Depending On Location:
If a data analyst is employed in Mumbai, their wages may differ from those in Bangalore for a rookie. It is because one of the variables determining the income of a data analyst is their location. The cost of living and demand for each occupation vary by city or state, and salary is set in accordance with these factors.
Data analysts will make much more money in some cities than in others. For example, your pay may rise by 25% to 35% if you work in Bangalore or Pune. The remuneration of your project manager may be multiplied by where you live and work.
Let's say you live in Lucknow but are given a job as a data analyst at a company with headquarters in Bangalore. Instead of 4.9 lakhs, you might be given 2.7 lacks (the average wage in that region) (the average salary for the data analyst's in Bangalore).
Here are some data analyst salaries are broken down by location.
Bengaluru: A data analyst in Bengaluru has an average annual salary of 6,00,000.
New Delhi: A data analyst in New Delhi makes an average annual salary of 5,87,500 rupees.
Mumbai: A data analyst in Mumbai earns an average annual salary of $5,44,938.
Chennai: On average, a data analyst in Chennai makes $6,16,779 a year.
Data Analyst's Salary Depending On Industry:
When recruiting a Data Analyst, many businesses and employers from various industries have distinct criteria. Therefore, the salary would vary depending on the company's position in the market, the job, and the necessary abilities.
Here are the leading organizations in India that employ data analysts:
| Industry | Average Salary per year in Rs. |
| --- | --- |
| Tata Consultancy Services (IT) | 2,54,000 to 7,84,000 |
| Accenture (IT) | 2,89,000 to 1M |
| Tech Mahindra (IT) | 1,75,000 to 5,00,000 |
| Capgemini (IT) | 2,35,000 to 6,32,000 |
| Flipkart (E-commerce) | 3,02,000 to 1M |
| Cognizant (IT) | 3,07,000 to 2M |
| Infosys (IT) | 2,94,000 to 7,66,000 |
| Genpact (Professional services) | 1,82,000 to 5,60,000 |
| LatentView Analytics (Data and analytics) | 4,46,000 to 6,80,000 |
| Novartis (Pharma) | 5,62,000 to 1M |
Tata Consultancy Services (IT)
Accenture (IT)
Tech Mahindra (IT)
Capgemini (IT)
Flipkart (E-commerce)
Cognizant (IT)
Infosys (IT)
Genpact (Professional services)
LatentView Analytics (Data and analytics)
Novartis (Pharma)
Data Analysts Salary Based On Skills:
A data analyst should focus on learning the many skills necessary for a data analyst to acquire a high-paying position with fewer years of experience. In addition, they need to consider upgrading their skills beyond merely getting a degree in data analysis.
Several of the skill sets that have an impact on a data analyst's salary range are:
| Essential Skills | Average Salary per year in Rs. |
| --- | --- |
| Microsoft Excel | 1,98,000 to 7,99,000 |
| SQL (Standard Query Language) | 2,51,000 to 1M |
| Database Management & Reporting Skills | 2,19,000 to 1M |
| Web Analytical Skills | 0 to 7,50,000 |
| Data Quality Skills | 3,64,000 to 2M |
| Python | 2,89,000 to 1M |
| Statistical Analysis Skills | 2,11,000 to 1M |
Data Analysts Career Scope:
You should understand the range of a data analyst's career if you have already earned a degree in the subject.
Data analysis is a rapidly expanding field with much room for career development.
How ready you are to learn new skills determines your success. For example, as previously indicated, you can advance from the data analyst position to that of data scientist, which is significantly more sophisticated and calls for a particular skill set and a thorough understanding of programming languages and statistical methods.
An entry-level data analyst's career options could shift from business analysis to data science at a higher level.
The Scope of a Data Analyst in the Future:
Businesses must make sure that their data is updated. It calls for ongoing updates, knowledge of, and comprehension of vast volumes of data. Regarding modifying an organization's business models and keeping it one step ahead of the competition, experts with advanced analytics knowledge are essential.
Numerous industries, including banking, law enforcement, healthcare, e-commerce, energy, telecommunications, fraud detection, and risk management, are included in the scope of data analytics in India.
There are numerous jobs for Data Analysts at organizations like JPMorgan Chase, Microsoft, Ernst & Young, Wipro, Adobe, Accenture, Flipkart, AIG, Vodafone, and Deloitte.
Conclusion:
There is a good chance that your compensation will increase by about 15% yearly. With more years of professional experience and skills under your belt, this will rise even further. Therefore, regardless of your level of data experience or whether you're starting from scratch, this will always be the driving force behind your profession!
In India, the potential for data analytics is at its peak. With the enormous amounts of data that organizations produce, the tools available to extract that data, and the desire to learn from it. It also considers the pay increase for data analysts and data scientists in India.
These figures are only estimates. Mastery of your talents, rapid advancement within the organization, and rapid expansion are the main factors that determine your salary.
If you desire to stay at the top of the swift technology advances, you might consider mastering data science, check out www.360digiTMG.com.
Click here to learn Data Science Course, Data Science Course in Hyderabad, Data Science Course in Bangalore,
Data Science Training Institutes in Other Locations
Jaipur
,
Vadodara
,
Mohali
,
Lucknow
,
Patna
,
Nashik
,
Thiruvananthapuram
,
Faridabad
,
Varanasi
,
Guntur
,
Guwahati
,
Chandigarh
,
Delhi
,
Mysore
,
Mangalore
,
Trichy
,
Noida
,
Aurangabad
,
Chennai
,
Kanpur
,
Surat
,
Bangalore
,
Gurgaon
,
Vizag
,
Vijayawada
,
Uppal
,
Thoraipakkam
,
Chromepet
,
Raipur
,
Pune
,
Porur
,
Navi Mumbai
,
Kolkata
,
Kochi
,
Kalaburagi
,
Indore
,
Guduvanchery
,
ECIL
,
Dilsukhnagar
,
Coimbatore
,
Bhilai
,
Anna Nagar
,
Mumbai
,
Kompally
,
Hyderabad
,
Chengalpattu
Navigate to Address
360DigiTMG - Data Science, Data Scientist Course Training in Bangalore
No 23, 2nd Floor, 9th Main Rd, 22nd Cross Rd, 7th Sector, HSR Layout, Bengaluru, Karnataka 560102
1800-212-654321