Advantages of Artificial Intelligence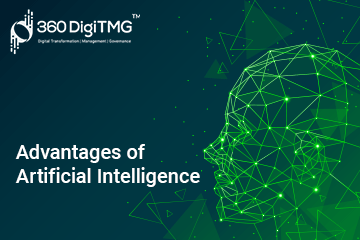 The development of computer systems that can carry out a variety of activities that would ordinarily need human knowledge, such as voice recognition, decision-making, and language translation, is referred to as artificial intelligence (AI). Machine learning is a method that AI systems use to learn and adapt to new conditions, gradually increasing their performance.
Are you looking to become a AI expert? Go through 360DigiTMG's PG Diploma in Artificial Intelligence in Bangalore
.
John McCarthy coined the phrase "artificial intelligence" in 1950.By 2030, AI is expected to contribute $15.7 trillion to the global economy, according to a recent PwC research.
Data science, machine learning, deep learning, and reinforcement learning are the main topics covered by AI.
1. Reactive machines: these expert systems can only react to specific time and do not perform actions from memories or use past experiences to inform their decisions.
2. Limited memory machines: These expert systems can use past experiences to inform their decisions but have less memory and can only use present experiences.
3. Theory of mind machines: These AI systems have a deeper understanding of human emotions, beliefs, and intentions, allowing them to interact with people in more natural ways.
4. Self-aware machines: These expert systems have an idea of self-awareness and can analyse their own internal states and motivations.
To boost productivity, accuracy, and optimum decision-making, AI is being developed across a variety of industries, including healthcare, logistics, and construction. The ethical ramifications of ml, such as its effect on employment, privacy, and prejudice, are a worry, nevertheless.
Earn yourself a promising career in Artificial Intelligence by enrolling in the Masters inArtificial Intelligence in Chennai Program offered by 360DigiTMG.
.
What is the current trend about Artificial Intelligence(AI) ?
Artificial Intelligence (AI) is booming in the current industry because of several reasons:
1. Spread area of data availability: With the emergence of digital technologies, there is an explosion of data available. Ml can help to analyse this data and extract meaningful insights, which can be used to improve business decisions.
2. Advancements in computing power: The availability of high-performance computing systems, such as GPUs, has made it possible to train complex AI models much faster than before.
3. Availability of open-source software: The availability of open-source AI software, such as TensorFlow and PyTorch, has made it easier for businesses to adopt AI and build their own custom models.
4. Improved algorithms: AI algorithms have improved significantly in recent years, making it possible to solve more complex problems and achieve higher levels of accuracy.
5. Excessive investment: The investment in AI research and development has massively grown significantly in recent years, which has led to innovation of more advanced AI technologies.
6. Integration with competitor technologies: AI is being integrated with high technologies such as robotics, internet of things, and big data analytics, which is leading new opportunities for businesses to automate and optimise their operations.
In general, AI is flourishing in the market today because it has the ability to boost productivity, increase efficiency, and open up fresh avenues for innovation.
Advantages of AI:
Artificial Intelligence (AI) has several advantages, including:
1. Automation: AI can automate tedious and repetitive tasks, allowing humans to focus on more complex and creative tasks.
360DigiTMG the award-winning training institute offers a Artificial Intelligence in Hyderabad. and other regions of India and become certified professionals.
.
2. Accuracy: AI algorithms can analyse large amounts of data with a high level of accuracy and make predictions based on that data.
3. Efficiency: AI can process information faster and more efficiently than humans, which can lead to cost savings and increased productivity.
4. Personalization: AI can personalise experiences for individual users based on their preferences and behaviour.
5. AI can help humans make better decisions by providing insights and recommendations based on data analysis.
6. Accessibility: AI can make technology more accessible to people with disabilities, such as by providing voice recognition software or screen readers.
7. Continuous learning: AI can continuously learn and improve based on new data and feedback, which can lead to better performance over time.
8. Innovation: AI can be used to develop new products and services that would not have been possible otherwise.
Disadvantages of AI:
Some are pros and there would be many con's let me give some of disadvantages over AI:
1. Cost: Developing and implementing AI systems can be costly, especially for smaller businesses.
2. Unemployment: The widespread adoption of AI could lead to job losses, particularly for low-skilled workers.
Looking forward to becoming a AI Expert? Check out the Artificial Intelligence in Pune and get certified today.
.
3. Lack of creativity: While AI systems can perform specific tasks very efficiently, they lack the creativity and innovation of human beings.
4. Dependence: Over Reliance on AI systems can lead to a loss of critical thinking skills and the ability to make decisions independently.
5. Bias: AI systems can be biassed if they are trained on data that reflects existing biases in society.
6. Security risks: AI systems can be vulnerable to security breaches and cyber attacks, which can have serious consequences.
7. Ethical concerns: There are several ethical concerns associated with the development and use of AI, including privacy, accountability, and the potential misuse of AI for malicious purposes.
It is important to carefully consider these disadvantages and take steps to mitigate them when developing and implementing AI systems.
360DigiTMG the award-winning training institute offers a Artificial Intelligence Training Program in Chennai and other regions of India and become certified professionals.
Artificial Intelligence Training Institutes in Other Locations
Ahmedabad, Bangalore, Chengalpattu, Chennai, Hyderabad, Kothrud, Noida, Pune, Thane, Thiruvananthapuram, Tiruchchirappalli, Yelahanka, Andhra Pradesh, Anna Nagar, Bhilai, Calicut, Chandigarh, Chromepet, Coimbatore, Dilsukhnagar, ECIL, Faridabad, Greater Warangal, Guduvanchery, Guntur, Gurgaon, Guwahati, Indore, Jaipur, Kalaburagi, Kanpur, Kharadi, Kochi, Kolkata, Kompally, Lucknow, Mangalore, Mumbai, Mysore, Nagpur, Nashik, Navi Mumbai, Patna, Porur, Raipur, Salem, Surat, Thoraipakkam, Trichy, Uppal, Vadodara, Varanasi, Vijayawada, Vizag, Tirunelveli, Aurangabad
Navigate to Address
360DigiTMG - Data Science, IR 4.0, AI, Machine Learning Training in Malaysia
Level 16, 1 Sentral, Jalan Stesen Sentral 5, Kuala Lumpur Sentral, 50470 Kuala Lumpur, Wilayah Persekutuan Kuala Lumpur, Malaysia
+60 19-383 1378