Home / Blog / Machine Learning / Machine Learning Engineer vs. Machine Learning Ops Engineer: What Is The Difference Between Them?
Machine Learning Engineer vs. Machine Learning Ops Engineer: What Is The Difference Between Them?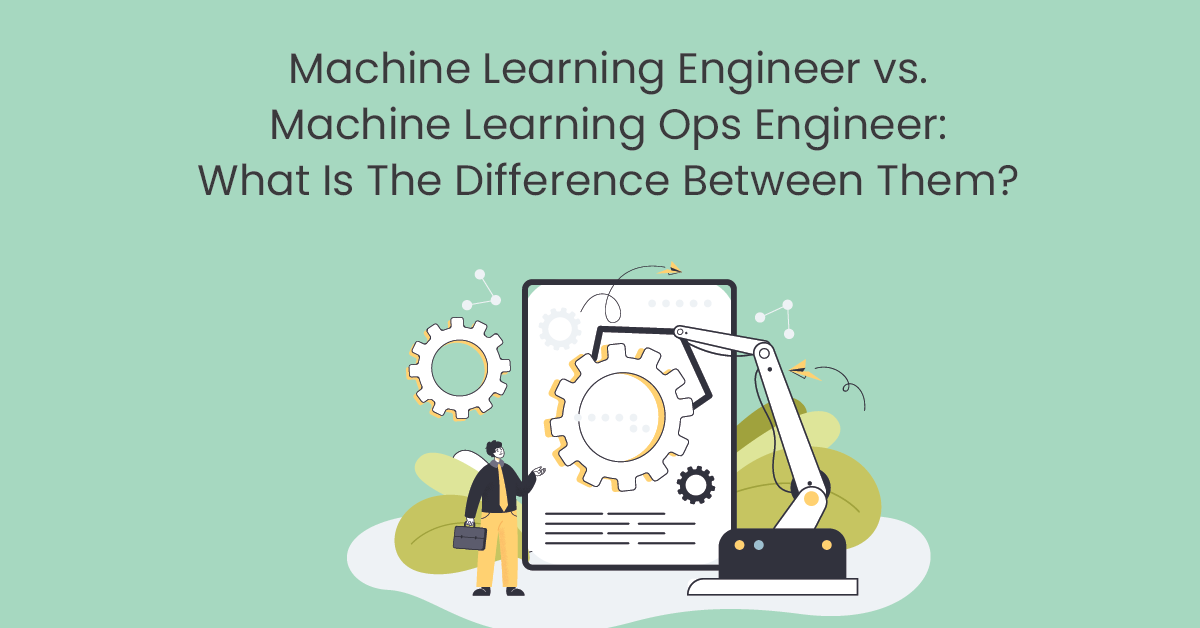 Using Google Cloud knowledge and experience in tried-and-true ML models and approaches, a professional machine learning engineer designs, creates and produces ML models to address business concerns. The ML Engineer closely collaborates with multiple job types to ensure the models' long- term success while being mindful of responsible AI throughout the ML development process. All facets of model construction, data pipeline interaction, and metrics interpretation should be mastered by the ML Engineer. The ML Engineer must understand the fundamental ideas of application development, infrastructure management, data engineering, and data governance. The ML Engineer builds and develops scalable solutions for top performance by understanding training, retraining, deploying, scheduling, monitoring, and improving models.
The concept of "MLOps" is very recent in the data industry. However, thereunder limited their hiring efforts to data scientists and machine learning experts. These people might create prediction models that aided companies in automating processes and making opportunities to make.
However, over time, machine learning initiatives began to harm businesses more than they helped. They could have been more sustainable when put into production, resulting in lost business opportunities and customer dissatisfaction. The definition of a data scientist
360DigiTMG offers the Best Machine Learning Course Training in Pune to start a career in Machine Learning. Enroll now!
What Exactly is an MLOps Engineer?
In summary, MLOps is about how the algorithm functions rather than the research that went into building or creating it. A specialist who focuses on this algorithm's performance is called an MLOps engineer. The operational parts of an algorithm are handled by a specialty field called "Machine Learning Ops." MLOps are typically seen as part of the data science team rather than as a separate profession. MLOps engineers are often referred to by those working in MLOps, and software engineers frequently transition into this role.
Researching the underlying principles of the machine learning algorithm and determining how frequently the model needs to be trained, tested, and delivered are typical tasks for an MLOps engineer. Along with automating the entire process, MLOps specialists must also concentrate on the creation or effectiveness of code repositories.
What Exactly is an ML Engineer?
We're searching for a Machine Learning (ML) Engineer to work with us on developing products for artificial intelligence.
Making machine learning models and retraining systems are the duties of a machine learning engineer. You must have great programming and statistical skills to do this task successfully. We want to meet you if you are also knowledgeable in software engineering and data science.
In the end, you want to design and create effective self-learning applications.
Machine Learning Course is a promising career option. Enroll in Machine Learning Training Program in Chennai offered by 360DigiTMG to become a successful.
What Does ML Engineer Actually Do?
Engineers specializing in machine learning play a crucial role in the data science team. Their duties include researching, creating, and designing the artificial intelligence that underpins machine learning in addition to maintaining and improving the current artificial intelligence systems. Frequently, a machine learning engineer collaborates closely with the data scientists who develop the models for AI systems as well as the people who develop and maintain them. They also play a crucial communication role with other members of the data science team.
Machine learning engineers' duties can vary, but frequently they include the following:
Implementing machine learning algorithms.
Running AI systems experiments and tests.
Designing and developing machine learning systems.
Performing statistical analyses.
To learn more about Machine Learning the best place is 360DigiTMG, with multiple awards in its name 360DigiTMG is the Best place to start your Machine Learning Course in Hyderabad. Enroll now!
What Do MLOps Engineer Actually do?
The ML engineers' ability to scale the machine learning models throughout the entire organization is ensured by the MLOps Engineer. They are also in charge of building and maintaining the infrastructure required for this scaling. They also ensure that data scientists can use these models without being concerned about how they are developed or maintained currently.
A person who creates, constructs, and manages large-scale machine learning systems is known as an MLOps Engineer.
They monitor the systems' performance and manage the infrastructure that underpins the models and algorithms that drive the company's goods.
Figuring out how to make their performance better.
Investigating problems as they occur.
They must be able to troubleshoot any errors or glitches that may occur and keep track of how well your models are working.
To improve the accuracy of your model, an MLOps Engineer may also be responsible for updating the training data or adjusting model parameters.
Education Requirements for Becoming an ML Engineer:
Undergraduate Degree:

As mathematics, data science, computer science, and computer programming are the main subject areas needed to become a machine learning engineer, an aspirant should ideally have an undergraduate degree in one of those fields. However, alternative degrees from similar disciplines, such as physics or statistics, may also be accepted. Business degrees can also be an excellent place to start. However, they must be reinforced with in-depth technical training in the required sciences because machine learning engineers still need to have a strong business sense to comprehend the data demands of businesses.

Initial Career Options:

A machine learning engineer does not hold an entry-level position, so how does someone who wants to pursue this career path begin? Here are some potential options.

Software Engineer
Software Programmer
Software Developer
Data Scientist
Computer Engineer

Earn a Master's Degree or Ph.D.

There needs to be more than an undergraduate degree for most machine learning engineer job vacancies. However, machine learning engineers would have a wide range of alternatives thanks to master's degrees in data science, computer science, software engineering, related fields, or even a Ph.D. in machine learning.

Post-graduate Career Path:

Professionals can at least get their foot in the machine learning engineer door with more education and expertise, but it will also open up other opportunities. Those with experience, education, and good leadership qualities will be eligible for management leadership jobs. These research jobs may decide the future of machine learning. Due to the fact that some businesses that cannot afford a full-time machine learning team use freelance machine learning professionals to develop and implement specialized ML systems, freelancing can be a lucrative and versatile professional career option. Additionally, university academic positions will naturally be well within reach for individuals who want to instruct the upcoming generation of machine learning engineers.

Never Stop Learning:

Keeping up with the times is essential in any technical sector, especially one evolving as quickly and drastically as machine learning. Be informed of and educate yourself on new algorithms, platforms for machine learning, coding languages, machine learning libraries, etc. Establish a network of other machine learning engineers, attend retraining sessions, and obtain certifications.
Become a Machine Learning expert with a single program. Go through 360DigiTMG's Machine Learning training in Bangalore Enroll today!
Education Requirements for Becoming an MLOps Engineer:
An MLOps engineer must be knowledgeable in both software development and machine learning, as was already indicated. In addition, the following are some technical abilities needed to work as an MLOps engineer:
Being able to create and use cloud solutions (AWS, Azure, or GCP)
Experience with Docker and Kubernetes
Ability to build MLOps pipelines
Good understanding of Linux
Knowledge of frameworks such as PyTorch, Keras, Tensorflow
Experience with software development
Capability to understand tools that data scientists use.
Experience in using popular MLOps frameworks like MLFlow, Kubeflow, and DataRobot
Here are some non-technical skills needed to become an MLOps engineer:
Strong communication skills are necessary if you want to grasp the frameworks and types of models created by the data science team.
Your team as an MLOps engineer would consist of individuals with a wide range of experiences. For example, some of them might have greater experience in data science, whereas others might have software development backgrounds and less exposure to machine learning. Therefore, you must collaborate with people with various skill sets to create a scalable application and leverage each person's advantages.
ML Engineer and MLOps have Certain Similarities:
Although ML Ops is a specialist field and ML Engineer is standalone software, they share many deployment and operation-related characteristics. Here are a few illustrations of the similarities.
MLOps and ML engineers both demand a profound grasp of the business. It entails figuring out the issue and developing a remedy.
Python and SQL proficiency is a need for anyone working in the fields of ML engineering and MLOps.
Both professions demand that practitioners have a solid understanding of the concepts of training and assessment.
Git and GitHub experience are anticipated by an ML engineer and an MLOps developer.
As a fundamental requirement in ML engineers and MLOps, a person must have a solid understanding of their company's data and be prepared to find new data by knowing where to look..
ML Engineer and MLOps have Different Applications:
Where ML engineers and MLOps differ is in how an algorithm is created or implemented. The best way to comprehend the difference is to concentrate on the operation and business application. Here are a few ways these two flourishing sectors differ from one another.
ML engineering deals with something other than the operational side because it is a research- oriented field.
Working with production-ready code and having strong coding skills are essential components of MLOpML engineering is a research-focused field; therefore, it focuses on issues other than the operational side.
A master's degree in ML engineering is required of an ML engineer.
An undergraduate or bachelor's degree in software engineering is often necessary to become an MLOps engineer.
An ML engineer should be focused on creating and choosing the best algorithms and be familiar with how machine learning algorithms work in practice.
The MLOps role requires DevOps tools like Docker and cloud platforms like Amazon Web Services (AWS), Google Cloud, and others.
Collaboration and Communication between ML Engineers and ML ops Engineer:
However, teams must embrace a platform approach rather than working separately as specialists. While the divergence of roles in machine learning is a good thing—after all, individuals who are experts in their subject are likely to be more productive in their work—it is important to note. Specialists in various fields can work together and develop machine learning systems by embracing machine learning methods and technologies, or, as it is more commonly known, "MLOps." Model deployment automation to production systems is made possible by MLOps Engineers. The level of automation differs depending on the organization. MLOps Engineers take a model created by a data scientist and make it available to the software that uses it. For example, Jupiter notebooks or script files are frequently used to create, test, and validate machine learning models. But software developers prefer that callable APIs like REST be used to access machine learning models.
Macine Learning Training Institutes in Other Locations
Ahmedabad, Bangalore, Chengalpattu, Chennai, Hyderabad, Kothrud, Noida, Pune, Thane, Thiruvananthapuram, Tiruchchirappalli, Yelahanka, Andhra Pradesh, Anna Nagar, Bhilai, Calicut, Chandigarh, Chromepet, Coimbatore, Dilsukhnagar, ECIL, Faridabad, Greater Warangal, Guduvanchery, Guntur, Gurgaon, Guwahati, Indore, Jaipur, Kalaburagi, Kanpur, Kharadi, Kochi, Kolkata, Kompally, Lucknow, Mangalore, Mumbai, Mysore, Nagpur, Nashik, Navi Mumbai, Patna, Porur, Raipur, Salem, Surat, Thoraipakkam, Trichy, Uppal, Vadodara, Varanasi, Vijayawada, Vizag, Tirunelveli, Aurangabad
Navigate to Address
360DigiTMG - Data Analytics, Data Science Course Training in Chennai
D.No: C1, No.3, 3rd Floor, State Highway 49A, 330, Rajiv Gandhi Salai, NJK Avenue, Thoraipakkam, Tamil Nadu 600097
1800-212-654-321