Top IoT Interview Questions & Answers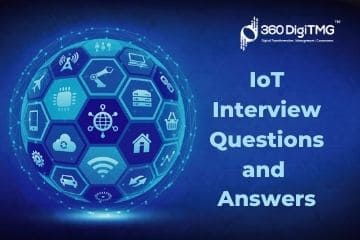 360DigiTMG offers the Best IoT Course Fees in Pune to start a career in Internet of Things. Enroll now!
Explain Components that Exist in the Internet of Things?

IoT Ecosystem has 4 Major Components

Want to learn more about Best IoT Course. Enroll in this IoT Course Fees in Hyderabad to do so.

IoT Sensors/ Devices

Sensors collect data from the environment or any object. An IoT device consists of a sensor along with some Hardware, which can process or compute data coming from sensors and further communicates information from one place to another place through the internet or any other communication medium.

Connectivity and Communication

Connectivity plays a vital role in an IoT System. It consists of two parts:

Devices have to transfer the data collected to other devices or the cloud. In IoT, the layer that connects devices is named as network layer and we have diverse communication technologies to connect devices like Wi-Fi, Blue-tooth, Zigbee, Z-Wave, LoRa, cellular network, etc.

After Connecting to Network, devices communicate data using protocols like HTTP, MQTT, CoAP, WebSocket, etc.

IoT Devices / Sensors
Connectivity and Communication
Data Processing
User Interface

Data Processing

Data collected by IoT devices through sensors have to be analyzed to extract valuable insights from it and to make decisions based on that. Cloud offers Analytics Platform, Storage, and other back end services.

Cloud offers IoT Platforms, which connects devices to the cloud and also provides Edge computing platforms where part of analytics or pre-processing can be deployed on the device on-premises.

Applications/ User Interface

Sometimes, the user has to interact with devices, For that, we need a user-centric layer which performs various tasks for user and controls devices based on user input.

How do you Connect Devices in the IoT Network?

An IoT network is a network of interconnected devices or devices connected to the cloud, such a network of devices communicates with each other, implements actions, take decisions, and provides manageable secure infrastructure.

There are many options for connecting devices and transmitting data between devices and Web/mobile applications. Some are Short Range and some are Long.

What are the Desired Characteristics an IoT System Should Have?

Desired Characteristics:

Dynamicity: IoT devices should adapt to changing contexts. IoT Devices once they are deployed they should be able to change their mode of operation based on changes in the environment they deployed.

Zero Configurations (self-configuration): The self-configuration feature of Plug & Play allows a large number of devices to be connected with each other. Zero configuration supports the decentralized growth of IoT applications that are very simple and easy. The most desirable feature of IoT applications is the Auto- up-gradation of end devices.

Unique Identity: Each IoT device should have a unique identifier and identity –individual addressable in a network of the device.

Semantic Inter-Operability: Semantic interoperability helps IoT objects to understand each other, various devices have the ability to access and interpret the data. IoT devices are supposed to support numerous interoperable common protocols.

Being a IoT is just a step away. Check out the Internet of Things Training in Bangalore at 360DigiTMG and get certified today.

Integration into the Information Network: IoT end devices are interconnected and integrated into a common network –this allows them to exchange data with other devices and systems.

Ambient and Collective Intelligence: IoT offers a special application where it can connect to billions, trillions to offer Collective intelligence though it has individual intelligence.
IoT Training Institutes in Other Locations
Ahmedabad, Bangalore, Chengalpattu, Chennai, Hyderabad, Kothrud, Noida, Pune, Thane, Thiruvananthapuram, Yelahanka, Andhra Pradesh, Anna Nagar, Bhilai, Calicut, Chandigarh, Chromepet, Coimbatore, Dilsukhnagar, ECIL, Faridabad, Greater Warangal, Guduvanchery, Guntur, Gurgaon, Guwahati, Hoodi, Indore, Jaipur, Kalaburagi, Kanpur, Kharadi, Kochi, Kolkata, Kompally, Lucknow, Mangalore, Mumbai, Mysore, Nagpur, Nashik, Navi Mumbai, Patna, Porur, Raipur, Salem, Surat, Thoraipakkam, Trichy, Uppal, Vadodara, Varanasi, Vijayawada, Vizag, Tirunelveli, Aurangabad
Navigate to Address
360DigiTMG - Data Science, Data Scientist Course Training in Bangalore
No 23, 2nd Floor, 9th Main Rd, 22nd Cross Rd, 7th Sector, HSR Layout, Bengaluru, Karnataka 560102
1800-212-654-321