What Are The Main Challenges Of IoT?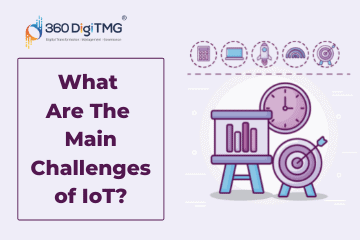 Introduction:
Modern living would not be possible without the Internet of Things (IoT). It has an impact on daily living, communication, and business. Because of this amazing technology, the world is now moving at a new pace.
Indeed, IoT has had a significant positive impact on the automotive, healthcare, and agricultural industries. There is no disputing the world's numerous advantages. You are aware yet that nothing is flawless. Success comes with its share of difficulties, and comforts come with their share of discomforts.
IoT Training and Placement Course is a promising career option. Enroll in Internet of Things Course in Chennai offered by 360DigiTMG to become a successful.
The Internet of Things still faces a number of challenges despite its rising popularity. The producers are clearly addressing the problems, but they still must be taken into consideration.
Challenges of IoT
There are some challenges discussed that are found in the IoT devices and they are proving a big concern for the users and the makers.
Become a IoT Course Fees expert with a single program. Go through 360DigiTMG's IoT Course fee in Bangalore Enroll today!
Security

You can question any IoT industry specialists about the largest market difficulty they are currently facing. They will confess to you that it is this security that is giving them trouble. The likelihood of malicious assaults has grown along with the proliferation of IoT devices, which is the cause of this problem.

Technology is used by cybercriminals to compromise the security of IoT devices. They get access to the physical devices by exploiting the IoT devices' security flaws. The default passwords are still being used on a large number of Internet of Things devices. Cybercriminals may simply break the coding in this case since they have a general concept of what the password is. The users are mostly bearing the load, and that is a tremendous alarm for them.

Customers do not check for updates and any security flaws that might make their devices less safe. And even when new, regulated technology are released to the market to address security concerns, governments do not employ them.

You must upgrade your phone or other smart gadgets if you use them. in order to prevent cybersecurity crooks from hacking it. In order to provide their population with a pleasant and safe living, governments must also take action.

360DigiTMG offers the Best IoT Course Fees in Pune to start a career in Internet of Things. Enroll now!

Regulation

Another challenge for IoT is that due to its evolving nature there are no proper regulations and standards to use the technology. The governments take time to make rules according to the new technology. The business is changing every day which is why the government is failing to make important decisions for it because it needs time to understand the scenario. Thus, you can say that the insufficient regulations of IoT have created a great threat to the security and privacy of the devices.

In the meantime, when the regulations are under process the intruders can get access to the medical device of the patient and can alter the things in it that can affect the health of the patient and can cause a serious disaster. This big technology needs many experts to deal with this issue and the governments also need to work quickly. In this way, you can stop the way cybercriminals harm your devices.

Compatibility

Every day, new technologies are developed, giving both manufacturers and consumers a wide range of options. But as the number of options grows, so does the compatibility. It's possible that the two linked IoT devices use different software. If one of the devices has not updated itself, this may occur. Serious security and performance problems may result from this. There won't be any standards for compatibility that may be utilised for Internet-based communication between two devices. A single global standard is required to solve the compatibility problem with IoT devices. You may argue that this is the only approach to this significant problem.

Connectivity

You cannot think that connectivity is a bigger challenge that IoT is facing. The experts are so much concerned about bandwidth-intensive applications. They are thinking that in the coming time the applications like video streaming will start struggling for getting space in the client-server model. The reason behind this issue is that this model is using a centralized server that directs the IoT traffic.

So, with the increasing number of devices, they will start to struggle for space. It the responsibility of the IoT companies to check for the best connectivity providers that have a record in innovation and have remarkable services. They are required to build their devices on intelligent switching operators. In this way, they can give a friendly environment to the users.

Consumer hopes

Meeting customer expectations continues to be difficult. When a business fails to live up to customer expectations, the product will not be successful.

As you are aware, there is fierce rivalry in the IoT. Therefore, clients won't waste any time leaving a firm if it doesn't suit their needs. And as a result, the business can stop growing and lose productivity.

If you want to launch an IoT business, you must be well prepared since you cannot simply sit back and relax for a time while assuming there is no competition. You need to be aware that there is constantly competition and that consumers are becoming more sophisticated every day. Be ready before you enter the field.

To learn more about Internet of Things, the best place is 360DigiTMG, with multiple awards in its name 360DigiTMG is the Best place to start your Best IoT Training in Hyderabad. Enroll now!
Concluding statement:
IoT is a very exciting technology that can affect our lives, business, health, and many more. The changing nature can put IoT in danger. But all the dangers can be overcome if the governments make standards, companies work according to these standards and the consumers also make their devices up to date. So these three entities need to come on one platform to address all the above issues discussed in the article. If this will happen, then the IoT will keep providing safe and secure devices to the customers and they will meet a single standard.
IoT Training Institutes in Other Locations
Ahmedabad, Bangalore, Chengalpattu, Chennai, Hyderabad, Kothrud, Noida, Pune, Thane, Thiruvananthapuram, Yelahanka, Andhra Pradesh, Anna Nagar, Bhilai, Calicut, Chandigarh, Chromepet, Coimbatore, Dilsukhnagar, ECIL, Faridabad, Greater Warangal, Guduvanchery, Guntur, Gurgaon, Guwahati, Hoodi, Indore, Jaipur, Kalaburagi, Kanpur, Kharadi, Kochi, Kolkata, Kompally, Lucknow, Mangalore, Mumbai, Mysore, Nagpur, Nashik, Navi Mumbai, Patna, Porur, Raipur, Salem, Surat, Thoraipakkam, Trichy, Uppal, Vadodara, Varanasi, Vijayawada, Vizag, Tirunelveli, Aurangabad
Navigate to Address
360DigiTMG - Data Science Course, Data Scientist Course Training in Chennai
D.No: C1, No.3, 3rd Floor, State Highway 49A, 330, Rajiv Gandhi Salai, NJK Avenue, Thoraipakkam, Tamil Nadu 600097
1800-212-654-321