3 Challenges IoT is Currently Facing in 2023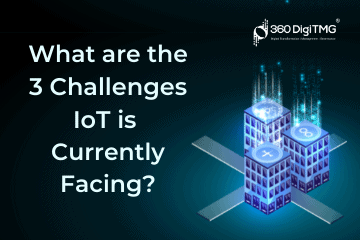 Introduction:
Every aspect of life has been impacted by the Internet of Things (IoT). It has given the populace many new opportunities. Companies that have not yet included IoT into their operations are working on it and will do so in the future in order to expand their businesses. IoT has connected a variety of physical devices to the Internet so they may communicate and share data. The information is kept on the cloud. Despite its popularity and progress, IoT still faces obstacles to further expansion. You may learn about the three main issues that IoT is now experiencing in this post. So, let's get going.
Want to learn more about Best IoT Course. Enroll in this Internet of Things Course in Hyderabad to do so.
3 basic Challenges of IoT:
Even with the immense usage and growth of IoT, it is still facing issues that need to be resolved. These issues are as follows:
Technological issues
Challenges in business
Society challenges
These are the main problems that the IoT is running against. These three issues cover a wide range of related topics. A brief explanation of these difficulties is provided below. Continue reading to learn everything there is to know about these situations.
Also, check this IoT Training Institute in Pune to start a career in Best IoT Training Institute.
Technological Issues:

This section will cover all the issues that IoT needs to overcome related to technology. IoT has the following technological issues:

Connectivity:

IoT devices now operate on a client-server architecture, with each device linked to a single cloud server. With this architecture, all actions are conducted.

Since there are now just thousands of linked devices, connection is sufficient for these devices. But as you may already be aware, IoT is expanding daily. Additionally, it has been expected that billions of gadgets would link to the Internet in the upcoming years.

Thus, the problem with connection now enters the picture. The vast number of Internet-connected gadgets cannot be connected by an IoT system. Therefore, a decentralised architecture must be implemented to minimise the burden on the servers. The connection problem could have a solution in blockchain technology.

Security:

IoT is facing serious security issues that prove fatal and alarmingforthe public and administration who have adopted the technology. The hackers have got access to the smart devices and are changing their instructions.

Being a IoT is just a step away. Check out the Internet of Things Training in Bangalore at 360DigiTMG and get certified today.

The future of IoT is in danger due to this issue. This is the big challenge that IoT companies need to overcome to get a bright future and to grow the technology more and more.

One reason for this issue is that the companies are introducing new technologies frequently.They just focus on the functionality, not on the security. So, it has to be addressed for making IoT devices secure.

Standards:

The businesses are not organising their plans. The gadgets are faulty because they cannot agree on a single standard. The failure of IoT organisations to accept a standard is the cause of their inability to design, implement, and manage IoT systems.

Lack of intelligent analysis:

The algorithms are not producing accurate results. Sometimes it might be possible that the data given to the sensor is not accurate. So, if the data is not accurate, the results will be wrong. The result is an inaccurate analysis. So, it is a big challenge for IoT to get the proper analytical tools to overcome these inaccuracies.

Compatibility:

As told earlier multiple devices are using different technologies that have put a question on a specific standard. So,it is a great issue for IoT to get out of it for becoming a standard.

Challenges in Business

Nowadays more people are coming to invest and start their business in IoT. This is because it is trending and changing the lives of the people. It also has a bright future so that it is a hot field for the people.

Businesses must satisfy all the rules and standards that they need. But unfortunately, they are not working well currently. So,the challenges must be addressed to resolve the issues.

There will be a need for end-to-end solution providers that will give you all the required things so that your business can fulfill all the prerequisites. So, to conclude this section it is better to say that it is a significant challenge for IoT to get a complete understanding of each category of IoT. IoT has the following categories:

Industrial IoT:

It covers all the devices or sensors used in industries like electric meters, pipeline monitors, robots, and many other industrial devices that are connected to the Internet.

Commercial IoT:

This category involves all the devices of the medical industry, tracking devices, and inventory controls.

IoT for consumers:

It encompasses all consumer electronics including mobile phones, smartwatches, linked household appliances like computers, and various information systems.

Knowing the differences between these groups is the main goal of their description. As a result, the regulatory systems can be implemented appropriately.

Society Challenges

IoT is facing many issues regarding society that are proving to bea big challenge for it. The companies are working on them, but they still have the following issues:

360DigiTMG the award-winning training institute offers a Internet of Things Course in Chennai, and other regions of India and become certified professionals.

The customers change their demands frequently so IoT has to fulfill them
The new devices grow gradually, so time is needed
Inventing new things and integrating the previous ones with the new ones demands effort and money
The users are growing every day. So IoT has to tackle all of them.
These issues can disappoint the users and they might not go to buy these products
The users have no complete knowledge of these devices. So, if the interface is complex,it will put a full stop to the growth of the product

All these issues must be resolved to keep the IoT devices secure and reliable.
Wrapping up:
IoT has undoubtedly shown to be incredibly convenient for companies, agriculture, medicine, and home automation. But there are still numerous issues that require significant attention. Customers must be instructed on how to utilise complicated gadgets, and they must have confidence that the corporation won't betray their confidence. This is an area where security has to improve so that people may utilise them without reluctance or concern over losing their data. Overall, these problems raise serious concerns about the IoT's credibility.
IoT Training Institutes in Other Locations
Ahmedabad, Bangalore, Chengalpattu, Chennai, Hyderabad, Kothrud, Noida, Pune, Thane, Thiruvananthapuram, Yelahanka, Andhra Pradesh, Anna Nagar, Bhilai, Calicut, Chandigarh, Chromepet, Coimbatore, Dilsukhnagar, ECIL, Faridabad, Greater Warangal, Guduvanchery, Guntur, Gurgaon, Guwahati, Hoodi, Indore, Jaipur, Kalaburagi, Kanpur, Kharadi, Kochi, Kolkata, Kompally, Lucknow, Mangalore, Mumbai, Mysore, Nagpur, Nashik, Navi Mumbai, Patna, Porur, Raipur, Salem, Surat, Thoraipakkam, Trichy, Uppal, Vadodara, Varanasi, Vijayawada, Vizag, Tirunelveli, Aurangabad
Navigate to Address
Also, check this IoT Training Institute in Pune to start a career in Best IoT Training Institute.
Level 16, 1 Sentral, Jalan Stesen Sentral 5, Kuala Lumpur Sentral, 50470 Kuala Lumpur, Wilayah Persekutuan Kuala Lumpur, Malaysia
+60 19-383 1378