Top 6 Most Required Skills To Advance In Data Science and Succeed Your Career?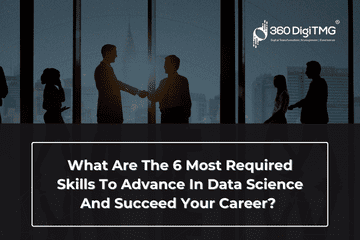 The career path in data science is now experiencing the fastest growth and highest pay. Your skills and expertise are what advance industries. All economy industries currently rely on data to guide their business operations. Up to 53% of businesses already use big data analytics, demonstrating the expansion of data science in the private sector.
The enthusiasm of data scientists to work on insights and complex models may initially be high. Still, that passion gradually wanes as daily schema changes, tables that stop updating, and other shocks that silently damage models and dashboards. For aspiring data scientists and companies looking to hire them, the crucial competencies they need to accomplish their work include a variety of technical skills. But in addition to hard talents, data scientists also require soft skills, or personality traits and character traits that can help them accomplish their goals and close the communication gap with company leaders and employees on technology and data analysis. In more detail, let's examine these crucial data science skills in both areas. Click here to explore 360DigiTMG.
Looking forward to becoming a Data Scientist? Check out the Data Science Course and get certified today.
How Significant Data Science Is:
Organizations that gather data constantly focus on data science because it is essential. To extract valuable insights from the data silos and use those insights to fuel business expansion, these firms require data science expertise.
Additionally, as more sources enter the picture, the data stored increases daily. Additionally, it is becoming out-of-date to create infrastructure for data storage on-site and then process the data over time to uncover insights. As a result, storage-capable frameworks like Hadoop have become increasingly popular.
Furthermore, companies are increasingly emphasizing using advanced analytics technologies to handle the data more effectively. Let's look at the data science lifecycle and how it integrates with significant data operations to understand it better.
6 Most important skills to advance in data science:
Data scientists are essential for businesses to remain competitive in the current industry. However, how can you improve your data science knowledge and skills to maximize the value of your work?
These six skills in data science will help you build your resources and improve your skills to advance in data science
Also, check this Data Science Institute in Bangalore to start a career in Data Science.
1. Technical skills to advance in data science:
Data scientists need many complex skills requiring specialized training and education to formulate good research questions, create solid analytical models, and effectively assess the findings.
⦁ Statistics: It should not be surprising that data scientists must have a solid understanding of statistics because they frequently use statistical concepts and techniques.
⦁ Calculus with multiple variables and linear algebra: It is crucial to comprehend and improve the fitting functions that use mathematical concepts to match a model to a data collection. For instance, knowledge of calculus and algebra is required to train an artificial neural network on large volumes of data.
⦁ Coding and programming: Various data scientists must enroll in training programs because they must learn to program. They frequently lack a computer science degree and aren't coding experts, but they understand programming and coding fundamentals.
⦁ Predictive modeling: Predictive analytics searches for patterns in current or new data sets to forecast future events, behavior, and results; one can apply it to many use cases in different industries, such as customer analytics, equipment upkeep, and medical diagnostics.
⦁ Deep learning and machine learning: Many Data scientists are increasingly being engaged by businesses to create machine learning applications, even though they don't necessarily need to deal with AI technologies. Data scientists skilled in deep learning, a more sophisticated technique that uses neural networks to generate complex analytical models, stand out in the crowd.
⦁ Model deployment and production: To automatically identify clusters or patterns in unsupervised learning approaches, data scientists must be able to select the proper algorithm, run it, and then use training data for supervised learning approaches.
⦁ Data visualization: Another critical data science skill is the ability to effectively represent data when presenting analytics results, especially when working with massive collections of big data that incorporate diverse data kinds.
Learn the core concepts of Data Science Course video on YouTube:
2. Update Your Knowledge on the Current Trends:
How well you can use new software and data analytics trends can significantly influence your chances as a data scientist. Modern data analytics procedures rely on artificial intelligence and machine learning techniques to generate insights with unmatched clarity. In the meantime, platforms for data storage and communication, like blockchain, are emerging to support data management systems.
To land a job as a data scientist in 2021 and beyond, you'll need to be aware of these contemporary advancements and have a solid foundation in general education and credentials. In addition, it is more necessary than ever to stay updated with the most recent data science trends as businesses from all sectors attempt to shift to new technology and competitive data strategies.
Become a Data Scientist with 360DigiTMG Data Science course in Hyderabad Get trained by the alumni from IIT, IIM, and ISB.
3. Look online for guidance:
Opportunities for data science growth may be best sought out online, given the growing virtual aspect of all types of business and education. There are many methods to develop your data science skills on a virtual platform. For example, you can broaden your knowledge base by engaging in training courses created by other data science professionals or finding a mentor through social media sites like LinkedIn.
But first, ensure you have a functional workspace at home where you can study and develop while remaining motivated. This entails setting up a home office with a comfortable chair and desk to position it to prevent neck strain and health issues from supporting the virtual shift.
You can enhance your skills to increase the worth of your employment with virtual guidance in a healthy atmosphere.
4. Never Stop Getting Better:
Data scientists must constantly be aware of new systems and procedures due to the rapid advancement of technology. For instance, improvements in AI have led to a skills gap in the industry. 80% of corporate executives believe the most significant barrier to implementing AI is a lack of skills.
For data scientists, bridging this skills gap may need gradual advancements in technological knowledge. For instance, understanding how machine learning works can help you use this technology to provide more value to your company.
Never stop learning by taking new classes and earning credentials that examine how technology is changing and how this is affecting the field of data science. Your data science abilities won't change with a commitment to lifelong study.
5. Nontechnical and soft skills in data science:
Data scientists should also have a set of soft skills in addition to their technical expertise. Additionally, certain innate qualities enable people to approach substantial data sets with an open mind, formulate analytics hypotheses, and unearth knowledge jewels buried inside the data.
⦁ Knowledge of business: Instead of being in IT or a centralized analytics division, data science teams are often part of a line of business at many firms. Even if that isn't the case, the focus of their work is still on business-related problems.
⦁ Problem-solving: It is frequently challenging the Data scientists to identify information needles in big data haystacks. To do this, they formulate a hypothesis on a firm's problem or opportunity, then attempt to validate it by examining the facts.
⦁ Curiosity: For a data scientist, curiosity, the desire to learn new things, and the ability to ask questions are essential. Curious brains may sift through massive amounts of data, searching for answers and insights.
⦁ Critical thinking: Possessing critical thinking abilities is also essential. Data scientists must be able to assess data sets and results to decide on the truthfulness and applicability of data sets and analytics results.
⦁ Communication and collaboration: For corporate executives and employees to use the data to make wise decisions, they must communicate their understanding of the data and the analytics results.
Data scientists frequently need to work with other people in an organization, including data analysts, business leaders, subject matter experts, data engineers, and others.
Want to learn more about data science? Enroll in the Best Data Science courses in Chennai to do so.
6. Enroll in Data Science training courses
Technology innovation drives the discipline of data science, which is constantly evolving. However, the variety of options in the computer sector encourages career flexibility. Data scientists can use these chances for progress and flexibility by registering for training programs meant to address skill gaps.
These programs offer a variety of data science-related topics. Additional training can help you expand your knowledge and increase the value of your work, regardless of your level of education and competence.
360digiTMG - a learning resource for data scientists:
For those seeking to learn the fundamentals or basics in data science, 360digiTMG course programs in data science are there to continuously learn to stay up to date on the latest data science techniques and tools.
And this is a tremendous opportunity to utilize such resources. The need for well-trained data scientists will only grow as more and more businesses want to hire people with such skills, and the shortage of seasoned data scientists persists. So enroll in our courses immediately to advance in data science and excel in your job.
Data Science Placement Success Story
Data Science Training Institutes in Other Locations
Agra
,
Ahmedabad
,
Amritsar
,
Anand
,
Anantapur
,
Bangalore
,
Bhopal
,
Bhubaneswar
,
Chengalpattu
,
Chennai
,
Cochin
,
Dehradun
,
Malaysia
,
Dombivli
,
Durgapur
,
Ernakulam
,
Erode
,
Gandhinagar
,
Ghaziabad
,
Gorakhpur
,
Gwalior
,
Hebbal
,
Hyderabad
,
Jabalpur
,
Jalandhar
,
Jammu
,
Jamshedpur
,
Jodhpur
,
Khammam
,
Kolhapur
,
Kothrud
,
Ludhiana
,
Madurai
,
Meerut
,
Mohali
,
Moradabad
,
Noida
,
Pimpri
,
Pondicherry
,
Pune
,
Rajkot
,
Ranchi
,
Rohtak
,
Roorkee
,
Rourkela
,
Shimla
,
Shimoga
,
Siliguri
,
Srinagar
,
Thane
,
Thiruvananthapuram
,
Tiruchchirappalli
,
Trichur
,
Udaipur
,
Yelahanka
,
Andhra Pradesh
,
Anna Nagar
,
Bhilai
,
Borivali
,
Calicut
,
Chandigarh
,
Chromepet
,
Coimbatore
,
Dilsukhnagar
,
ECIL
,
Faridabad
,
Greater Warangal
,
Guduvanchery
,
Guntur
,
Gurgaon
,
Guwahati
,
Hoodi
,
Indore
,
Jaipur
,
Kalaburagi
,
Kanpur
,
Kharadi
,
Kochi
,
Kolkata
,
Kompally
,
Lucknow
,
Mangalore
,
Mumbai
,
Mysore
,
Nagpur
,
Nashik
,
Navi Mumbai
,
Patna
,
Porur
,
Raipur
,
Salem
,
Surat
,
Thoraipakkam
,
Trichy
,
Uppal
,
Vadodara
,
Varanasi
,
Vijayawada
,
Vizag
,
Tirunelveli
,
Aurangabad
Navigate to Address
360DigiTMG - Data Science, IR 4.0, AI, Machine Learning Training in Malaysia
Level 16, 1 Sentral, Jalan Stesen Sentral 5, Kuala Lumpur Sentral, 50470 Kuala Lumpur, Wilayah Persekutuan Kuala Lumpur, Malaysia
+60 19-383 1378