Application of Analytics in the Air force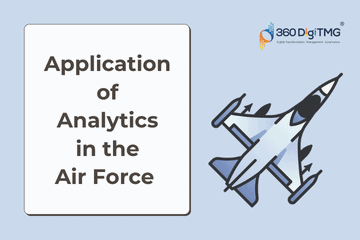 The past year has shown the value of analytics in all spheres, allowing organizations to stay ready for unforeseen changes brought on by the epidemic, from global governments to local healthcare institutions down to the tiniest businesses.
In the military, where being prepared might mean the difference between life and death, maintaining readiness may not be more important than anywhere else.
The Air Force, like many other companies, did not, however, fully utilize analytics in 2017.
In reality, it was having trouble.
The Air Force at the time possessed a tone of data, but it was locked in outdated systems that were expensive huge maintenance, challenging to upgrade, didn't communicate with one another, and produced data silos.
The Air Force conducted a major data analytics Endeavour, eventually switching to a self-service analytics paradigm to enable data-driven decision-making from the highest levels of the department down to the individual airmen in the field, to be as ready as possible for any circumstance.
Eileen Vidrine, chief data officer for the Department of the Air Force, gave a presentation on April 7 at Wrangle Summit, the virtual user conference organized by data preparation vendor Trifacta. She said, "Today, the Department of the Air Force is two military services, Air Force and Space Force, working together to drive data insight to inform decision-making."
"The people running our department have been on a drive to bring new, increased capability," she stated.
Former airmen who had acquired data skills in the private sector and had returned to active service helped the Air Force with its data transformation.
In 2019, the Air Force unveiled its VAULT — Visible, Accessible, Understandable, Linked and Trusted — Data Platform, which consists of a network of cloud-based analytics tools intended to enhance readiness and foster mission success. They assisted the Air Force in putting in place data platforms that encouraged sharing.
Kylo and Hue for data intake, AWS for data storage, Trifacta and Informatica for data management and data preparation, Databricks and Apache Spark for data manipulation and experimentation, and Tableau for data visualization are some of the tools selected and currently utilized by the Air Force.
Given the sensitivity of the data involved, security is of course a concern for the Air Force. However, as with any company looking for a competitive edge, the Air Force can place restrictions on who can access a particular data set thanks to its analytics capabilities.
When I consider how far our department has gone, Vidrine added, "I see that our primary focus is on fostering data innovation and allowing our department to harness data for competitive military advantage." It involves leveraging and sharing data as a catalyst for innovation and enhancing capabilities, giving our airmen and guardians the capacity to use data to fuel insights in a self-service environment.
That applies to every member of the Air Force, not just those who are based at the Pentagon in Arlington, Virginia, where they make broad-based policy decisions, but also airmen who are stationed all over the world and make quick decisions.
Among other things, the Air Force uses analytics for staffing, supply chain management, training methodologies, and strategic field decisions.
Vidrine compared the missions of the Air Force to the protons or neutrons that support an atom's nucleus, which is the center of an atom.
When we provide our airmen access to these tools through our platform, Vidrine explained, "they are optimizing performance with every iteration so we can work smart. "Making data the fuel to drive innovation and insights moving forward" is part of the "true data tale."
a country's air force is its military group in charge of conducting air combat. Taking control of the air, assisting surface troops (such as by bombing and strafing), and achieving strategic bombing goals are the duties of the air force. Military aircraft such as fighters, bombers, fighter-bombers, attack aircraft, surveillance craft, and training craft make up the core armament systems of air forces. Since the middle of the 20th century, the air forces of some of the world's superpowers have also been in charge of their countries' fleets of nuclear-armed long-range bombers and land-based intercontinental ballistic missiles.
Click here to learn Data Science Course, Data Science Course in Hyderabad, Data Science Course in Bangalore
Other Domain Analytics in our 360DigiTMG
Political Analytics, Transit Analytics, Forest Analytics, Wild Analytics, Agriculture Analytics, Army Analytics, E-commerce Analytics, Energy and Resource Analytics, Hospital Analytics, Healthcare Analytics, Hospitality Analytics, Oil and Gas Analytics, Regulatory Analytics, Security Analytics, Trade Analytics, Railway Analytics, Defense Analytics, Education Analytics, Accounting Analytics, Fraud Analytics, Legal and Law Analytics, Banking Analytics, Insurance Analytics, Life Science Analytics, Pharma Analytics, Aviation Analytics, Retail Analytics, Cyber Security Analytics, Supply Chain Analytics, Marketing Analytics
Navigate to Address
360DigiTMG - Data Science Course, Data Scientist Course Training in Chennai
D.No: C1, No.3, 3rd Floor, State Highway 49A, 330, Rajiv Gandhi Salai, NJK Avenue, Thoraipakkam, Tamil Nadu 600097
1800-212-654-321